Guys. This granola is all kinds of scrumptious. It doubles as a decadent breakfast cereal or a satisfying little snack. It's got that majorly craveable crunch-factor and a cinnamon-raisin flavor combo that reminds me of eating a big, toasty, fresh-from-the-oven oatmeal cookie. Meet your new favorite topping for baked fruit, yogurt, parfaits, and puddings. Load up a big bowlful, drown it in milk, and go to town.
A little backstory on how this came to be. My guy, Billy, loves granola. And honestly, who doesn't? Granola bars. Granola cereal. Granola straight out of the box and launched by the palmful like an arm-to-mouth-catapult. I have shoveled many a midnight bowl of it into my own face. Sweet spoonful after heaping spoonful. When it comes to granola, we can't get enough of the stuff. It's crunchy and it's sweet. A regular old double whammy of deliciousness.
Once upon a time, we bought box after box of our favorite granola. We were convinced it was the ultimate cereal and made it a weekly grocery staple in our house. It was ever-so-slightly sweet, perfectly crispy with just a hint of spice. But as often happens, we bummed ourselves out by flipping over the box and read the list of ingredients. We realized this super convenient, yummy store-bought delight was full of sneaky ingredients we had not been on friendly terms with in a while. Things like refined sugar, corn syrup, canola oil, boat loads of preservatives, and the ambiguously labelled "natural flavors". Sigh.
We were on the hunt for a new breakfast bestie.
Perusing cereal aisles led to more frustration and hurried rushing-off-to-work breakfasts had become a real bummer. We had trouble finding an on-the-shelf option that was low in sugar and made with clearly labelled + authentically natural ingredients.
Inevitably, we decided to see what we had at home and if we could DIY our way out of this situation. We looked to see what we had hangin' out in the pantry that could be used for a makeshift granola. Turns out, we had a TON of ingredients to choose from. And I would bet good money that you do too.
Dried fruit, nuts, seeds, oats, shredded coconut…any of this sounding familiar? Instead of choosing one route to go with it we just added it all in a big bowl and kept the flavor elements simple. A little vanilla extract, cinnamon, some sweetness, and a bit of salt are really all it needs to set it off. Coconut, quinoa flakes, raisins, and flaxseeds joined right on in with a rag-tag gang of chopped nuts, miscellaneous seeds, and oats.
This granola is sort of a labor of love when it comes down to time. If you already jumped to the recipe card below (gotcha!) then you already know this recipe spends some serious time in the oven. But boy oh boy, is it worth the wait. It's relatively easy to assemble and doesn't require a lot of hands on prep. The reason this crunchy goodness takes so long to bake is because we are using our humble kitchen oven like it is an expensive snazzy food dehydrator. Some of the best granolas you can buy are either toasted low and slow, or are made using a dehydrator. The goal is to slowly remove the moisture from the nuts, oats, and seeds until the end result is a lightly toasted, all-around crispy granola. Not burnt, not chewy or soggy in the middle, and not crunchy to the point of cracking a tooth means no quick or high temperature shortcuts. If you have the patience on a Sunday afternoon to stir together a big bowl of pantry staples and just wait for it to get good and golden in the oven, you won't be sorry.
Plus, your house is about to smell like somebody broke in and baked you an army of oatmeal cookies. And that might truly be the best way to describe how the granola tastes. It's like an oatmeal cookie crumbled into lots of crunchy bite-sized bits.
Making your own granola at home is surprisingly cost-effective. It also gives you control over how you want it to taste and peace of mind over the source of the ingredients. If you don't like any of the things I used below, have a specific food allergy, or don't have something conveniently on hand - feel free to omit them and replace them with an equal amount of something else on the list. Better yet, get creative with it! Only have dried blueberries or apricots? Chuck those suckers in. Not fond of coconut? Perhaps you are a raisin-hater? Just leave those out. More of a cashew or pecan person? Go for it! No hard feelings here. Pinky promise. The beauty of it is that it's entirely up to you. You have the freedom to put whatever you like into it and keep whatever you don't like out of it. The key is to keep your own mouth happy. You do this by including lots of different textures, like ingredients of varying shapes and sizes so you get that great granola cluster effect.
Once you have everything you adore mixed together in a big bowl, you will assemble a simple syrup to pour over it. This mix of oil and coconut sugar is what binds it all together and protects it from burning in the oven. My sugar doesn't combine fully with the oil, but it doesn't affect the final result. So if your wet ingredients mixture looks sort of like the inside of a lava lamp, don't sweat it. Just know that this leads to lots of glorious hunks of sweeter-than-the-others clusters and that it will all come out great in the end. Finding these clusters is such a treat, think honey bunches of oats kinds of cereals. Aren't you really just using your spoon to hunt out the next tasty "bunch" of oats? This is not a recipe that requires any degree of perfection. Just combine, stir, and bake.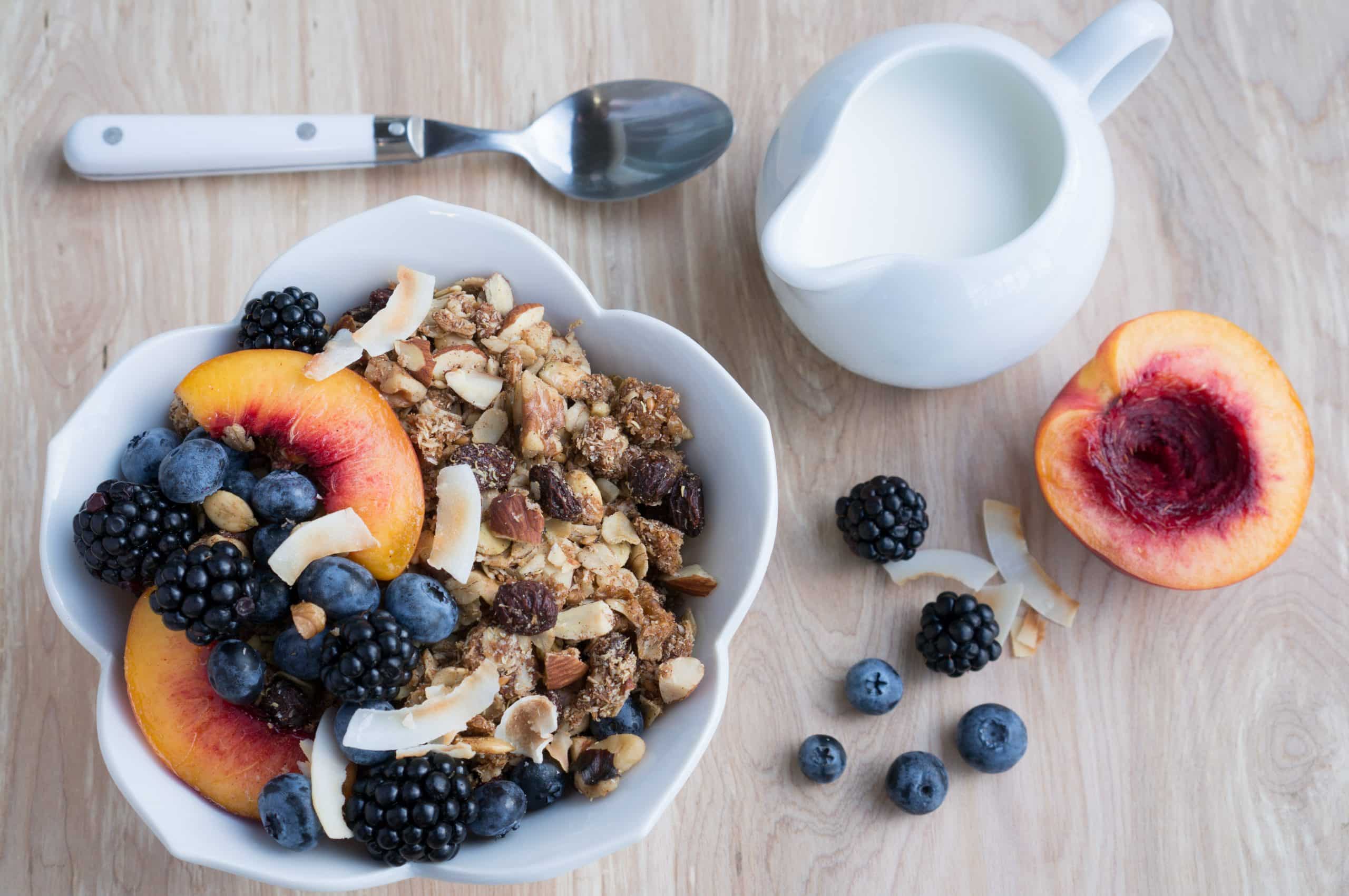 If you don't like coconut sugar or aren't familiar with it, we use it a lot in our kitchen simply because it has a lower glycemic index than some other sweeteners. Plus, we just really like the taste. Kind of like a dark sweet caramel without the heaviness. It's so great in so many dishes. If you're a regular reader, you will be seeing a lot of it on here. You could say I'm mildly obsessed. That being said, if you prefer cane sugar or brown sugar (or some lovely combination of the two) those would both work great here too. You can swap them easily using the same measurements for coconut sugar. I will be playing around with some variations using maple syrup and honey soon, and expect they will be spectacularly sweet too. So stay tuned for those!
In the meantime, preheat that oven, yank open your pantry doors, and start rooting around for ingredients to use in your very own homemade granola.
Ingredients
2 ¼

cups

gluten-free rolled oats

½

cup

chopped almonds

½

cup

chopped walnuts

½

cup

pumpkin seeds

¼

cup

sunflower seeds

½

cup

quinoa flakes

¾

cup

dessicated unsweetened coconut

2

tbs

golden flaxseeds

½

cup

seedless raisins

¾

tbs

Cinnamon

Pinch

of Salt

¾

cup

coconut sugar

1

tbs

water

½

cup

melted coconut oil

1

teaspoon

vanilla extract
Instructions
Preheat the oven to 250.

In a large bowl, stir together the oats, nuts, seeds, quinoa flakes, coconut, raisins, cinnamon, and salt. Set aside.

In a small pan over low heat, whisk together the coconut sugar and 1 tbs of water until combined. Keep stirring for a minute until the sugar has fully dissolved. Then stir in the coconut oil and vanilla extract. Don't worry if these don't combine fully, they will stay separated.

Pour the liquid pan mixture over the dry ingredients in the large bowl. Use a spatula to fold all the ingredients together until it appears as though you have evenly moistened the dry ingredients.

Spread the granola mix onto a large nonstick baking sheet and use the spatula to distribute it into one even layer.

Place in the oven and bake for 1 hour. Remove from oven, stir around a little bit and then pat down lightly with the spatula until it is in an even layer again. Rotate the pan in the oven and bake for another 45 minutes or until crisped to your liking.

Remove from the oven and let cool. Store in an airtight container out of the fridge for up to a week.
Notes
If you prefer your raisins not so chewy, leave them out and stir in after the granola has baked.
Serve in a bowl with almond milk poured over it and fresh fruit on top, or enjoy as a snack by itself.