This recipe for Easy Roasted Broccoli couldn't be simpler! Super flavorful with only 3-ingredients, this easy guide for how to roast broccoli in the oven will help you elevate your boring steamed veggies to something genuinely crave-worthy!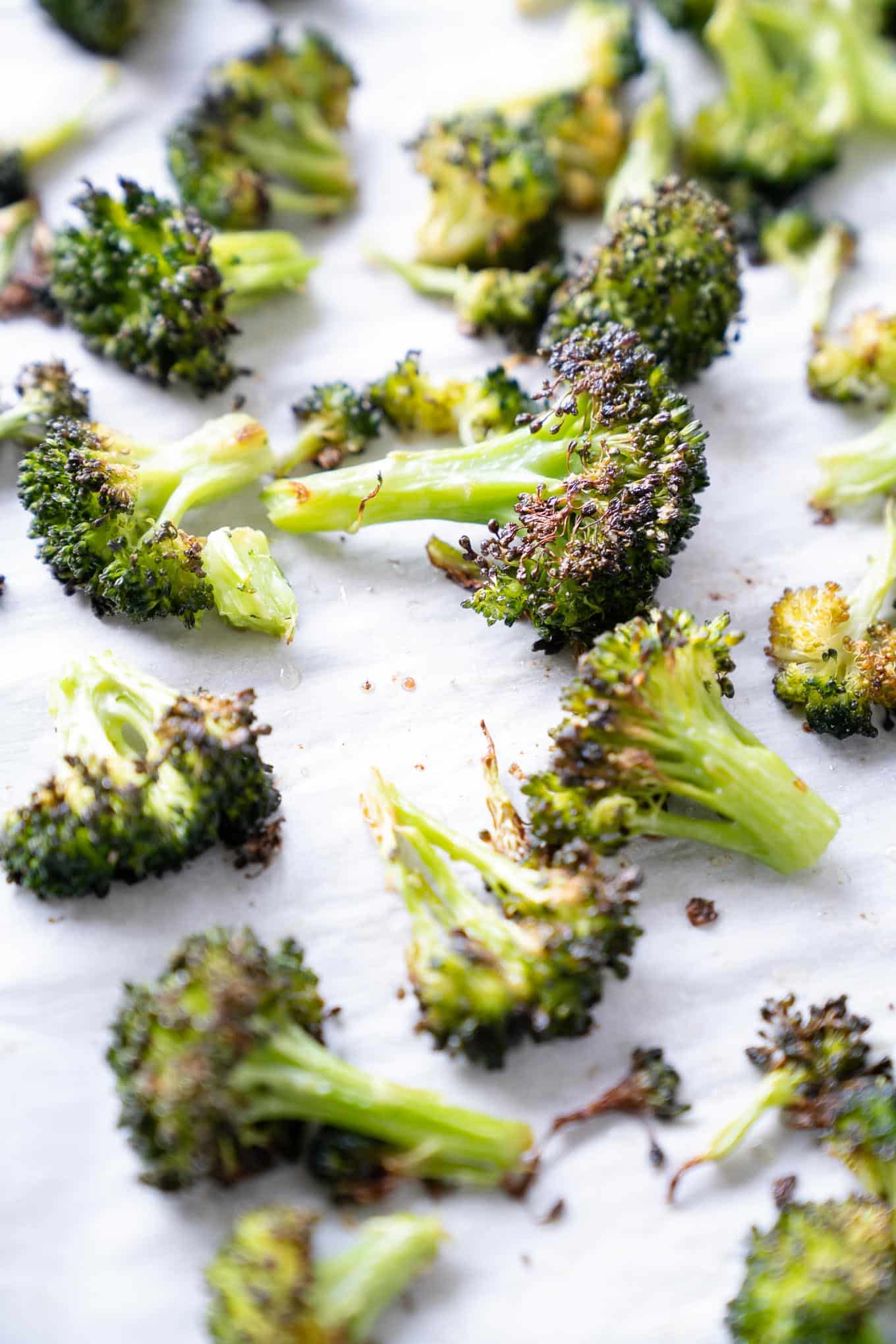 Today I'm gonna walk you through how to roast broccoli in the oven – this recipe for Easy Roasted Broccoli is stupid simple but tastes SO damn good. With only 3-ingredients, and ready in under 40 min – making it an awesome recipe to keep in your back pocket on weeknights.
This method has the simplicity of steamed broccoli prep with restaurant roasted veg flavor. For pretty much the same hands on prep time. They spend a little longer time in the oven than they would in your steamer basket or microwave but it is SO worth it to get those kind of burnt-in-the-best-way little ends.
Don't let the short ingredient list and simple prep fool you. This broccoli is anything but basic.
The texture on the ends of these is what gets me every time.
The oven roasts the hardy broccoli stalks so that they are tender and easy to bite into while adding a bit of crunch to the tender green tops. Making it borderline addicting.
We are so obsessed with this method that we find ourselves snacking on pieces fresh from the oven. Standing over the sheet tray like hungry little vultures, elbows out. Plucking roasted, salty florets with our hands and popping them straight into our mouths. Catching ourselves shouting "HEY, I was gonna eat that one" (like we do when a plate of nachos lands in front of our faces).
No joke. The first time I made this, the two of us gobbled up the whole tray before dinner. No broccoli even made it to the plate. I was totally shocked since tbh, we were just wingin' it. Tired of quick steamed veggies, but not like thaaaat tired where we were willing to put that much extra effort into it (ya feel?). So we whipped out the old sheet tray and just decided to keep things super simple.
I fully expected these to need some sort of extra seasoning…a heavy handed sprinkle of Parmesan…some balsamic, a dusting of herbs, some…SOMETHING. But these, like a classic potato chip (but you know…broccoli), don't need much else but a little heat to cook them through, a little oil to make them buttery & delicious, and a little salt to set it over the top.
Simple. Straightforward. And so freakin delish.
This method is so simple that you don't even need exact measurements, you can make what you have and throw it together in a matter of minutes. Broccoli + oil + salt. On a sheet tray. In the oven. THE END.
You'll have it memorized by the second time you make it. Making it great for meal prep too if you're as into the whole cook-once-eat-twice thing as I am these days. Double up the recipe and do two sheet trays at once (rotating racks halfway through) - then you'll have all you need for the week to fill up nourishing macro bowls, add to stir fries, or even an unexpected ingredient for salads.
That being said, I definitely think it's at its BEST when enjoyed fresh from the oven. It'll lose some of it's crunch, but keep all of it's roasty flavor, if you reheat it later on. But you could always roast a bunch ahead of time and then re-crisp it in a hot oven for a few minutes before serving. Total time saving hack.
Before you rustle up that broccoli that I just KNOW is lurking in your produce drawer right now and get to roastin', I'll leave you with a few quick recipe notes…
Can I use frozen broccoli for this or does it have to be fresh?
Here's the thing. I looooove me some frozen veggies. They're super convenient, they don't take up room in my fridge, they last longer than fresh, and are sometimes even cheaper than fresh produce (depending on the season).
BUT. I've made roasted broccoli using frozen and I gotta tell ya, it just ain't the same.
It gets soggy. The cooking time is off. You can't break apart the large florets into smaller chunks because they're (you guessed it) frozen ROCK solid.
If you really want to give it a go, you can. It will work, they will cook. It just very likely won't get those delightful crispy edges you're after that give roasted broccoli it's signature somethin-somethin.
So if it were me, I'd skip the frozen and go for the fresh. If convenience is what you're after, check to see if they have precut florets. Otherwise, it really only adds a few extra minutes on to work from the big heads of broccoli. Give them a quick rinse, and then just run a knife through the top – saving the stalks for stir fries or soups later on. Easy peasy.
I saw you used parchment paper, but can I just use foil or skip both with a bare sheet tray??
Yes annnnnd YES.
I've tried this both with parchment paper and a foil liner and can happily report that both worked great. I also just made it at my parents' house for a family lunch on a bare sheet tray, just putting the broccoli and oil straight on there and that also worked like a charm.
As far as I can tell it doesn't make a huge difference in texture to cook it one way or the other, but the clean up is definitely easier if you add a liner that you can crumple up and toss away afterwards. And some people feel that using parchment paper helps allow more air to circulate underneath the item being cooked. So it just depends on what method you end up liking best.
But my zero-waste warriors, will be happy to know a bare sheet tray scrubs up pretty easily too!
Um, the recipe card says "avocado oil" – can I just use olive oil instead?
You can use whatever your pretty little heart desires! Just make sure you pick something that holds up to the high roasting temperature (in this case, 400 F)
Every oil has a temperature at which it will begin to break down, also called a "smoke point". We've probably all reached it accidentally on the stove top before, where you start to see your once thick oil start to turn into a stream of smoke. Setting the smoke detector off like a car alarm. BEEP BEEP BEEP.
And besides being annoying AF to have to start cooking all over again and apologize to your peeved apartment neighbors, when oils and cooking fats go past their smoke point they can start to produce some not-so-tasty flavors too. Ruining your dish and destroying some of the delicate, healthy compounds you might think you were consuming.
Avocado oil has a smoke point of up to 520 F. So it works great for sautéing, grilling, AND roasting at high temperatures. (NOTE: virgin avocado oil has a lower smoke point, around 375).
Whereas extra virgin olive oil has a smoke point of 320 F, not making it an ideal choice for this purpose. Even virgin olive oil only reaches up to a smoke point of 370 F - falling short of that 400 degree mark. Butter's smoke point is 350 F. And coconut oil clocks in at 350 F. These are better to use when sautéing on the stove top (which only reaches between 250 F – 350 F) or baking at lower temperatures.
Another high smoke point choice would be ghee, or clarified butter, since it clocks in at around 485 F. When the oven is hot, put some spoonfuls of the solid ghee on the tray and pop it in the oven for a few seconds until it's melted. Then take it back out and it'll be easy to toss the veggies in this. Sesame oil also has a high enough smoke point but it will change the flavor profile a bit.
I would choose between avocado oil or ghee for their high smoke points AND neutral flavor profiles. And because the other high-heat cooking oil (corn, soy, and peanut) choices can contribute to chronic inflammation in the body for some folks.
Tell me! Are you a roasted veggie convert or are you stickin' to steamed??
.
HERE'S A LIST OF THE TOOLS + INGREDIENTS I USED IN THIS RECIPE:
FYI these are affiliate links – which means if you use these links I will make a small commission of whatever you purchase. The price of the item remains the same whether or not you use this link and it's at zero additional charge to you. All commissions support this blog.
.
MORE SIMPLE HEALTHY RECIPES YOU MIGHT LIKE:
.
Easy Roasted Broccoli
Healthy recipe for Easy Roasted Broccoli! Learn how to roast broccoli in the oven with only 3-ingredients in under 40 min (gluten free + paleo + vegan)
Print
Pin
Rate
Ingredients
3

cups

broccoli florets

2

tbs

avocado oil*

salt
Instructions
PREHEAT OVEN: To 400 F and prepare a baking sheet. You can use it bare or line with foil or parchment paper for easy clean up.

OIL + SEASON BROCCOLI: Add broccoli florets and use your hands to break apart any particularly large pieces into smaller sections. Toss in oil until evenly coated, spread them out so they lay flat and are not overlapping, and sprinkle with salt.

ROAST: Place tray in oven and roast for 20 min, then remove and shuffle them around with a spatula. Return to the oven and roast for another 10-15 min or until the broccoli tops are just starting to brown and crisp up. I like mine extra crispy so I will usually roast them up to or past the 15 min mark. Then enjoy immediately!
Notes
*Or any other cooking oil you like that is safe to use up to 400 degrees, I choose avocado oil because it can stand up to use in high heat situations like roasting. Check the oil you choose to make sure it will hold up to this temperature.
Nutrition