These easy oven baked nachos lean on simple ingredients and bake for just 10 minutes! Store bought tortilla chips, shredded cheese, salsa, and canned beans makes for quick prep (perfect for a snack, appetizer, or last minute dinner idea!).
Jump to:
⭐ Reasons to love this recipe
Given the dish we're talking about, I feel like it HARDLY needs a list of reasons to love them - because let's be honest… whether you enjoy them as an appetizer, snack or dinner recipe, who doesn't love nachos?
These oven baked nachos are a great way to make your favorite restaurant, game day, or takeout food at home with everything you want & nothing you don't.
Since we're using store bought corn chips, shredded cheese, canned beans, and already-made salsa - there's virtually no prep steps involved.
They just take a few minutes to assemble (and by "assemble" I do mean just dumping a bag of chips onto a sheet tray and generously sprinkling with cheese & black beans).
But perhaps the best part is that they're ready in just 15 minutes - so you can enjoy melty, cheesy goodness, piled high with all your favorite toppings ANYTIME you want.
Don't be afraid to go wild with the toppings and load them up with all YOUR favorites - they're what set this simple recipe over the top! Tip: Add them under the cheese so they stay fresh & delicious (and don't burn or dry out).
🧀 Ingredients you need to make it
Tortilla chips: I used a white corn tortilla chip but you could also use yellow corn or blue corn tortilla chips, or a flavored chip like Doritos. Be sure to use a thicker, sturdier chip (I recommend skipping the thin chips for nachos as they won't hold up as well to cheese & toppings).
Canned black beans: The base recipe uses black beans but you could also use pinto beans or refried beans instead. Be sure to drain and rinse them so you don't end up with soggy chips.
Shredded cheese: You can use any shredded cheese you like for this recipe, I like using a Mexican cheese blend - it combines four different cheeses and makes a great shortcut ingredient. You could also use cheddar, Monterey or pepper jack cheese, or queso sauce. Increase or decrease the amount of cheese by 1 cup for less cheesy or cheesier nachos.
Salsa: I used a chunky pico de gallo (as another shortcut ingredient!) from the grocery store which had a mix of fresh tomatoes, onion, jalapeno, cilantro and lime juice. But you could also use any other salsa you like of any heat you like. Pico de gallo can be added before baking, but you may want to wait to add pureed salsas until after baking to avoid soggy nachos.
When you make your own nachos you have the (literal) home advantage since you can make them with whatever cheese, sauce, meat, & toppings you want. It's why these protein-packed sheet pan nachos are one of our go-to easy weeknight dinners!
💭 Top tips
Look for a sturdy restaurant-style tortilla chip (skip the very thin ones): It's obviously all personal preference but if you want to load these babies up with all the toppings, you'll want to pick a chip that won't break as easily under that weight.
For your toppings, add them in the first layer under the cheese so it doesn't dry out: This way it'll warm them up in the oven but (especially for things like beans or meat) they won't get those too-dried-out or burnt edges.
Save fresh toppings for after the nachos have baked: I love the interplay of hot and cold, cooked and fresh ingredients. So add anything you want hot & warm beforehand, but save any fresh or chilled toppings for adding right at the end (this includes sliced avocados, fresh herbs, lettuce, red onion, sour cream, and guacamole).
Don't forget to grease the pan or use a silicone mat for easy clean up: Since we're working with melted cheese, make sure to either spray or grease the pan with oil before adding your chips. Or bake them on top of a silicone mat.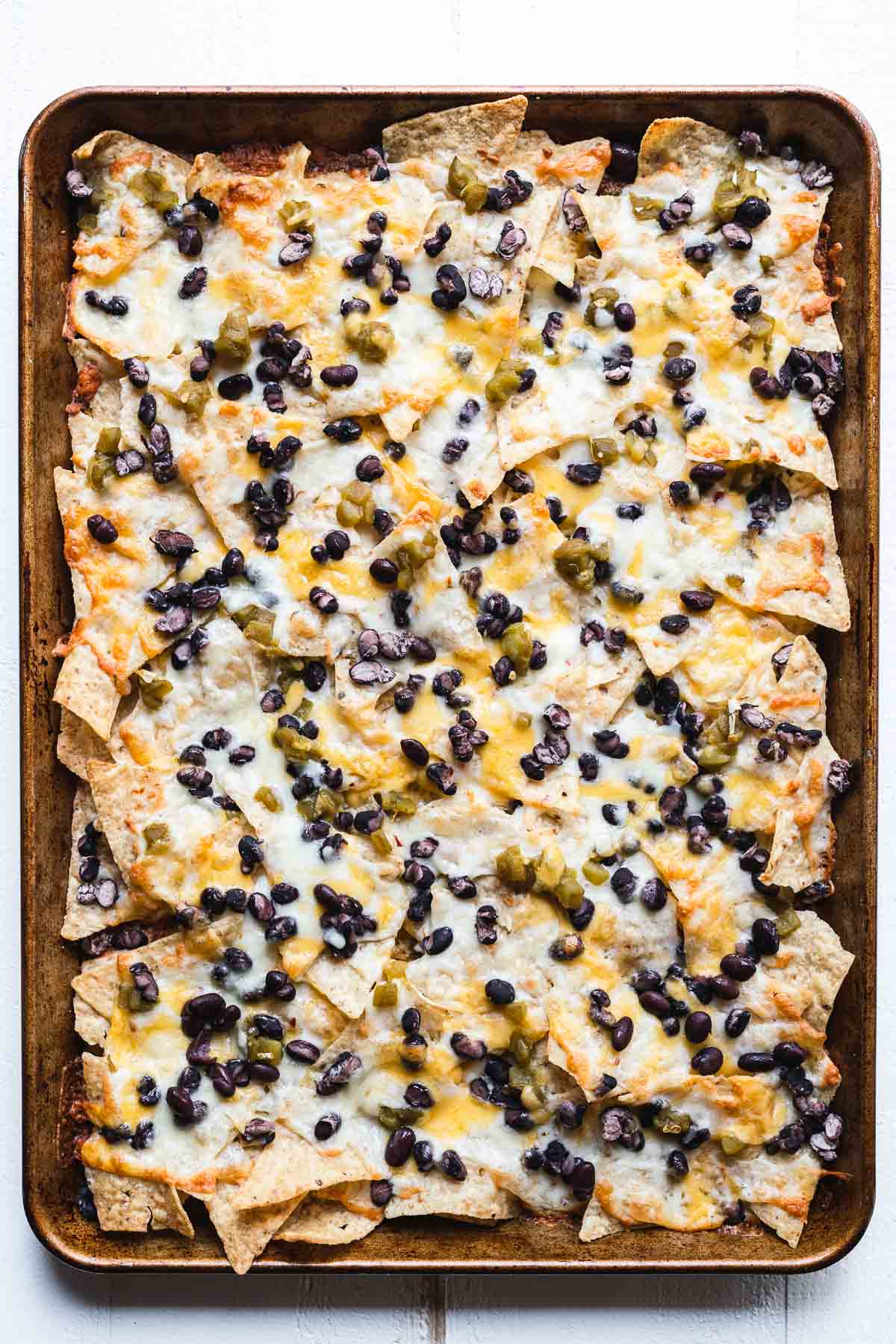 🥑 Nacho Topping Ideas
Chicken nachos: Make these nachos as-is but add shredded salsa chicken or leftover rotisserie chicken, pinto beans, canned diced green hatch chilis, black olives, cilantro, sour cream and lime juice.
Pulled pork nachos: Mexican cheese blend, pulled pork (or crispy crockpot carnitas), pinto beans, red onions (pickled or fresh), cilantro, sour cream, guacamole.
Buffalo chicken nachos: Pepper jack cheese, buffalo sauce, chicken (shredded chicken or chopped crispy chicken tenders), celery, ranch or blue cheese dressing drizzle, cheddar cheese, green onion.
BBQ chicken nachos: Monterey jack and cheddar cheese, barbecue sauce, black beans, corn, cilantro, drizzle of ranch dressing, red onions, cilantro.
Loaded vegetarian nachos: Mexican cheese blend, black beans & pinto beans, corn, sliced cherry tomatoes, fresh avocado, sour cream, guacamole, pickled jalapenos.
Cauliflower nachos: Some people use cauliflower florets as a low carb option in place of the tortilla chips but it would also be delicious to just add roasted cauliflower as a topping!
Breakfast nachos: Pepper jack cheese, cooked crumbled bacon/ breakfast sausage/ chorizo, green onion / chives, halved cherry tomatoes, and at the end top with fried or scrambled eggs. You can also crack the eggs right on top and bake them for a bit longer until the whites are cook through & the yolks are cooked how you like.
Chili cheese nachos: Chili, cheddar cheese, green onions, kidney beans, jalapenos.
Fajita nachos: Pepper jack cheese, grilled steak or chicken fajitas, cooked red & green bell peppers and onions, black beans, cilantro.
Loaded ground beef nachos: Make taco bell style supreme beef nachos with cheddar cheese, cooked ground beef (seasoned with taco seasoning), refried beans, tomatoes and green onions.
Ground turkey nachos: Sharp cheddar cheese, cooked ground turkey (seasoned with taco seasoning), fire roasted corn, cilantro, red onion, fresh tomato, sliced avocado.
Seafood nachos: Monterey jack cheese, green onions, cilantro, salsa verde, topped with grilled shrimp.
Queso nachos: Instead of shredded cheese top the chips with queso and
Tater tot nachos: Swap the tortilla chips for crispy tater tots for a fun twist.
Spicy nachos: To this base recipe add spicier toppings like diced canned hatch chilis (hot instead of mild), fresh or pickled jalapenos, hot salsa or pico de gallo, chipotle peppers, and top with a few dashes of hot sauce (my picks would be Cholula or Tapatio).
Paleo nachos: Use grain-free "tortilla" chips and a paleo cheese sauce or queso sauce (like the Siete sauces), and any toppings you like. In the white sauce recipe (in the recipe card notes) swap a paleo mayo for the sour cream.
👪 How to make a nacho bar
How fun would a build-your-own nacho bar be for a family dinner or party?
To make your own DIY nacho bar, set out the toppings (cheese, salsas, beans, meat) and let people build their own.
Pop them in the oven and have the fresh toppings already-prepped and waiting (bonus points if you get things like the pico de gallo, guac & pickled red onions store bought for even easier hosting!).
Then they can dress them up however they like and for less dishes, enjoy them family-style where everyone digs in to eat them straight off the sheet tray.
📖 Vegan, dairy-free, grain-free variations
As-written this recipe is naturally vegetarian but there's lots of ways you could customize the toppings and ingredients to fit how you & your family like to eat!
Gluten-free: Most corn chips are naturally gluten-free but double check the ingredients list to be sure if that's important to you.
Vegan and dairy-free: Look for a dairy-free, plant-based cheese and toppings. These alternatives have come a long way in recent years, my personal favorite are the Mozz-shreds from the brand Vevan (I find mine at Grocery Outlet).
Grain-free: Look for a grain-free chip, I like the grain-free tortilla chips from Siete. They are a little thinner than a traditional tortilla chip so you may get a bit more breakage but they'll still be delicious!
💬 Answering your FAQs about nachos
What temperature should nachos be cooked at?
I bake nachos between 375-400 F. I like to use a higher temperature so that the cheese melts and starts to bubble, giving it extra flavor without having to turn the broiler on. For less crispy chips, you can bake them at 350 F for longer (and broil right at the end for bubbly cheese).
How long should I keep my nachos in the oven?
If baking at 375-400 F, it should take between 8-15 minutes for the cheese to melt and the toppings to warm all the way through.
How do you make nachos not soggy in the oven?
I find that waiting to add sauces like salsa until after baking can help avoid soggy nachos. As can rinsing and draining any canned beans that you're adding, and not overloading them with too many toppings.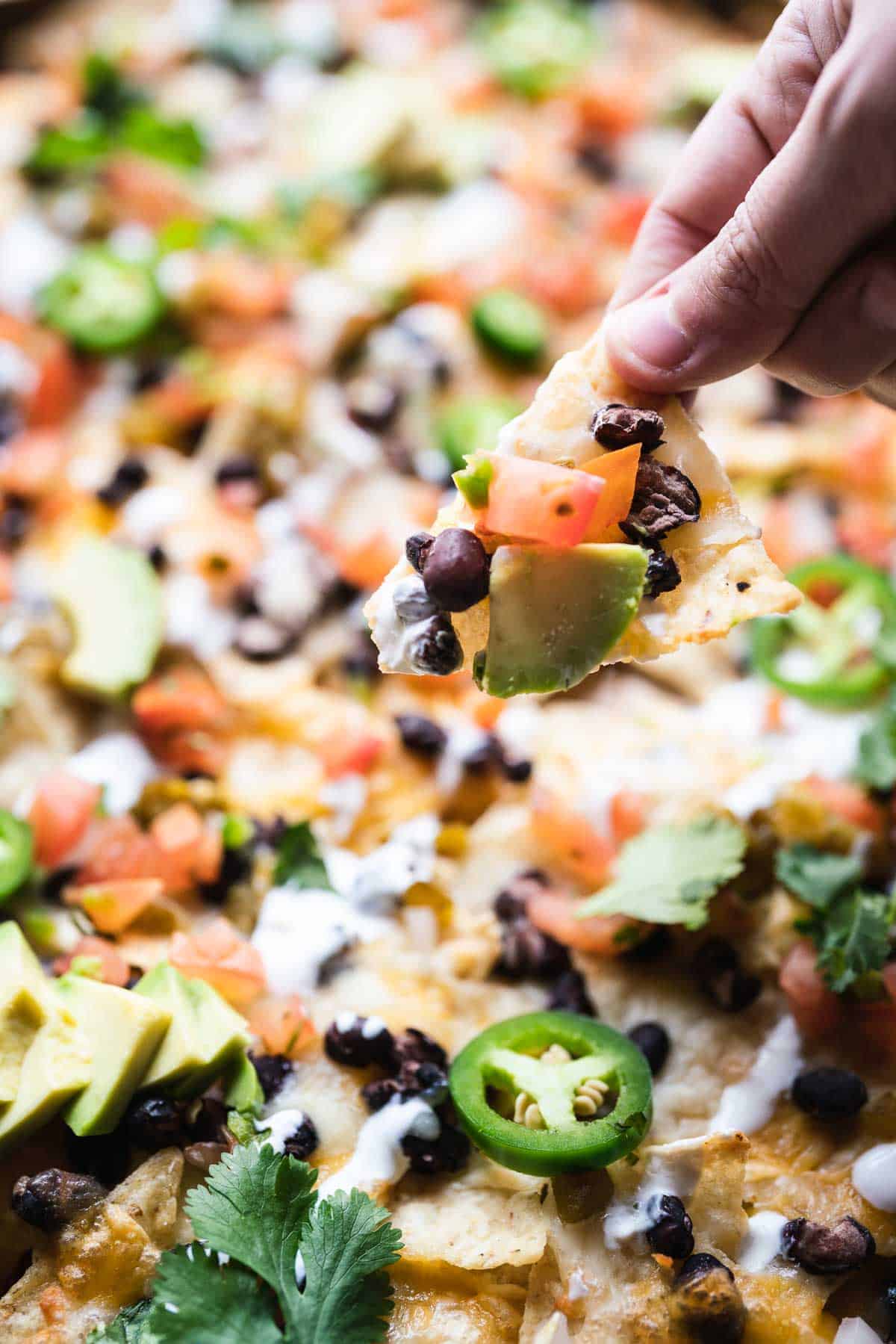 🍴 Tips for storing & reheating leftovers
To be honest, when it comes to nachos we have never (ever) had any leftovers survive in our house!
Since they're all about that melty cheesy goodness, they're best enjoyed fresh from the oven - especially if you have a mixture of fresh and baked toppings (any fresh lettuce or herbs will wilt upon reheating).
Nachos also do not freeze well but you could, technically, transfer any leftovers to a tightly sealed, lidded container and store them in the refrigerator for 3-4 days.
Oven Baked Nachos (16+ Topping Ideas!)
This easy oven baked nachos recipe leans on simple ingredients and bake for just 10 minutes! Store bought tortilla chips, shredded cheese, salsa, and canned beans makes for quick prep (perfect for a snack, appetizer, or last minute dinner idea!).
Print
Pin
Rate
Ingredients
½

cup

canned black beans

drained & rinsed

3

cups

shredded cheese

I used a Mexican cheese blend but you could use any cheese you like

¾

cup

pico de gallo

or chopped fresh tomatoes, onions, and jalapenos

10-12

cups

corn tortilla chips

or about 1 large bag
Optional toppings:
1

cup

cooked meat

like shredded salsa chicken or rotisserie chicken, ground beef or turkey

Canned diced green chilis

Sour cream

crema, or white sauce

Salsa or hot sauce

Fresh veggies & herbs: avocado slices

jalapeno, red onion, radishes, lettuce
Instructions
Preheat the oven to 400 F and prepare a baking sheet (either by spraying with oil or using a silicone baking mat).

Spread out your chips in an even layer, sprinkle with black beans and pico de gallo (and meat, if using). Then top with cheese.

Bake for 8-10 minutes, or until cheese is melted and bubbly.

Remove from oven and add hot sauce, avocado, sour cream, fresh cilantro or any other fresh toppings you like!
Notes
Nutrition information calculated using the Mexican cheese blend and without the optional toppings listed above (appetizer or snack serving size used).
To add meat add up to 1 cup of salsa chicken, leftover rotisserie chicken, ground beef, ground turkey, pulled pork (or easy crockpot carnitas) and add it as the first layer before sprinkling with cheese.
For vegan and dairy-free, use dairy-free cheese.
For cheesier nachos, add another cup of shredded cheese. For less cheese, reduce by 1 cup.
For the white sauce seen in the images: Mix half sour cream and half lime juice (or lemon juice) together in a small bowl and whisk until well combined, drizzle over top.
For more ingredient swaps, modifications, variations and 16+ topping ideas - see the full blog post above.
Nutrition
Calories:
849
kcal
|
Carbohydrates:
103
g
|
Protein:
21
g
|
Fat:
42
g
|
Saturated Fat:
11
g
|
Polyunsaturated Fat:
16
g
|
Monounsaturated Fat:
11
g
|
Trans Fat:
0.1
g
|
Cholesterol:
40
mg
|
Sodium:
917
mg
|
Potassium:
330
mg
|
Fiber:
9
g
|
Sugar:
4
g
|
Vitamin A:
381
IU
|
Vitamin C:
2
mg
|
Calcium:
433
mg
|
Iron:
3
mg