We've got a green-sauce-on-all-things kind of mood goin' on over here in our little apartment. It rained for a hot second several days ago, giving me an easy excuse to make comfort foods king of this castle.
The perfect time to make a big batch of cheesy Chicken Spinach Enchiladas and smother them in my beloved Creamy Tomatillo Green Sauce.
A whole, heaping tray to stock up the fridge and keep me fed & smiling come dinner time. My favorite sort of recipe, the kind that I make on the weekend and then eat for days. All ready in under 30 minutes, from first craving to hot oven to your table.
Yep. Enchiladas on the at-home dinner menu. All. Week. Long.
This version is lightened up and healthified (←is this a word? Let's assume for today that it is. And if it's not, then just know I've got full blown enchilada-brain happening and we have to excuse the fact that I can't form coherent sentences until I eat them again).
Big on flavor. Low on fat. This recipe doesn't require frying tortillas before rolling them up. It also doesn't require us to thicken the sauce with added cornstarch or flour or butter or sugar. And we are using lean, protein-packed white meat chicken along with just the right amount of low-fat cheese sprinkled on top. Chicken that has been cooked low and slow in the crockpot without added oil or butter. All the makings of a simplified, lighter version of this classic comfort food.
That's my kind of meal. The kind that comes with as many helpings as I want without any pesky uninvited guilt on the side.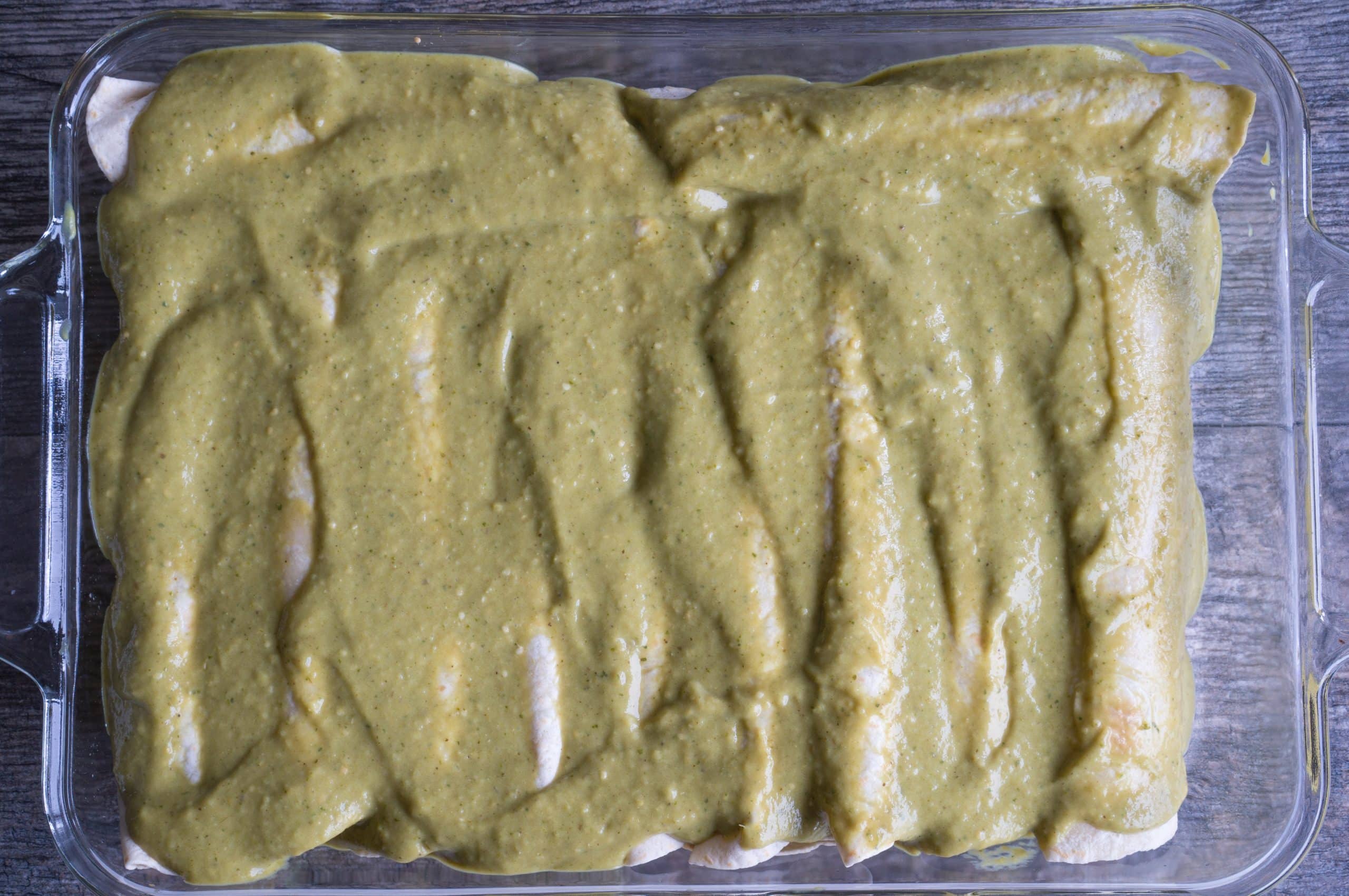 Soft tortillas wrapped around lean, shredded chicken breast and chopped spinach. Nestled in my favorite homemade sauce and baked with ooey gooey cheese on top. UGH.
Finish with a drizzle of tangy low-fat greek yogurt, hot sauce, and fresh cilantro. And now you're speakin my language.
This is a riff on one of my favorite dishes, Enchiladas Suizas with Chicken. If I see that on a menu, it's hard for me to resist ordering it. When the waiter or waitress brings those smothered bundles of meaty, cheesy goodness to the table, my heart fills with the purest kind of joy. That Christmas morning, scurry down the stairs brand of happiness. Like cry tears of joy, run around the room, throw your hands up in the air. TOUCHDOWN.
Waiter // Waitress: "Can I get you anything else?"
Me: "No…but could you please, leave. LIKE NOW." *cue crazy eyes*
Things I (thankfully) think and do not say to totally unsuspecting couldn't-be-more-polite hypothetical waiters who are nice and don't deserve a dose of mean-hungry-lunatic-customer in their day. Instead, I practice my best Miss America smile (or what I imagine looks more like a frozen panicky grimace, involving a high gumline to teeth ratio) and don't breathe // blink until they leave. And then I can proceed to hungrily attack the contents of my plate.
See when enchiladas get to the table, I just want to eat them. Undisturbed in relative silence. And it's probably best for all involved to not be around when I begin my haphazard demolition project. By the time I'm done I don't need a napkin, I need paper towel(s). Or maybe beach towels. It ain't pretty but it's pretty delicious.
This might be one of the biggest reasons why I love cooking at home so much. I like having a safe space to be messy and unapologetically ravenous and excited about food in a 100-mph way. Without having to adopt an ounce of composure if I don't want to.
Enter homemade Chicken Enchiladas.
A no fuss, no frills dish. Simple ingredients, simple methodology. Assembled, in the oven, and onto your plate in less than 30 minutes.
This is one of my favorite ways to use that green sauce I posted last week.
If you find yourself short on time and have a go-to store bought enchilada sauce that you adore - you can absolutely pour that on top instead. Or even a large jar of simple salsa verde would be delicious.
I used chicken from my weekly meal prep (my Crockpot Salsa Chicken to be exact), but a store-bought rotisserie chicken that you've shredded the meat off of or any leftover cooked ground meat (like ground turkey) would be great tucked up into the tortillas too.
There's something about cozying up to a hot, homecooked meal at night that gives you those "it's gonna be alright" vibes at the end of a long day. Like a big warm hug. Well a big warm hug with cheese. And chicken. And sauce.
Ahhhhh YES. One big sigh of relief before you brandish your fork in your fist like a weapon and dig on in to a merry plate of cheesy bliss.
Another week done and dusted. Today's work (and mischief) successfully managed. My reward of choice – two or three of these babies. And perhaps a few sneaky pieces of chocolate while I'm at it. That back of the cabinet chocolate, out of sight (but seldom out of mind).
Ingredients
12

medium-size tortillas*

1

lb

shredded cooked chicken breast

Crockpot Salsa Chicken or shredded rotisserie chicken

4-6

c

finely chopped spinach

1

recipe for Creamy Tomatillo Green Sauce

or 1 large jar green enchilada sauce or salsa verde

1 ½ - 2

c

shredded cheese

low-fat mozzarella or Monterey jack

1

tbs

extra virgin olive oil
OPTIONAL TOPPINGS
fresh cilantro

low-fat Greek yogurt / crema / sour cream

crumbled cotija cheese

avocado

fresh tomato

hot sauce

green onions
Instructions
PREHEAT OVEN: Preheat to 350 degrees and prepare a 9" x 13" baking pan with a spritz of extra virgin olive oil (or cooking oil of choice). Set aside.

ROLL UP THE ENCHILADAS: Combine the shredded chicken and chopped spinach in a large bowl. Microwave tortillas until just pliable. Place one tortilla on a flat surface and sprinkle some of the chicken-spinach mixture down the center. Roll up tightly and place the enchilada fold/ seam side down into the pan. Repeat with remaining tortillas until you have filled up the pan. I can usually fit 10 enchiladas from one end of the pan to the other and then rotate the remaining 2 to fit along the side of the other 10.

ADD SAUCE AND CHEESE: Pour green sauce over top of the enchiladas and use a spatula to spread it out evenly over the top and sides. Be sure to get it all over so that the enchiladas will be flavorful and stay moist (if you like crispy tortilla edges then leave a small ½" section on each end unsauced). Sprinkle cheese evenly over the top.

BAKE THE ENCHILADAS: Bake for 20 minutes or until the cheese has melted. You can broil the top at the end for 1-2 minutes if you want it nice and bubbly.

TOP AND EAT: Sprinkle fresh cilantro, cotija cheese, or a drizzle of creamy greek yogurt across the top. Best served hot.
Notes
*Use flour or corn tortillas depending on preference or dietary needs. I used ones that were a blend of the two ingredients, but choosing an all-corn version would keep this recipe truly gluten-free
You may have to scrunch the ends of the tortillas to make them fit in the pan, it's okay if it doesn't look perfect just as long as they all get evenly covered in the sauce.