Today, I'm sharing my Easy Overnight Oats recipe - the basic recipe that can be a base for countless toppings and flavor combinations! Super versatile and swap friendly!
Today we're making easy overnight oats!
I've sung the praises of overnight oats many times before, and made them more times than I can count. Their convenience and versatility makes them a great breakfast option that you can prep days in advance.
You mix up the ingredients, let them sit in the fridge, and you're done. No cooking needed! Quick and easy to assemble with a great balance of protein, slow-digesting carbohydrates, and healthy fats all in one dish.
Many overnight oat recipes don't use yogurt at all, they just soak the oats in milk / nut-milk and let them soften. But I love the extra staying power that overnight oats with protein have - and the yogurt provides such great texture!
Be sure to check out the Ingredient Swaps section below for ideas on how to customize this recipe to work for you!
---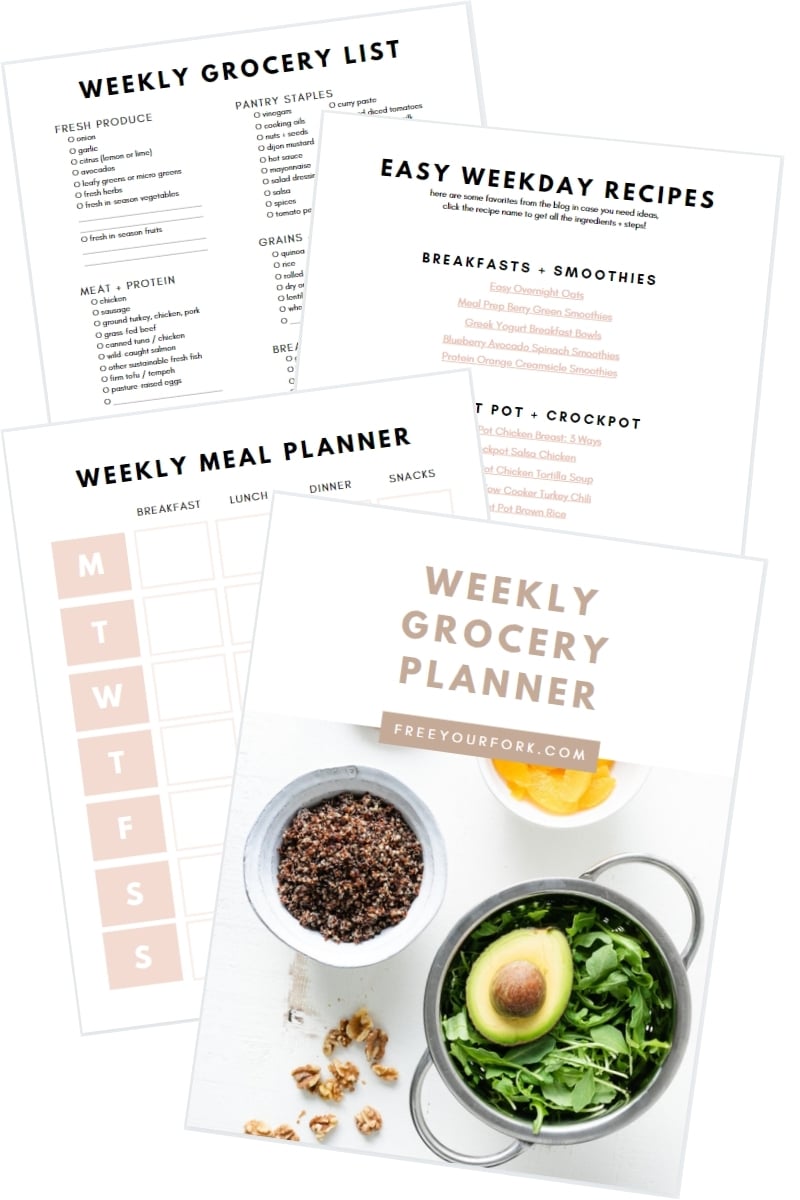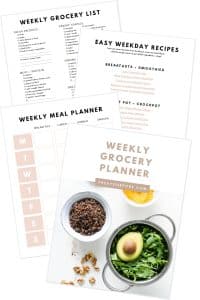 ---
I've got a few overnight oat recipes on the blog. But here's four of my go-to flavor combos that go well with this basic base recipe:
Chunky Monkey – Banana slices, cashew butter, mini chocolate chips, cinnamon
Tropical – mango, pineapple, coconut chips, slivered almonds
PB + J – peanut butter, berry jelly, strawberries, hemp seeds
Berry Cheesecake – blueberries, raspberries, almonds, ground flaxseed
Make sure you use rolled oats for the best texture!
I use rolled oats (not quick cooking or instant oats) because of their exceptional texture – to me they taste more flavorful and hearty. They also take longer to digest than a quick cooking or instant oat (which are smaller sized pieces).
Rolled oats are exactly what the name suggests - a whole oat that has been rolled flat. So they are porous enough to soak up the liquid but not so porous that they disappear entirely into an overly mushy texture once soaked. They hold their shape relatively well and make for a tastier overnight oat recipe.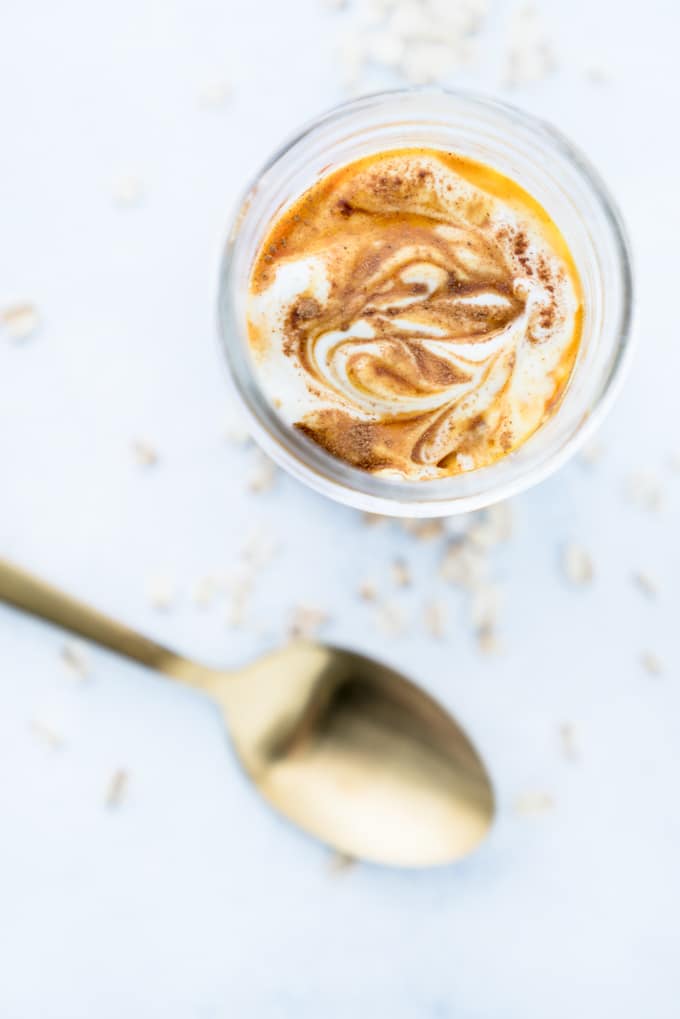 Ingredient Swap Ideas
You can use a combination of pantry staples with fresh or frozen fruit - making it easy to mix and match ingredients to suit whatever you're in the mood for. Or eat seasonally by using whatever produce is most readily available. Here's some more ideas to make it your own!
instead of almond milk you can use coconut milk, cashew milk, dairy milk, hemp milk, or oat milk
use maple syrup, honey, agave nectar, or liquid stevia drops instead of coconut nectar to sweeten
use a dairy-free yogurt instead of Greek yogurt to make it dairy-free + vegan friendly
stir in a scoop of protein powder before serving (add a bit of almond milk to make sure it's not too dry)
no fresh fruit? thaw some frozen berries on your countertop before mixing in or heat them for a few seconds in the microwave
no fresh or frozen fruit? Use jam or fruit preserves!
more topping ideas: fresh fruit, nuts + seeds, nut butter, shredded coconut, chocolate chips, chia seeds, ground flaxseed, dried fruit
try a pumpkin pie version by adding canned pumpkin puree and maple syrup, see full recipe here
try a blackberry pie version, see full recipe here
Pin + save this recipe for later!
MORE HEALTHY MEAL PREP RECIPES: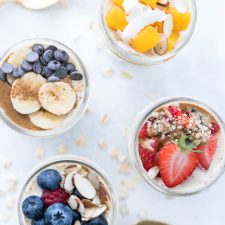 Easy Overnight Oats
Easy Overnight Oats recipe - a healthy breakfast recipe that serves as a base for countless toppings and flavor combinations! With an option in the notes section below that tells you how to turn this single serving into a 4-Day Meal Prep.
Print
Pin
Rate
Ingredients
(for one serving)
½

c

rolled oats

¼

c

plain unsweetened Greek yogurt*

½

c

unsweetened almond milk

½

teaspoon

vanilla extract

1

tbs

coconut nectar**

pinch

of cinnamon
SEE BLOG POST FOR TOPPING IDEAS!
Instructions
MIX ALL INGREDIENTS: Add rolled oats, yogurt, almond milk, vanilla extract, coconut nectar, and cinnamon to a lidded container. Mix until well combined, seal and store in the fridge. Let oats soak overnight and enjoy the next day. Will keep for up to a week in the fridge. You can either add toppings fresh each morning or you can add them ahead of time for easy grab-n-go breakfasts and snacks.
Notes
*I used full-fat Greek Yogurt for the best taste and a balance of healthy fats
**or sweetener of choice – like honey, maple syrup, agave nectar, or liquid stevia.
4-Day Meal Prep Grocery List
2 c rolled oats
1 c plain unsweetened Greek yogurt
2 c unsweetened almond milk
2 teaspoon vanilla extract
4 tbs coconut nectar
Cinnamon
4 teaspoon chia seeds (optional)
4 teaspoon ground flaxseed (optional)
4-Day Meal Prep Method
Follow same instructions as above (using the measurements for one serving per container), then repeat until you've created 4 jars of overnight oats.
Nutrition