This easy strawberry peach smoothie tastes like sippable sherbet! Sweet, creamy and so simple to make. Just 5 ingredients & 5 minutes is all you need to make this for a healthy breakfast or a snack anytime.
Jump to:
🍓 Reasons to love this recipe
I don't know about you, but I love fruity smoothies (like this mango smoothie, this blueberry smoothie and this pineapple smoothie).
And this healthy strawberry peach smoothie is one of my all-time favorites - it's sweet, creamy, and is stupid-simple to make.
Just 5 ingredients and 5 minutes is all you really need to throw it together, so it's perfect for busy mornings (or anytime you could use a little energizing snack).
I designed the recipe without yogurt, but you can easily add Greek yogurt, protein powder, more fruit (like pineapple or mango!) or any other fun add-in's you like.
It tastes like a sippable strawberry peach sherbet, so if you're a sweet breakfast person (hi, that's me!) then I think you'll really love this smoothie.
PS - This easy smoothie recipe is naturally gluten free, dairy free, refined sugar free, vegan, vegetarian, and paleo friendly. But it can also easily be made nut free by using any other milk in place of the almond milk.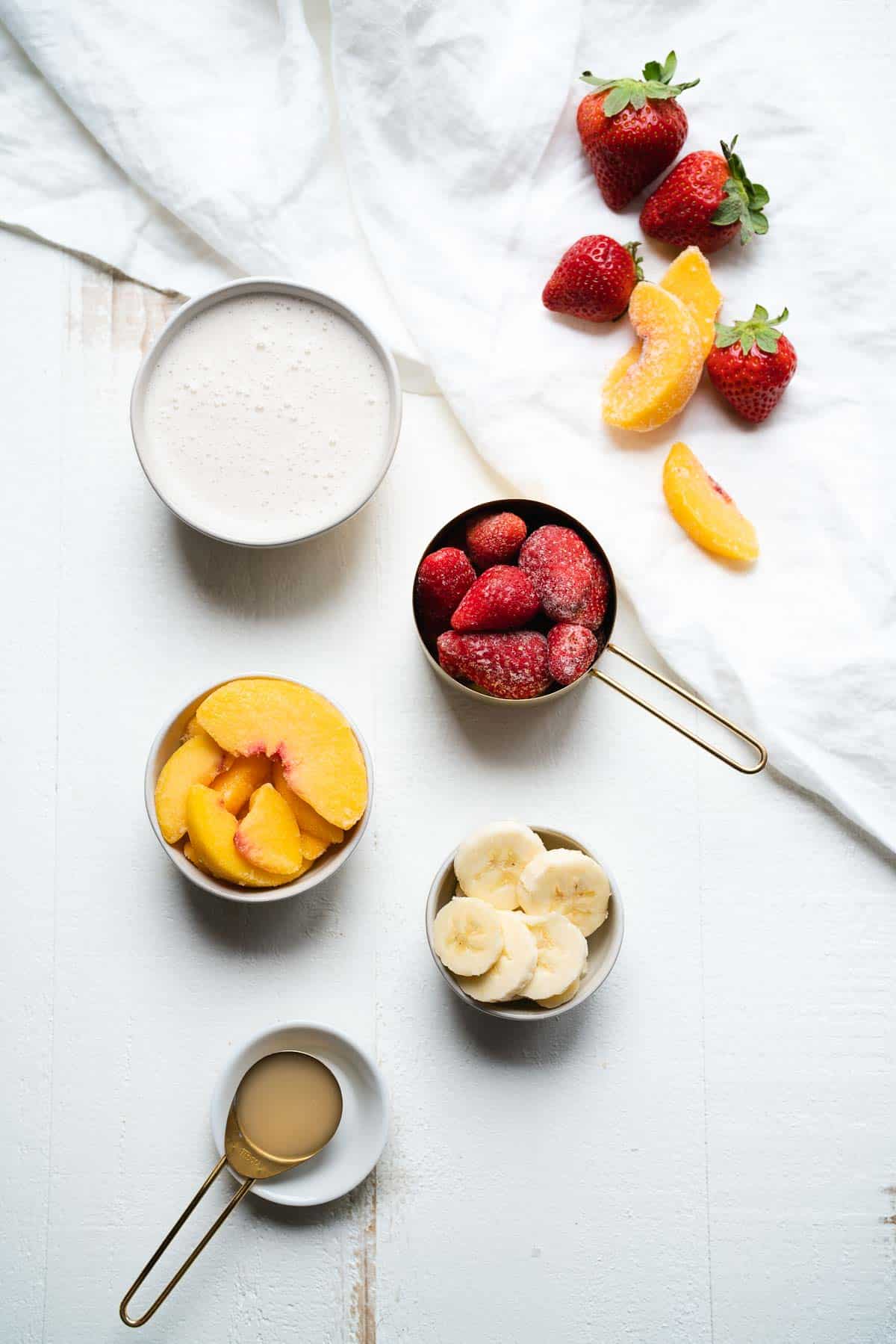 🍑 Ingredients you need to make it
Strawberries: You can use fresh or frozen strawberries for this recipe, so you can enjoy it all year round!
Peaches: Fresh or frozen peaches will both work great. If using fresh, you don't have to peel them before adding to your blender.
Banana: I love the natural sweetness and the thick & cream texture that frozen bananas add to smoothies, but you can also use a fresh banana instead.
Almond milk: Almond milk is a super convenient option for making creamy smoothies, but you can use any milk you like (including regular dairy milk or other non-dairy options like oat milk, cashew milk, coconut milk, hazelnut milk or hemp milk). You can also use water or juice instead.
Lemon juice: If you ever feel like your smoothies are a little bland or one-note try adding some citrus juice. Bottled lemon juice is super convenient to have on hand to make smoothies but you could also use fresh squeezed lemon juice. Lime juice, orange juice and pineapple juice also work great.
For a copycat version of the Daily Harvest Strawberry + Peach Smoothie: Add ¼ cup frozen raspberries, 1 tablespoon of oats, and ½ tablespoon of ground flaxseed along with the other ingredients.
💭 Top tips
Whenever possible, use frozen fruit instead of ice: Frozen ingredients make your smoothies thick and satisfying without watering down the flavors the way ice can. Bonus points that if the smoothie warms up, it'll still maintain the same great taste and thick, creamy texture.
If using fresh fruit, you can add ice for a thicker texture: This smoothie can be made with fresh or frozen fruit, so feel free to add ice cubes to the blender if you want it to be thicker and colder.
For a thinner smoothie add more milk: I love thick smoothies! In testing this recipe found using frozen fruit for at least 2 out of the 3 fruits used creates the best texture. But for a thinner more easy-to-sip smoothie, increase the amount of almond milk used.
Ways to adjust sweetness: In testing this recipe, I didn't find it needed added sweetener. But the sweetness of any fruit can vary greatly depending on the season and source, so feel free to adjust to taste by blending in a bit of honey, maple syrup, pitted dates or liquid stevia drops.
🍍 Add ins & variations
With spinach or kale: This mango spinach smoothie recipe is proof of just how well greens like baby spinach or baby kale go with tropical fruits. Add 1-2 cups before blending for an easy strawberry peach green smoothie.
For a boost of fiber & healthy fats: Add in 1 tablespoon of chia seeds or ground flaxseed, or ¼ of an avocado. You can also use ground psyllium husks but be sure to enjoy it soon after blending (since they gel up quickly in liquid).
For a strawberry peach protein smoothie: Add 1-2 scoops of any type of vanilla protein powder, just be sure to use one you like the taste of.
With yogurt: For extra creaminess or for an extra boost of protein (that isn't from protein powder) add ½ cup of plain unsweetened Greek yogurt.
With coconut water: For an even fruitier & more hydrating smoothie, try substituting coconut water in place of milk.
Without banana: If you want to make this recipe with no banana, you can double up on the peaches, add more ice, or try using frozen riced cauliflower instead (it doesn't add any flavor and is a great low sugar banana substitute in smoothies).
For a smoothie with pineapple: Add ½ cup pineapple chunks.
For a smoothie with mango: Add ½ cup mango chunks.
🍨 How to make a smoothie bowl
You can turn almost any smoothie recipe into a thick and delicious smoothie bowl just by reducing the amount of liquid you're using.
It also helps to use as much frozen fruit as possible to help you get that signature, spoonable smoothie bowl texture.
To make a strawberry peach smoothie bowl, reduce the amount of milk down to ¾ cup and be sure to use frozen strawberries, frozen peaches and frozen banana.
You can use any toppings you like, but here's a few that go really well with this smoothie:
For texture and crunch: coconut flakes, granola, sliced almonds, chia seeds, hemp seeds, bee pollen
For fresh fruit: strawberries, blueberries, raspberries, pineapple, banana, mango, kiwi, passionfruit
Fun extras: honey, coconut butter, almond butter, peanut butter, coconut cream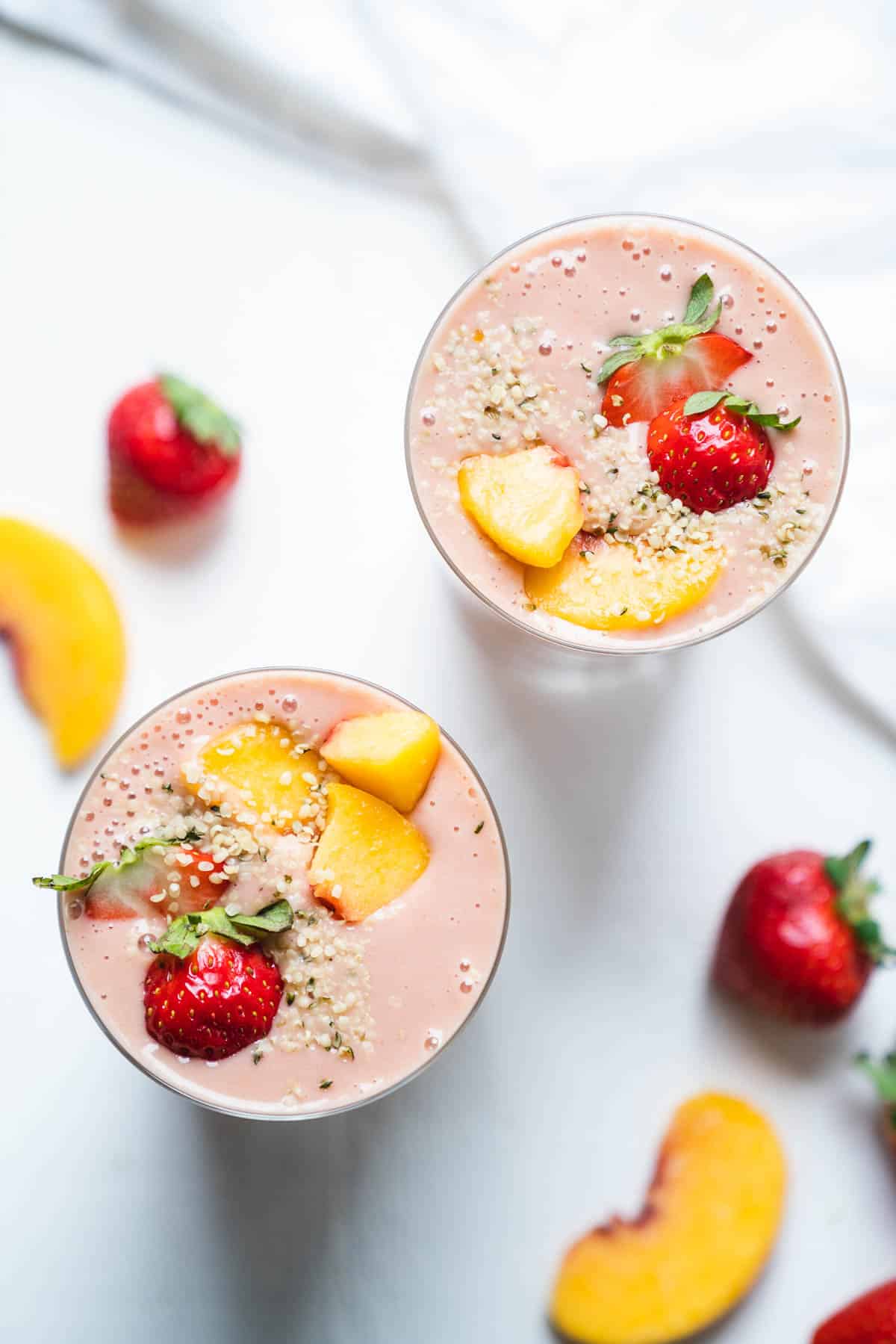 🧊 Storage, meal prep & freezing tips
This smoothie is very easy to prep ahead, just add all your ingredients (except the milk) for grab and go freezer smoothie packs that you can blend fresh each morning.
Of course, smoothies are at their best when enjoyed right after blending but it is totally possible to store leftovers in the fridge and freezer - here's a few ways I've stored mine.
If you want to enjoy it within the next day or two, you can store it in the fridge in a tightly sealed lidded container (or pop cling wrap or beeswax wrap on top of your smoothie glass). There may be some separation as it sits in the fridge but you can reblend it again, and even add ice, chia seeds or more frozen fruit to thicken it back up again.
If you plan to enjoy it past a few days, you can pour the leftover smoothie mixture into an ice cube tray and freeze it for up to a month. Then when ready to use just pop the smoothie cubes into a blender and add more milk to blend again.
💬 Answering your smoothie FAQ's
What other fruits mix well with peaches?
Peaches are sweet, tart, and add a creaminess to smoothies. So they pair well with lots of fruits - including strawberries, bananas, blueberries, raspberries, pineapple, oranges, mango and more.
What are the benefits of a peach smoothie?
Both strawberries and peaches are rich in vitamin C, fiber and antioxidants. Bananas are also rich in fiber, which can aid in digestion. When pairing these whole fruit, healthy fiber & carbohydrate sources with healthy fats (like almond milk) and protein (either from protein powder or Greek yogurt), they create a well balanced breakfast or snack option.
Strawberry Peach Smoothie (Sweet & Creamy!)
This easy strawberry peach smoothie tastes like sippable sherbet! Sweet, creamy and so simple to make. Just 5 ingredients & 5 minutes is all you need to make this for a healthy breakfast or a snack anytime.
Print
Pin
Rate
Ingredients
¾

cup

strawberries

fresh or frozen

¾

cup

peaches

fresh or frozen

½

cup

banana

fresh or frozen

1

cup

almond milk

or oat milk for nut-free

1

tablespoon

lemon juice
Optional add-in's and boosters:
For added protein: 1-2 scoops of vanilla protein powder or ½ cup of Greek yogurt

For a sweeter smoothie: 1 tablespoon honey or maple syrup

For a healthy fat & fiber boost: 1 tablespoon chia seeds

ground flax seed or rolled oats

For a green smoothie: 1-2 cups of baby spinach or baby kale
Instructions
Add all of your ingredients to a blender.

Cover and blend until smooth. Sweeten to taste with honey if you like.
Notes
Nutrition information was calculated using almond milk and without the optional add-ins.
For a nut free smoothie: This smoothie is already naturally dairy free, gluten free, vegan, refined sugar free and paleo but for a nut free version simply swap in any other milk in place of the almond milk (like oat milk or regular milk).
For a thinner smoothie, add more milk or use less frozen fruit.
If using all fresh fruit, you may want to add ice for better texture.
For more ingredient swaps, modifications, variations and storage tips (like how to turn this into a smoothie bowl!) - see the full blog post above.
Nutrition
Calories:
188
kcal
|
Carbohydrates:
39
g
|
Protein:
4
g
|
Fat:
4
g
|
Saturated Fat:
0.1
g
|
Polyunsaturated Fat:
2
g
|
Monounsaturated Fat:
2
g
|
Sodium:
342
mg
|
Potassium:
590
mg
|
Fiber:
7
g
|
Sugar:
25
g
|
Vitamin A:
438
IU
|
Vitamin C:
81
mg
|
Calcium:
327
mg
|
Iron:
1
mg