Just 5 minutes and 6 ingredients are all you need to make this easy blueberry spinach smoothie! It's sweet, creamy and tastes like blueberry pie in a glass but is packed with greens and high in protein. The perfect healthy breakfast or snack for busy weeks.
Jump to:
Note: This recipe used to be called "blueberry spinach avocado smoothie" but we've since updated it to include more tips & new photos so it's even easier to make. If you liked the old version, simply add ½ an avocado before blending!
⭐ Reasons to love this recipe
This blueberry spinach smoothie is one of my go-to green smoothies (that thanks to its star ingredient, doesn't actually look "green" at all!).
It's packed with antioxidant boosted blueberries, naturally sweetened with frozen bananas, and finished off with a squeeze of tart lemon juice to bring it all together.
Plus it tastes like sweet & creamy, blueberry pie in a glass, with lots of good-for-you ingredients and greens blended right in.
I love that it can be made with fresh or frozen fruit, so you don't have to wait until blueberries are in season to make this easy smoothie recipe!
The best part about adding spinach to a smoothie is that you can't even taste it - it blends completely and gives your glass the most vibrant, beautiful color. Getting your daily dose of leafy greens has never been easier!
🍌 Ingredients you need to make it
Blueberries: These are the star ingredient of this smoothie but you could substitute in almost any other berry (like strawberry or even mixed berries!) & it would be delicious. Fresh or frozen blueberries both work great so use what you've got!
Baby spinach: Baby spinach is great for fruity smoothies, you can barely taste it and it's a great way to squeeze some extra greens in. You can use fresh or frozen baby spinach, or swap in another delicate green like baby kale for a kale smoothie.
Banana: Fresh or frozen banana works great for this recipe and adds a nice natural sweetness that balances the other flavors in this smoothie nicely. You can also use riced cauliflower, frozen zucchini or mango in its place.
Almond milk: I like almond milk in my creamy smoothies but you can use any milk you like (including regular dairy milk or other non-dairy options like oat milk, cashew milk, coconut milk, hazelnut milk or hemp milk). You can also use water, coconut water, or juice if you want a punchier berry flavor.
Lemon juice: A little bit of lemon juice is my secret to turning up the volume all the flavors in a fruitier smoothie. I often use convenient bottled lemon juice but fresh lemon juice (or lime juice, orange juice or passionfruit juice) is of course a great option too!
Vanilla protein powder: The protein powder is optional but adds some nice sweetness, creaminess, and staying power (especially if you're enjoying this for breakfast). You can use any vanilla protein powder you like - I often use a plant based protein blend but a whey protein one would be equally delicious.
PS - This recipe is naturally gluten free, dairy free, refined sugar free, vegan, vegetarian, and paleo friendly. You can also make it nut free just by using any other milk in place of the almond milk.
💭 Top tips
Frozen fruit vs. ice: I find that my fruity smoothies taste best when I use frozen fruit to thicken them instead of ice (which can water down the flavors). So if you like vibrant flavor, opt for frozen (or freeze your fresh fruit the night before).
If using fresh fruit, you may want to add ice to make it thicker & colder.
Try adding lemon juice: If you've ever made a smoothie at home and felt like it tasted bland, the thing it could be missing is a little tartness to balance out all the sweetness. Fresh fruit usually has both sweet & tart flavors, but blending it with liquid & other ingredients can tone that down. So adding little lemon juice is my secret to truly fruity & bright smoothies!
Feel free to sweeten to taste: The sweetness of blueberries and ripeness of bananas can vary season to season, so if you like a sweeter smoothie you can add 1 tablespoon of honey, maple syrup, or agave. Or blend in 1-2 pitted dates.
🥑 Add-ins and variations
Add in any other fruit: Add ½ cup of pineapple, mango, strawberries, cherries or raspberries for a fun twist.
With avocado: Blend in ¼-½ of an avocado (pit & skin removed of course). It makes it so creamy & delicious - easily my favorite add-in!
With yogurt: You can use Greek yogurt as a whole food source of protein in addition to (or in place of) the protein powder. The creaminess & tanginess pairs great with the blueberries.
Add nut butter: For extra creaminess, blend in 1 tablespoon of almond butter, peanut butter (or sunflower seed butter for a nut free option).
Without banana: You can use mango or peaches in place of banana if you like. Or for a less sweet and lower sugar smoothie, you can replace the banana with riced frozen cauliflower (adds creaminess with virtually no taste!).
For a boost of fiber & healthy fats: Add in 1 tablespoon of chia seeds or ground flaxseed. You can also use ground psyllium husks but be sure to enjoy it soon after blending (since they gel up quickly in liquid).
For a chocolate blueberry spinach smoothie: Add in 1-2 tablespoons of cocoa powder (or cacao powder) and use chocolate protein powder in place of vanilla protein powder.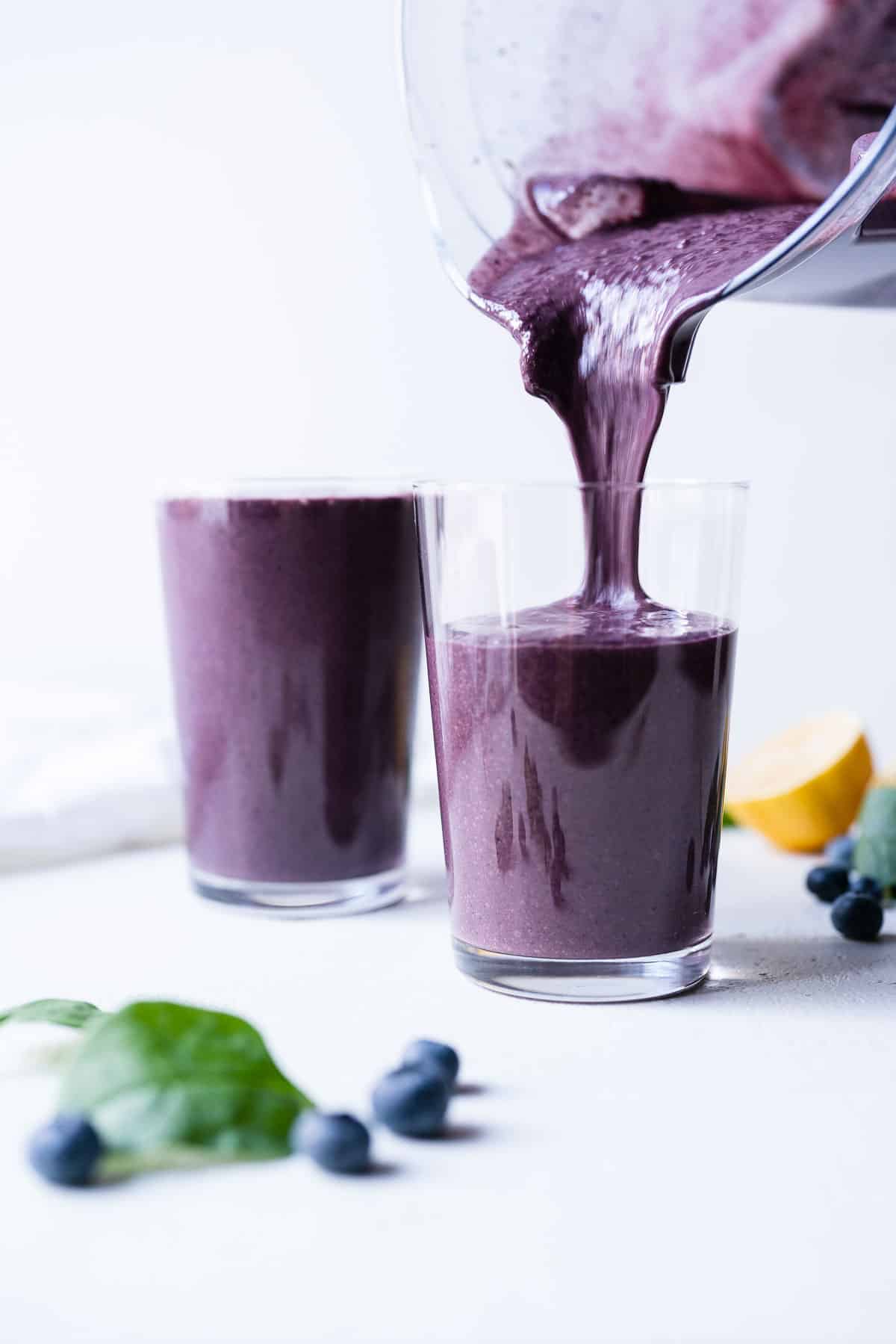 🍨 Make it into a smoothie bowl
You can turn almost any smoothie recipe into a thick and delicious smoothie bowl just by reducing the amount of liquid you're using.
To make a blueberry spinach smoothie bowl, reduce the amount of almond milk down to ¾ cup and be sure to use frozen berries and frozen banana.
You can use any toppings you like, but here's a few that go really well with this smoothie:
For texture and crunch: coconut flakes, granola, sliced almonds, chia seeds, hemp seeds, bee pollen, cacao nibs
For fresh fruit: sliced strawberries, blueberries, raspberries, blackberries, kiwi, banana
Fun extras: honey, almond butter, peanut butter, coconut cream
🧊 Storage & freezing tips
This smoothie is very easy to prep ahead, just add all your ingredients (except the milk) for grab and go freezer smoothie packs that you can blend fast each morning.
Of course, smoothies are at their best when enjoyed right after blending but it is totally possible to store leftovers in the fridge and freezer.
I either store them in a tightly lidded container in the fridge & re-blend the next day (if there's been any natural separation or I add more frozen fruit/ ice if I want it thicker & colder).
Or I freeze it by pouring the smoothie into ice cube trays, and then store the smoothie cubes in a ziptop bag for up to a month. This makes it easy to pop a few in the blender with some milk and have a fresh-feeling smoothie whenever I want.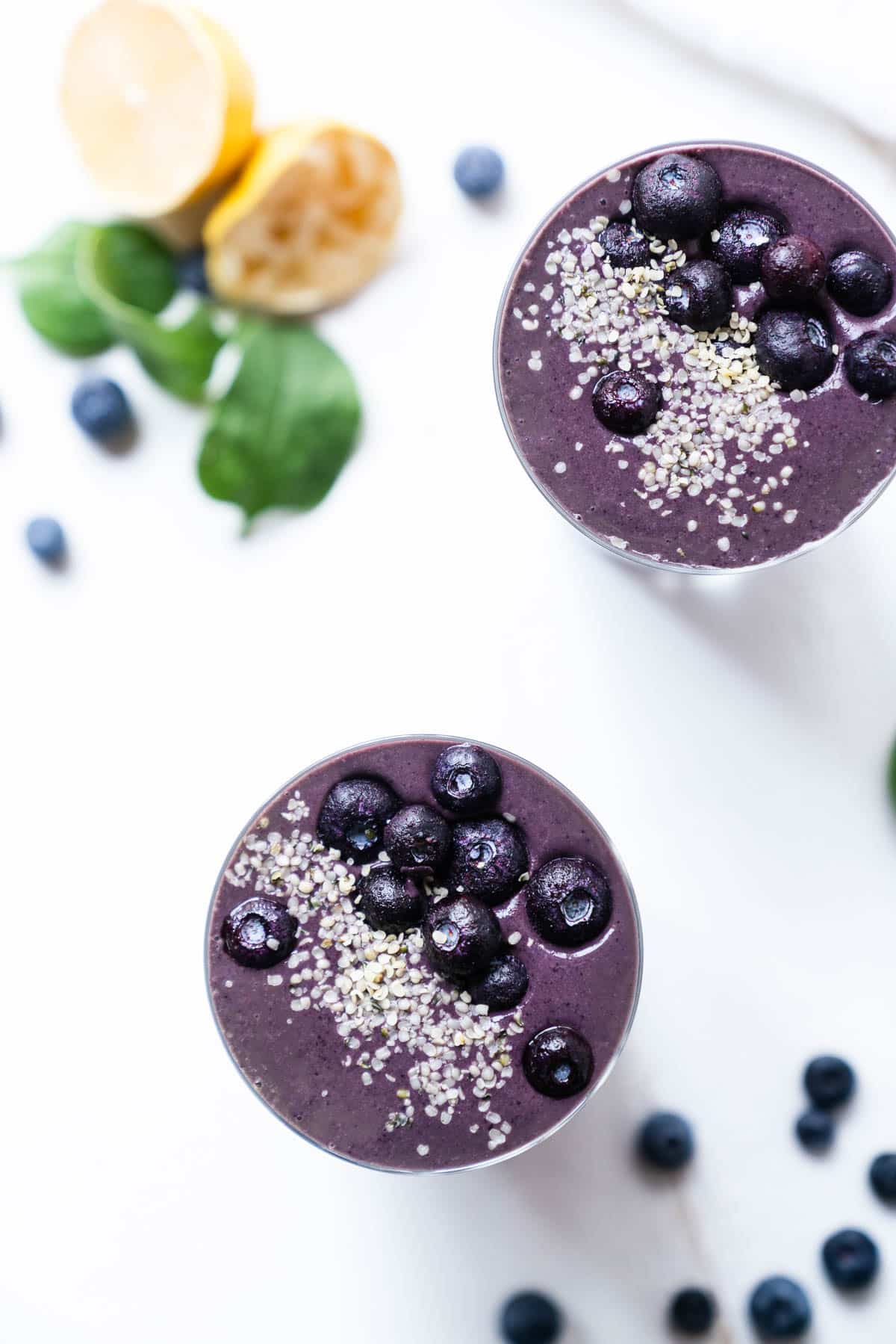 💬 Answering your smoothie FAQ's
Are spinach and blueberry good for you?
Blueberries are packed with vitamins and are among the most nutrient dense berries you can find. Both blueberries and spinach are high in fiber, antioxidants and vitamin C - so they can be a great addition to a healthy diet.
Is it healthy to drink a blueberry smoothie everyday?
Blueberries and spinach can each be beneficial additions to your daily routine but, of course, you can't rely on smoothies alone to meet all your nutritional needs. It's generally recommended to include a wide variety of foods in your diet - including a balance of healthy fats, carbohydrates, protein, and fiber (from whole grains, lean meats, anti-inflammatory oils, nuts, seeds, fruits and vegetables, etc).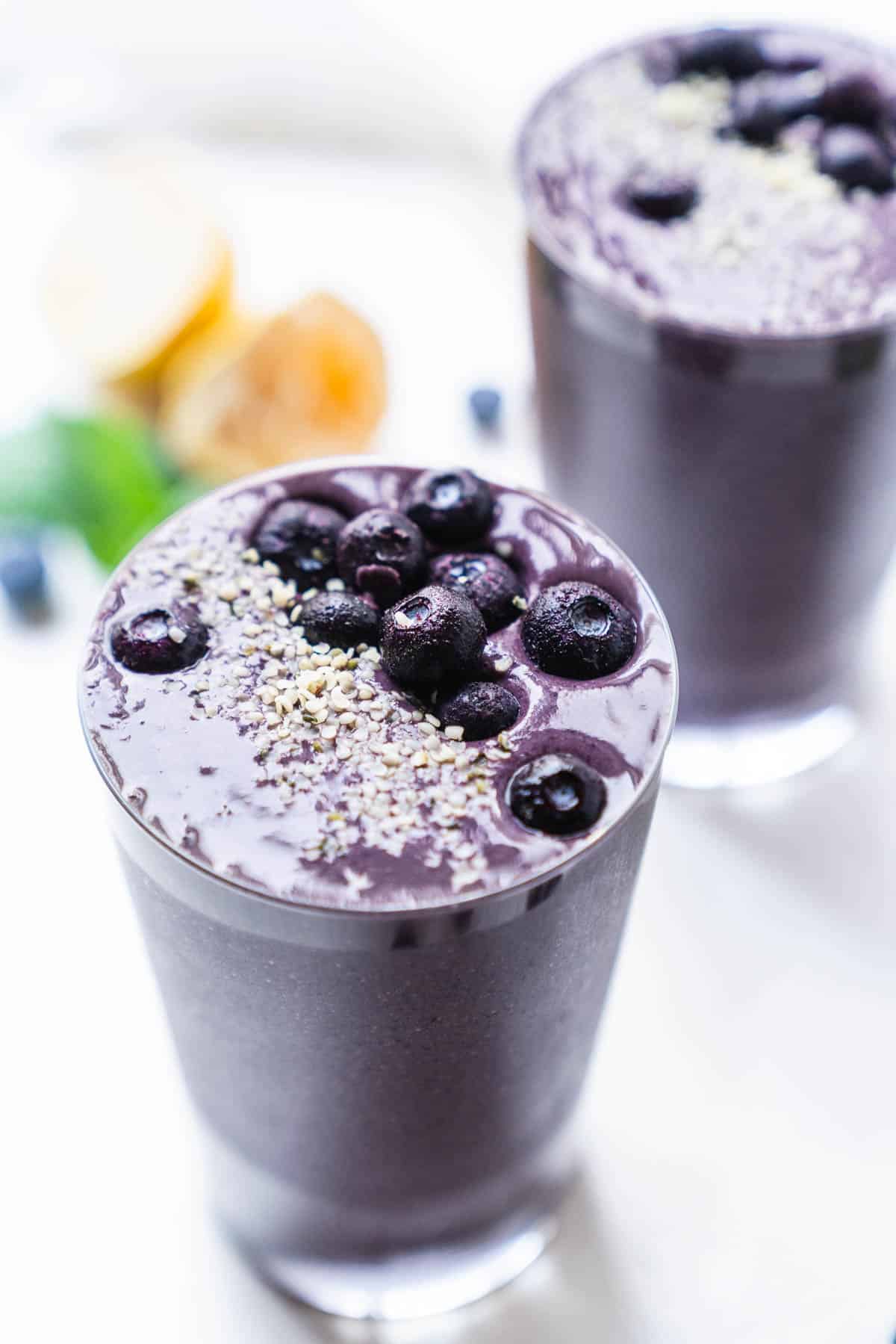 Blueberry Spinach Smoothie (Quick & Easy!)
Just 5 minutes and 6 ingredients are all you need to make this easy blueberry spinach smoothie! It's sweet, creamy and tastes like blueberry pie in a glass but is packed with greens and high in protein. The perfect healthy breakfast or snack for busy weeks.
Print
Pin
Rate
Ingredients
¾

cup

blueberries

fresh or frozen

¾

cup

banana

fresh or frozen

1

cup

almond milk

or any other milk

1-2

cups

baby spinach

2

tablespoons

lemon juice

or the juice of 1 lemon

1-2

scoops vanilla protein powder

or half a cup of Greek Yogurt
Instructions
Add all of your ingredients to a blender.

Cover and blend until smooth. Sweeten to taste with honey if you like.
Notes
Optional Add-Ins:
healthy fat boost: ½ ripe avocado, 1 tablespoon peanut butter/ almond butter
fiber boost: 1 tablespoon chia seeds or ground flax seed
sweeter: 1 tablespoon honey or maple syrup
pinch of cinnamon
Nutrition information calculated using 2 cups of spinach, vanilla protein powder & almond milk and without any of the optional add-ins listed above.
For a nut-free version, simply use any other milk (like traditional dairy milk or oat milk) in place of the almond milk.
For a vegan smoothie: This smoothie is naturally dairy free and gluten free, but be sure to use a plant based protein powder for a vegan version.
For a paleo smoothie: This smoothie is naturally dairy free and grain free, but be sure to use a paleo friendly protein powder for a paleo compliant version.
For more ingredient swaps, modifications, tips & tricks (like how to make this into a smoothie bowl!) see the full blog post above.
Nutrition
Calories:
334
kcal
|
Carbohydrates:
53
g
|
Protein:
24
g
|
Fat:
6
g
|
Saturated Fat:
1
g
|
Polyunsaturated Fat:
2
g
|
Monounsaturated Fat:
2
g
|
Cholesterol:
62
mg
|
Sodium:
452
mg
|
Potassium:
977
mg
|
Fiber:
8
g
|
Sugar:
28
g
|
Vitamin A:
5760
IU
|
Vitamin C:
49
mg
|
Calcium:
527
mg
|
Iron:
2
mg