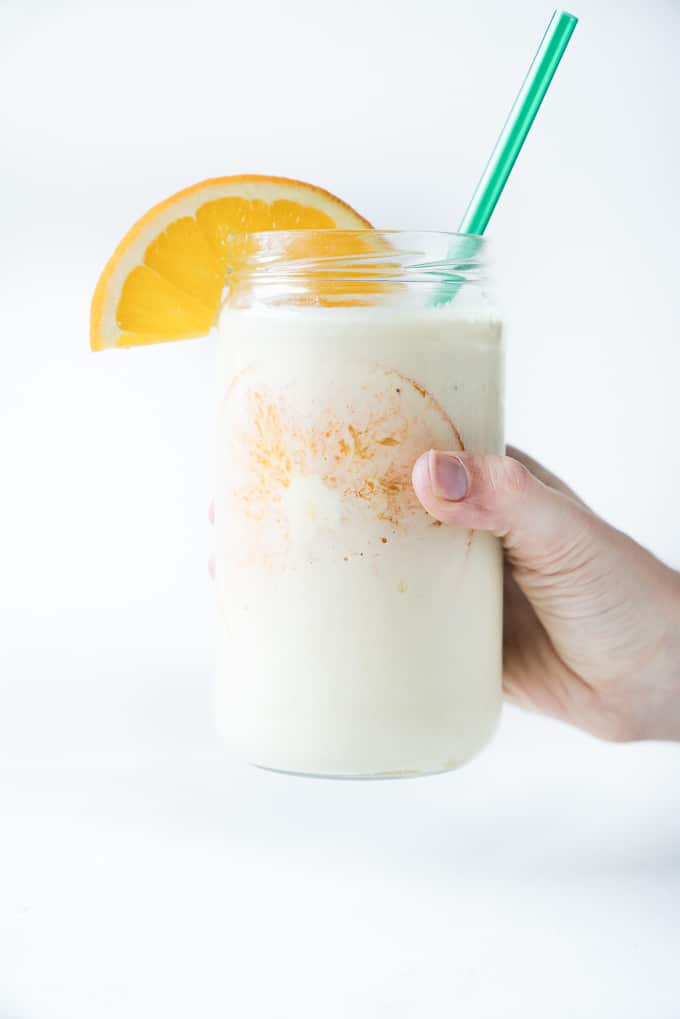 It's citrus season, my friends! And I'm celebrating with this (protein-powder free) Protein Orange Creamsicle Smoothie. My favorite retro ice cream treat is getting a full-on healthy makeover, cause who doesn't want to eat dessert every day?
I don't know about you but my hands-down favorite popsicle as a kid was an orange creamsicle. The kind that looked like an orange brick on the outside with a ribbon of vanilla ice cream hidden on the inside. The best of both the bright sherbet + rich-n-creamy ice cream worlds.
This decadent smoothie is just like that treat you remember from your childhood (but without all the nasty artificial colors, flavors, or preservatives). It tastes like a sweet ice cream milkshake, but has an ingredient list that is sure to make you smile. It's naturally sweetened with a splash of orange juice, some banana slices, and a squeeze of honey. A bit of vanilla extract roots this glorified protein shake firmly in dessert territory. Morphing the humble Greek Yogurt into something that tastes every bit like vanilla ice cream.
It gets a significant boost in protein from none other than protein-powerhouse Greek yogurt (which is my go-to for real, whole food based protein without having to use a pricier powdered whey protein). Don't get me wrong! I think protein powders are awesome when you need to get some quick and easy to digest protein into your body or to use as a supplement to a healthy diet. But the key word there is as a supplement – defined as "something that completes or enhances something else when added to it" – not as a replacement for real food.
But I realize not everybody likes the taste of a protein powder, or is even comfortable using them as a supplement. Plus you may not always have powdered protein on hand and it can't be found as easily in every grocery store. But I hope you'll find that this smoothie's ingredients are pretty universally accessible and easy on the wallet too. All of these reasons are why I wanted to create a macro-balanced smoothie recipe that didn't rely only on a powder for its protein content.
This healthy fruit smoothie offers the same (if not more) protein than your traditional eggs + bacon breakfast. This recipe boasts around 26 grams of protein per smoothie!
Which comes in handy when you're just not feelin' a savory hot meal that early on in the day. Sometimes a sweet, sippable, breakfast on-the-go is just what you need most on a busy morning.
Combining protein + fiber + fat in a meal can help you feel fuller for longer, which for me is a MUST if I'm going to make it to lunchtime without needing to break for a snack.
Speaking of fiber - did I mention there's a secret vegetable hidden inside? Once blended, it becomes totally invisible and from first to last sip, is damn near undetectable. I dare you to try it and see if you even notice it's in there at all. Any guesses on what it is…?
If you guessed CAULIFLOWER - then you guessed right! This frozen veggie helps thicken up this smoothie and bump up the fiber content.
I'm more of a sweet breakfast or snack person than a savory one, which means I tend to miss out on those 2-3 meal times as opportunities to get some more vegetables into my diet. And I know I'm not alone in striving to incorporate more veggies into my life. Smoothies are an awesome way to sneak a little more plant-based fiber & nutrients into your diet (without having to chow down on a big plate of veggies).
Seriously though…WHY on earth would I add cauliflower to my smoothie?
First of all, it's pretty damn good for you. It's a cruciferous vegetable that is rich in Vitamin C, Vitamin K, antioxidants, and even omega-3 fatty acids.
And on its own, cauliflower is relatively flavorless and carries no bitter taste like some of its greener hued cruciferous cousins (like broccoli, kale, or cabbage). Making it one of the best vegetables to hide in a blended smoothie – lots of nutritious benefits without that strong vegetable taste. Riced cauliflower is even easier to add in because the small pieces will surely get pulverized in your blender, so you won't have that dreaded moment where you suck up a chunk of raw vegetable into your straw.
I think of cauliflower as the chameleon of the vegetable world. It has an amazing knack for versatility. It can meld itself into almost anything you throw it into and takes on the flavor of whatever dish you want. Its neutral flavor profile and lack of color are what make cauliflower such an awesome substitute for potatoes or addition to creamy sauces.
If you're still feeling hesitant, I totally understand. I was in that same boat earlier this year. I've been adding spinach and kale to my smoothies for years, since they're so easy to blend and their taste is so easily disguised by sweet frozen fruit. But let me assure you that I've got a mean sweet tooth and am not the most adventurous eater, and even my taste buds haven't thrown a fit over it. I have even added more than a full cup of frozen cauliflower to the blender and was shocked that it was NBD. At all.
Can I use non-fat Greek yogurt in this?
Greek yogurt comes in several varieties - whole milk (full fat) + 2% fat (lowfat) + 0% fat (nonfat). I understand that everyone has their different preferences about which variety tastes the best. And I get that each person also has a unique set of health circumstances dictating how much fat to incorporate into their diet.
But I have to say that the best tasting versions for this healthy smoothie recipe are the whole milk and 2% fat varieties. If for whatever reason you have to be on a very low fat diet, then please know that the 0% will work perfectly for consistency. It just won't be quite as full-bodied of a taste or mimic the feel of an ice cream milkshake quite as well.
Also, certain vitamins (like Vitamin K) are fat soluble. Meaning that they need to be consumed with a fat source in order to be properly absorbed into the body. So if you're adding in the cauliflower hoping for that nutrient boost effect, I definitely urge you to not shy away from including a little more fat content in this.
And finally, I use higher fat yogurt in my smoothies because fat keeps me feeling fuller for longer. I know I might sound like a broken record on that but for me it makes a HUGE difference to feel satisfied after a meal. Consider the satiety difference you feel after drinking a glass of milk versus a glass of juice. Same quantity of liquid, but two very different feelings after the glass has been drained.
So the choice really comes down to this – what do YOU want to put in your smoothie to feel your best? What does your body need? Once you have your answer, honor it by making the best choice for you and you alone.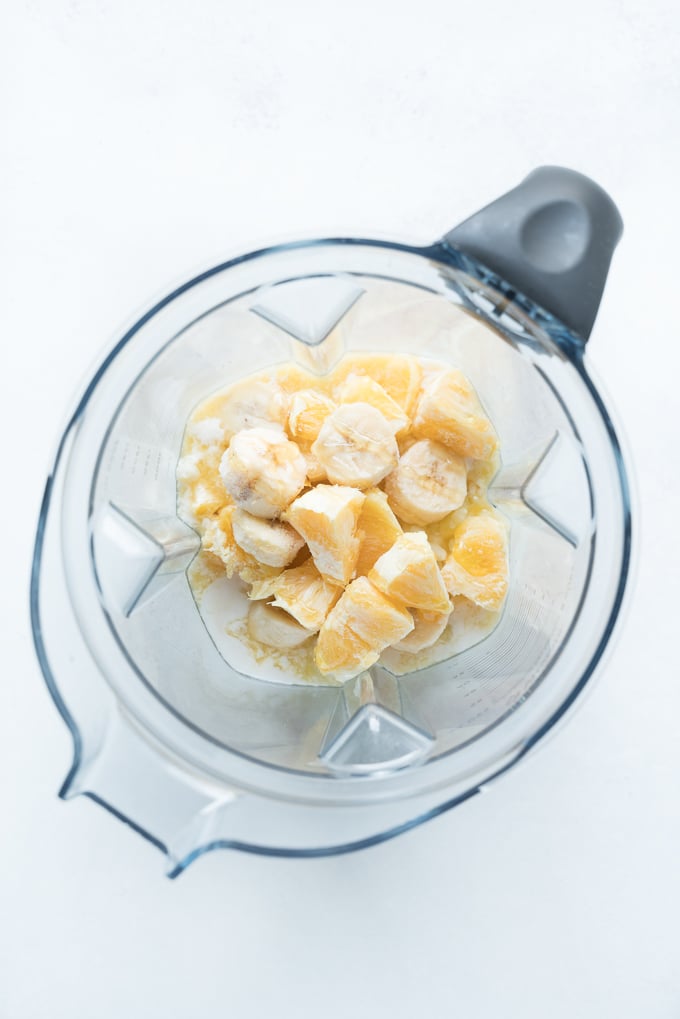 I'm watching my sugar intake – how could I make this into a low sugar smoothie?
I've got you covered – I've put modifications for a low sugar smoothie in the notes below but I'll tell you how to customize it here too!
Omit the banana + double the amount of cauliflower + use liquid stevia drops in place of honey. Adjust the amount of stevia to taste, adding as much as you need to compensate for taking out the banana from the recipe. The doubled amount of cauliflower will make sure that you have enough frozen goods in your blender to make up the textural difference for omitting the banana too.
Please note that I don't recommend taking out the orange juice if you can help it, since it adds a lot to the taste. But if absolutely necessary, you could use a whole orange instead and double the almond milk. Instead of being a full-on Orange Creamsicle Smoothie this will result in a creamy smoothie with a lighter citrus flavor.
How do I make sure my smoothie is thick and not watery?
Be sure to freeze your fruits and veggies ahead of time! There is no ice in this recipe, so without those frozen components your smoothie won't have that signature slushie quality to it. And it won't stay as cold for as long. Frozen fruits and veggies add a lot of body to smoothies and give them a thicker texture, without having to add any ice. While ice does help thicken up your smoothie in terms of texture, it can also compromise the taste by watering down the flavors.
Plus if you cut and freeze your veggies ahead of time it'll make it easier to grab them out of the freezer and just chuck them straight into the blender. Saving you from having to peel an orange in those brain foggy morning hours. You know, that time period before your coffee kicks in and you can't even put on matching shoes (let alone have to grapple with a round fruit + a sharp knife).
Have you hopped on the hidden-veggie-smoothie train yet or are you nervous about switching up your blender routine? Tell me in the comments below!
.
.
Here's a list of the tools + ingredients I used in this recipe:
FYI these are affiliate links – which means if you use these links I will make a small commission of whatever you purchase. The price of the item remains the same whether or not you use this link and it's at zero additional charge to you. All commissions support this blog.
.
MORE HEALTHY SMOOTHIE RECIPES:
.
Protein Orange Creamsicle Smoothie
Healthy recipe for a Protein Orange Creamsicle Smoothie made without any protein powder. Naturally sweetened with hidden cauliflower blended in for fiber! Perfect for breakfast or as a preworkout // postworkout snack!!
Print
Pin
Rate
Ingredients
½

c

orange juice

½

c

almond milk

½

teaspoon

vanilla extract

½

tbs

honey*

1

c

Greek yogurt**

½

c

riced cauliflower

frozen

½

navel orange

frozen (peeled and chopped into 1" pieces)

½

banana

frozen (peeled and chopped into slices)
Instructions
BLEND ALL INGREDIENTS: For easiest blending layer in exact order of ingredient list. This just makes it easier on your blender to get momentum going and blend everything uniformly. Blend all ingredients until desired consistency has been reached, adjust sweetener to taste. Enjoy immediately.
Notes
LOW SUGAR ALTERNATIVE: Omit the banana + double the amount of cauliflower + use stevia instead of honey (adjust amount to taste). I don't recommend leaving out the OJ, since it adds a lot to the flavor. But if you're very concerned about the sugar in juice, you can use a whole orange instead of a half and use double the amount of almond milk instead of the half OJ / half almond milk combo. Please note this will give the smoothie only a light citrus flavor instead of a true creamsicle flavor. *Or sweetener of choice, liquid stevia drops work awesome here if you're watching your sugar intake **I have used Whole Milk and 2% fat organic Greek yogurt varieties in this recipe and both taste delicious. Nonfat yogurt doesn't give as full-bodied a taste or mimic the ice cream milkshake feel as well.
Nutrition
Serving:
1
g
|
Calories:
340
kcal
|
Carbohydrates:
56
g
|
Protein:
25
g
|
Fat:
3
g
|
Saturated Fat:
0.4
g
|
Polyunsaturated Fat:
1
g
|
Monounsaturated Fat:
1
g
|
Trans Fat:
0.01
g
|
Cholesterol:
10
mg
|
Sodium:
262
mg
|
Potassium:
1105
mg
|
Fiber:
5
g
|
Sugar:
41
g
|
Vitamin A:
467
IU
|
Vitamin C:
147
mg
|
Calcium:
437
mg
|
Iron:
1
mg