Updated 1/8/2022
This easy healthy recipe for a Berry Green Smoothie is perfect for make ahead freezer smoothie packs!
Use to prep quick breakfasts on-the-go or for a protein packed pre-workout & post-workout snack.
The easiest place to start with meal prep is with just one meal a day – something quick and easy, with simple ingredients, and minimal time investment. Which makes this Berry Green Smoothie the perfect place to start.
---
Smoothie freezer prep couldn't be simpler. You just pre-portion out the ingredients you'd normally need to add to the blender (all the ones that are freezer friendly), seal them in some bags, and store them in your freezer until you're ready to use them.
Then when it's time to blend - add fresh ingredients like almond milk (liquid makes blending much easier) and Greek yogurt or choice of protein powder. Turn on your blender, and that.is.it. Just like that and you've made yourself a healthy, portable, sippable meal. In just a matter of minutes.
And because these servings are stored in the freezer, they will keep even longer than your normal meal prep leftovers. So if you skip a day or decide you want to make fresh scrambled eggs that morning instead, it gives you a little flexibility to make that impulsive change without having to feel like you let anything go to waste.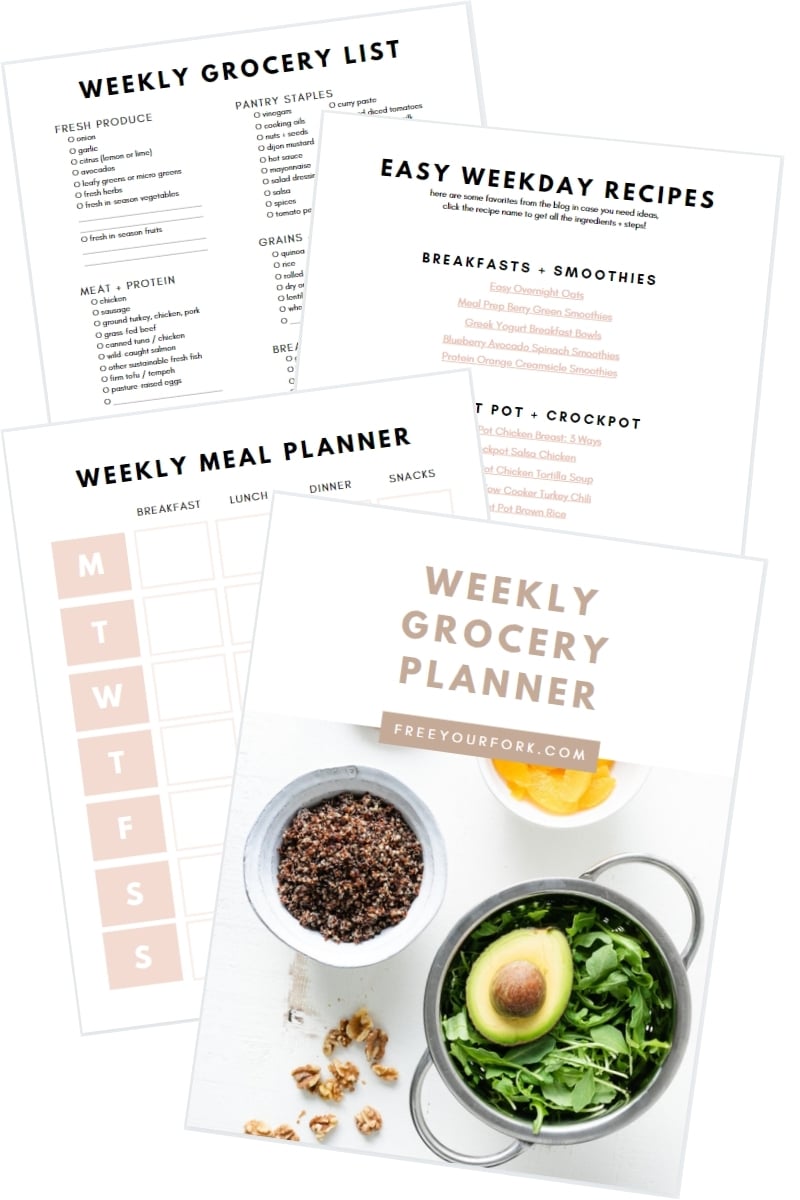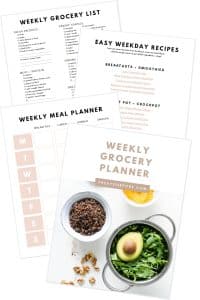 ---
tips for making thick smoothies without ice
If you would've asked me a year ago if I would be game to put raw zucchini into my blender, my answer would have been a flat and firm - NO. But now, along with cauliflower, it's my favorite way to add extra fiber and volume. And when you freeze it, it works even better.
Along with the frozen fruit - the veggies help create that cold // thick // frozen // creamy texture we've love (without having to add ice, which changes the texture but waters down all the flavors).
Using greens and neutral flavored veggies (like spinach and zucchini) in smoothies provides you with some great vegetable fiber. Plus it's a great way to sneak an extra something-green into a meal where you might not have it otherwise.
And to me, with the dark sweet berries and banana blended right in, I don't really notice the flavor much.
how to make your own freezer smoothie packs at home
I don't know about you but I love the ease of those smoothie delivery box subscriptions!
But sometimes it's nice to be able to make your own and have full control over the ingredients used.
Here's how I make my own freezer smoothie packs.
Set up an assembly line to make your freezer meal prep smoothie bags. After prepping the zucchini and banana, set out the rest of your freezer bag ingredients, plus some measuring cups and measuring spoons.
Open all of your plastic bags and line them up – I find that grabbing the very top of the ziploc bag and turning that top inch inside out helps hold them open (without needing a partner to help you do it). Once you have added your first ingredient inside each bag, this will weigh the light baggies down and keep them in place more easily as you build them.
Start with the heaviest ingredient first (like the frozen mixed berries) so that it has a better shot at anchoring them down and build from there.
PS - you can also use a freezer friendly plastic or glass jar if you don't have or don't prefer to use freezer ziptop bags!
quick blender cleaning trick
If you're one of those people who hates doing dishes (like me), then you need to know this easy hack for quickly cleaning your blender. It takes just a minute to do & you'll be so glad later that you did it!
When I'm done pouring my smoothie I immediately add a few inches of warm water right to the blender cup, add a splash of dish soap, secure the lid tightly and give it a quick high speed blend. This will clean the blades and blender cup sides for you. Especially helpful for loosening any protein powder or chia seeds before they get stuck.
If you use reusable straws and smoothie cups, I've also found that a straw & bottle brush cleaning kit is super helpful for making sure you get every nook and cranny of your reusable vessels squeaky clean. I use a 3-piece cleaning kit that has a long brush for reaching into the bottom corners of your bottle, a skinny brush for plunging into the length of your straw, and a small swoop-shaped detail brush for cleaning the inside of lids or caps. Saves me from having to get my hand stuck trying to jam it inside of a narrow bottle, or try (futilely, I might add) to reach those bottom corners with a regular sponge.
how to store your freezer smoothie packs
Be sure to use a freezer-friendly plastic bag – if they are suited for freezer storage they will say so clearly on the box's label. If you don't use a bag that is heavy duty enough then you may be exposing your smoothie bags to some freezer burn – which affects the quality and taste of your food.
To further prevent freezer burn, press as much air out of the bag as possible before sealing it. The easiest way to do this is to seal the bag almost all the way, leaving a small section unzipped. Then press the air out of the bag and while holding it pressed, seal the bag closed completely. This makes the smoothie bags very stackable and will help you save some storage space too.
Since hitting publish on this recipe post I've started using a line of silicone bags that can even be used in the freezer! So that's a great low-waste option too if you have them.
Here's a list of the tools + ingredients I used in this recipe:
FYI these are affiliate links – which means if you use these links I will make a small commission of whatever you purchase. The price of the item remains the same whether or not you use this link and it's at zero additional charge to you. All commissions support this blog.
more healthy smoothie recipes
Protein Orange Creamsicle Smoothie
Blueberry Avocado Spinach Smoothie
Make Ahead Freezer Smoothie Packs
This healthy recipe for a Berry Green Smoothie is perfect for a breakfast on-the-go or as a snack before or after your workout! Perfect for weekly meal prep or for a single serving smoothie (see portions for both in the recipe ingredient list and recipe card notes).
Print
Pin
Rate
Ingredients
for one single serve smoothie

see notes section for full 7-day meal prep amounts
FREEZER BAG INGREDIENTS
¾

c

mixed berries

frozen

½

banana

½

c

zucchini

2

c

baby spinach

2

tbs

rolled oats

1

teaspoon

chia seeds

optional 1 pitted date*
FRESH BLENDER INGREDIENTS
1

c

unsweetened almond milk

⅓

c

unsweetened Greek yogurt
Instructions
PREP THE FRUIT + VEGGIES: Remove and discard ends of the zucchini, then cut in half lengthwise and then half again – giving you 4 quarters. Chop into ½" pieces to create quarter moon shaped slices. Peel and slice bananas into ½" slices.

ASSEMBLE THE BAGS: Layer mixed berries, zucchini, banana, spinach, oats, chia seeds (and date with pit removed, if using). Press as much air out of the bag as you can before sealing and placing in freezer. Stack multiple bags on top of one another to save space.

BLEND SMOOTHIE: Take out on bag from freezer and add entire contents of the bag to your blender. Add almond milk and Greek yogurt on top. Blend and sweeten to taste. Enjoy immediately!
Notes
*SWEETENER OPTIONS - If you want to use a date to naturally sweeten your smoothie, then you can add these to your freezer bags. Or you can use a difference sweetener of choice (like maple syrup, honey, agave nectar, coconut nectar, or stevia) which should be added along with the fresh blender ingredients.
GROCERY LIST FOR 7 DAYS OF SMOOTHIES:
5 ¼ c mixed berries, frozen
3 ½ bananas
5 c zucchini (about 2-3 large zucchini)
14 c baby spinach
⅞ c rolled oats
2 tbs + 1 teaspoon chia seeds
7 pitted dates (optional)
7 c unsweetened almond milk
2 ⅓ c unsweetened Greek yogurt
Nutrition