This sheet pan recipe for Stuffed Acorn Squash is filled with roasted vegetables - including broccoli, mushrooms, and tomato basil sauce. Topped with melted cheese, this gluten-free dish feels like your favorite comfort food (this one gives me major lasagna vibes)! Check out the recipe notes for vegan + dairy-free modifications…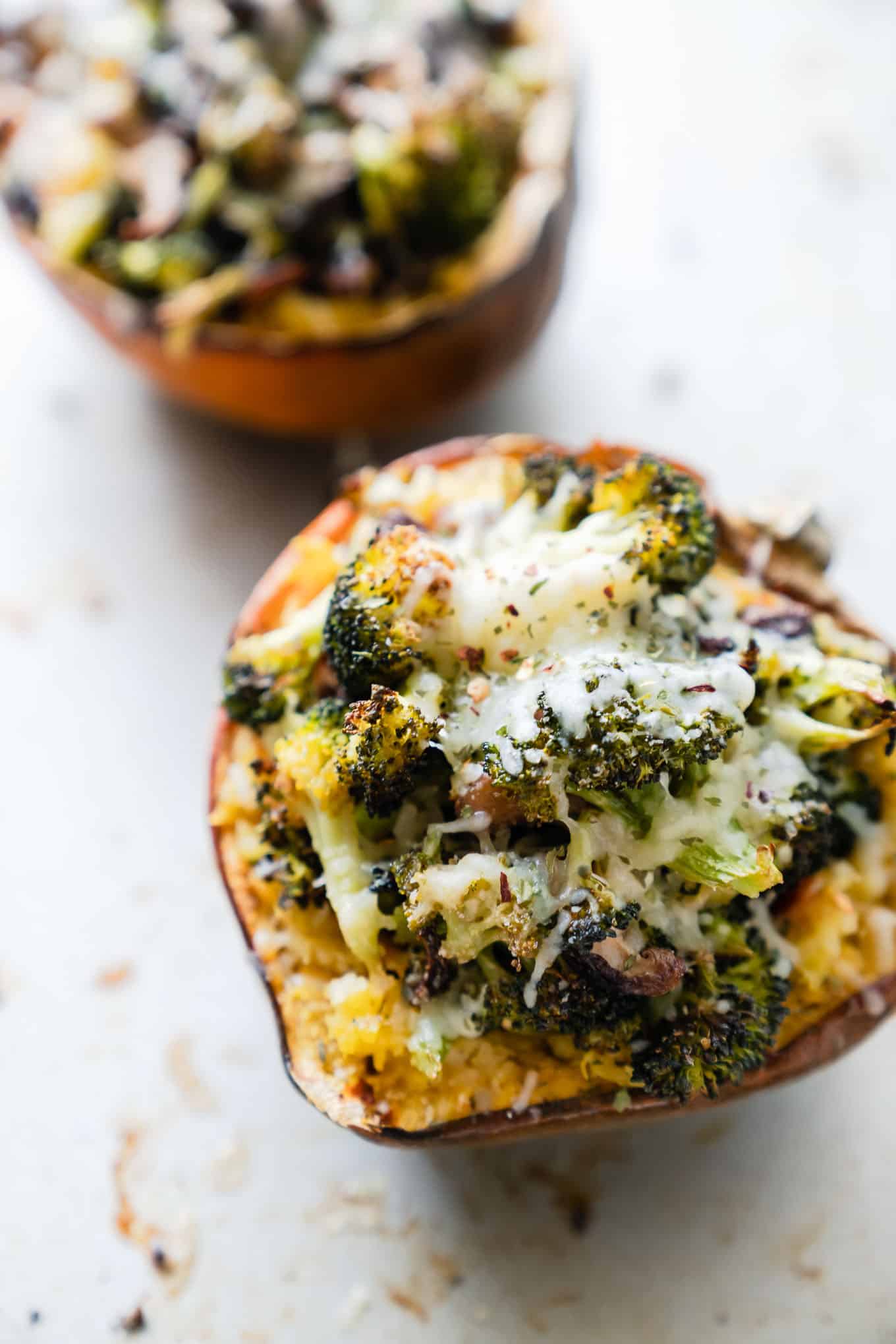 Is there anything better than a true one-pan meal? Low on clean up and easy to prep, this recipe for Stuffed Acorn Squash checks all the easy weeknight meal boxes for me!
In fall + winter, the produce section is packed with SQUASH. Pumpkin, butternut, delicata, kabocha…you name it. It's there. And by far one of my favorites is acorn squash.
Green on the outside and yellow-orange on the inside, this squash roasts up beautifully. Similar to butternut squash, delicata, and kabocha in texture. With that slightly sweet, caramelized taste we've come to know and love about roasted squash.
Acorn squash is second only to delicata as one of THE easiest winter squashes to work with. And this one is well-suited to making ahead of time or for meal prep.
---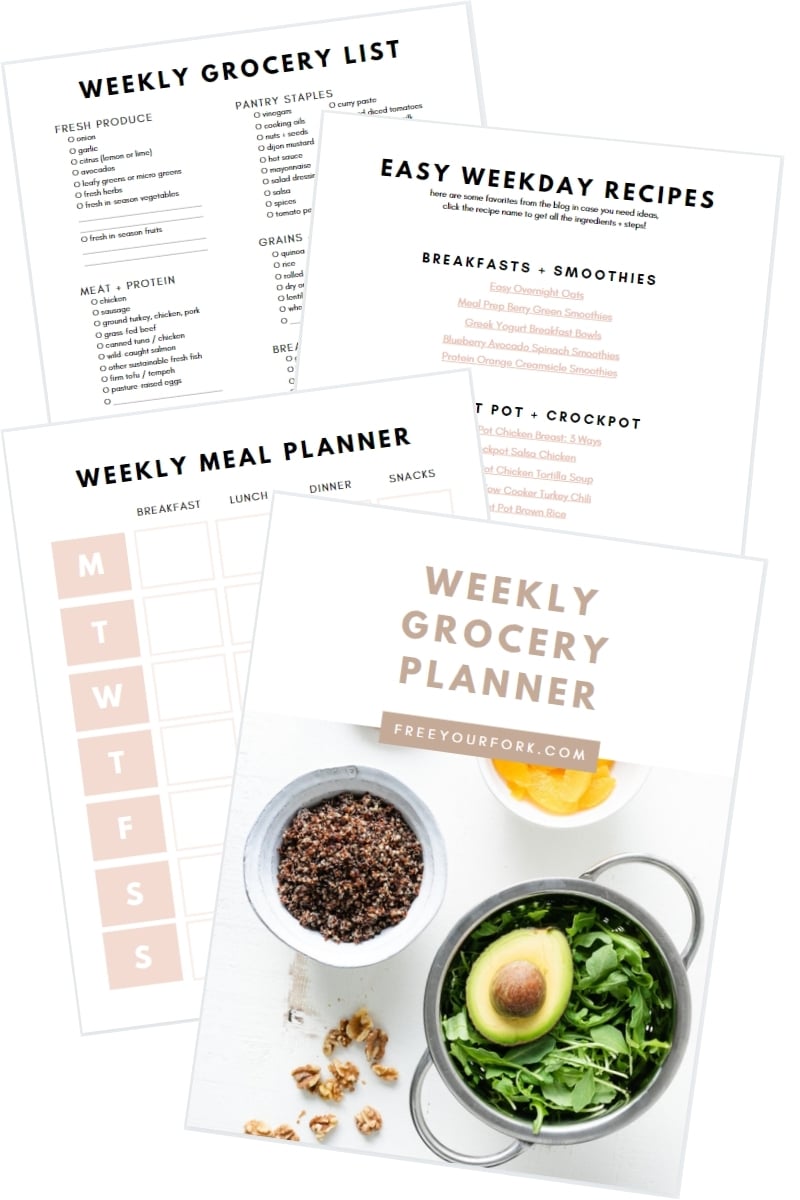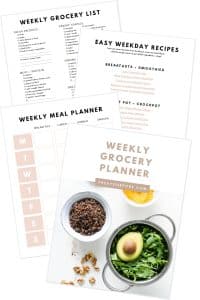 ---
Acorn squash's smaller size makes it far easier to cut than butternut squash, and with this method you don't have to peel it before roasting.
After spending some quality time in the oven, the squash flesh will easily separate itself from the skin (which IS edible btw, in case you were wondering).
All you have to do to prep acorn squash is cut it down the middle, remove the seeds, add a little oil + salt and you're good to go.
A good chef's knife will help make cutting any squash SO much easier (and safer too). Stabilizing the cutting board with a thin dishcloth or towel underneath will prevent it from slipping and sliding while you chop.
My biggest tip for this recipe is to use a fork to lightly smash the roasted squash before you stuff it. Instead of cutting into hunks of squash as you eat it, your fork will glide through it like fluffy mashed potatoes and you'll be able to mix roasted veggies, tomato sauce and cheese into every bite.
Plus this method lets you make as much room as you need to fill each half with as much roasted veggies and toppings as possible. You'll be surprised how many vegetables you can fit into each half. The tomato sauce and cheese will act like a glue holding it all together. And if there are any stragglers that you can't fit in, no biggie my friend. Just serve them around the squash and eat them up alongside it.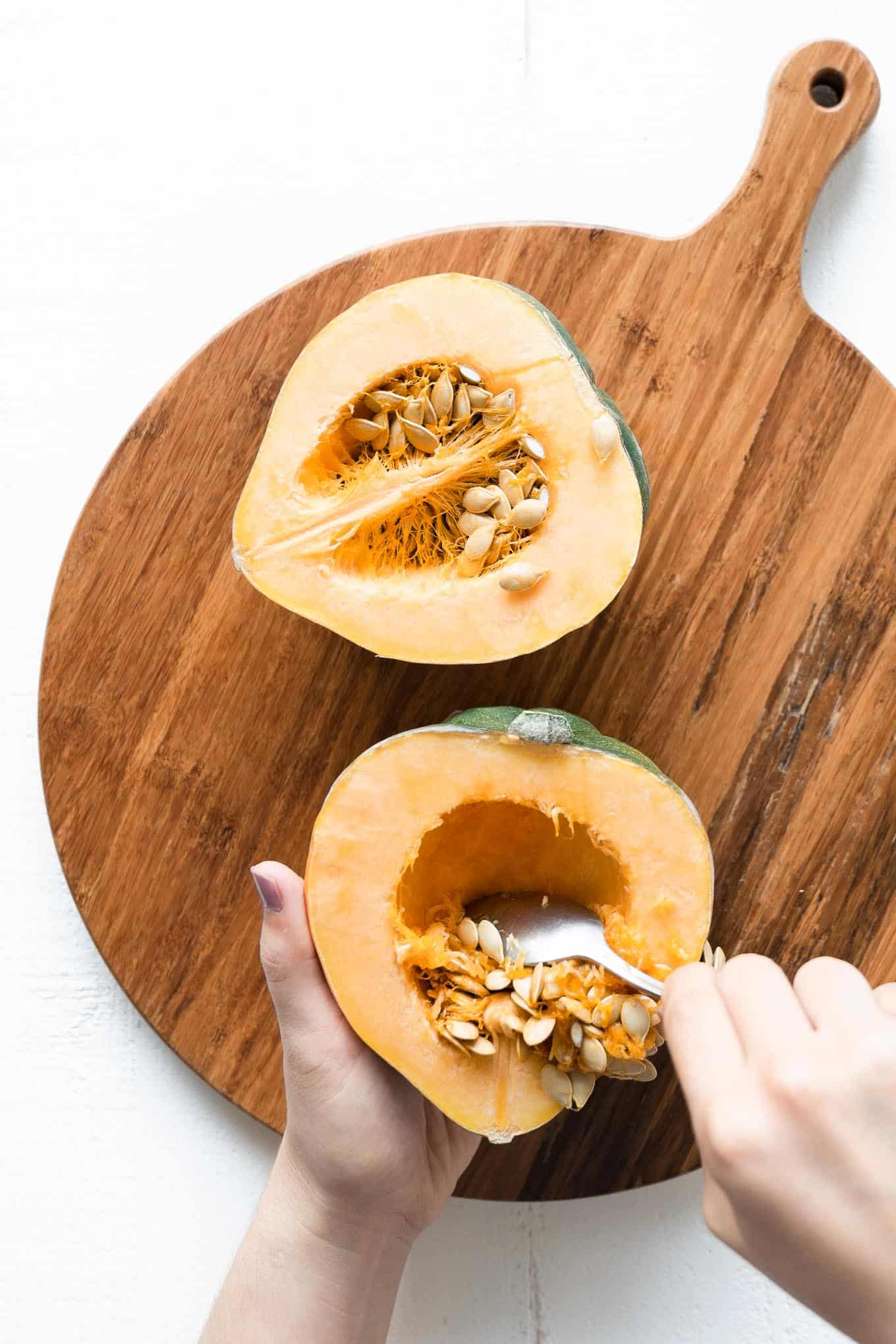 Some recipes don't roast the squash for as long as this method, but I'm OBSESSED with that mashed potato texture. That's why I roast mine until it's nice and softened.
I check for doneness the same way I check doneness on whole roasted sweet potatoes – I use an oven mitt to squeeze the sides of the squash and if it stays dented in when pressed, I know it's ready! If you don't have a heat-safe oven mitt to do this, you can also use the back of a spoon and press it against the squash instead.
Aside from a cutting board, we're working with just one sheet pan here to do all the roasting. So you won't need to dirty ANY extra dishes along the way.
We're also taking some shortcuts with this recipe that will save you precious prep time – namely a store bought tomato sauce and pre-cut broccoli florets. Tomato sauce is one of those things I always keep in my pantry for those just-in-case nights. When I don't know what to make for dinner. It really comes in handy improvising meals without having to skimp on flavor and can be used for SOOOO much more than just pasta.
Here's a little guide to making easy swaps in this recipe:
If tomato sauce isn't your thing feel free to swap in any other sauce you love – a basil or sundried tomato pesto, red pepper romesco, or pumpkin sauce would all work well here in place of standard tomato basil. I went with arrabiatta sauce – so if you're like me and love things a little on the spicy side, opt for that instead! The key is to pick something already made to make things as easy as possible on yourself.
Just be sure to flip over the jar and take a peek at the ingredients.
I can't stress enough how important it is to read ingredient labels before buying store-bought sauces - especially tomato sauce
Even if it says "organic", "non-GMO", "natural", or any other green & clean sounding word on the front – the list of ingredients is the most transparent place to check to see what's in the food you're eating. Not the carefully chosen and persuasive marketing on the front of the package.
Tomato sauce often has added sugar, so skim over that list before you bring one home so you can choose an option that feels good for you. There's nothing worse than thinking you're eating something without sugar, only to find out it's loaded with extra sugar, preservatives, fillers, colors, artificial flavors, or fillers.
I'll link to the brand that I used in this recipe in case you have any trouble finding one in your store and want to order a few jars online.
You can also swap out the veggies to be any combo that you want – just make sure to choose things that can roast in that same amount of time and are roughly the same size.
So if mushrooms aren't your thing you can easily swap in cauliflower or double down on the broccoli. Whatever lights you up!
Same goes for the cooking oil. I used avocado oil because it can stand up to that high of a roasting temperature. Always check on the smoke points of your cooking oils before using them for high heat applications. I talk more about that in this recipe if you want to hop over there to read up on what makes avocado such a versatile choice in the kitchen.
And...
If you're dairy-free or vegan, you can either omit the cheese OR you can opt to use a dairy-free cheese option.
Never be afraid to switch up ingredients in a recipe so they fit you and your lifestyle! Cook times and temperatures are always helpful, but you should always feel free to customize what you're eating so you enjoy every single bite!!
.
HERE'S A LIST OF THE TOOLS + INGREDIENTS I USED IN THIS RECIPE:
FYI these are affiliate links – which means if you use these links I will make a small commission of whatever you purchase. The price of the item remains the same whether or not you use this link and it's at zero additional charge to you. All commissions support this blog.
.
MORE EASY PLANT-BASED RECIPES:
.
Stuffed Acorn Squash with Roasted Veggies
Healthy sheet pan recipe for Stuffed Acorn Squash! Filled with roasted vegetables like broccoli, mushrooms, & tomato sauce (see recipe notes below for how to make this recipe vegan + dairy-free)
Print
Pin
Rate
Ingredients
1

acorn squash

4

c

broccoli florets

2

c

shiitake mushrooms

chopped into ½" pieces

4

tbs

avocado oil

½

tbs

dried thyme

salt

½

c

tomato sauce*
OPTIONAL
shredded cheese*

red pepper flakes
Instructions
PREHEAT OVEN: to 375 F and prepare a baking sheet with foil (can also use bare sheet tray if preferred).

CUT + SEED SQUASH: Cut the acorn squash down the middle (from the top stem to the pointy end). Use a spoon to scrape out the seeds and set these aside (either discard them or roast them another time as a snack). Rub ½ tbs avocado oil onto just the cut-side of each half (don't rub it onto the green skin) and place them cut side up on the sheet tray. Sprinkle with salt and the dried thyme and roast for 35 min.

ADD VEGETABLES: Take out the sheet tray with the acorn squash. Then add the broccoli and mushrooms to it. Toss them in avocado oil and salt them before returning entire sheet tray to oven and roast for another 40 min (taking the tray out once halfway through to flip the veggies around). You want to roast the vegetables until browned on the ends and roast the squash until it has softened.

STUFF THE SQUASH: Remove the tray from the oven and set your temperature to broil on high. Using a fork, lightly smash the squash flesh (leaving the skin intact) so it resembles mashed potato texture. Press the mixture to the sides to make room for the roasted veggies and sauce. Spoon half the tomato sauce into each squash half. Then add half the roasted veggies to each half. Top with a sprinkle of cheese (if using) and return to the oven to broil for 2-3 minutes, or until cheese has just melted on top. Remove and enjoy immediately. The skin is edible if you wish to eat it, but it also comes off quite easily if you don't.
Notes
TO KEEP DISH VEGAN FRIENDLY: Omit the cheese or use a vegan-friendly cheese option *I used arrabiatta sauce but you could use regular tomato basil if you don't like things spicy. I also used Italian shredded cheese but a sprinkling of just Parmesan would also be great.
Nutrition