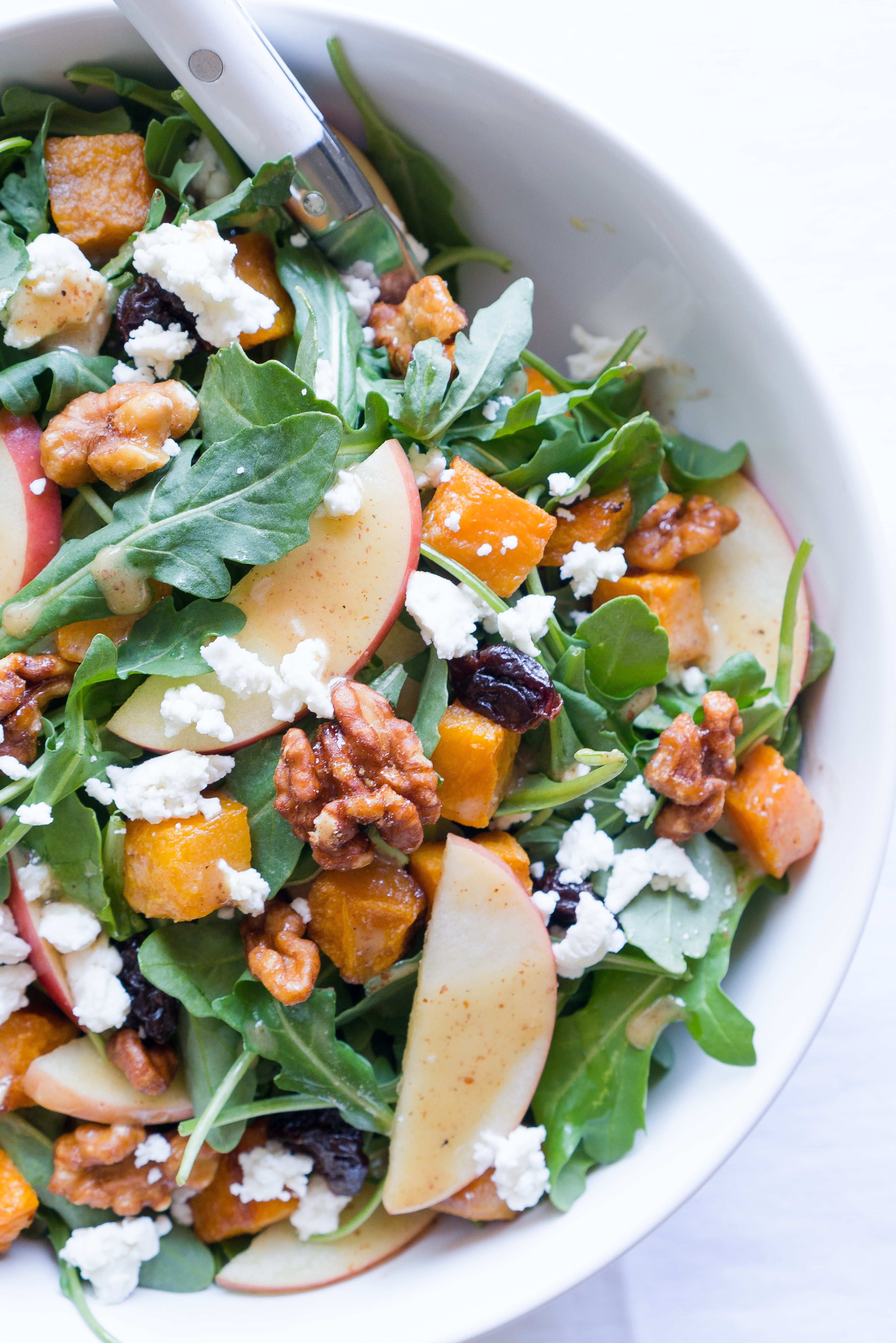 Today we are digging fork-first into this Roasted Butternut Squash Salad! You know how I feel about roasted veggies, and roasted butternut squash has got to be one of my all-time faves. Above and beyond. Head over heels. Totally and utterly adore the stuff. Golden all over and caramelized at the edges, softened and slow-roasted until that natural sweetness comes shining through.
It might seem absurd to feel so strongly towards a humble, lowly squash. But there's just something special about butternut that gives me all those it's-almost-the-holidays kind of feels. Those cozy, real deal, homemade food made with love vibes. Maybe it's that deep orange color, or the way it turns into velvety mashed potato texture when cooked, but to me it just feels festive.
But summer's not quite over yet, there's still some sunny blue-skies magic ready to be squeezed out of this last stretch of the season and I intend to wring out every last drop that I can. Enter this perfectly suited salad to soften my transition from summer to fall. Equal parts fresh raw produce and rich autumnal ingredients.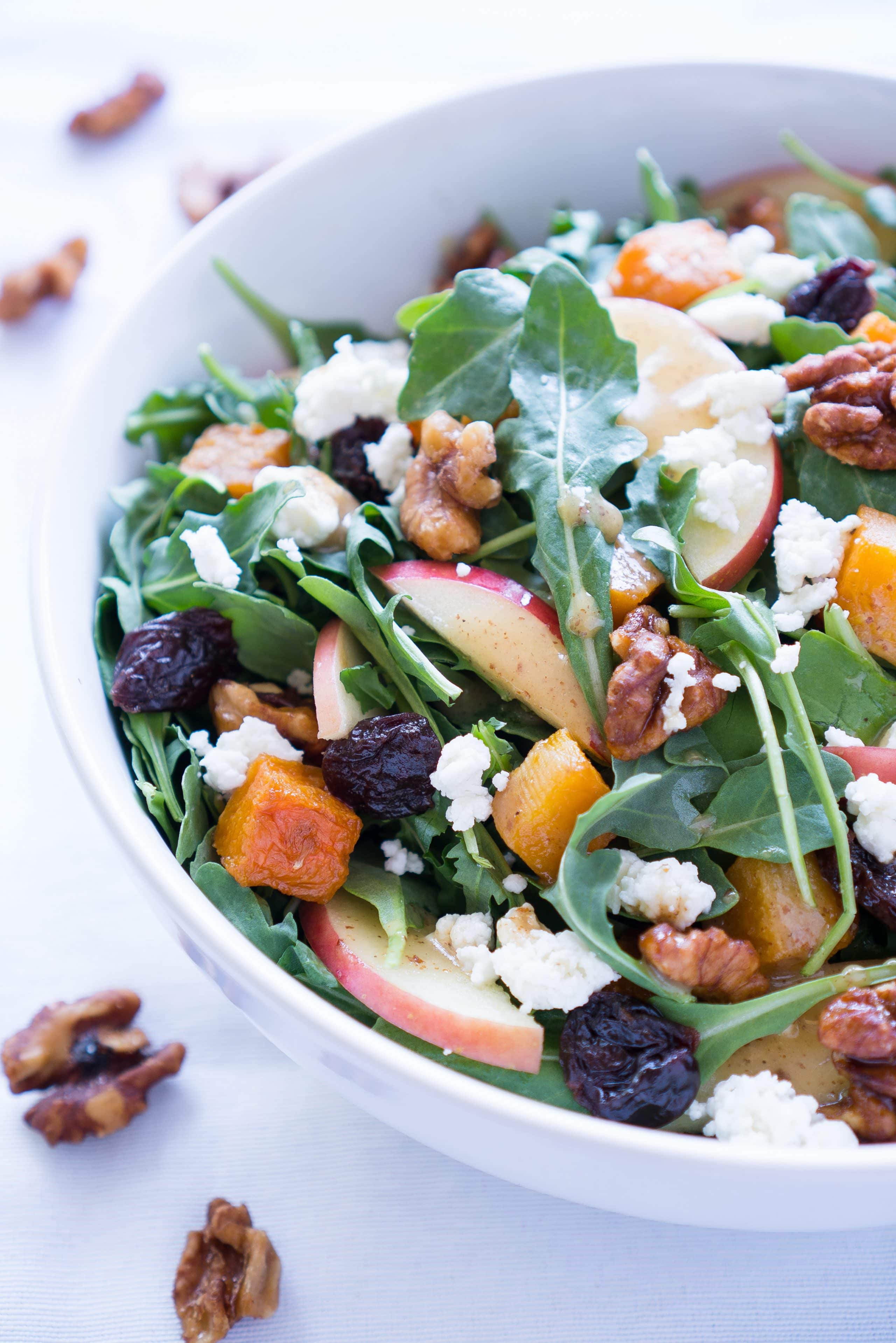 Once roasted, the squash gets combined with thinly sliced apples, crisp candied walnuts, tart dried cherries, and creamy honey goat cheese. Piled high on top of peppery arugula and topped off with a healthy pour of maple vinaigrette. And then maybe an extra drizzle on top of that because that sweet and tangy flavor combo really makes my tastebuds over-the-top happy.
This salad + a sturdy fork + comfy couch + all the chewy cherries + extra helping of goat cheese for me please!
RELATED: Strawberry Pepita Salad + Maple Vinaigrette
I feel like I have been eating my fair share of salads lately, but surprisingly I'm really not getting that tired of it. Mostly because I'm enjoying the bounty and variety of produce available at the store right now and know that once fall hits, those gorgeous berries and plentiful stone fruit will be gone in a flash. The produce aisle in summer is a feast for the eyes (and for the belly).
Plus the tail end of summer is that time of year when there's more than just a handful of squash to choose from. If I'm not feeling quite so inclined to wrestle with a whole squash while wielding a sharp knife, I can usually find it precut into cubes in the refrigerated section. This makes those spontaneous cook-something-new impulses totally manageable.
I can throw something on a sheet pan with olive oil and salt without being too put out on time or effort, even in the middle of a hectic week. And if I can manage it, I'm one HUNDRED and eleven percent confident that you can too. This is an easy one as far as recipes go. Pop the squash in the oven, shake up the dressing, assemble the store-bought toppings, break open a bag of arugula, and mix it all together into a delicious collage of colors.
I love the hot and cold interplay of the warm roasted squash paired with chilled crisp apples, chewy dried fruit, and chilled goat cheese. It has that really fun contrast in temperatures that you might find in molten lava cake or warm apple pie served a la mode with cold vanilla bean ice cream. It keeps the interest factor high in each bite to have those contrasts in temperatures, textures, and flavors. Which for me is an essential component for me to not burn out on salads!
You can pick up candied walnuts at most stores right off of the shelf. But I am kind of a sucker for the homemade variety. Especially these Maple Glazed Walnuts. So for those of you do-it-yourself-ers out there who love a good homemade hack to save you some of your hard-earned cash, be sure to check out that easy recipe too.
In the meantime, I am making my packing list for the long weekend. My parents have never been to Yosemite before and we are SO stoked to be taking them on their first tour through the park.
I. Cannot. WAIT!!!
Where are you all headed for the holiday weekend?
P.S. - I originally crafted this recipe for the Fall 2016 Issue of Conscious Lifestyle Magazine!
You've probably heard me make mention of this lovely publication before because it continues to hold such a dear place in my heart. If you're on the lookout for some health-driven, original, and enriching content – head on over to their site and give it a gander!
.
Roasted Butternut Squash Salad
Healthy recipe for Roasted Butternut Squash Salad with peppery arugula! Paired with a homemade maple vinaigrette + fresh apples + candied walnuts + tart cherries.
Print
Pin
Rate
Ingredients
ROASTED BUTTERNUT SQUASH
1 ¼

lb

cubed butternut squash

about 4 cups of 1" cubes

2

tbs

extra virgin olive oil

salt
SALAD INGREDIENTS
8

cups

organic arugula

4

ounces

honey goat cheese

1

cup

tart dried cherries

2

fuji apples

quartered & sliced thinly

1

c

candied walnuts

juice of 1 lemon
MAPLE VINAIGRETTE
¼

cup

white wine vinegar

3

tbs

stone ground mustard*

2

tbs

maple syrup

2

tbs

extra virgin olive oil

¼

teaspoon

salt

¼

teaspoon

fresh cracked black pepper
Instructions
ROAST SQUASH: Preheat the oven to 400 and line a baking sheet with foil. Use pre-cut squash from the store for quicker prep time. Otherwise, peel and halve a whole butternut squash. Scrape out the seeds with a spoon and cut the remaining butternut squash flesh into small 1" cubes. Place cubed butternut squash onto the pan and drizzle with olive oil. Toss the squash using your hands until the cubes are evenly coated. Sprinkle lightly with salt and roast for 25 minutes. Remove tray from oven, stir the butternut squash around with a spoon. Lightly salt again. Bake for another 25-35 minutes or until the butternut squash is soft and beginning to caramelize on the edges.

MAKE DRESSING: Combine all dressing ingredients in a small lidded jar and shake vigorously until well combined. Set aside.

ASSEMBLE SALAD: Squeeze fresh lemon juice on top of apple slices, toss to coat. This will keep them from browning and enhance their tart taste. Layer arugula into bowls and top with sliced apples, candied walnuts, dried cherries, and butternut squash. Drizzle on desired amount of dressing to each salad and toss to coat. Use a fork to crumble the honey goat cheese on top of each salad.
Notes
*Can swap for Dijon mustard
You can use the butternut squash fresh out of the oven, room temperature, or serve chilled.