This Avocado Quinoa Power Salad is a super meal prep friendly recipe! Full of fresh ingredients like creamy avocado, sweet oranges, peppery arugula, and crunchy walnuts. All topped in a simple, summery fresh basil vinaigrette – a dressing that you can whip up in your blender and store in the fridge all week.
I took a poll on my instastories and you all said "YES!" to seeing more simple, meal-prep friendly recipes on here. Ones with shorter ingredient lists and quicker prep times that let you spend more time out of the kitchen. So I'm here to deliver on that promise!
Enter this meal prep friendly salad! Full of fresh ingredients like creamy avocado, sweet oranges, peppery arugula, and crunchy walnuts. All topped in a simple, summery fresh basil vinaigrette – a dressing that you can whip up in your blender and store in the fridge all week.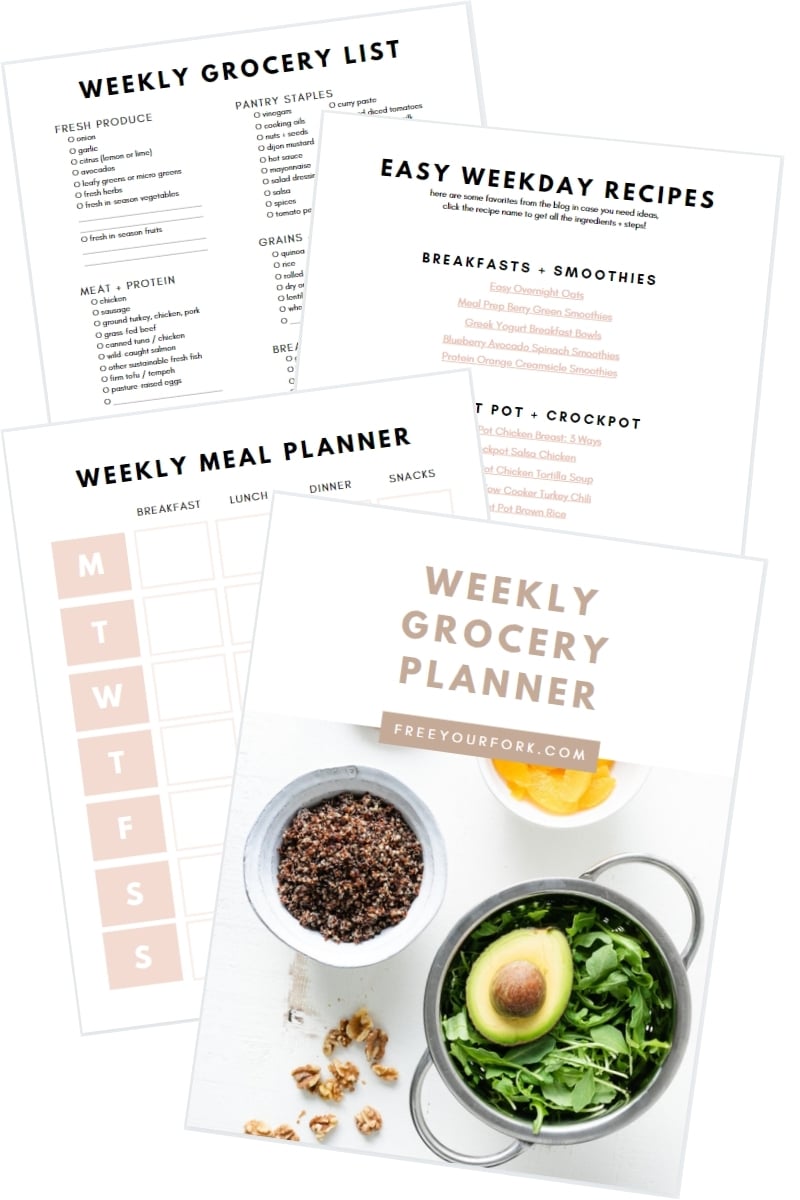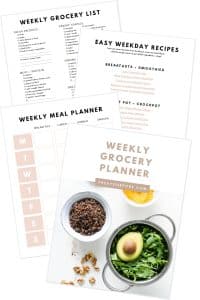 Those who love the convenience of having already-prepped ingredients will love this type of minimalist // low effort "meal prep".
On the weekend - just cook up some quinoa, blend up your dressing, and (maybe) prepare your protein of choice. Then when you're ready to make yourself lunch / dinner - all you have to do is pop some fresh greens in a bowl, slice up some avocado and oranges, sprinkle on some walnuts and boom. You've got a nourishing meal ready in just 5 -10 min flat.
This salad was inspired by one we ate on vacation up in Jasper National Park this summer – spinach, oranges, avocado, candied walnuts, and dried cranberries. It was the perfect, refreshing dish to dig our forks into after a full day out on the trail.
I made a few tweaks to mine – I changed up the dressing, swapped in raw walnuts instead of the candied variety, left out the dried fruit, and doubled-down on the fresh fruit instead.
The use of fresh fruit instead of dried fruit fills this salad with even more fiber, and less sugar
I love eating dried fruit, it tastes like nature's candy and what's not to love about that? But since I have a family history of diabetes and a personal history of thyroid issues – I have to be a little more careful about how much of it I consume everyday. So swapping out dried fruit in my pantry for fresh fruit in my fridge has been a simple and delicious little change that makes it work for me and my unique health needs.
My motto around here is always - you do you! Eat what feels good for your body.
I still enjoy dried fruit in my salads sometimes. Mixing in fresh fruit every now and then helps me keep doing that while respecting what works best for my body.
This recipe pairs super well with this Fresh Basil Vinaigrette BUT you can use a variety of other dressings paired with this salad too...
...including my Maple Vinaigrette from this salad recipe, honey mustard dressings, or just drizzle on some EVOO and white balsamic over the top and call it a day.
I get that there are those weeks where you either A) just don't feel like making your own dressing from scratch or B) don't have any store bought dressings on hand – those are the times when having a pantry with basic staples in it can really come in handy.
Just grab your favorite vinegar (I love keeping light vinegars like white balsamic, golden balsamic, and apple cider vinegar in my cabinet in the summer) and a quality olive oil, drizzle, and toss. Maybe a bit of dijon mustard or a little splash of maple syrup if you're feeling like it needs a little somethin-somethin. No mixing, blending, whisking, or other fresh ingredients needed.
You can use already cooked quinoa to save time – look for this in the frozen section at your grocery store.
All you need for that is a quick zap in the microwave and then store it in the fridge to use all week long.
If you want to make the quinoa yourself, make it well in advance so it has an opportunity to chill in the fridge. I tend to cook up big batches of it to use in salads, grain bowls, and stir fries throughout the week and we have no problem using it up in 4-5 days time. But cooked quinoa freezes super well, so if you have leftovers just pop it in the freezer to use another time.
I didn't include directions on here for how to cook the quinoa, but if you're looking for a quick guide on how to cook perfect quinoa then this is where I learned how to go beyond the package directions for better textured quinoa at home. I like making quinoa in the instant pot – it's fast, easy, and comes out great every time. Seriously, the cook time is like…1 min. Can't get much more minimal than that.
If you've ever done what I've done with quinoa, which is blindly follow the directions on the package, and cooked it in a 2:1 ratio of water to quinoa – then listen up, my friends. We've been cooking quinoa wrong. There's a better way!
One that lets us avoid the mushy, unappealing texture that we tend to get when we make it as directed on the pouch.
As you'll see if you click over to my friend Beth's guide on How to Cook Perfect Quinoa – we need to use less water. Having a little more bite and texture to your cooked grains is important no matter what recipe you intend to use it in – but if you intend to add a wet element like a sauce or dressing to it? Then it's even MORE important. Cooking the quinoa in less water ensures that it will be able to hold up with the dressing on top of it, and gives the dressing something to grab onto. Making each and every bite even more delicious.
After cooking the quinoa, pop it in the fridge for a few hours until it's nice and cold.
You'll want to serve the quinoa chilled so it doesn't wilt the greens or bring the temperature of the chilled ingredients up to a uniform room temperature.
The chilled quinoa will give it a refreshing, light feel instead of making it feel like a warm grain bowl.
This recipe works as a meal-sized salad, just add protein on top! I often feel hungry after eating if my meal is missing some sort of protein.
If you need ideas for what proteins would pair well with this, here are my picks - some instant pot chicken breast, leftover rotisserie chicken, grilled shrimp, crispy chickpeas, white beans with lemon, or baked salmon would all go great with this!
.
HERE'S A LIST OF THE TOOLS + INGREDIENTS I USED IN THIS RECIPE:
FYI these are affiliate links – which means if you use these links I will make a small commission of whatever you purchase. The price of the item remains the same whether or not you use this link and it's at zero additional charge to you. All commissions support this blog.
.
MORE HEALTHY DRESSING + SALAD RECIPES:
.
Avocado Quinoa Power Salad
This Avocado Quinoa Power Salad is meal prep friendly! Full of fresh ingredients like creamy avocado, sweet oranges, peppery arugula, and crunchy walnuts. Prep your quinoa and dressing ahead of time for easy to assemble meals all week!
Print
Pin
Rate
Ingredients
6

cups

arugula

1

orange

sliced

1

avocado

sliced

1

– 2 c cooked quinoa

chilled

½

c

raw walnuts
Instructions
ASSEMBLE SALAD: Divide fresh arugula between two large salad bowls – then add 1 cup of cold, cooked quinoa to each. Followed by the orange slices, avocado, and walnuts. Drizzle on desired amount of dressing, top with your favorite protein source (like chilled chicken breast or white beans) and eat immediately!
Notes
*You can also just keep it simple if you don't want to make your own dressing and pair this with either your favorite store bought dressing (a honey mustard vinaigrette will work great here) or simply drizzle on some extra virgin olive oil and a white balsamic vinegar straight on top.
WAYS TO CUT THE ORANGES: You can either cut the oranges into supremes (as seen here), peel and chop them, or cut them into rounds. Whatever works for you. I do have a guide in this post linked HERE that shows you how to cut them into slices without as much of the white pith or membranes attached.
Nutrition