SO many of the salads we know and love get their namesake from the dressing itself (Ranch, Caesar, Cobb, Egg, Fruit, Potato…okay okay that theory kind of fell apart at the end, but you catch my drift). It is ALL about the dressing. It can make or break a salad. And let me tell you…THIS Creamy Cashew Dressing totally MAKES a salad.
This dressing makes a salad (aka otherwise sad leaves + plain raw veggies) into something infinitely more amazing. It makes it into a dish I really crave eating.
Creamy. Luscious. Sweet. Salty. And so so soooooo simple.
This recipe takes only 5 min and uses things you may already have sitting in your pantry + spice shelf + fridge door.
All you have to do is gather them.
Got them? Okay, now celebrate…because you officially just did THE hardest part. The bending and the picking up and the opening of jars. THAT is going to be the *hardest* part of making this dressing. All that's left is to throw everything in a blender. Turn it on. And. You. Are. DONE! You are now ready to use it on anything and everything you please.
Tossed into a fresh, vegetable laden salad? Absolutely.
Drizzled on top of lettuce wraps? Definitely.
Spooned onto a roasted + stuffed sweet potato? YES. < - - Let's do that one (and soon please).
This recipe first began with a version that used sunflower seed butter. We had a huuuuuuge jar of it lurking on our refrigerator door but kept choosing to slather our toast with peanut butter instead. Leaving the sun butter ignored, abandoned, and (worst of all) taking up valuable real estate in the fridge.
Every time I saw it sitting there, I had a twinge of guilt. That signature buyer's remorse. Do you experience that feeling? Where you kind of know before you even bring it home. Deep down in your heart of hearts, you didn't exactly have a plan for that ingredient. You just inexplicably wanted the damn thing and now here it is. In your house. Not being used for a single thing. Just staring at you.
Could not handle the guilt-tripping and (with hopes not-at-all high) into the blender it went.
I set out to make a creamy peanut-sauce-inspired dressing that could be drizzled onto salads for the week. Playing with whatever was in the pantry + working from ingredients I usually use as a dip for spring rolls. If you've ever had that kind of sauce in an Asian restaurant then you know what kind of sweet + creamy flavor I was after.
The one that walks the fine line between sweet and savory without tipping the balance into one or the other. The kind where you sort of forget how many green things you just ate because they were all enrobed in SUCH a dreamy, creamy, thick sauce. The kind where you want to eat up every last drop.
After I made the full-bodied dipping sauce and saw it sitting in the bottom of the blender, I knew it was way too thick to be a true dressing. It was heavy and not at all pourable. So I stretched it into a true dressing consistency with some avocado oil + thinned it out with a little water (to loosen up the very thick seed butter) and BOOM. A new favorite dressing was born!
After making it once with sun butter, we wanted to see if some of our other favorite nut butters might be equally good (or *fingers crossed* better) stand-ins. Cue several weeks of recipe testing and tweaking with all.the.butters.
Almond butter was up first – it matched the same basic level of creaminess and texture but wasn't quite as velvety or as naturally sweet. The taste was a little (for lack of a better word) muddy.
Next came peanut butter - which worked just as well as the sun butter, matching the creaminess + sweetness pretty darn well.
But then while making dinner at my parents' house, we plucked a jar of cashew butter from their pantry and it was love-at-first-taste.
Cashew butter is like the king of the nut butters. For some reason cashews taste naturally sweeter, creamier, and more buttery than some of their tougher-to-chew counterparts. Have you ever noticed how your teeth just kind of press right through a cashew instead of having to crack down into it (like an almond or pistachio)? It's almost effortless. Cashews just don't put up much of a fight.
The cashew's soft quality makes it an ideal candidate for creamy sauces (without needing to add any dairy whatsoever).
While I'm not a vegan myself, I can see why many vegan dishes end up leaning heavily on soaked + blended cashews. It mimics that signature milky quality without using a drop of actual milk. The cashew makes the perfect non-dairy substitute for things like nut "milk", vegan "cheese", or vegan cheese-CAKE.
And that's why it works so darn well in this recipe too. All the creamy with none of the cream needed.
Some recipe notes for you…
Do I really need to add the water? Short answer = Y E S.
Long answer…
Water may seem like an odd ingredient to throw into a dressing. Water. On my salad? I know, I know. It sounds guaranteed to be runny. And horribly out of place. But hear me out, friends. I promise there's a legit reason.
Cashew butter (or any nut butter for that matter) is some pretty THICK stuff. Hardly the easy, effortlessly pourable consistency that you strive for in a drizzle-over-greens kind of dressing. The water helps loosen this up just enough to stretch out the creaminess without having to add more of the other liquids (vinegar / aminos) which are much more flavor concentrated and might otherwise throw off the salty / tangy / sweet balance.
Without the water, the dressing would have to be glopped or dolloped onto the salad. The few spoonfuls of water will give it that more familiar consistency. You can see the difference the water makes in the picture immediately above and immediately below.
Plus all a non-dairy nut-milk (like almond milk or hemp milk) is made up of is nuts + water. So if you were still afraid that this would taste at all watered down, rest easy knowing that this only adds to the creaminess.
Keep in mind the dressing will get thicker as it sits, so while it may look a little thin and runny right out of the blender but it will thicken up in no time again.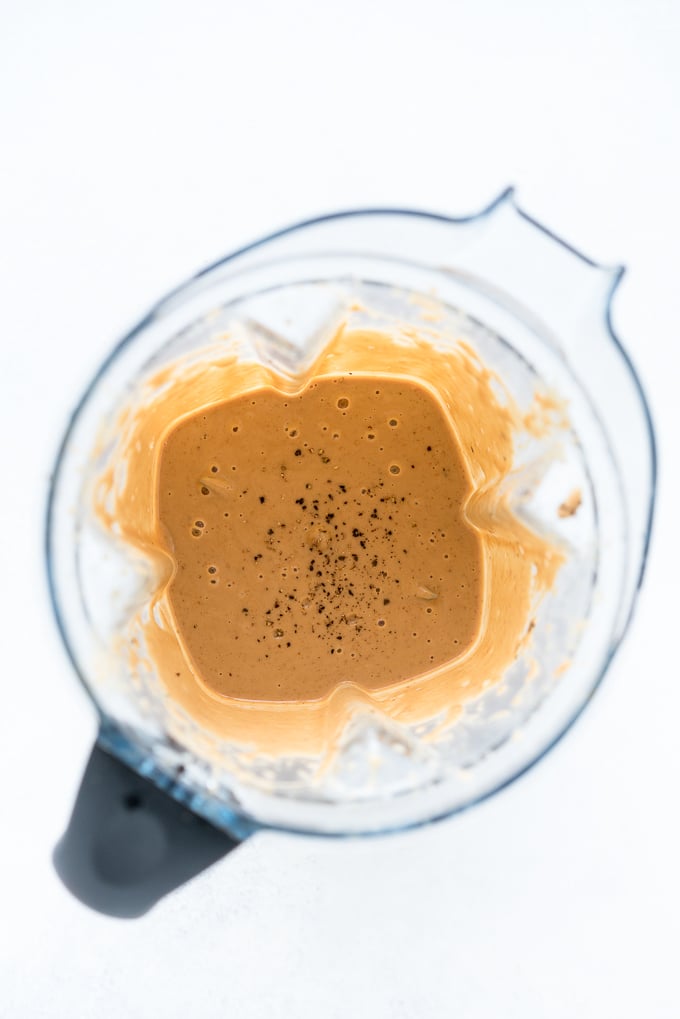 Can I substitute something else for the cashew butter // avocado oil // coconut aminos // apple cider vinegar (ACV)?
Yes. Yes. Yes. Annnnd yes! See above for a list of possible swaps for the cashew butter, they should all produce relatively the same consistency.
Apple Cider Vinegar - I've used lemon juice in place of the ACV and it's turned out pretty delicious as well.
Coconut Aminos - These can be swapped out for soy sauce or Bragg's aminos. Taste as you go to make sure that it doesn't get too salty (since each product varies in concentration of taste). And remember if all else fails, add another dollop of cashew butter in there and re-blend it. That should help take care of it getting too-salty or too-acidic.
Avocado oil is used in this recipe because it's a very flavor-neutral oil. Which means that it will add nice body to the dressing without competing with the other flavors involved.
If you have another type of oil that you prefer to use, go for it! Olive oil should work fine, the fruity flavor might just be more pronounced in the final dressing. Coconut oil will not work well in this since the dressing will need to be stored cold, and coconut oil hardens at colder temperatures.
We use avocado oil often for a few reasons.
We don't cook with some of the other flavor-neutral vegetable oils (like canola, soybean, etc) simply as a matter of personal preference. I'm absolutely NOT out here to shame anyone in or out of their food choices. But I do want to be transparent about why I choose some ingredients and not others. The simplest way I can say it is that I'm just not super thrilled with the way those particular oils are processed. So given the choice, I opt for another ingredient.
It's got good-for-you stuff in it - Avocado oil is made by pressing the fleshy part, not the seed, of the avocado. Making it rich in healthy fats like heart-healthy oleic acid + essential fatty acids
And (perhaps the least important of the three but it bears mentioning anyway) I happened to have a big container of it already in the pantry. On sale from Costco.
It was what I had so it's what I used! And I liked that first version that had it in it, so the avocado oil stayed as part of the final recipe in our home.
Isn't that just how it goes sometimes? The leftover things you use because you have to eat them somehow end up morphing into meals that you actually want to eat. Repurposing things that would otherwise go to waste is easily one of the best feelings in the world. Because saving money feels like VICTORY.
What are some ways you save money + avoid food waste in your household? Has anyone ever done one of those annual pantry challenges before?? Thinking about trying one in December.
.
Creamy Cashew Dressing
Easy + healthy recipe for Creamy Cashew Dressing. Perfect for drizzling on top of fresh salads or roasted veggies. Gluten-free + paleo // vegan-friendly.
Print
Pin
Rate
Ingredients
½

c

creamy cashew butter

unsalted

3

tbs

apple cider vinegar*

1

tbs

coconut aminos**

¼

c

avocado oil***

2-3

tbs

water

salt + pepper to taste
Instructions
BLEND DRESSING: Add the cashew butter, apple cider vinegar, and coconut aminos to a blender. Securely fasten the blender lid and then pulse the ingredients together – the mixture will be very thick and darker in color. Next, add avocado oil and 2 tablespoons of water and blend until thinned out enough to pour. Add another tablespoon of water as needed. See the above pictures for the difference in texture between the first and second blends. Keep in mind the dressing will get thicker as it sits, so while it may look a little thin and runny right now it will thicken up in no time again. Add salt and freshly cracked black pepper to taste.
Notes
*Can swap for lemon juice **Can swap for Bragg's aminos // soy sauce ***Can swap for your favorite neutral tasting vegetable oil of choice
Nutrition