Say hello to this goes-with-anything, easy white balsamic vinaigrette recipe! Just a handful of pantry ingredients is all you need to make this bright, lightly sweet dressing. Drizzle on everything from salads to savory bowls, or use as a marinade.
Jump to:
🥗 Reasons to love this recipe
I don't know about you but when it comes to craveworthy salads, for me it's ALL about the dressing.
The toppings and texture are important but a nice easy dressing recipe is what really ties it all together and elevates everyday greens to something special.
And let me tell you, this easy white balsamic vinaigrette recipe does not disappoint.
It's bright, tangy, and lightly sweet from a touch of honey, so it pairs well with almost any fruit, veggie, protein, or crunchy topping you could throw at it (including everything in this butternut squash salad, avocado quinoa salad, and citrus salad).
But the best part is that you can make it ahead to keep on hand just like a bottled dressing and drizzle it on anything from a simple side of greens to a satisfying, full meal-sized salad.
This recipe is naturally gluten free, dairy free, paleo, refined sugar free and vegetarian but can easily be made vegan friendly (see ingredient swap ideas below!).
🍯 Ingredients you need to make it
White balsamic vinegar: This is the star ingredient of this vinaigrette but you could also use white wine vinegar, a flavored white balsamic, champagne vinegar, or even go bolder to make a traditional dark balsamic dressing instead.
Olive oil: I used extra virgin olive oil for this recipe but you could use any other neutral flavored oil that you like. Including avocado oil, vegetable or canola oil.
Dijon mustard: Every vinaigrette recipe needs a good emusilfying ingredient to help bind the vinegar and oil together - and Dijon mustard is my go-to! I use it a lot in my easy dressing recipes because it adds a little extra savory flavor & dimension.
Honey: The natural sweetness of the honey is a nice balance to the tart, tangy and bright flavors of the vinegar & mustard. You could also use another refined sugar free sweetener like maple syrup, agave or cane sugar. If using a granulated sweetener like cane sugar just make sure it's fully dissolved before serving.
Salt: I used kosher salt but you could also use pink salt if you prefer.
Black pepper: I love adding a little fresh cracked black pepper to my dressing but if you don't like or don't have it on hand you can skip it.
💭 Top tips
Adjust your dressing to taste: Everyone has specific ideas about what makes a recipe taste extra delicious - so don't be afraid to taste and adjust to your liking! You can use more or less salt and sweetener, and even adjust the ratio of vinegar to oil (use as-is for a bright vinaigrette, or decrease the vinegar for a more buttery & light flavor).
Use a lettuce leaf dipped in the dressing to taste-test: Let's be honest, no one really eats dressing straight from the bottle (so why would we taste-test that way?). If you struggle with the direction to "adjust to taste" try dipping a single leafy green into your vinaigrette and seeing how you like it when used as intended.
Make it in a lidded mason jar for easy storage & clean up: You can whisk or blend this dressing together in a small bowl per the recipe card directions, or you can make it in a lidded container (like a mason jar or weck jar) and shake until well combined. Then when you're done you can just pop the lid back on and store it right in the freezer without any extra dirty dishes.
Make a big batch for parties or weekly meal prep: This recipe can easily be doubled (or tripled) for the holidays, family dinners, or even just for weekly meal prep. Bonus points that it can be made ahead several days in advance for even easier hosting.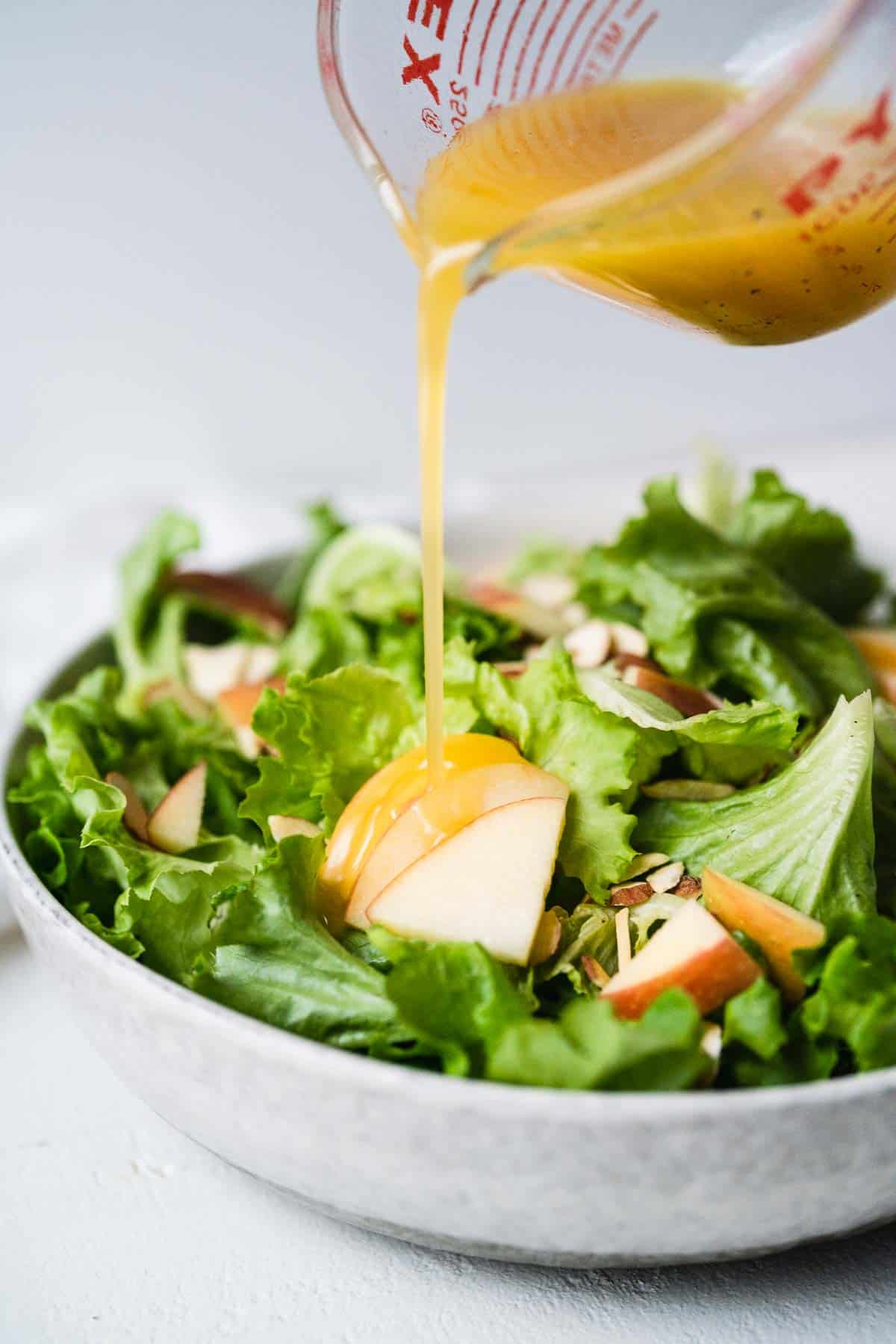 🍴 Ways to use it
As a salad dressing: White balsamic is so versatile and light that it pairs beautifully with almost any greens you like. But I especially love it with crunchy romaine and delicate greens like butter lettuce, spinach & arugula and toppings like these:
Fruits & Veggies: Apples, pears, strawberries, blueberries, peaches, avocado, cucumbers, red onion, beets, grape tomatoes.
Protein: Chicken, shrimp, pork tenderloin, chickpeas, white beans.
Nuts & Seeds: Slivered almonds, pine nuts, sunflower seeds, pumpkin seeds.
Extras: Goat cheese, dried cranberries, crispy fried onions, pickled red onions, quinoa.
As a sauce for savory bowls: Try building your own nourishing bowl by using a grain base (rice, quinoa, or cauliflower rice), adding a cooked veggie (steamed or roasted broccoli, brussels sprouts or butternut squash), and a protein (like shredded chicken breast, grilled shrimp, or crispy tofu). Then use this dressing as a sauce drizzled on top to tie everything together.
As a pan sauce for chicken or roasted vegetables: When cooking a skillet or roasted chicken dinner, you can add a little of the dressing plus some chicken broth to create a delicious pan sauce. It can also be a tasty addition to toss freshly roasted broccoli or roasted brussels sprouts in (they soak up all the flavor!).
Did you know that many dressings double as great marinades? Try it with chicken, fish, or shrimp. Simply add your protein of choice to a ziptop bag or large bowl, pour over your dressing and let marinate for 30 minutes to 4 hours before grilling or baking.
📖 Variations
For a less tangy vinaigrette you can reduce the amount of vinegar down by 1-2 tablespoons.
For a sweeter vinaigrette you can double the amount of honey (or other sweetener) used.
To make a creamy white balsamic vinaigrette recipe, add in 1-2 tablespoons of mayonnaise.
For a vegan friendly version, be sure to use maple syrup, agave or sugar in place of honey.
💬 Answering your vinaigrette FAQ's
What is the difference between balsamic vinaigrette and white balsamic vinaigrette?
Classic balsamic dressings are often made with a dark balsamic vinegar, while white balsamic vinaigrettes are made with white balsamic vinegar (which has a lighter color and milder flavor). Both types of vinegar are tangy, a little sweet & traditionally made with sweet white grapes but can also be made with other types of fruit.
What is white balsamic vinaigrette made of?
White balsamic vinegar pairs well with a variety of flavors but usually in a white balsamic vinaigrette you'll find white balsamic vinegar mixed with olive oil, an emulsifier (like Dijon mustard), sweetener (like honey), and seasoning (salt, pepper, & other spices).
What does a white balsamic vinaigrette taste like?
It's often bright, tangy, refreshing and lightly sweet - so it's a very versatile dressing to pair with a variety of fresh fruits, vegetables, poultry, pork, shrimp and even fish.
What can I do with white balsamic?
You can use white balsamic vinegar for a variety of recipes. Of course, you can use it to make a vinaigrette salad dressing but you can also use it to make marinades, flavor cooked vegetables, and to deglaze a pan & create a pan sauce.
🧊 How to store leftover dressing
Homemade dressings will keep well in the refrigerator (in a tightly sealed, lidded container) for up to 3-4 days. And according to Tasting Table, vinegar based dressings can keep even longer than dairy or mayo based ones (as long as 2 weeks).
Just like with many storebought oil & vinegar dressings, some separation is natural so if you see it do this in the fridge don't worry (it hasn't expired, it just needs to be mixed back together!).
The oil may solidify upon refrigerating which is also normal - all you need to do is take it out of the fridge and let it sit on the countertop for a few minutes & give it a shake.
More easy dressing recipes
White Balsamic Vinaigrette
Say hello to this goes-with-anything, easy white balsamic vinaigrette recipe! Just a handful of pantry ingredients is all you need to make this bright, lightly sweet dressing. Drizzle on everything from salads to savory bowls, or use it as a simple marinade.
Print
Pin
Rate
Ingredients
4

tablespoons

white balsamic vinegar

4

tablespoons

extra virgin olive oil

½

tablespoon

honey

or maple syrup

½

teaspoon

Dijon mustard

¼

teaspoon

salt

black pepper
Instructions
Add all your ingredients to a small bowl and whisk until well combined (or you can add to a tightly lidded jar and shake until combined, or use a blender).

Adjust to taste for salt and sweetness.
Notes
This recipe yields just shy of half a cup of dressing - or about 8 servings (if using a serving size of 1 tablespoon of vinaigrette).
Nutrition information calculated using honey.
For a vegan version, use maple syrup or agave in place of honey.
For more ingredient swaps, modifications, ways to use it, and storage tips - see the full blog post above.
Nutrition
Calories:
73
kcal
|
Carbohydrates:
2
g
|
Protein:
0.1
g
|
Fat:
7
g
|
Saturated Fat:
1
g
|
Polyunsaturated Fat:
1
g
|
Monounsaturated Fat:
5
g
|
Sodium:
78
mg
|
Potassium:
10
mg
|
Fiber:
0.02
g
|
Sugar:
2
g
|
Vitamin A:
0.2
IU
|
Vitamin C:
0.01
mg
|
Calcium:
3
mg
|
Iron:
0.1
mg