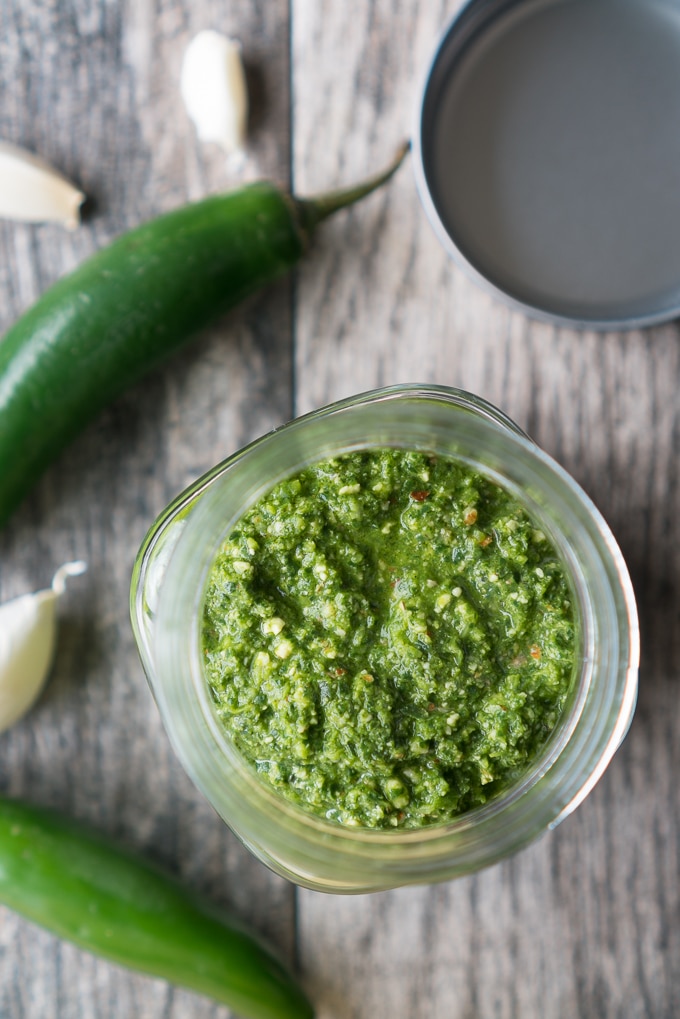 Ah HAH. The moment has arrived. Guys, it is finally HERE. The SPICY GREEN PESTO recipe of my dreams. Coming straight from my kitchen to your inbox, or computer, or smart-phone, or fancy-tablet. Whatever it is, however you got here, I'm just SO glad you're here because (and I do mean this sincerely) you need this in your life.
This magical, sneaky-greens, flavor-packed vegan green sauce. You need heaping spoonfuls of this for things like…
fancying up your pizzas and flatbreads
stirring into hummus to make next-level chip dips
combining with cheeses + almond milk for creamy pasta sauce
spreading on avocado toast
layering into lasagna
mixed with vinegar & oil for an herby salad vinaigrette
subbing in for mayo on a sandwich // wrap
adding to the pan each morning for scrambled eggs with a hint of healthy green-on-greeeeen-on-GREEN action
And, by the way, there are LOTS of hidden greens things in this besides just the signature herbs. Baby kale, fresh basil, serrano peppers, and extra virgin olive oil meet up with not-so-green but totally tasty ingredients like fresh garlic cloves, whole raw almonds, and tangy lemon juice.
So simple. So fresh. So FAST. And I'm totally smitten with it.
Those of you who follow me on Instagram probably saw in my stories that this little 10-min recipe right here (while a total cinch to make) took its sweet ass time getting to the blog. I've been making it and re-making it, fiddling non-stop with the recipe until I landed on this version right here. And ever since that fateful *GOTCHA* moment, I've been putting it on everything in sight. I cannot stop making it, eating it, and obsessing over it. No matter how many tries it took me to land on this final flavor combo.
Which was four tries by the way. FOUR. That may not seem like a lot until you realize this means I worked on this for a month straight. Every week – piled basil, kale, peppers, etc into my cart HOPING I could blend them into the spicy pesto I had been pining for.
It wasn't like with baking where each batch before stumbling across *the* batch can be an all out, inedible failure. Every time it was…good?? Technically, it was fine. It was standard. It was, passable. But it wasn't quite there. It was just plain old pesto. Not quite spicy or bold enough, the texture was a tad soupy, the citrus flavor was off, the color was muddy. One after the other after the other, the batches let me down. I used the wrong pepper, I used the wrong citrus, I didn't use enough herbs. And the list goes on.
See I was on the hunt for a pesto that already existed, one I had already tasted and wanted to make a semi-decent version of my own that could stand up to the memory of that ultra-green, slightly spicy, totally satisfyingly herby vegan kale PESTO I had at a San Diego Farmer's Market last year.
They say that comparison is the thief of joy, and every time I compared the pesto in my food processor to the one in that little lovingly-crafted artisan glass jar…I proved that adage 100% true. It was frustrating watching the green leave my wallet to purchase greens at the store that I then blended up into a green sauce that was not-at-all close to being *the* GREEN SAUCE.
You guys already know my love for keeping red sauce on hand in the pantry but my love for a good, green, pesto knows NO bounds. You can eat it raw or cooked. Hot or cold. You can make it into a dressing or sandwich spread or cover your morning (or midnight) eggs in it or jazz up some avocado toast. Or use it as a way to eat something (really ANYTHING) remotely like a green vegetable without having to cook any of said vegetables.
My favorite pesto lives far faaaaar away from me in my hometown of San Diego. I get it at the farmer's market from a local hot sauce company down there that makes some of THE most killer, quality sauces ever. They even have small batch sriracha that makes me mad I ever-ever-ever use anything else. And their spicy vegan pesto is THE ONE you guys. It's the best. Naturally, it is also the only product they don't ship because it's the only one that needs constant refrigeration.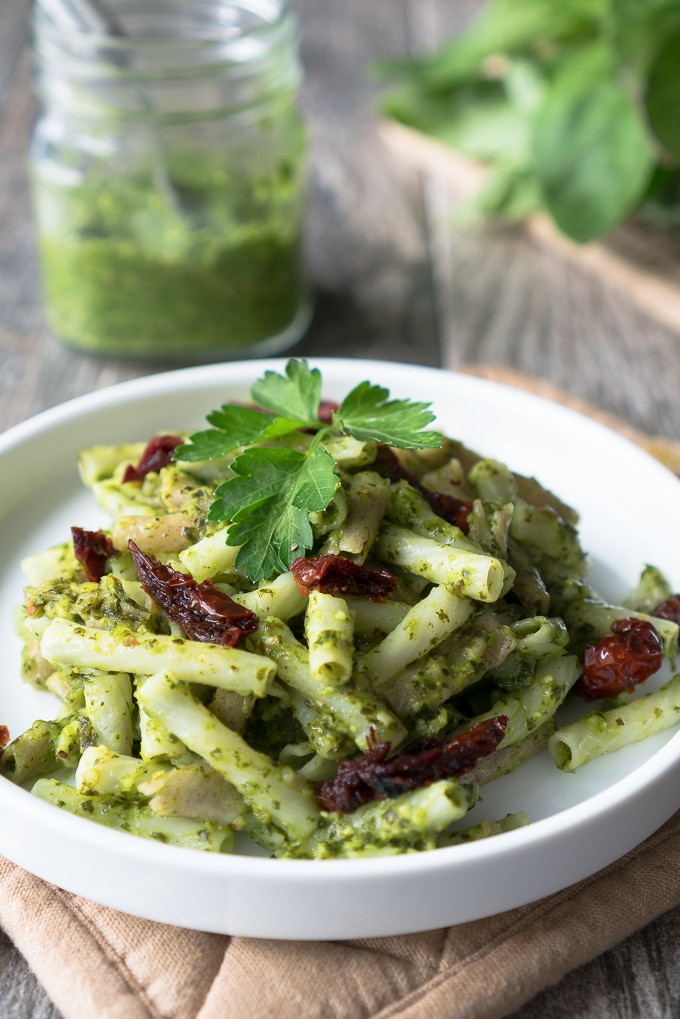 This is problematic. For two reasons.
I end up eating an obscene amount of pesto when I go home to visit, like I clean HOUSE as soon as it enters my parents fridge (sorry mom) A-N-D...
I am deprived of the magical level of deliciousness I know my food could have if I just had one measly dollop of the wondrous sauce in that little green jar.
This may sound overly dramatic, and (as with any thing I do) it very likely kinda-sorta-maybe-definitely is. But if you are a lover of food you know one thing to be true. When you taste something that is SO GOOD that it dethrones all other things of its kind that you've eaten before it, you cannot go back. You can't UN-taste that level of greatness. It is now burned into your mind and imprinted onto your tastebuds.
So instead of being in a constant state of pesto depravity // going to extreme lengths to have the must-be-kept-cold pesto shipped to me - I did what I always do to recreate something at home, I went to the store and started tinkering in the kitchen. When you find something you like that is store bought (or in this case, farmers market bought), if you want to figure out how to make it for yourself at home you need to start with the ingredient list. This tells you the "what" in the question "what the hell is in this??". The tricky part is figuring out how much of the what to use. It won't tell you that on a label. Well, not exactly.
Ingredients are usually listed in the order of quantity – they are named in descending order of quantity, from greatest (first) to least (last). So that's where I began. Sometimes you can go directly off of the label's ingredient list and it STILL won't come out quite right. For instance, I tried to match what they listed on the jar by using lime juice, but mine just came out with a weird taste. So, I swapped for my favorite, sweeter meyer lemons instead. So be ready to play around with things and don't get too attached to the label, you may find that you actually like things a different way than they make it after all!
The trickiest part for me was honing in on that spice level, achieving that balance between a slow-build heat and a mellow, fresh, & bright tasting pesto.
And at 10 pm on a Thursday night, I finally did it. Hallelujah. I could have cried. Okay, maybe I did cry. It was late and I was packing for a road trip and may or may not have been having a hormone-related surge of emotions. I'm a crier. Happy, sad, mad, overjoyed - things just involuntarily leak out of my face like a fountain. Whatever. I WAS STOKED.
I was so happy that I refused to leave the pesto at home and packed it in our road trip cooler, determined we would use it for something while we were away. And we did. We used it on pretty much everything BUT the donuts we bought in Portland. We put it on our turkey sandwiches, slathered it on wraps, stirred spoonfuls into our cheesy chicken & rice homemade microwave dinners, and even made an impromptu chip-dip with it in the hotel. Half an avocado + dollop of pesto + some quick fork-smashing led us to happily devouring a bag of these super addicting crispy snap peas. Damn you, COSTCO, and your giant sized bags of snacks. *Shakes fist menacingly while also whispering "JK, love you, please never change"*
So what was it? What was the key to finally solving the pesto puzzle? Well. It all came down to seeds. That was it. I needed to NOT scrape out the freaking seeds. Well not all of them at least. The seemingly simplest of fixes, the classic "if it ain't broke, don't fix it". I sat there every time staring at the scraped out seeds on my cutting board, freshly stripped from the peppers. Thinking, "…maybe I should put you in there you spicy little darlings. Just maybe you'll do the trick??". But somehow it just seemed too risky.
I had my food-lovin-heart broken by all those other batches and could not fathom including a bunch of those heat-laden pepper seeds into the mix. Why risk rendering an entire bundle of basil & kale into an unusable mish-mash?? The other batches may not have been spot on, but they were still EDIBLE. As many of you who have dabbled in spicy cooking know, there is a fine line between that pleasant little spice kick and that slippery slope down-down-down to totally intolerable, mouth-singeing hot-HOT heat. That point when there's no turning back and no way out of admitting that you ruined it, you need to toss it out, and start ALL over again.
But as with so many things in my life over the past few years, it just took a gentle but firm "just do it already, what IF it's good??" from my partner for me to try it out. And I did it. So in a way, he was…(barf sound)...right. Sort of (I put HALF of the seeds in, so I took HALF of his advice). Please. For the love of god. Do not tell him I am saying this. I make a point to try my very best not to be wrong. Or really I make more of a point to just not be out-right-ed (I am aware of how very much not-a-word that is) by him. When it comes to petty things with one another, Billy and I are pretty competitive. And we are nothing if not sore winners. He needs like zero encouragement to engage in an epic "I told you so" song and dance routine. He has one. It does exist. It is gloriously hideous and embarrasing and it makes me want to fly at him like some sort of deranged ape-woman.
However, he was indeed right (about this ONE thing). But hey, who cares WHO was right (besides me, apparently).
The important part is that THIS PESTO now has a place in our lives again without having to book a flight down to SoCal to get it. However, you better believe I'm picking up a jar of the O.G. sauce as soon as I land and eating every last spoon of the stuff. But until then, I'm off to blend up a double batch for this week. Cause this girl has her heart set on a super-stacked pesto veggie lasagna situation which means it is time for a hot oven & a little music in the kitchen while I use all-the-sauce and all-the-cheese.
Spicy Green Pesto
An easy, whole food based recipe for spicy green pesto. With the familiar classic flavors of basil, garlic, and lemon but with a super green boost from kale and little added kick from jalapeno peppers.
Print
Pin
Rate
Ingredients
3

c

fresh basil leaves

loosely packed, about one 4-oz container with stems removed

4

c

baby kale

loosely packed, about ½ one large bag*

3

cloves

garlic

2

jalapenos or serrano peppers

one seeded and one left seeds in**

juice of ½ lemon

meyer lemon preferred

½

teaspoon

salt

⅓

c

raw almonds

⅓

c

extra virgin olive oil
Instructions
BLEND: Using the blade attachment of your food processor, process the baby kale, almonds, garlic cloves, and lemon juice on high for 10 seconds. Now that there's enough room, put the basil, salt and peppers in and process on high for 5-10 seconds. Stop and scrape down the sides with a spatula. Repeat until well processed (about 4-6 more times). Then place the processor on low and slowly stream in the olive oil through the top feed tube until well blended (about 5-10 seconds).

REFRIGERATE: Store in a tightly sealed jar in the fridge.
Notes
This recipe was inspired by Baby Clydesdale's Spicy Vegan Pesto. If you're ever in San Diego - head to one of the many farmer's markets and be sure to stop by their booth, their sriracha is kind of amazing!
* You can swap baby kale for another green as preferred like baby spinach or peppery arugula, just be sure to use a hearty leafy green and stay away from using any of the more watery greens (like romaine lettuce, etc)
** If you don't like things too spicy you can either use only half of one of the peppers with it's seeds, omit the seeds in both peppers, or omit the peppers altogether
Nutrition