When I order food at a Mexican restaurant there is one common theme. Whether it's a smothered burrito, crispy taquitos, cheesy chilaquiles, carnitas tacos, or chicken enchiladas – I am all about that green sauce.
Creamy poblano, chunky roasted tomatillo, spicy jalapeño, citrusy cilantro – green on green on green on GREEN.
Maybe it's that irresistible color, or the fact that when I see something green I become convinced it must be inherently good for me (because, plants). I don't know what it is but I cannot get enough of the stuff.
And this is why I love this sauce so dearly. It has elements of all my favorite sauces combined into one gloriously green, pour-it-on-everything sauce.
That tangy acidity from lime juice and tomatillos, roasted earthy flavor from broiled poblano peppers, a mellow heat from seeded roasted serrano peppers, bright herby cilantro, and smoky cumin. All blended up into one creamy sauce.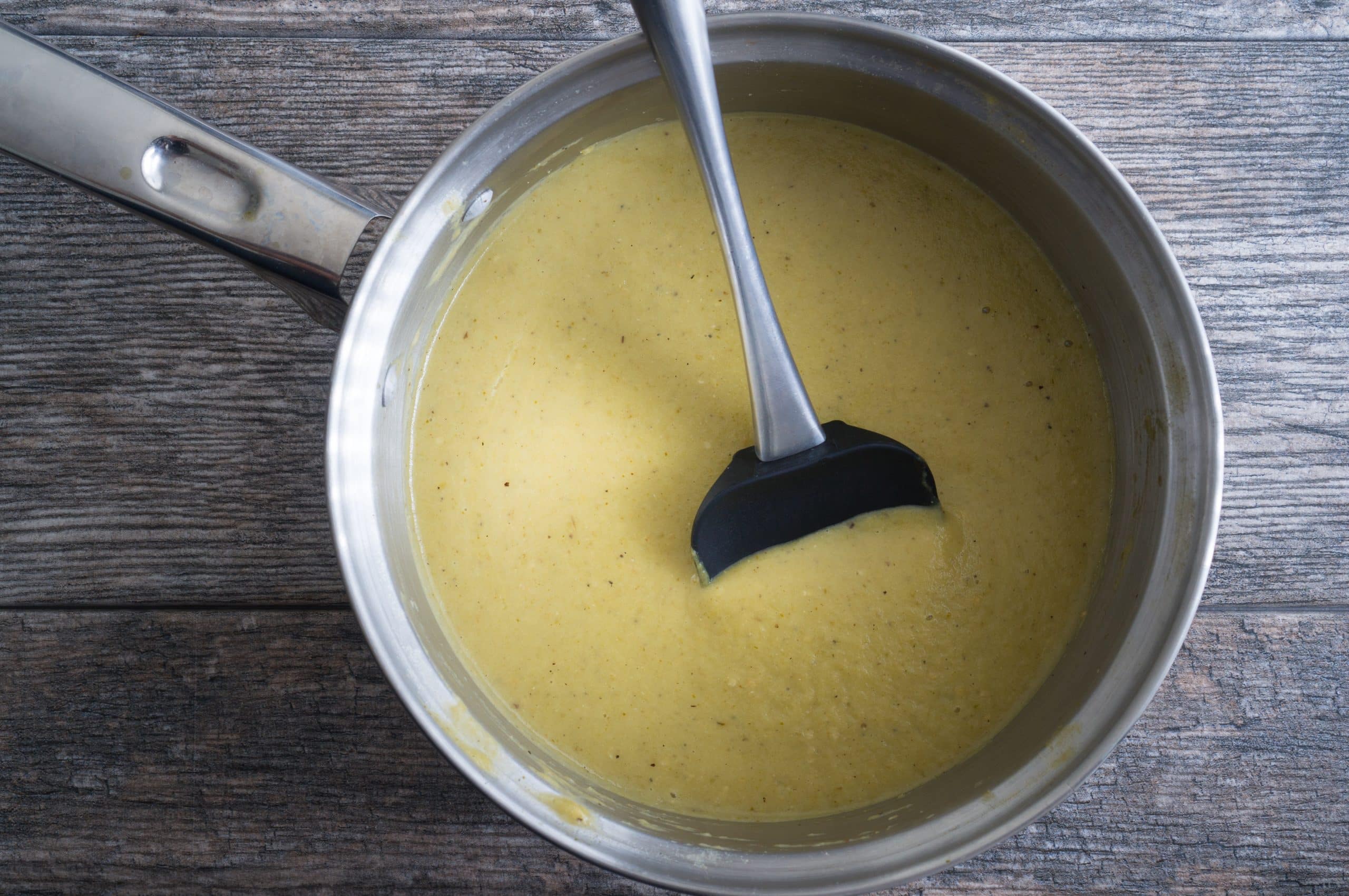 It couldn't be an easier sauce to make. Tastes like an all-day simmered sauce, but won't take up your whole weekend to assemble it. Roast a bunch of fresh ingredients on a sheet tray, blend em all up together, and simmer until warm and thickened. Then pour it on say something like my Spinach Chicken Enchiladas (soon to be posted!) with melted cheese and you've got yourself a restaurant worthy dinner. What's not to love about that?
Plus it reminds me of being back home.
I'm originally from San Diego. Did you know this? I feel like you did but in case you didn't, now you do. Now you're in the know and our blogger//blog-reader friendship can get on that deep level where we know things about each other like favorite colors (surprise, it's GREEN) and favorite foods (too many to name) and now hometowns (sunny San Diego).
One of the many things that makes San Diego so truly wonderful (aside from the seemingly flawless weather, awesome people, and the not-at-all-biased opinion from someone who was born there – ME!) is the food. The spectacular, melting pot of cuisines that you can find peppered throughout the whole county. You have to try really reeeeeeally hard to find a bad place to eat there.
So. Much. Good. Food.
It's a border town and a military town, bringing people from all over into one brilliant booming community that loves to eat any and all things delicious.
And when I say I lived in a border town, I mean that after sunset I could see the glimmering lights of Mexico from my house. I know, I know. I sound a little like Tina Fey impersonating Sarah Palin, "I can see Russia from my house". But really I could. From my back window, from the freeway, from the beach. It's right there. I grew up seeing that thick line on the map between our two countries as just the narrow dark spot between two groupings of city lights.
This gave me unrestricted access to some of the most authentically spiced, fabulously flavored, pretty much unparalleled Mexican food this side of the border.
And not just in restaurants, but at neighborhood parties. And summer barbecues. Or even when I was just crashing a Wednesday night family dinner at my best friend's house down the street. Tacos, burritos, tostadas, chilaquiles, taquitos, nachos, tortas, and all manner of wondrous things just ready for me to hoover up into my mouth. Hand over fist.
That being said, like so many of my at-home recreations of fond food memories past, this is not a totally authentic sauce. But I like to think that it makes a valiant effort to get kinda close to it in terms of flavor. It keeps true to many of the traditional whole food ingredients like garlic, peppers, onions, and fresh herbs. With just a few minor swaps here and there.
For one, this is a creamy sauce that doesn't have actual cream in it.
Don't get me wrong, cream is totally delicious. Dairy and I are good friends and I have no beef with dairy. I eat it, I cook with it, I like it. It's one of my favorite things.
But sometimes full-fat dairy can make an everyday meal feel heavy or in my case, makes my skin break out like I'm back in high school again counting down the days until my braces come off. Other times it just doesn't quite fit in with my daily eating habits.
I don't have one of those metabolisms that takes kindly to me spinning a roulette wheel and throwing whatever I want at it daily. I envy those amazingly lucky people who can do this and just jog it off. But I'm pretty sure I lean more towards having the metabolism of someone who can glance sideways at a donut and their body just starts to preemptively store the calories (you know, for safekeeping).
Maybe my body is just highly efficient and always in survival mode? I (ever the optimist) like to think it makes me well suited for a post-apocalypse world. Which I sincerely hope never EVER happens. I just want to keep pretending that I would make an awesome "Walking Dead" cast member. Minus the part where I have to prove it by taking up a sword or crossbow or firearm. And also without the whole constantly living in fear. And that minor detail where whenever I was hungry I would have to fight an entire abandoned supermarket filled with zombies just to get a cold can of spaghetti-O's to eat.
I wanted // needed to find a way to eat this creamy sauce all the time. Had to have it.
My first couple of attempts were…well, NOT great. One I added vinegar AND lime juice, and it was way too sour and the consistency was more watery like a salsa. Like an acidic savory garlicky limeade.
The second, I tried to slow-roast the peppers, onions, and garlic instead of briefly broiling them and it turned out bitter. The peppers totally took over and it felt like the tomatillos didn't belong. I had also forgotten to remove the poblano pepper skin in that batch, which probably made matters worse.
Plus these batches both just took SO much time and I wasn't super excited about getting myself into an overly involved sauce situation.
Finally, I realized I should just keep things simple. Add only the green ingredients in that I know I like and break it down like I would with making a classic roasted salsa. Put it all on a baking sheet, broil it, blend it all together so it was smooth like a sauce, simmer it, stir in some creaminess and call it a day. And wouldn't you know, that old adage of "keep it simple stupid" worked like a charm.
This sauce is just as thick and creamy as your other favorite green enchilada sauces but without all that extra stuff hiding inside. No flour, butter, cream, or cornstarch needed to get that signature velvety texture.
This sauce is gluten free, butter free, dairy free, sugar free, and flour free (and guilt free). I swapped vegetable oil for olive oil, heavy cream for coconut cream, and voila. A deliciously, accidentally vegan recipe was born.
You can buy coconut cream on its own, it's sold in cans or little cartons (I have found it at Safeway, Whole Foods, and Trader Joe's). Or you can do what I did, which was get it from an unshaken can of full-fat coconut milk. I was careful to make sure I used one that had been sitting undisturbed for a while that was NOT shaken (this is important!). I refrigerated it for a day before cracking into it. Some people swear by turning it upside down but I was too worried that I might clumsily recombine the coconut milk / cream / coconut water together again if I tipped it.
When I was ready to use it, I opened it with a can opener and scraped out the thick coconut cream (which usually naturally separates from the milky / coconut water) and set aside the remaining liquid to use up in cooking for something else. 1 can of coconut milk usually yields about ⅓ – ½ cup of coconut cream.
That being said, if you prefer to use cream – I have full faith that it will be totally delicious in this. Just add it in at the same time as the coconut cream in the recipe and you will have some equally tasty sauce on your hands.
Serrano peppers can be swapped for jalapeño peppers, whichever you prefer. Either way, I recommend seeding them and scraping out the white parts with a pointed spoon or small knife before roasting them. Roasting will really mellow out their heat to a level that plays nicely with the sauce.
Bake and blend up a batch of this ultra-versatile green sauce and stay tuned for more posts coming your way soon on how I use this sauce in other dishes.
Ingredients
1 ½

lbs

tomatillos

husked and cut in half (about 6-8 tomatillos)

1

poblano pepper

1 - 2

serrano peppers

halved, stem removed, with seeds and ribs scraped out*

½

large onion

sliced

5

garlic cloves

2

tbs

extra virgin olive oil

juice of 1 lime

1

cup

fresh cilantro leaves

1

teaspoon

cumin

½

teaspoon

salt

⅓

c

coconut cream**
Instructions
PREP THE OVEN: Position the oven rack to the highest or second highest position, so the tray can be a 6" inches or so away from to the coils. Set oven to broil (high). Line a baking sheet with foil and spritz with some olive oil.

PREP THE TRAY: Place tomatillos (cut side down), poblano, serrano (cut side down), onions, and garlic on baking sheet. Place the garlic cloves towards the front corner of the baking sheet so you can watch them and remove easily when needed. Spray the tops with more olive oil (or brush on top).

BROIL TOMATILLOS + PEPPERS: Broil for 7 minutes, then remove garlic (once toasted brown on top) and serranos (once dark blotches have formed on top). Flip over the poblano with tongs and toss the onions around. Rotate the tray for even cooking and broil for another 7 minutes, until poblano has formed broiled blotches on second side and tomatillos have blistered on top. Remove tray from oven and allow tomatillos and onions to cool for a few minutes. Toss out any onions that have become too charred (blackened and dry). Place poblano in a plastic bag and seal for a few minutes. Rub off skin after it has steamed for a few minutes. Remove stem and seeds.

BLEND: Carefully lift up the foil to collect the juices from broiling the tomatillos and pour into the blender. Place all veggies in the blender with lime juice, cilantro, cumin, and salt. Blend until smooth.

SIMMER THE SAUCE: Pour the blender mix into a sauce pot and cover. Bring the mixture to a boil and then turn down to low heat. Simmer for 5-7 minutes. After it has thickened, add the coconut cream or heavy cream and stir to combine.
Notes
*can swap for jalapeños **can substitute for heavy cream if you prefer, just note that it will no longer be vegan-friendly