Crockpot Salsa Chicken is happening on repeat here in our house! It's been the hero of our weekly meal prep story. Swoopin' in to save us from that often bland (and usually blah) chicken breast life.
Rest assured. This recipe is anything BUT those things.
2-ingredient shredded chicken made in a crockpot by doing little more than opening a jar. Can you feel my low-maintenance meal-prep glee BEAMING through the screen??
This is my kind of *healthy*. Slow cooker simplicity reaching new levels over here.
---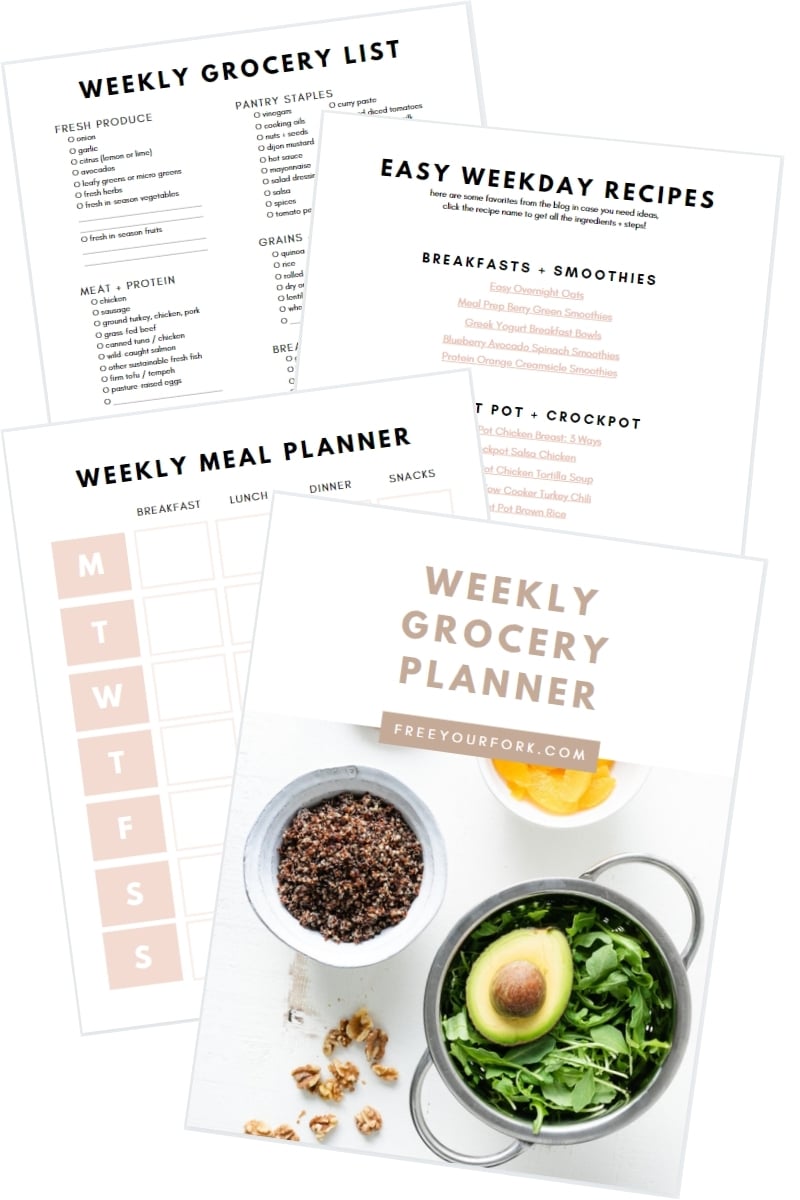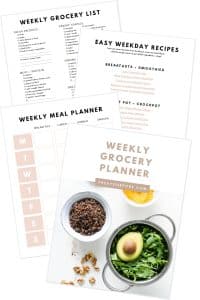 ---
Cooking chicken breast in the slow cooker is one of the easiest ways to meal prep a LOT of protein at one time.
The wonderful thing about make-ahead meals // batch-cooking is that it makes your whole week infinitely better. When you know you have at least half of your meal already cooked, everything else feels so much less hectic and so much more manageable.
Think about how that would make you feel. That peace of mind you'd get, knowing there's one less thing to cook from scratch. When you're trying to create a well-balanced plate for yourself or your loved ones, the last thing you need standing in your way are well…the things that always get in the way.
That inner dialogue that plays itself every time. I'm too tired. I can't imagine cooking right now. Today was too stressful. I just don't feel like it. Nope, can't, won't. (Things I think at least once a week, if not once a day).
I feel like we've all been there before...am I right?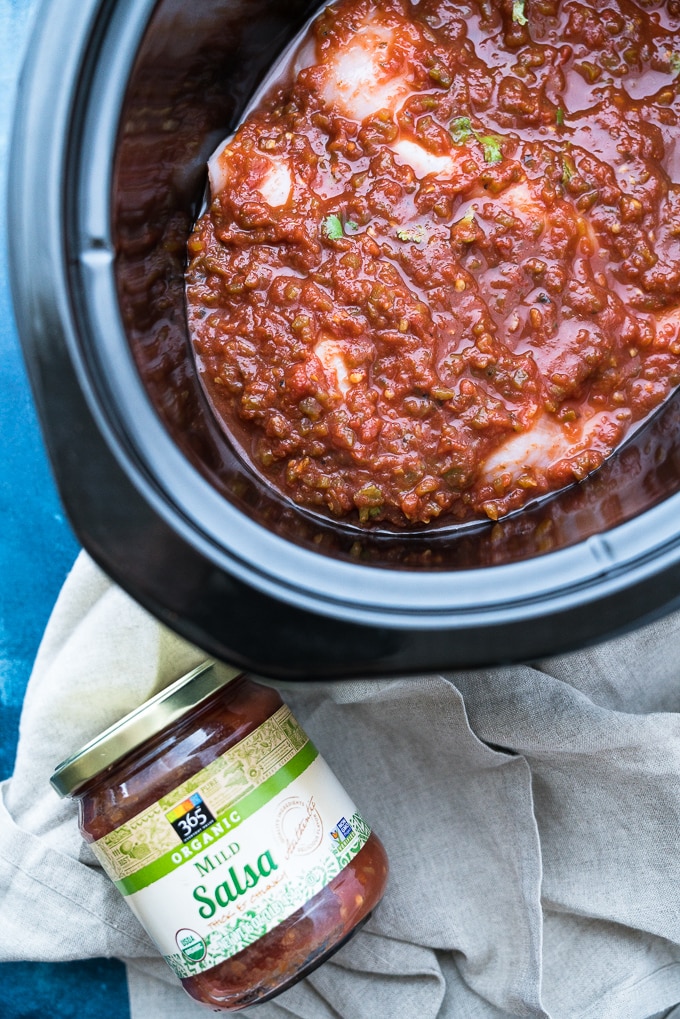 This is my "well screw it" recipe. My back-pocket, no excuse not to do it, meal-prep fallback plan. Even if something on my website broke (read: if I broke something on my website), or I forgot to send that critical email, or just barely met that deadline, or had to rush to the bank only to have the doors locked in my face. Even if I'm totally at the end of my rope and that day has been "the worst ever" and there's zero you-know-what's being given. I know deep down that I can do THIS.
If there is a jar of salsa in my pantry and some meat that needs cooking, I'm fresh out of excuses to skip out on it. It's too damn easy.
This recipe (and meal prep in general) gets YOU one step closer to healthy lunch + dinner decisions AND one step further away from resorting to take out. A win for your wallet + your taste buds.
You can store this shredded chicken easily in the fridge and pull out portions as needed throughout the week. Perfect for building meals on-the-fly.
Or you can use it to portion into individual servings alongside your favorite side dishes for full make-ahead-meals. I don't know about you but Salsa Chicken + Rice bowls (with a sprinkle of jack cheese melted onto the top) sounds like one hell-of-a happy way to make it through my work week.
When 12 pm rolls around, just pop that meal in the microwave and give yourself the gift of a nice, nourishing, high-protein lunch break. A few moments of uninterrupted time to let any busy morning melt away into meal-time bliss.
These are also FANTASTIC for using in things like…
Tacos
Burrito Bowls
Enchiladas
Nachos
Tostadas
Sweet Potatoes
Tortas
Soups
Casseroles
…you. name. it.
This is usually the part where I provide some words-of-wisdom. Or insight. Or at the very least some super important recipe notes. But this recipe right here, could not be simpler or more straightforward. The name says it all. Crockpot Salsa Chicken. Which is made using…salsa + chicken. End. Of. List.
What I DO want to chat about instead are all the merits of a slow cooker for this specific recipe.
So why use a slow cooker for something so simple? In other words, if this isn't a complicated dish with a lot of ingredients (like a soup, stew, or chili) and this isn't a tough, sinewy cut of meat - why bother cooking it in a crockpot?
Here's some reasons why cooking chicken breast in a slow cooker makes your life better
It's convenient + saves you time –

The words "set it + forget it" come to mind. You won't be babysitting a pot, stirring, adjusting the heat, or making sure it's not being overcooked / burned. Crockpots give you the gift of less time spent actively cooking. 5 minutes of prep means you're only hands-on *cooking* for a whopping FIVE MINUTES.

Less clean up involved – crockpots are super easy to clean, the gentle cooking method usually means less mess and less likelihood of burnt-on / cooked-on / crusty messes when you're done. There's less utensils and pans involved. A little soap and water usually takes any residue off without much of a fight.
You don't have to trim the meat beforehand - any connective tissue or untrimmed fat will render itself out while cooking. If any tough cartilage (those opaque white sections where the bone used to be attached) remains, it will be easily separated after cooking and you can toss it out. Saving you from performing minor surgery on raw chicken + preventing you from dirtying a cutting board and knife (less dishes? Yes, please!)
Slower methods of cooking intensify flavors + keep the meat moist < - - sorry for the M word - Slow cooking steeps the meat in the salsa, infusing all those flavors of onion + garlic + tomato + peppers + citrus the ENTIRE time it cooks. Plus it keeps the meat from drying out or getting tough or chewy.
Cuts down on added fat – You'll see on the recipe card that there is no cooking oil or melted butter required. The heat isn't going to get high enough for you to need that protective buffer between your cooking surface (like a hot pan or baking sheet or grill grate) and your meat. So if you're trying to eat more lean meats as a way to watch your fat intake, this is another win for slow cookers.
It frees up your other appliances for use – fellow meal-preppers rejoice! Stow your slow cooker away in a corner of your kitchen and free up your stove top and oven for making other things. Like trays of roasted veggies or broiled salmon, or simmering pots of brown rice / quinoa / oats.
Shredded rotisserie chicken ends up as an ingredient in a lot of recipes for a reason - it's downright versatile and anchors a light meal into becoming a satisfying main dish. Crockpot chicken gets you pretty darn close to that same texture WITHOUT having to actually roast an entire bird on one of your days off + wait for it to cool down + pick it apart bit by bit into edible shreds with your bare hands.
If we are using chicken as part of another meal (like tucking it into enchiladas or stirring it into a soup) then more often than not, you'll find us opting for this crockpot version. Or shortcutting the roasting process with this Instant Pot Whole Chicken recipe!
Here's a list of the tools + ingredients I used in this recipe:
FYI these are affiliate links – which means if you use these links I will make a small commission of whatever you purchase. The price of the item remains the same whether or not you use this link and it's at zero additional charge to you. All commissions support this blog.
.
MORE HEALTHY SLOW COOKER RECIPES:
.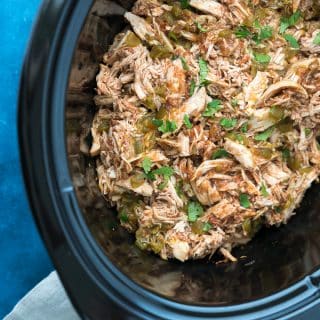 Crockpot Salsa Chicken
Healthy+ low-fat recipe for Crockpot Salsa Chicken. This 2-ingredient shredded chicken is perfect for using in enchiladas, tacos, burrito bowls, soups, casseroles and more. A meal-prep favorite for batch-cooking a lot of protein at once!
Print
Pin
Rate
Servings:
10
-12 servings
Ingredients
1 16-

oz

jar of mild salsa

4-6

chicken breasts

boneless and skinless
Instructions
SLOW COOK: Place the chicken breasts in the bottom of the slow cooker. Cover in salsa. Set slow cooker on high. Cover and cook for 4 hours (see notes for cooking on low).

SHRED CHICKEN: Using two forks, pull the cooked chicken into shredded pieces. You can either do this right in the pot, or you can remove to a flat surface (like a cutting board) and shred on that if that is easier. Stir until it has soaked up the salsa + cooking juices.
Notes
You can also cook these on low for 6 hours but I find this makes the chicken a little too wet and thinly shredded for my liking, four hours seems to produce more substantial pieces with the best texture.
You can cook either 4-6 chicken breasts, depending on your weekly protein + meal prep needs. It will cook fine with 6 for the same amount of time, but if you're looking for a stronger flavor then add another half jar of salsa.
I used red salsa for this recipe but have also had delicious results using salsa verde – the tomatillo flavor of green salsas works just as great!
Nutrition