Combine one large slab of pork shoulder, sprinkle with a savory spice mix, squeeze some fresh citrus over the top, and slow-cook in the crockpot. And ta DA! Homemade Crispy Crockpot Carnitas.
You can throw together the dry-rub using spice shelf staples in a matter of minutes. When it's all said and done, you'll probably only spend about 10 minutes of on-hands prep to get everything you need ready. Plus it's gluten-free AND paleo-friendly.
This recipe comes down to only three components – meat, spices, and lemon juice.
And it uses only one basic method. Put things in a pot, cover it, and turn it on. The slow cooker does the rest.
Ba-da-bing. Ba-da-boom. Several pounds of tasty meat to last you all week and serve however you please. (Or a guaranteed crowd-pleaser for the next time you have a lot of friends and family over at your place.)
This is one of those foods that is hard to photograph. Not technically speaking, but more so because the meat stash tends to mysteriously dwindle between shots. With each camera click comes an ever-shrinking platter of food.
We can't stop ourselves from picking at these crispy, shreds of subtly-spiced, salty pork. Sometimes they don't make it to the tortilla to become a tostada, taco, burrito, or enchilada. They don't make it to the bowl of shredded iceberg to become a premium taco salad topper. They don't even always get a second crisping. Nor do they get piled on tortilla chips, covered in cheese, or topped with fresh cilantro, rich avocado, cotija cheese, or crunchy cabbage slaw to become some of THE best nachos in the land.
They just get eaten. Inexplicably, plainly eaten as snack meat. Cause that's our version of normalcy.
I feel like if charcuterie boards of meat and cheese are an acceptable thing to devour at social gatherings, then snacking on meat the way that we do should be a thing too (…right?). Oh gosh. Please say yes.
So often, we can be found pinching our greedy fingers straight into the pile. Just shoveling it in.
Thankfully, the recipe makes pounds of shredded, savory pork so we can be sure to have lots available after a snack-attack.
Pounds of meat that can be easily reheated in the microwave, crisped freshly in the pan // on the stove top // or on a sheet tray in the oven. An amount that should last two people several days, if not all week. But a good portion of this fit-for-a-superbowl-party mountain of meat has been known to get shamelessly decimated by these two hungry food-fiends in a matter of –
…well, I'm not one to eat and tell (on myself).
Ok. Yes I am.
Sometimes hours. Maybe days if we are lucky and happen to possess a single, solitary shared shred of willpower between the two of us.
And now you know why I don't bake cakes often. I can hardly be left alone with carnitas, but I can't be alone with a cake. I would LOVE to be alone with a cake...but I can't. I know myself too well.
This week has been one such marvelous week where we had carnitas last us past just the weekend. Some way, somehow. It happened.
Whatever the reason, it's all lasting us a good LONG time and I am enjoying each and every day all the more for it. Cause I know come lunch time, I got some tacos waiting for me.
And I want you to feel all those giddy-for-GOOD-food feelings too.
So let's dig in.
There aren't too many recipe notes that need to be given on this one but there are a few things worth mentioning. Because I just always want you to have all the knowledge you could ever possibly want or need to feel totally prepared.
#1
This takes time. Pork Shoulder is a cut of meat that is well-marbled with fat and connective tissue, meaning that it needs time to tenderize. This is the cut of meat frequently used for classic American BBQ pulled pork. I have tried taking it out and checking on it at 8 hours and at 12 hours (and even at 14 hours). A four pound shoulder shreds best and gets that perfect, fall apart texture at 15-16 hours. Any earlier than that and you will have some tough, chewy meat on your hands. I recommend setting it up to cook the night before. Most of the cooking and the waiting will be done while you're sleeping or away at work, which means come dinner time the next day it'll be ready for you to crisp up and eat! Patience is a virtue that will be rewarded, in this case, with lots of pork.
#2
It is important to trim off the thick layer of fat that tends to surround this cut of meat when you buy it from the store. The meat itself is already thoroughly marbled with a mix of both meat and fattier sections. So trimming it will not affect the final flavor. It will just ensure that you don't end up with overly greasy, soggy, salty meat at the end. If you like, you can ask your butcher to trim it off for you before you take it home and eliminate that step for yourself entirely.
#3
Since it is cooking for a LONG time, you will see the spice mixture and the rendered off fat liquid in the crockpot deepen in color and darken. It might look scary and you might think you're doing something wrong. But have faith, all is well in that crockpot. Just know that this will happen and this is totally okay and no cause for concern.
#4
After shredding the cooked pork, I like to add back some of the liquid on top to further flavor and moisten the meat. I do not recommend adding it all back, since some of it is the rendered off fat and you may not enjoy how salty and greasy all the liquid makes it. Add a little bit at a time and taste as you go to see what you like best.
And finally…
#5
The crockpot will take care of getting some crispy edges in the mix for you, but if you like carnitas the way I like carnitas then you might really love crisping it all freshly just before you eat it. You can do this one of two ways:
In the oven – set to broil and spread out meat on a large baking sheet (no extra oil or nonstick spray needed but foil will make for easy clean-up), and just bake until crispy
On the stove (my fave) – you can either crisp a whole bunch at once in a large pan or enough for one serving in a smaller pan. Set to medium-high heat and stir frequently to crisp evenly. This is an extra delicious way to go if you want to cook a breakfast hash, since the flavor from the meat will cling to the pan when you cook your other veggies or eggs.
End of list.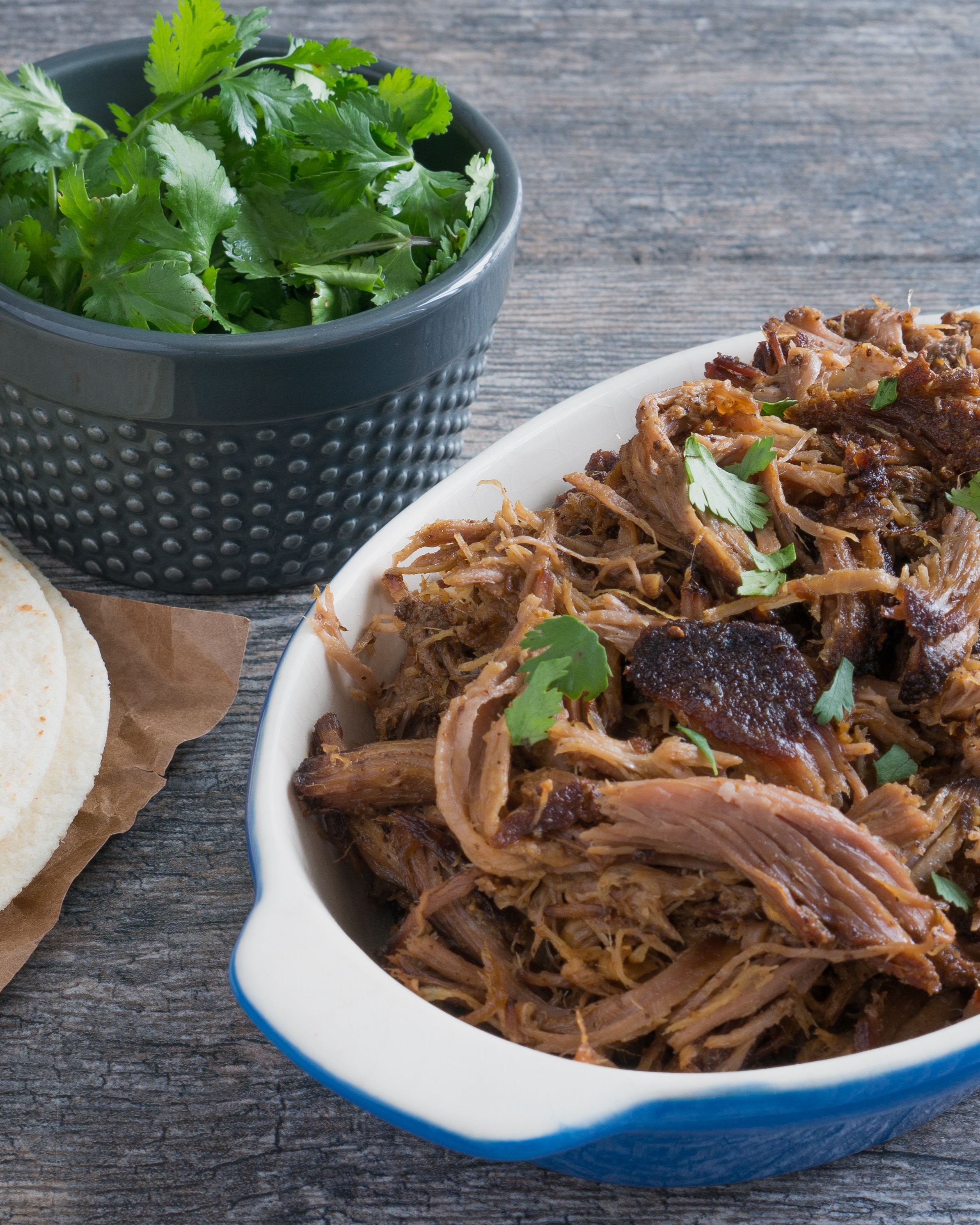 All you really need to know now is that this recipe is totally divine for all sorts of things.
Things like:
carnitas tostadas = smashed black beans + avocado cream + hot sauce
carnitas burrito bowls = pinto beans + sautéed bell peppers // onions + rice + guac
crispy pork nachos = melty cheese + crispy chips + chunky salsa fresca
carnitas street tacos = mini tortillas + salsa verde + fresh cilantro
monster taco salads = thinly shredded romaine + crunchy tortilla strips + corn + black beans
loaded carnitas enchiladas= swap chicken for pork in my Chicken Spinach Enchiladas recipe
double pork cheese melt = monterey jack cheese + chipotle mayo + toasted torta roll + bacon
carnitas breakfast skillet hash = sweet potato cubes + spinach + fried eggs
carnitas breakfast burritos = scrambled eggs + carnitas + green onions + hatch chiles
Yep, BREAKFAST. I have found a way to eat carnitas for the first meal of the day. I have no defensible reason for this behavior. But I have heard that where there's a will, there's a way.
.
Here's a list of the tools + ingredients I used in this recipe:
FYI these are affiliate links – which means if you use these links I will make a small commission of whatever you purchase. The price of the item remains the same whether or not you use this link and it's at zero additional charge to you. All commissions support this blog.
.
MORE SLOW COOKER RECIPES:
.
Ingredients
4

lbs

of boneless pork shoulder

excess fat trimmed from the outside*

1

tbs

cumin

1

tbs

salt

2

teaspoon

dried oregano

1

teaspoon

black pepper

½

tbs

garlic powder

½

tbs

smoked paprika

1

teaspoon

chili powder

1

teaspoon

coriander

pinch

of cinnamon

juice of 1 lime

or ½ lemon
Instructions
MAKE SPICE MIXTURE: Combine all dry spices together in a small bowl.

"BRAISE" THE PORK IN THE CROCKPOT: Place the pork shoulder into the crockpot. Rub dry spice mix into all sides of the pork. Then squeeze lime/ lemon on top. Cover and cook on low for 15 hours. The spice mixture will darken a lot and the meat will start to turn golden brown on the outside. The fat in the meat will render off, producing a lot of liquid at the bottom.

SHRED THE MEAT: Remove the pork carefully from the crockpot to a large plate or bowl. Then using two forks, pull apart the meat into large shreds. Pour over ½- ¾ c of the cooking juices from the crockpot on top of the meat and stir around to evenly coat.

CRISP THE MEAT (optional): You can do this one of two ways. (1) Carnitas for a crowd - Set oven to broil. Line a baking sheet with foil and spread out desired amount of meat on tray in an even layer. Broil for 5-7 minutes until you get the amount of crispy edges you want. (2) Carnitas for 1-2 people – Add carnitas to a hot pan on the stove top and stir around until you get the crispy edges you want.
Notes
*Also called pork butt or boston butt
Trimming the excess fat layer off of the top and bottom of the pork shoulder before cooking will help the final product be much less greasy. I do not recommend adding all of the liquid back to the meat as this can make the carnitas too soggy.
Nutrition