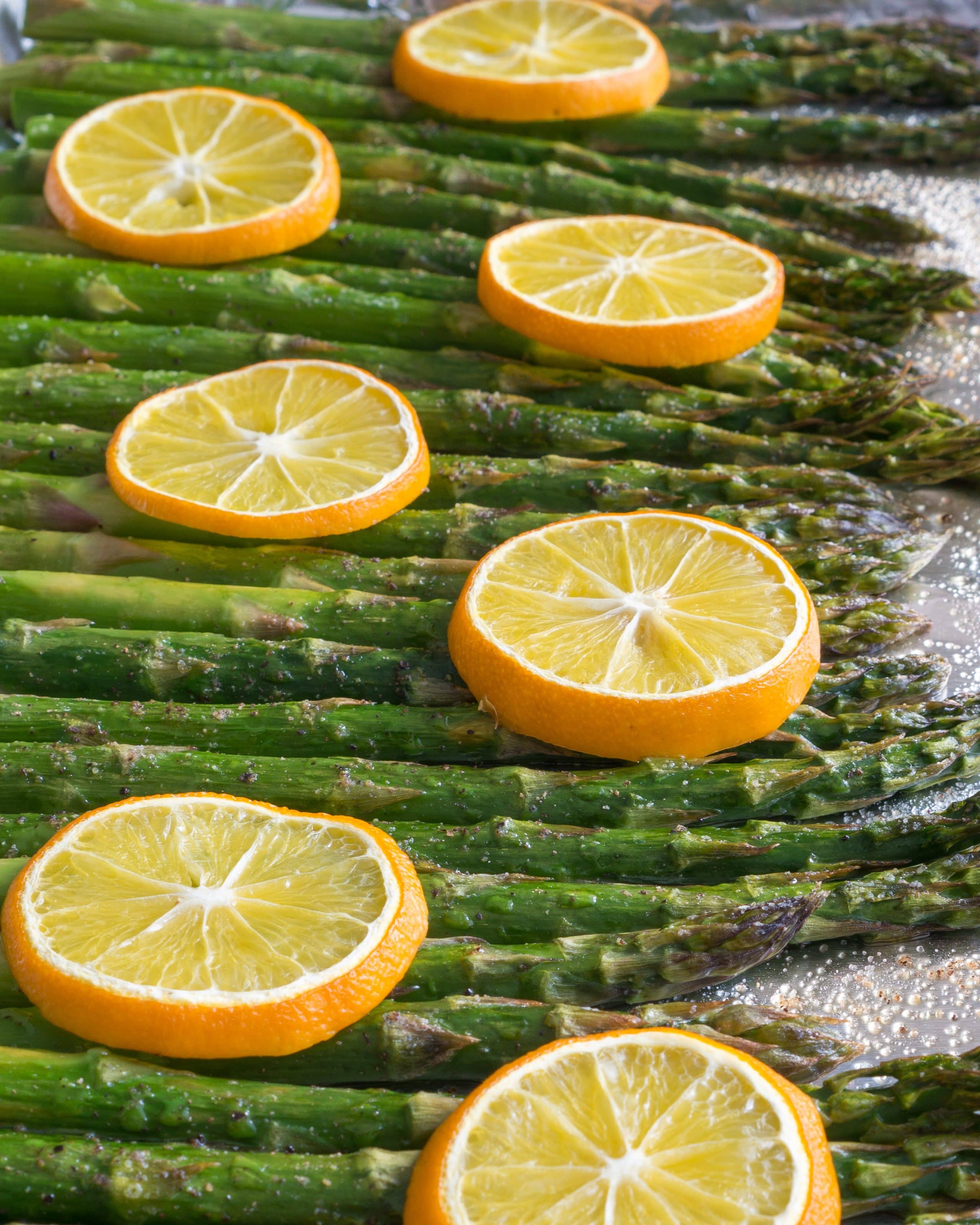 Baked Lemon Pepper Asparagus. Quick, easy, and healthy. All today's recipe needs is five ingredients, one sheet pan, and 20 minutes of your time.
Admittedly, I was sort of conditioned from an early age to despise these green spears. I did not trust their weird shape and avoided any and all menu items that dared mention them. I was dead set against even the idea of them. All this without having ever tried one, single, solitary bite.
My dad abhors them. He likes them about as much as he likes Brussels sprouts, which is to say…not at all.
And so I made it all the way to adulthood not liking asparagus. Until I met Billy. He ate it, loved it, and insisted I try it. This is when we were in that sparkly, newly dating time period. The "Lauren smiles and politely pretends to not be quite as picky as she really is" phase of our early courtship.
(Note: We have since moved far FAR away from that shy well-mannered zone. We are currently in the "do you think this thing on my arm is a pimple or a spider bite?" phase. The kind where "I woke up like this" happens every morning in all its glamour-less, puffy-eyed, pajama-clad, wild-haired, where-is-the-coffee real life horror.)
My initial aversion (for both asparagus and Brussels sprouts) has since been converted to all out plant-food-LOVE after I learned how to make them the way I like 'em. Which surprise, surprise. Turns out to be roasted.
That happy just-baked zone where they retain a little bit of firm texture, but are still totally fork tender. With those ever so slightly crispier ends just beginning to form. Simply spiced with fresh cracked black pepper and a little salt, and finished with several thin slices of lemon scattered over top. These couldn't be easier.
Well you could eat them raw. That would be technically speaking "easier". But I don't suggest that. Especially if you aren't a natural veggie lover. That could really be a game-ender for you and the lifelong relationship with vegetables that once could have been.
All you do is wrap up a baking sheet with foil, spritz a little bit of extra virgin olive oil on top, spread out the asparagus spears, salt & pepper them, top with lemon slices, and into the oven they go.
Your weekly meal prep is about to get so easy, you won't have an excuse NOT to be well-stocked on green goodness throughout your week.
Unless somehow donuts and vanilla lattes descend upon you and demand to be sipped and savored. In which case, who really needs veggies anyway??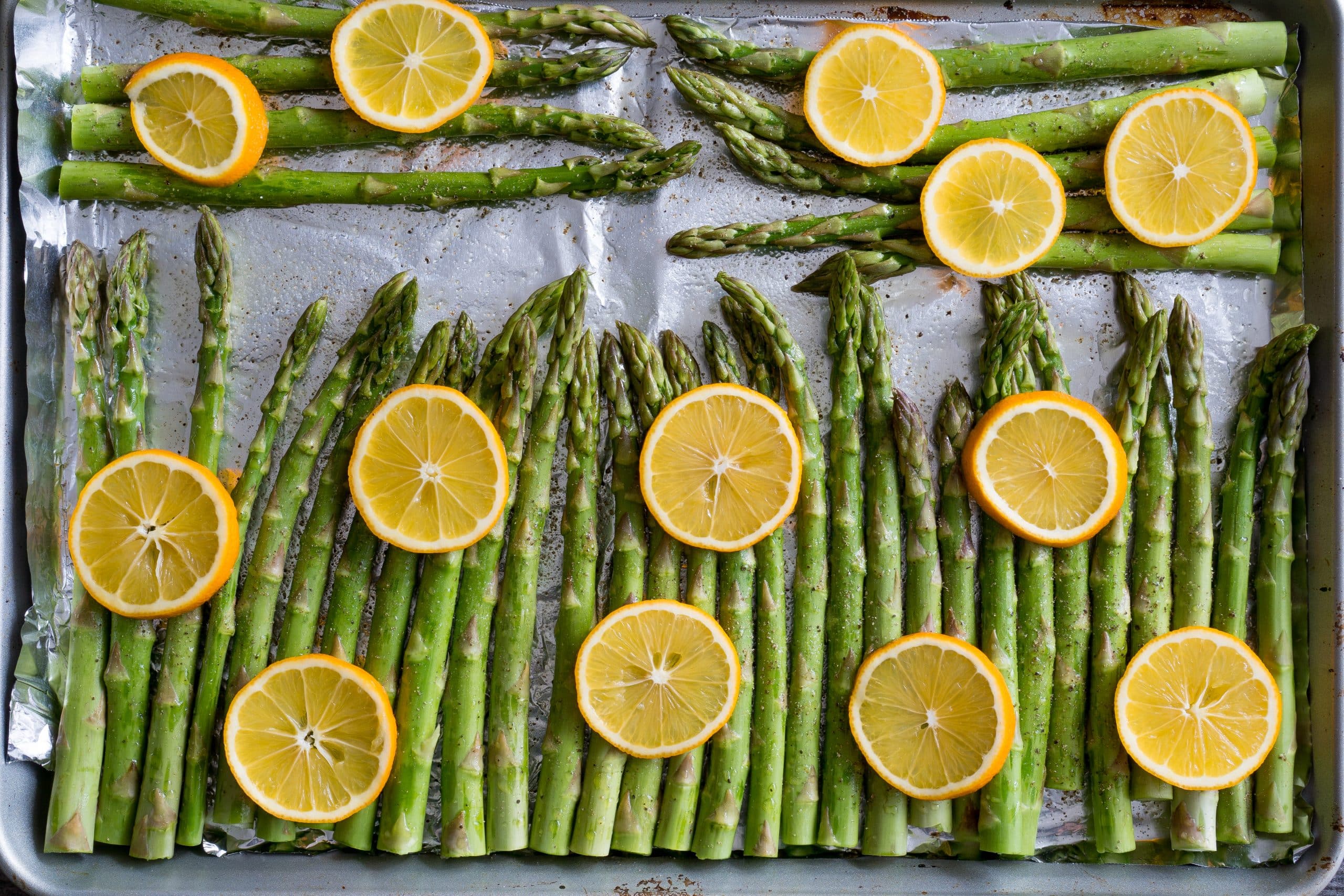 Well, I hate to be the one to break it to you but the sad answer is - we ALL do. Every single one of us, that's who.
Adults. And kids. And all humans. And many other creatures, as it turns out. We all need a dose of vegetables in our day. Somewhere, somehow, they must make it to the plate and down the hatch. We have to eat them so they can be converted into the oh-so-vital compilation of vitamins and nutrients our bodies' so desperately need to function each and every day. They make your skin glow, your hair glisten, your nails strong, your heart pumping, and your muscles grow. Without them, things just aren't as wonderful as they could be.
We know why we need them, it's getting us to eat them that's the trick. So if we have to have them, I figure we should at least like what we are eating. That's only fair, right?
Healthy foods and tasty foods can be one and the same thing. It's not an either/ or kind of situation as far as I'm concerned.
I don't know about you guys, but I am not a fan of flavorless vegetables. I will (albeit reluctantly) eat steamed veggies straight from the microwave, but I will not be stoked about it.
I will either try to blanket them with cheese, douse them in spicy sriracha, or drown them in barbecue sauce. Anything to forget how dull they are juuuuust long enough to choke them down.
So I add a few things to inject some yummy flavor into regular, plain old vegetables and stave off those crabby craving-driven feelings.
These are three things you can do to avoid having bland veggies invade your plate:
Use Healthy Fats // Oils – Adding a measured amount of extra virgin olive oil, coconut oil, ghee, or butter will not only help keep your vegetables from burning and sticking to the cooking-surface but will also add a more rich, buttery flavor profile.
Sprinkle on Some Spices – sometimes just simple salt and pepper goes a long way, but check your store for spice blends (like montreal steak seasoning, other grilled seasoning blends, or standard herb/ spice mixes like Italian Herbs, Herbes de Provence, or Curry Powder).
Add an Acid – no not the scary, chemical burning kind, the zippy flavorful part of salad dressings and marinades! Either a squeeze of fresh citrus juice, vinegar, or sharp tangy hard-cheeses like parmesan. This will add even more dimension to a dish and really help to brighten up the flavors. Plus lemon juice has a tendency to bring out the natural color of whatever you're cooking.
Meyer lemons are my citrus of choice for this dish, since they are a little sweeter and less bitter than their regular lemon counterparts. Like a cross between an orange and a lemon, the best of both worlds!
I hope to be doing more posts soon on how we tackle a full week's meal prep in our little kitchen, but in the meantime here's a quick rundown of a possible line-up using existing Free Your Fork recipes! I would suggest making them in the order below (1) load up the crockpot and set the timer (2) quickly bake off the asparagus (3) wash and fork-prick the potatoes while the asparagus cooks, swap out the foil on the same baking sheet, and bake the potatoes once the asparagus are done. The oven temperature is the same for both the asparagus and the sweet potatoes, making it even easier!
Baked Lemon Pepper Asparagus
Optional meal prep step: we top ours with a little bit of shredded mozzarella cheese on top so it melts all over everything when you microwave it.
Make them ahead of time on the weekend, portion into containers, and pop them in the fridge for easy take-to-work lunches or speedy weeknight dinners that are ready to heat-and-eat.  Happy prepping!
Ingredients
40

large asparagus spears

with the woody ends trimmed off about 1-2"*

2

lemons

sliced into thin rounds with seeds removed**

½

tbs

extra virgin olive oil

salt

pepper
Instructions
PREP THE BAKING SHEET: Preheat oven to 375 and line a baking sheet with foil. Spritz with extra virgin olive oil. Spread out asparagus spears across the sheet, I usually can fit them all by doing one long line of spears sideways on one side of the tray and then doing two bundles laid out lengthwise in the extra areas on the other side. Sprinkle with salt and pepper to taste. Then lay out the lemon slices evenly over top of the asparagus.

BAKE THE ASPARAGUS: Bake for 20 minutes or until spears are fork tender and tips have just begun to brown.***

SERVE: Serve with lemon slices on top or use tongs or hands (once cool enough to handle) to squeeze lemon juice out of roasted slices and toss entire sheet of asparagus in the juices.
Notes
*About two large bundles or one generous bag. I used ½"-¾" thick asparagus spears. When you buy trimmed asparagus from the store, depending on how long it's been on the shelf the ends can start to dry out. Think freshly cut flowers and what happens to the stems. **Meyer Lemons preferred ***Adjust the cooking time if using thinner, smaller asparagus down to 12-15 minutes.