Let me start by saying that this recipe was a complete and utter accident. A face-palm worthy disaster that happens to have a happy ending but I can claim zero intentional credit for. On this fateful day, I did the ONE thing I was not supposed to do. I forgot about the oven.
And I mean for HOURS. While things were IN it. And it was ON.
And yet, during all that extra time those spuds didn't end up beyond saving. They were just getting' good, gooey, golden, and unbeatably delicious. And now this whoopsie-daisy moment is one of my all-time favorite ways to cook a sweet potato.
What happened? Why and how did I abandon sweet little sweet potatoes in the oven that day? You see, I thought I was being a total super woman. Smugly patting myself on the back for being a chore champion. Congratulating lil' old ME for being such a domestic goddess. Laundry folded? Dishes washed? Trash taken out? Bills paid? Check, check, check, ANNNND check. Victory dances all around. I was so darn pleased with what a masterful multitasker I had become.
Ok.
Truth be told, this was a day spent entirely in my finest pair of sweatpants and what I would call a sad excuse for a ponytail. My caffeine intake had reached critical levels. I was trying to be as productive as possible, but somewhere between checking off items on my to-do list and texting my sister…I heard the oven timer go off. Naturally, I quickly bashed the "OFF" button to stop it's shrill beeping.
Quick side note, WHO chooses these torturous appliance sounds?? (end side note)
I made a mental note (I should never make these, they are almost always unreliable) and vowed to return to pull the baking sheet out of the oven in "just a sec". Well, a mini Netflix binge and one heated snapchat exchange later and I realized I hadn't check on them for another HOUR. Those poor potatoes.
I was sure that the baked potatoes I was hoping to have for dinner that night were entirely ruined. I was ready to call it a loss. Time to face the music. Ok self, better luck next time but for now you need to just accept that this was a big ole failure.
Expecting to find remnants of scorched earth (or best case scenario some blackened rocks I could use as "home décor") I instead stumbled upon some majorly wonderfully fork-tender FLAVOR BOMBS.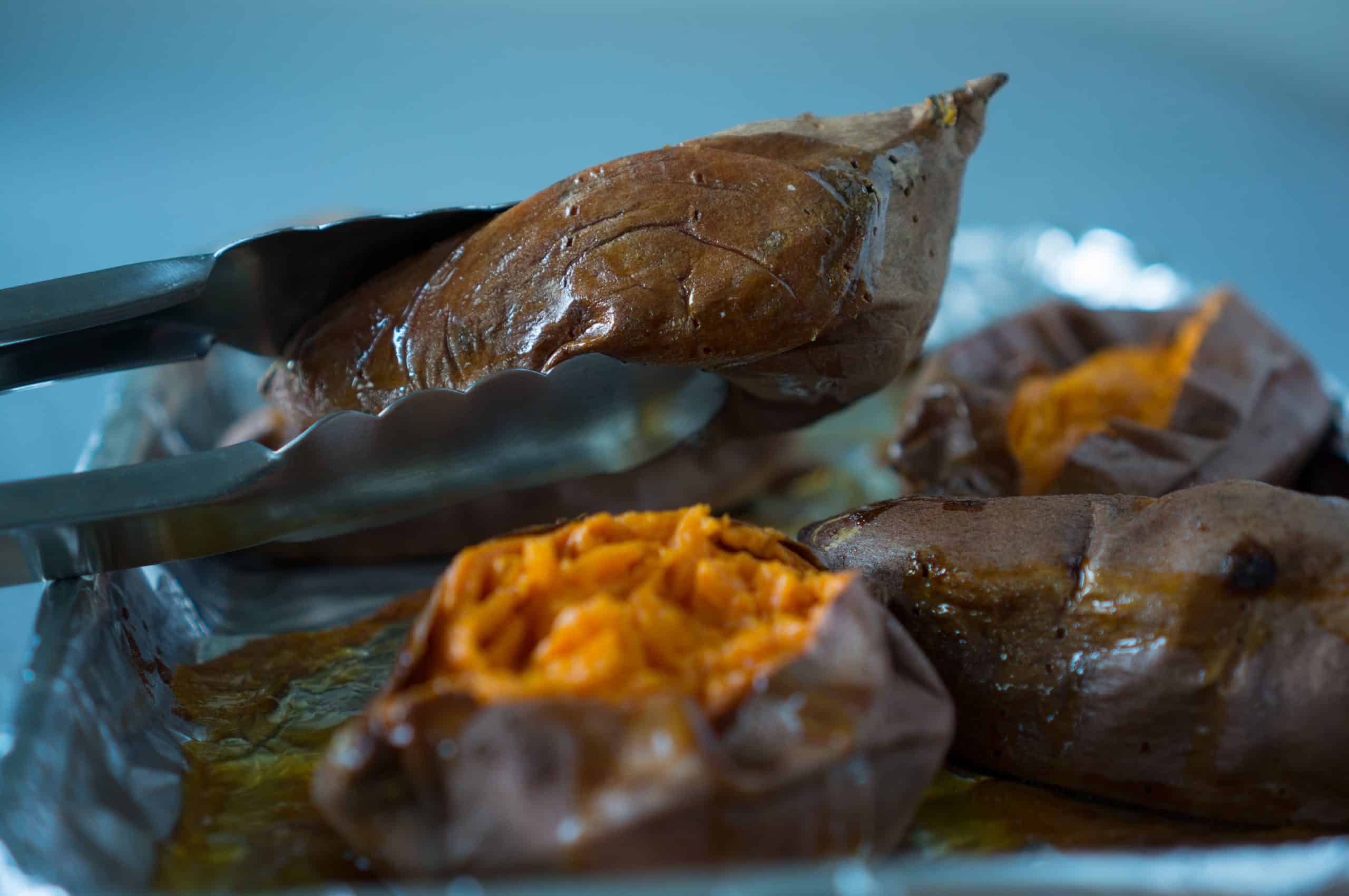 These resilient little tubers had been roasted to perfection, with the soft flesh pulling away easily from the skin, and some kind of deeply caramelized juice oozing out of them. What a beautifully tasty mishap. One apprehensive taste test later and I knew I had to share this recipe with you guys.
It was beyond easy for me to (over)cook them, so I know it will be just as stress-free for you to make these at home.
These beauties spend some quality time getting nice and bronzed in your oven. And with minimal prep on your part to boot! Sometimes we like a recipe that's a little lazy around here, right? The cooking time on the recipe below may seem long but trustttt me, the result is worth every minute. A quick spud-scrub in the sink, some well-placed fork jabs into each potato, a spritz of olive oil, and into the hot oven they go. Boom! You did it. That was the heavy-lifting portion of today's culinary workout.
After that, you only have to flip them once. No peeling, chopping, sautéing, or pot-watching involved. You get all of that ooey gooey caramelization on the outside with tender, moist mashed potato type of texture inside.
The best part? You get all of this taste and texture without much effort on your part. No babysitting needed. Plus these babies have so many applications once cooked that you may even make it a staple item to have on-hand in your fridge. It's worth pointing out that these leftovers disappear the fastest in our fridge. We never seem to have enough floating around, even this whole batch doesn't make it far into the week, and there's only TWO of us here. Clearly, we are monsters.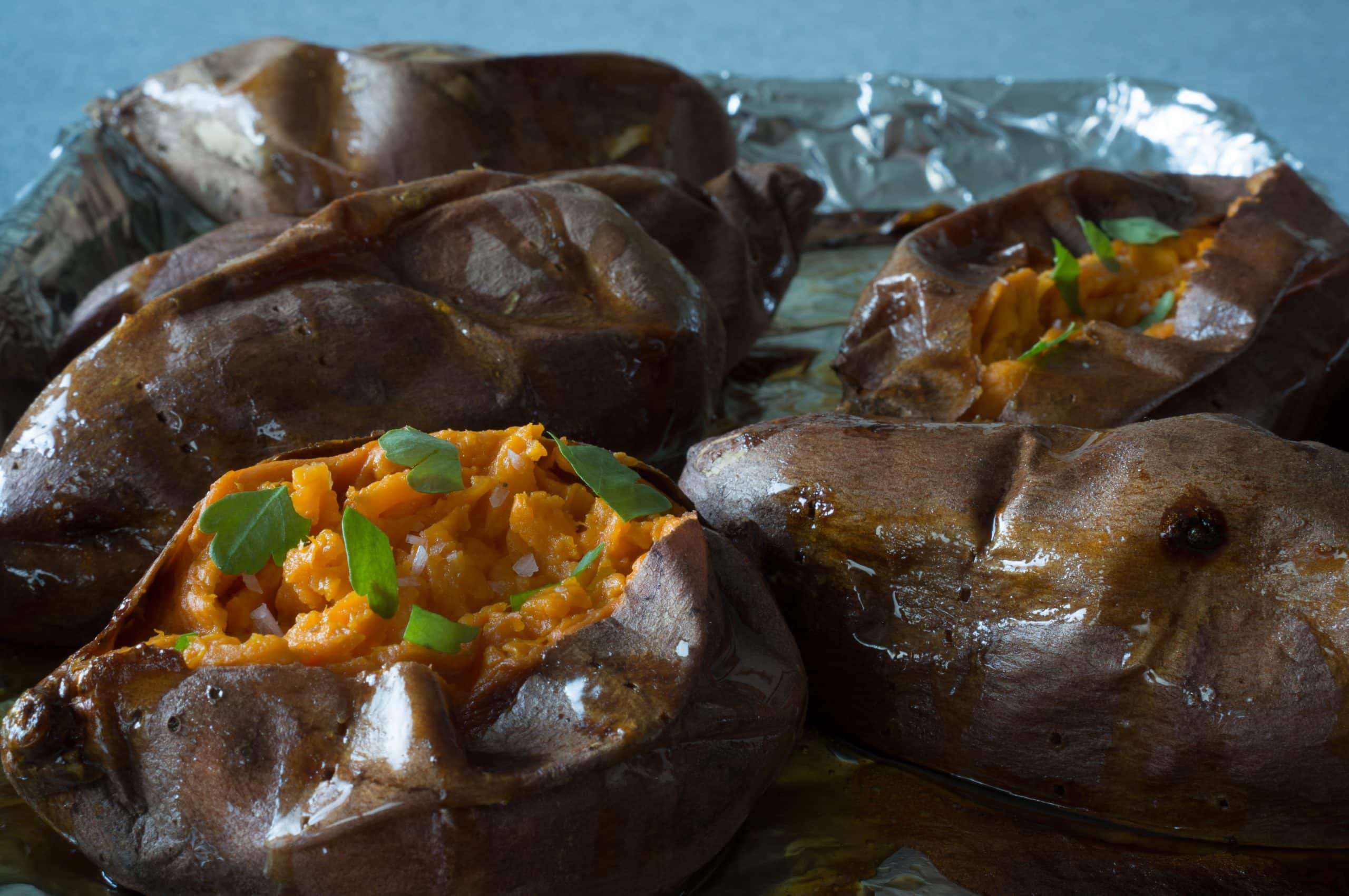 You can split them down the center for Stuffed Southwest Sweet Potatoes, slice them into rounds sprinkled with spices as a shortcut version of Paprika Spiced Sweet Potato Medallions, dice them up to add to a cheater's version of Fried Egg Hash with Brussel Sprouts and Sweet Potatoes or perhaps Sweet Potato Black Bean Enchiladas, orrrr simply smash them with a fork to make yourself some velvety Garlic Mashed Sweet Potatoes. Or my lazy weeknight favorite! Simply slice them down the middle lengthwise and nestle in a bed of fresh greens. A little sprinkle of red pepper flakes, salt, pepper, and an extra drizzle of EVOO and dinner is served.
[These are all things I have actually made and eaten. Possibly all consumed in the span of the same week. They are in bold because they will someday (soon I pinky promise!) be available for your recipe-lovin' lives right here on the blog]
Also, get this. You can give yourself a hearty pat on the back for the nutrient-packed punch these will bring to your body. They have more fiber and higher overall vitamin content than white potatoes, with less calories. SCORE. Their vitamin and mineral line-up includes Vitamin A, Vitamin C, Vitamin B6, Potassium, Calcium, and Magnesium. Excellent choice. Well-done, YOU. Sending you so many high-fives through the computer.
Sweet potatoes have long been touted as the healthy swap for white potatoes. If you haven't made the switch yet (or are finding it hard to bid your Yukon golds a less-than-fond farewell) then these sticky sweet, slow-roasted spuds might be a total game changer for you.
Okay, I may have just lost some of you. Yes, YOU. I can feel you cringing at your computer screen. I can see you cradling your beloved Classic American fare potatoes in your arms, reassuring them you'd never even think about leaving them for that "other" potato. They are the only potato for you. Brown rice for white rice? Sure that's doable, but giving up that loaded foil-wrapped baked potato with cheddar and sour cream?! Never. Until death do you part! I know the feeling.
One taste of these fresh from the oven and you too will be shouting "sayonara, sucker!" from the rooftops. You'll be kicking standard white potatoes to the curb for a night, along with fingerling, red russet, or any other tried and true varietals that usually grace your Thanksgiving table spread. Dare I say it, you will be itching to serve up sweet potatoes on a weeknight. That punchy orange hue will make your holiday table-spread sing, and the slow-roasted flavor will help deliver that "you must have spent ALL day making this JUST for us" feeling for your guests.
If you're still apprehensive about taking the plunge, take a gander at these beauties. Just check out that COLOR. I mean, c'mon guys…C'MON.
And if you're still not sold on making these at home, that's okay too. More taters for little old ME. Gobble, Gobble.
Ingredients
6

large organic sweet potatoes

1-2

tbs

Extra Virgin Olive Oil
Instructions
Preheat oven to 375

Line a baking sheet with foil, and then spritz with EVOO (I like to use a

Misto Olive Oil Sprayer

for this to help me use less oil and cover an area uniformly & quickly. Plus it's friendly on the wallet and waistline). If you don't have a sprayer, put 1 tbs of EVOO onto the foil and use a paper towel to spread it around evenly. You don't want to use too much oil. If oil it isn't in contact with food, it could become heated and start smoking while in the oven.

Wash the potatoes and pat dry with a towel.

Using a fork, poke several holes into each potato on all sides. Feel free to get a little jab happy and take out some much needed rage onto these tubers, just mind your fingers. You do this to make sure you have a way for the steam in the potato to escape and prevent them from exploding in your oven.

Space potatoes out onto the greased baking sheet, and try to make sure they aren't touching each other so they cook evenly.

Bake for 60 minutes. After the timer goes off, remove from the oven and flip each potato over. I use an

Ove Glove

to protect my hands while I do this. You can press down slightly onto them so they don't roll once you pick up the baking tray again.

Bake for an additional 45 – 60 minutes.

Remove from oven and serve immediately (or allow to cool and store in an airtight container in the fridge).
Notes
I have also used this recipe with mini sweet potatoes for easy weekly meal prep portions. You can use a whole bag of mini potatoes and reduce the cooking time since they cook much more quickly. Bake the minis for 40 minutes, take them out to turn them once, then bake for an additional 15 minutes.
---
Disclaimer: The links in this post to both the Misto Olive Oil Sprayer and the Ove Glove oven mitt are Amazon affiliate links. 
---