Learn how to freeze fresh herbs in olive oil (or ANY other type of oil you'd normally cook with) to make flavor-packed little "Herb Bombs"! Works great for basil, parsley, chives, rosemary, oregano, cilantro, and more - awesome way to save time, shortcut sauces, and cut down on food waste.
This simple hack for how to freeze fresh herbs in olive oil will help you enjoy fresh herbs all year long! Simply drop one of these herb-packed olive oil cubes in a hot pan and shortcut your way to flavorful food. Omelettes, frittatas, pasta dishes, hashes, soups, homemade sauces, and stir fries. This is how you add that little extra somethin-somethin to your cooking without having to wash and chop fresh herbs every time.
Things these little herb-bombs would be epic for…
Chives in Frittatas, Omelettes, or Scrambled Eggs
Parsley + Oregano + Basil in Homemade Tomato Sauce
Rosemary Roasted Potatoes
Thyme + Rosemary for Vegetable Soups
Basil in Blended Salad Dressings
You can either thaw them and let them come to room temperature to use raw in dressings, or you can drop them into a hot pan to use in hot dishes instead of just plain cooking oil. You can even get extra fancy and grate some garlic cloves, lemon zest, or ginger into the mix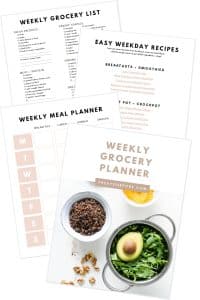 ---
THIS method for freezing herbs is the secret to how to have fresh, flavorful, peak-season herbs year-round.
You know that feeling when summer ends and basil starts disappearing from your produce section? Even IF you can find it in fall or winter, it's just not quite as flavorful. Or you see the price nearly double for the out-of-season stuff?
You don't have to be in that boat.
Now, whenever you're craving fresh basil or chives - you can just pop out one of these herb-bombs from your freezer and have EXACTLY the taste you were craving.
Chop. Oil. Freeze. THE END.
But this trick isn't just great for preserving seasonal herbs, it helps you cut down on food waste and save some of your hard-earned money too.
Say you have a recipe that calls for fresh herbs – but you end up having to buy more than you need. A pinch of *this*. A handful of *that*. Leaving you with a bundle of fragrant, delicate herbs that, more often than not, ends up going to waste.
We've all been there. We totally intend to use the bushel of fresh cilantro for…SOMETHING, other than the tiny bit we needed to make homemade salsa (OR that we wanted to sprinkle on homemade tacos so they felt like the legit straight-from-the-food-truck street tacos of our DREAMS. Okay my dreams).
So we store them in a drawer, deep down in the fridge. "I'll find a way to use these up" you whisper to yourself. A few days go by. Life gets busy. The "something" we wanted to use them for never shows up…and BOOM. Before we know it they're SO DONE. Like an avocado in August, they go from bright green to brown mush.
If you're as stoked about time and money-saving hacks as I am, let's DO THIS! Here's a few quick recipe notes to help you get the most out of it:
You can use ANY HERBS you want to cook with. And ANY OIL you want to cook with.
Since I usually use these cubes for sautéing veggies on the stovetop or making omelettes extra "extra" – I used extra virgin olive oil for these. But avocado oil, melted butter or ghee, melted coconut oil would also all be awesome choices. If something is solid at room temperature (like ghee or coconut oil), then just melt it in a pan over low heat until pourable. I heat mine in a glass measuring cup (the spout on one end will make it easier to add to the ice cube trays).
Before you choose your oil - consider what type of cooking you'll be doing and if the oil's smoke point works for that purpose.
For instance, if you want to roast potatoes with rosemary - pair it with an oil that can stand up to that high level of heat. If you intend to roast at 350 F or higher then extra virgin olive oil (which reaches its smoke point at 320 F) would not be a great choice. But avocado oil (with a smoke point of 520 F) or ghee (with a smoke point of 485 F) would both be perfect fits.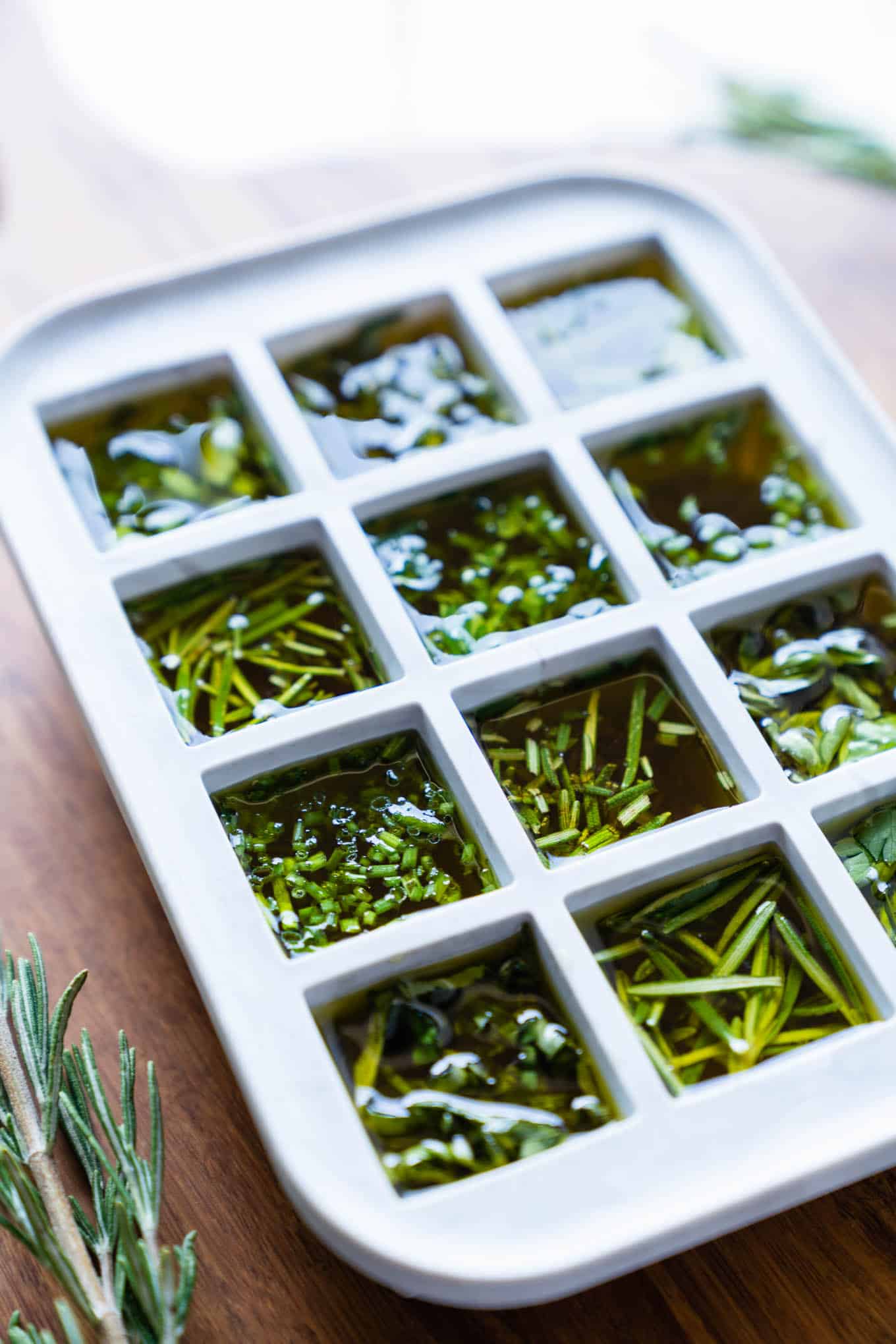 Also consider the size cut you'd want to use in the recipe before you chop up and freeze your herbs.
For instance - for chives in scrambled eggs, you probably want to go with a fine chop.
But for basil you'd want to prep it according to what you're using it in. For example if you want to use, basil in a stir fry - you can roll with a chiffonade to have little ribbons wilted in among the veggies. But for basil used in a sauce - you might want it finely chopped.
Or maybe you love fresh rosemary and want to use it to roast potatoes – then maybe keeping the leaves whole is all you need to do.
Use a sharp chef's knife to ensure clean cuts and avoid bruising delicate herbs
Dull knives can crush rather than cleanly cut through delicate herbs - like basil, mint, cilantro, and flat-leaf parsley.
This is the chef's knife we use - we've had it for years and it's easily the most used item in our kitchen. My sister gifted it to us years back and it makes cooking such a breeze. If you've ever had trouble doing a chiffonade of basil, check out your knife before you blame your knife skills! Game changer.
Be sure to cover the herbs fully in the oil!
Press them down into the ice cube tray before adding the oil, I try not to fill them more than halfway to allow room for the oil. Then after the oil has been added, use a fork or your fingers to press it down so the herbs are fully submerged. This prevents any bits that stick out from getting dried out by freezer burn. You can also cover the top of the tray with a lid or wrap it to prevent this from happening.
If you want to make more than your mold allows, then remove the herb cubes and store them in a lidded glass jar or a plastic freezer bag. A reusable bag would be a great zero waste option!
Consider using a silicone ice cube tray for easy removal and clean up
I use a silicone ice cube tray because it's so easy to pop them out one by one without being worried about it getting stuck or being difficult to clean. That way if I don't need to make a ton at a time I can just pop out however many I need (versus a traditional rigid ice cube tray where they all get popped up as you twist the full tray to release them).
If you are buying a silicone ice cube tray for the first time - make sure to get one with rigid edges, like this one, so when you fill it you can actually move it! Otherwise the whole thing will twist, buckle, bend, and spill when you lift either side. You can use one's without a metal frame but I suggest putting it on a small tray that fits in your freezer before filling it. This will make it easier to transfer with less chance of a tip-oil-all-over-your-floors disaster. I have one of each type and the one with the rigid edges is by FAR my favorite.
These trays are also great to use to freeze and store pesto into small servings to drop into your morning eggs or add to hot pasta or rice (think plain rice that gets a boost of green risotto flavor).
.
HERE'S A LIST OF THE TOOLS + INGREDIENTS I USED IN THIS RECIPE:
FYI these are affiliate links – which means if you use these links I will make a small commission of whatever you purchase. The price of the item remains the same whether or not you use this link and it's at zero additional charge to you. All commissions support this blog.
.
MORE HEALTHY HOW-TO'S + GUIDES:
.
Herb Bombs| How to Freeze Fresh Herbs in Olive Oil
Learn how to freeze fresh herbs in olive oil (or ANY other type of oil you'd normally cook with) to make flavorful little "Herb Bombs"! Works great for basil, parsley, chives, rosemary, oregano, cilantro, and more.
Print
Pin
Rate
Instructions
WASH + CHOP HERBS: Wash them and shake off the excess water or let them dry for a bit until the water is off them. You can pat them dry with a towel too. This just ensures that there's less water in with the oil, which when reheated the combo of oil and water will sizzle & pop up in a hot pan. Chop the herbs down to the size you'd like to use later when cooking with these herb cubes. 

PACK HERBS INTO ICE CUBE MOLDS:

Add chopped or whole herbs to

ice cube tray molds

, be careful not to overfill them so there is room for the oil. I stop at about halfway to two-thirds of the way up the mold.

ADD OIL + FREEZE: Cover the herbs in olive oil (or other oil of choice) and fill almost up to the top of the molds. Use a fork or your fingers to press the herbs down and make sure they are covered in the oil to prevent freezer burn. Then put in the freezer and freeze for several hours or until solid. You can pop them out of the molds and store in a plastic bag, glass lidded container, or reusable stasher bag.
Notes
You can use any herbs and any oil you'd like! See the notes in the blog post above for pointers on how to choose an oil based on what type of cooking you plan to do. HINT: Check the smoke point first!!
Nutrition