Easy method for Quick Roasted Garlic Cloves! Perfect for when you want that roasted garlic flavor but are short on time - I love this for using up those smaller cloves leftover from a whole bulb of garlic too!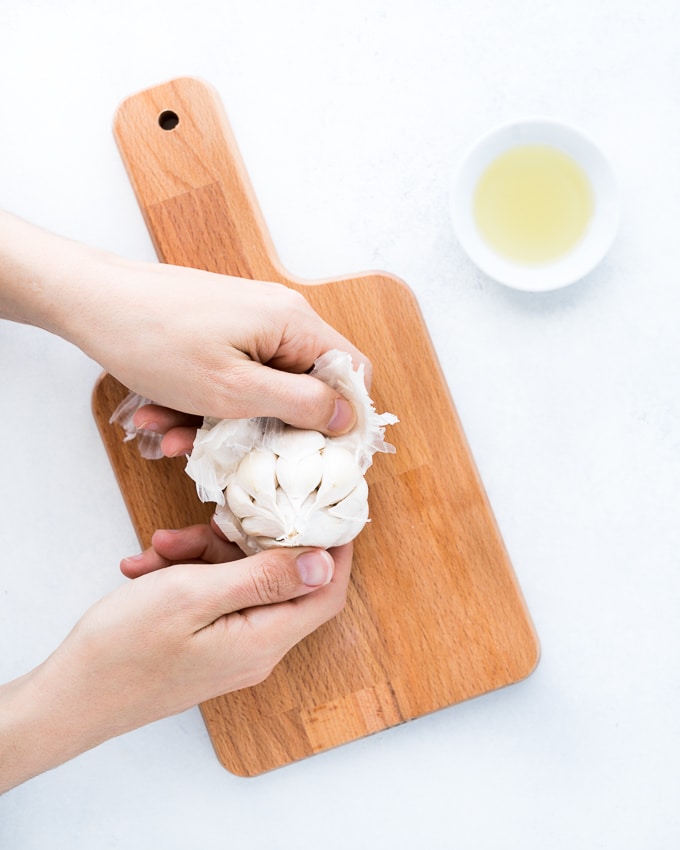 Today I'm gonna show you how to make Quick Roasted Garlic Cloves - I love this for using up those last smaller cloves at the center of the bulb!
Many of the most epic sauces, soups, and spreads owe their depth of flavor to one thing - roasted garlic cloves! Dried garlic powder is great in a pinch, but nothing compares to the taste of oven-roasted garlic. There's just no substitute for that caramelized and complex flavor.
When I first started making roasted garlic, I used the classic whole bulb method – where you slice off the top, drizzle with oil, wrap in foil and pop into the oven. But it's nice to have a method for doing just a few cloves at a time, or getting a whole bulb done in less time.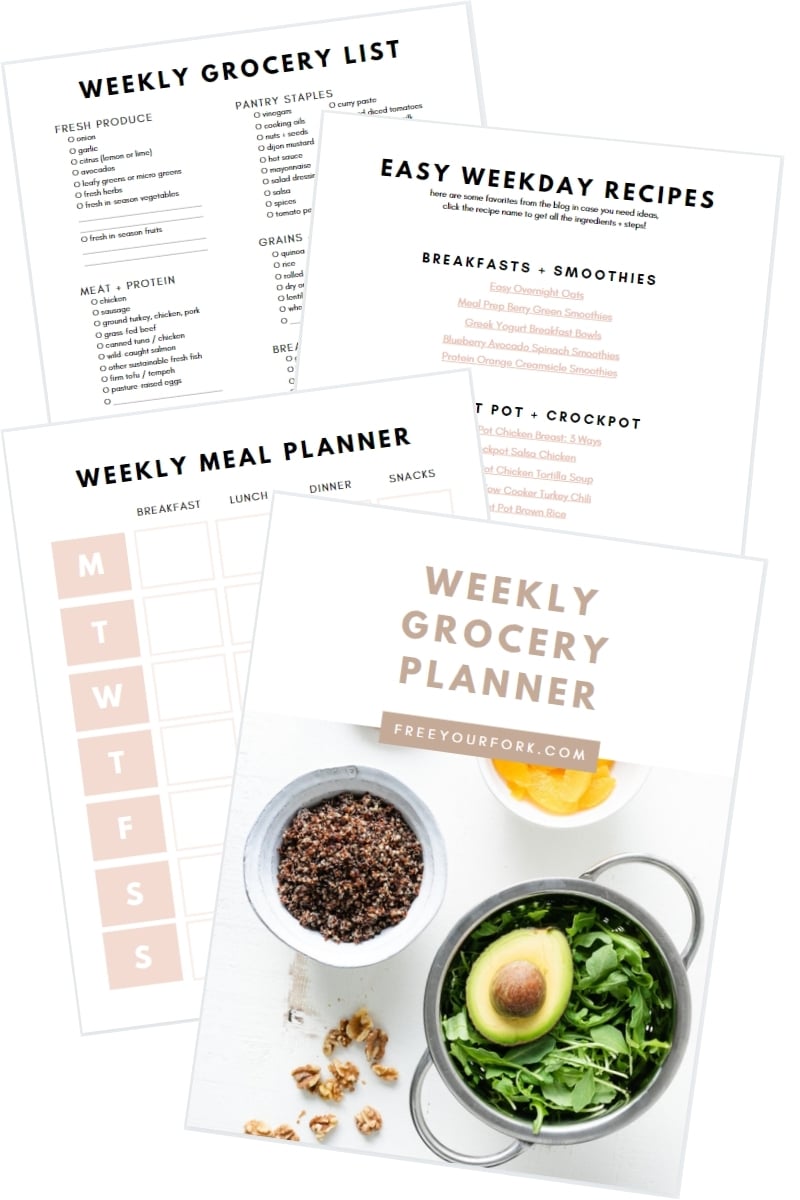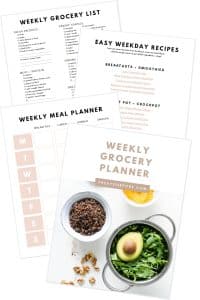 ---
In my experience, a whole bulb of garlic needs about 1 hour to properly roast and soften. The heat needs all that time to penetrate the tightly clustered cloves that are bundled together in that dense bulb.
But most of the recipes I make don't account for an extra hour to prep just one of the ingredients involved. So I set out to experiment with the other methods out there – of which there are MANY. Like whoa. Lots and lots of methods to choose from. Everyone's got their preferred way of doing it, a quick google search will reveal a plethora of techniques for the *best* way to roast garlic. Peels on, peels off. With salt, without salt. This oil, not that oil. Foil wrapped or open on top of a foil lined sheet tray. Medium or high oven temperature.
So I decided to try out a few to see what worked best for me and my kitchen routine.
And while I wouldn't dare to claim that my method is the best-ever method, I will say that it is guaranteed to save you lots and lots of time! And that it will get you the coveted flavor and soft texture that you're after. Every. Single. Time.
It's so simple and straightforward, which makes it the ideal choice for busy folks.
I tried roasting the whole bulb at a higher temperature, but it didn't turn out the same. Maybe it was my oven or maybe it was the size of the bulbs I used, but that method wasn't coming out as a winner for me. And it shaved off only 10-15 minutes at most from the cook time.
Then I tried roasting peeled cloves, but didn't love having to pick off the paper thin peels from each clove beforehand. It was messy and added extra time + hands-on labor -- the exact opposite of what I was hoping for. Plus the naked cloves were in contact with the foil and occasionally got stuck or a little overly cooked for my liking.
Finally, I saw Rachel Ray (the queen of 30-min meals) roast the individual cloves with the skins still on. Which spurred another virtual flurry of internet searches. As it turns out, a lot of people were totally on board with this technique. Everyone was raving about how much time it saved them and I was stoked to give it a try myself at home.
I gave it whirl, and was so happy to see that it produced results pretty darn similar to whole bulb roasted garlic. I've been sold on it ever since.
A whole head of garlic is encased in several layers of a thin white peel. But so is each and every clove contained within it. So roasting the smaller cloves for half the time produces pretty similar texture and taste results, with the clove encased in its own skin being shielded a little bit from the direct heat. Concentrating all that flavor inside the peel. I love that this method doesn't force you to compromise on taste in order to save on time.
The peels pop off so easily after roasting (many of them cracking and bursting open towards the end of their cook time) making clean up a breeze. They come off like a shell, usually all in one piece instead of in multiple wispy strips. No more thin peels stuck to my fingertips or pungent garlic oil getting stuck under my fingernails. Hallelujah.
I don't know about you but 30 min feels pretty manageable to me. It means I can pop the cloves in the oven and then start making and cooking the rest of the recipe. The entire time I'm chopping, sautéing, seasoning, stirring, or simmering the other recipe components – those little flavor bombs are getting good, gooey, and golden in the oven. By the time I'm ready to add them in, they're ready to be used.
The one downside of this technique is that the little, thinner, skinny cloves that sit bundled at the very center of the bulb will get overcooked if you leave them in the oven for the full 30 minutes. So you can either remove these and just roast the juicy, plump ones (saving the little ones for chopping or grating up into stir fries or dressings). Or you can check on them after 15-20 minutes and pull them out before they burn. I included a picture here of the finished cloves (both the big ones and the little one) to show you how dried out and tough the small ones will get if left in the oven for too long.
Make sure you pierce each clove with a small knife before roasting to allow the air to escape (we've had some readers share with us that not doing so resulted in the cloves bursting and we'd hate for you to have a messy oven to clean up!).
You can use roasted garlic cloves in sauces, soups, spread on toast, blend into hummus…and the list goes on. I like roasting several bulbs of garlic at once. Then I can save them in a sealed container in the fridge for future cooking - saving me even more time later on. I store them in a glass lidded jar with a little more oil drizzled on top to keep them moist and protect both the flavor and texture.
These quick roasted garlic cloves are an irreplaceable addition to some of my absolute favorite recipes. I don't make it every week but I find that when I do, it really brings a little extra somethin-somethin to my dishes. A little sneaky special quality.
Pin + save this recipe for later!
QUICK ROASTED GARLIC CLOVES
Simple and time-saving recipe for Quick Roasted Garlic Cloves. Roasted with just a drizzle of oil, these cloves are roasted skin-on and are ready in under 30 min (half the time of a full roasted head of garlic).
Print
Pin
Rate
Ingredients
1

head of garlic

1

tbs

avocado oil*
Instructions
PREHEAT OVEN TO 350 DEGREES: And prepare a baking sheet with a small piece of foil.

LOOSEN AND SEPARATE CLOVES: Use your hands to break up the head of garlic into individual cloves. Don't peel the cloves of their skins but use your thumbs to remove the looser paper thin outer layers, just until you can see and easily break apart the cloves. If the cloves in the center are particularly small, consider setting them aside to grate as fresh garlic into pan-fried dishes (they may burn or overcook in the oven instead of softening). If you really want to roast these smaller ones, then you will need to keep an eye on them and take them out earlier - they will be done in about 15-20 minutes.

PIERCE EACH CLOVE WITH A KNIFE: Make sure you pierce each clove with a small knife before roasting to allow the air to escape (we've had some readers share with us that not doing so resulted in the cloves bursting and we'd hate for you to have a messy oven to clean up!).

ROAST GARLIC CLOVES: Place cloves (skin-on) onto the baking sheet and toss with avocado oil. Roast for 30 minutes, or until softened. You can press the back of a spoon (if cloves are very hot to the touch) or quickly and carefully press your finger onto a clove to see if it yields to the pressure and has softened enough. It should press down easily and stay pressed. You'll also see that the papery skins have cracked open and you can easily pull them off.
Notes
*Or other high heat cooking oil - olive oil would work well here too You can roast several heads of garlic at a time if you want to stock your fridge with this super flavorful recipe add-in. Store in a sealed container, with an extra drizzle of oil over the top to preserve the flavor and texture.
Nutrition