Bone broth has a ton of amazing health benefits – it supports joint health, gut health, immune system function, and skin health. Plus it's high in protein and rich in minerals, amino acids, and compounds like collagen + gelatin. This easy recipe walks you through how to make it in an Instant Pot (with instructions included for a slow cooker as well).
What are the benefits of drinking bone broth?
There are a number of reported benefits for those who drink bone broth regularly. Doing so allows you to potentially get a whole slew of nutrients and vitamins that you might otherwise have to take expensive supplements for (like gelatin, collagen, joint supplements, immune boosting supplements, etc)
Here's a short list of the biggest benefits – bone broth…
Is a nutrient-dense food (it's high in protein + contains valuable minerals, amino acids, and compounds in an easy to absorb form)
Boosts your immune system (think the healing powers of traditional chicken soup)
Supports joint health (can contain chondroitin sulfate & glucosamine found in joint supplements, as well as gelatin and collagen)
Helps restore gut health (anti-inflammatory, helps strengthen gut lining, encourages growth of good bacteria)
Improves Skin Health and Appearance (particularly due to the collagen content – link to collagen notes from other recipe)
---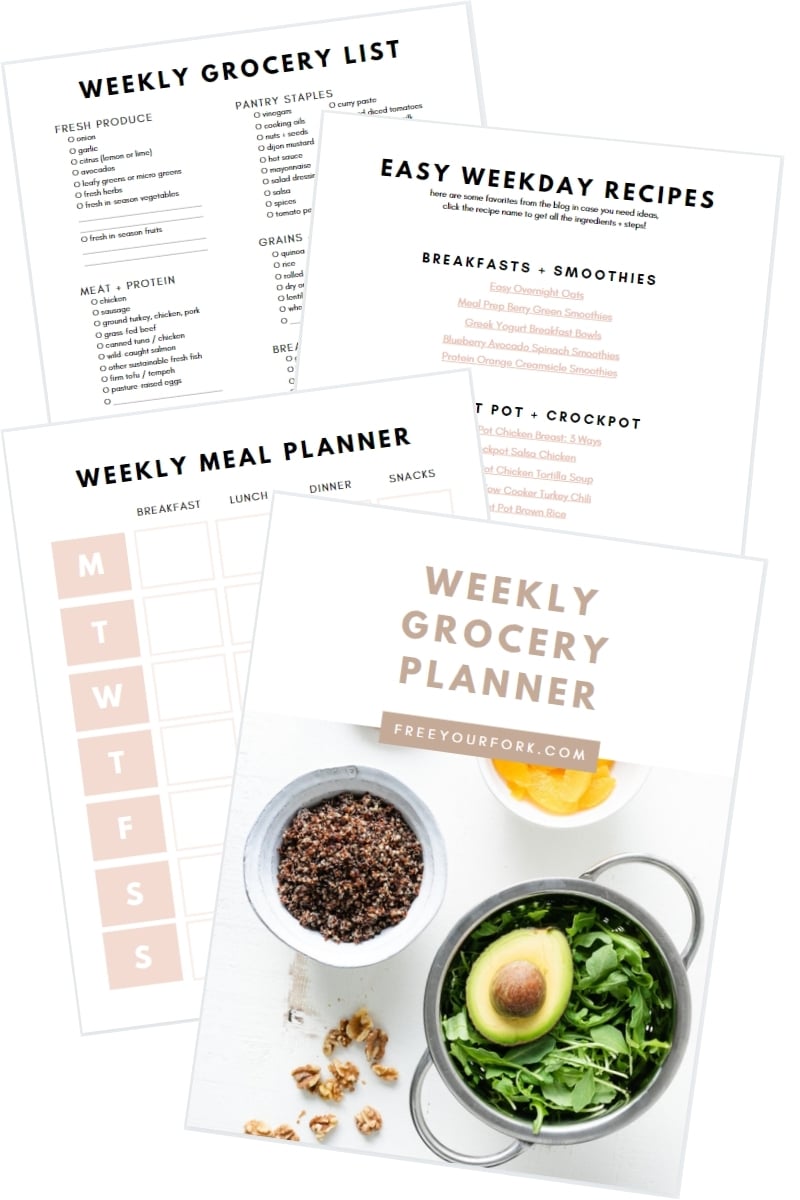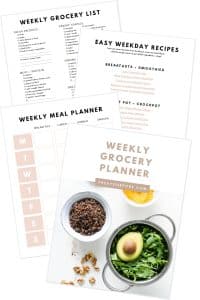 ---
Also, making bone broth from scratch at home helps cut down on food waste
I have really been enjoying cooking more using the whole chicken lately - it feels very in line with my food philosophy which is to waste as little as possible. Don't get me wrong – I still cook, eat and enjoy plenty of regular skinless boneless chicken breasts. I'm far from being the perfect embodiment of the Slow Food Movement but I'm trying to see what little changes I can make to be a bit more mindful.
There's something about using the full animal (it's bones, connective tissue, skin) instead of just the meat, that is inherently less wasteful. Plus using up the parts that would normally be thrown away to make a ton of homemade bone broth feels like you're getting free food – doesn't it? Homemade bone broth is the very definition of economical food. From the leftover bones to the otherwise abandoned veggie scraps.
I keep a veggie scrap bag in my freezer for this very purpose. To collect the odds and ends of aromatic vegetables (like onions, celery, carrots, ginger, garlic) that would otherwise be thrown away. Using them instead to add a bunch of flavor to a slowly simmered broth. Onion peels, tough carrot tops, and the ugly ends of celery ribs are all fair game.
Plus it's WAY cheaper than store-bought bone broth!
Have you ever seen how much a few cups of bone broth go for at the store?
I've seen a 1 ½ cup shelf-stable serving at my local grocery store go for as much as $9.99 – and the fresher frozen variety can go for even more than that. Which is great in a pinch, especially if I find myself sick and in need of some nourishment with no bones on hand in the freezer (like when I get sick or something unexpected). But my budget just can't stomach that cost every week.
Plus I noticed that it never really tastes exactly how I'd like it to taste. I was always adding a pinch of this or a splash of that (like lemon juice, ACV, pink salt, more herbs etc) and doctoring it up to suit my own picky tastebuds. And then it dawned on me. Why not just make my own?
My mom has been doing it for years, using the crockpot – so why not find a way to make it happen in the Instant Pot? So I picked her brain for all her expertise and recommendations, and set off with the reassuring mom-promise that I could not screw this up as long as I included the basics (bones, water, veggies) and gave it enough time to do it's thing.
If using poultry bones, try to use the highest quality that you can since you're going to be using all of the animal – an organic pasture-raised chicken will be your best bet.
If its diet is supplied with feed (in addition to the grass and insects they forage) then make sure that the feed is organic and non GMO. If you're interested in getting some definitions for these common terms, check out my post on Cage-free + Free-range + Pasture-raised Eggs. It's about eggs and not necessarily about meat, but it lays out some of the different ways that chickens are raised and how it affects their health (and in turn, the health of whatever eats them – aka you and me!)
If using beef bones, look for grass fed and grass finished beef. It's optional (in my opinion) to roast the chicken bones ahead of time, though it does deepen the flavor if you have a little more time to spare. But if you are using beef bones, you will definitely want to roast them beforehand. The more bones you use, the heartier and more nutrient dense the resulting bone broth will be.
I like to cook my Instant Pot Whole Chicken and then save the bones (and the reserved cooking liquid) to make broth.
Why would I want my bone broth to gel / jiggle?
One of the main draws to drinking bone broth is for all the vitamins and nutrients that get released from the bones when they are slowly simmered. Two of the most prized ones include - gelatin and collagen.
Gelatin is what makes bone broth (and jello) jiggle when cold or at room temperature. You can see the texture in the picture below that looks like a jar of savory jello (by the way, see my recipe notes below for an easy optional way to remove the opaque white fat you also see in this photo).

If you were to heat it up, it would become a sippable liquid again just like your favorite clear-broth soups. So when you have a bone broth that does not jiggle, it means that it isn't very rich in gelatin.
Which if you're in it for the taste and for making the most out of leftover bones & veggie scraps – is totally fine. Not a big deal AT ALL. But if you're drinking it as more of a "supplement" and were hoping for a higher gelatin factor, there are a few ways you can remedy that.
If you're having trouble getting your broth to gel, you might want to consider adding more bones to the next batch – possibly including thicker ones (like beef marrow bones or collagen rich ones like chicken feet) along with the poultry bones. You can also add a scoop of grass fed gelatin to it to boost the gelatin content (my preferred brand for this is Vital Proteins).
This recipe is super versatile – you can use vegetable scraps, leftover bones, and almost any fresh / dried herbs you like to flavor it.
This recipe is just a guide and it changes depending on what I happen to have on hand. But here's a few notes on why I choose to use what I use in the broth!
I use a reserved amount of salt during the cooking because you can always adjust salt to taste after it is done cooking. You're welcome to use peppercorns too – I just don't because we have someone in our household who can't process oxalate very well (and pepper is high in oxalates).
The apple cider vinegar is not only great for providing a touch of acidity (for flavor balance) but is also supposed to be important for helping extract the most amount of nutrients from the bones. It's one of the ways that you can differentiate a broth from a stock. Some people swear by soaking the bones in apple cider vinegar first, but I've never personally tried it. My mom doesn't do it and that's good enough reason for me to skip it haha.
You can use dried herbs or fresh herbs – and I've used both. Basil stems are some of my favorite veggie scraps to keep and use just for this purpose. I personally shy away from any strong herbs that don't benefit as much from long cooking times (like cilantro).
I tend to go with the same herbs that I would roast a chicken in (thyme, rosemary, parsley, etc) and the same aromatic vegetables too (onion, shallot, garlic, ginger, carrot, celery). You don't want to use too much celery because it could make your broth bitter, so try to limit the celery to about two large stalks. The rest of it is really up to you!
Here's a list of the tools + ingredients I used in this recipe:
FYI these are affiliate links – which means if you use these links I will make a small commission of whatever you purchase. The price of the item remains the same whether or not you use this link and it's at zero additional charge to you. All commissions support this blog.
MORE SOUP RECIPES:
Instant Pot Bone Broth
Healthy Instant Pot Bone Broth! This recipe walks you through how to make bone broth at home (with instructions included for a slow cooker as well).
Print
Pin
Rate
Ingredients
chicken Bones

from 1 large whole chicken, or 2 small whole chickens

1

yellow onion

quartered*

2

celery stalks

chopped into 2" pieces*

2

large carrots

chopped into 2" pieces*

8

cloves

garlic

lightly smashed

2

" fresh ginger

chopped into large chunks

2

sprigs fresh rosemary

fresh thyme

or fresh herbs of choice – parsley, marjoram would be good stand ins, can also use dried spices like a few tablespoons of Italian Seasoning

2

bay leaves

water

enough to cover bones, if available use remaining liquid from cooking the whole chicken first and then add water as needed

2

tbs

apple cider vinegar

1

teaspoon

salt

can always add more later
Instructions
ADD INGREDIENTS TO INSTANT POT: Layer in chicken bones first, then add veggies and herbs, and stock (if using). Then add just enough water to cover the bones, making sure not to go past the ⅔ fill line in the pressure cooker.

COOK BROTH: Cover lid and set venting knob to seal and pressure cook on high for 3 hours. Let it do a natural release for at least 20 minutes before releasing the remaining pressure.

STRAIN: Strain out all solids (bones and vegetables and herbs) to separate the broth. Store in lidded containers in the fridge.

(OPTIONAL) SKIM OFF FAT: You'll see when you're pouring the hot broth that it will separate into a shimmery golden / green color on the very top (this is the fat) and a rich earthy color below that (this is the broth). You can try to separate out the fat at this point but it is much easier once the broth has chilled in the fridge. The fat will become solid at that point and you can use a spoon to easily scoop the opaque white fat off the top of the broth (see picture in post).
Notes
The more bones you use, the heartier and more nutrient dense the resulting bone broth will be. If you're having trouble getting your broth to gel, you might want to consider adding more bones to the next batch – possibly including beef marrow bones along and even chicken feet with the poultry bones. You can also add a scoop of grass fed gelatin to it to up the gelatin content (my preferred brand for this is Vital Proteins).
*or a large bag of veggie scraps
INSTRUCTIONS FOR SLOW COOKER: same ingredients as above – just turn on for 12-24 hours on low.
Nutrition