Today we're blending up the dreamiest Creamy Cauliflower Soup! Insert praise hands emoji riiiiiight HERE. This luscious, velvety soup really hits the spot on cold and dreary days. The flavor reminds me a tiny bit of potato leek soup (without the potatoes or the leeks) but with the same amount of texture and body. And while it tastes like it has hints of cream or savory cheese blended into the mix, this soup is 100% dairy-free. And we've even included some ingredient swaps in the recipe card to make it vegan and vegetarian friendly too!
This healthy soup recipe has a whopping 4 ½ CUPS of veggies in it, so you can be sure you're crushing your goals for getting more than your fair share of vegetables in for the day. The high fiber content makes this dish filling without feeling heavy. And it is packed with 28 g of protein per serving. Which considering that this is a meat-free and egg-free dish, is pretty darn impressive. I could hardly believe it when I entered the recipe into My Fitness Pal and saw that final protein count come up.
But wait. If there's no animal or egg-protein in this dish…where is the protein coming from?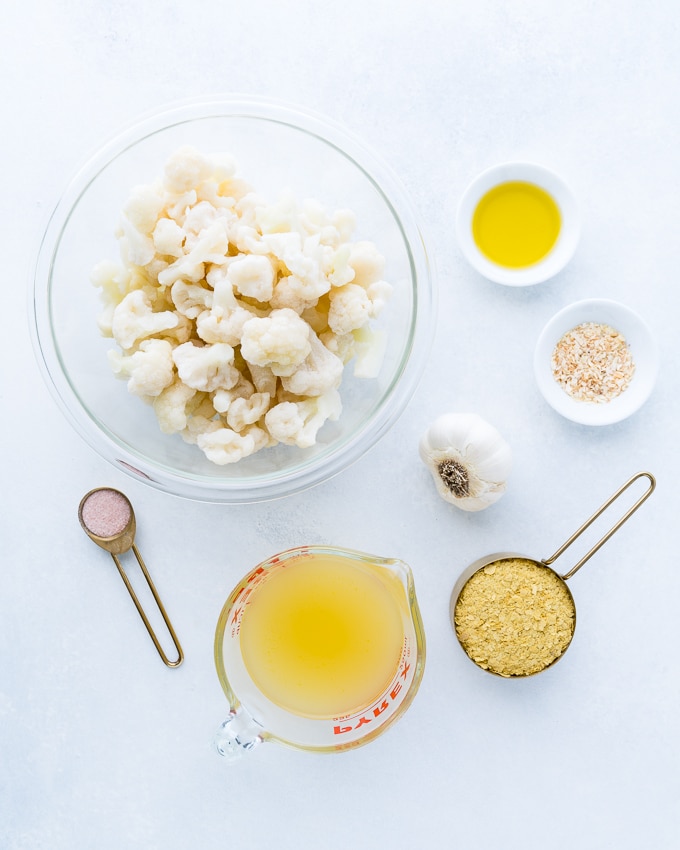 Some of the protein comes from the cauliflower itself and there's teeny tiny amounts coming from the broth, almond milk, and even the garlic cloves. But this recipe owes its high protein content to two main components – nutritional yeast and collagen peptides.
If you're unfamiliar with either (or both) of these ingredients, don't worry – a few years ago I didn't have a CLUE what they were or why anyone would want to put them into their food. And tbh, I just didn't have much interest in figuring out how to use them. But I saw them appearing in recipes more & more over the past year and became super curious to try them out. And boy (or girl, we like to keep things super equal round here), am I glad I did.
The nutritional yeast (also fondly called "nooch") kept popping up in the recipes from some of my vegan blogger friends. They championed it both for its ability to mimic a cheesy Parmesan-like flavor profile and for its ability to boost the protein content of vegan dishes. Which, if you've ever tried a vegetarian diet, then you know if you aren't deliberate about choosing certain ingredients (like beans, nut butters, broccoli, etc) it can be tricky to get enough protein into your meals. And if you've ever tried a vegan diet or happen to have a vegan pal, you know how much some of them really miss having the taste of cheese in their life.

Nutritional yeast meets both of these needs. Despite its weird sounding name, it is really just deactivated yeast. Unlike the kind of yeast that you'd use to make bread dough rise, this is inactive or *dead* yeast. The yeast is usually grown on a source, such as molasses. Then heated, dried and broken up into small flakes. It has a bright yellow-ish color (that you'll see in these pictures) and has a savory taste kind of between chicken bouillon and salty Parmesan cheese. Bon Appetit magazine even calls it "nature's cheeto dust".
The "nutritional" part comes into play because of the nutritional profile that the yeast has (providing a number of B vitamins, folic acid, protein, and fiber). Some of them are fortified with additional B-vitamins (especially B12 since that comes from dairy products, and is a valuable nutrient for vegans who do not consume dairy). If this is the case, it should be clearly printed on the label or listed in the ingredients section under the nutritional info. I did use one that was fortified because I had trouble finding one that wasn't - I chose the Now Foods brand of nutritional yeast (I like that it comes in an opaque container, which is supposed to protect the vitamin content).
If you don't want to commit to buying a full-size container of nutritional yeast, see if the bulk bin section at your store carries it. Then you can bring a few tablespoons home to try out and see if the flavor agrees with you.
Otherwise, an easy swap for the cheesy / savory flavor profile that nutritional yeast brings is to just add grated cheese in place of it! If you aren't bound by the restrictions of a vegan diet and aren't comfortable using this ingredient, then by all means add in equal amounts of finely grated Parmesan and then season to taste. This is what I do when I run out of *nooch* or when I just want the real-deal cheesy flavor to shine through.
Now to chat about collagen peptides!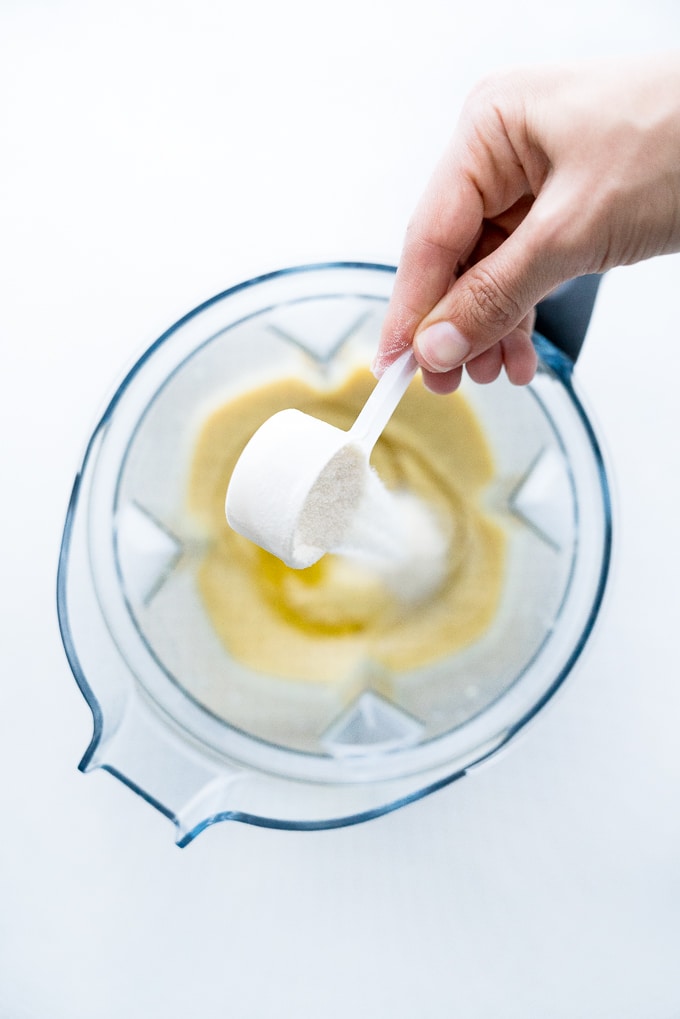 These are one of my favorite daily "supplements" that I've added into my diet this past year. I bought a single sample packet from a local acai bowl shop, so it was only a ~$1 investment to try it out. It started when we were searching for a cleaner protein powder to use in smoothies and coffee before or after a workout. One of the cleanest protein powders around can be found in collagen peptides – they are quick-digesting and very easily absorbed by the body.
I do want to point out, that collagen peptides are decidedly not vegan or vegetarian friendly. You'll see a note about that in the recipe card below. The ones that I use (from Vital Proteins) are made from bovine hide, which might sound gross but stick with me here! Hear me out...
Collagen peptides are completely and utterly tasteless. No weird scent. No strange aftertaste. No funky texture. They are like invisible protein.
I.kid.you.NOT.
This is coming from the girl who has tried to use Vanilla Bone Broth Protein Powder before, and has zero problem admitting that she absolutely did not enjoy it. AT ALL. I'm just not that hardcore granola earthchild (yet). Maybe I'll get there someday, but for now I'm happy to stay in my lane (which is a place where I like my protein powders to taste like something sweet or like nothing at all).
So believe me when I tell you that collagen peptides truly do not taste funny. Especially when they get whipped up and fully mixed in a blender.
It comes in the form of a shelf-stable white powder. Which dissolves effortlessly in liquids or blended dishes like this one. Collagen peptides can support your body's ability to maintain or replenish protein in your muscles, making them excellent to stack before or after a workout. Or just as a dietary supplement anytime you don't feel like eating meat or eggs, but want to squeeze a little more protein into your diet.
And the best part about it is not even the protein content, it's the OTHER added health benefits that this miracle powder carries.
If you take supplements for your hair, skin, and nails OR your bone and joint health then you might be interested in trying collagen peptides.

Collagen peptides support healthy hair, skin, and nail growth and promote greater moisture content in your skin and hair. And they provide gut health benefits too!
Collagen has been shown to help repair the lining of your gut and can even help with digestion as well.
I don't know about you, but I'm all about anything that makes me look younger and healthier. But don't just take my word for it, give it a google! There's countless articles out there linking to real-life studies published about this product. I'm a firm believer that what you put in your body matters immensely, so you should always feel empowered to do a little research before incorporating new products into your daily diet. Do an exhaustive internet search, chat with your doctors, reach out to nutritionists, call a friend, or reach out to the company itself to ask questions about how a product is made // how the ingredients are sourced etc.
Have you ever used collagen peptides or nutritional yeast in your home recipes? Let me know in the comments!!
.
Here's a list of the tools + ingredients I used in this recipe:
FYI these are affiliate links – which means if you use these links I will make a small commission of whatever you purchase. The price of the item remains the same whether or not you use this link and it's at zero additional charge to you. All commissions support this blog.
.
MORE HEALTHY SOUP RECIPES:
.
Creamy Cauliflower Soup
Healthy recipe for Creamy Cauliflower Soup! Dairy free and high protein - using frozen cauliflower, almond milk, roasted garlic, nutritional yeast, and collagen peptides. Be sure to see the notes below for how to make this recipe vegan // vegetarian friendly!!
Print
Pin
Rate
Ingredients
INGREDIENTS
4 ½

c

cauliflower florets

frozen

1

c

broth*

½

tbs

dried onion

½

teaspoon

salt

6

tbs

nutritional yeast**

⅓

c

plain almond milk

unsweetened

1

tbs

extra virgin olive oil

4-6

cloves

roasted garlic***

Black pepper

2

scoops collagen
Instructions
STEAM CAULIFLOWER: In a lidded saucepot add the frozen cauliflower florets, broth, dried onion, and ½ teaspoon of salt. Stir and cover. Then bring to a boil, turn down to low and simmer for 7-9 minutes (or until the cauliflower is cooked through and fork tender). You should be able to easily press your fork into the center of one of the florets when they are done.

BLEND AND SEASON: Transfer the cauliflower and broth to a blender, add all the remaining ingredients except the collagen (nutritional yeast, almond milk, EVOO, roasted garlic, pepper) and blend until a smooth consistency has been achieved. If using the collagen, add at the very end of the blending process. Finally, season to taste with salt. If you want it to taste *cheesier* then add more nutritional yeast. If you want it to be more buttery tasting, then add more olive oil. Garnish with desired toppings.
Notes
*I prefer to use chicken bone broth or chicken stock, but you could use vegetable broth if you prefer
**Can substitute regular Parmesan here if you don't want to use nutritional yeast
***The roasted garlic cloves give excellent depth of flavor to this recipe but if you want to skip them altogether (or use a pinch of garlic powder instead) feel free to substitute it. When I'm in a rush or don't have roasted cloves on-hand, I have made it without and it's still delicious. Adjust flavor to taste using other spices.
To keep the recipe vegan and vegetarian friendly – make sure the broth used is a vegetable broth and omit the collagen peptides.
Nutrition