I'm excited to share a recipe with you for Vegan Parmesan Cheese (a "cheese" that everyone can eat and enjoy, including vegans or those who are sensitive to dairy products).
This Vegan Parmesan Cheese is not cheese-cheese, it's "cheese" or "cheez" with a Z. Or whatever it is they're calling non-dairy cheeses these days. This faux Parmesan uses cashews, nutritional yeast, and some savory spices to mimic the real thing.
At first glance, the ingredients might not seem like they're all that "cheesy" – but trust me, if you can't have the real-deal this is the next best thing. It's little bit salty, slightly creamy, and even a bit of that familiar Parmesan tang. Everything you need to conjure up those familiar flavors without actually grabbing a brick of milk-based cheese.
To be clear, I'm not a vegan myself. I'm totally happy with my omnivorous lifestyle and I do have dairy products in my diet pretty regularly these days. So then why on earth would I even care about experimenting with anything BUT real cheese?
It's nice to have a back-up plan in case I run out of real Parmesan
This "cheese" is higher in protein than the regular stuff
I have friends and family who don't (or can't) eat dairy, and wanted something for them too!
It isn't the same as real Parmesan, and I want to be 100% transparent about that going into this "how-to". It's kind of it's own thing!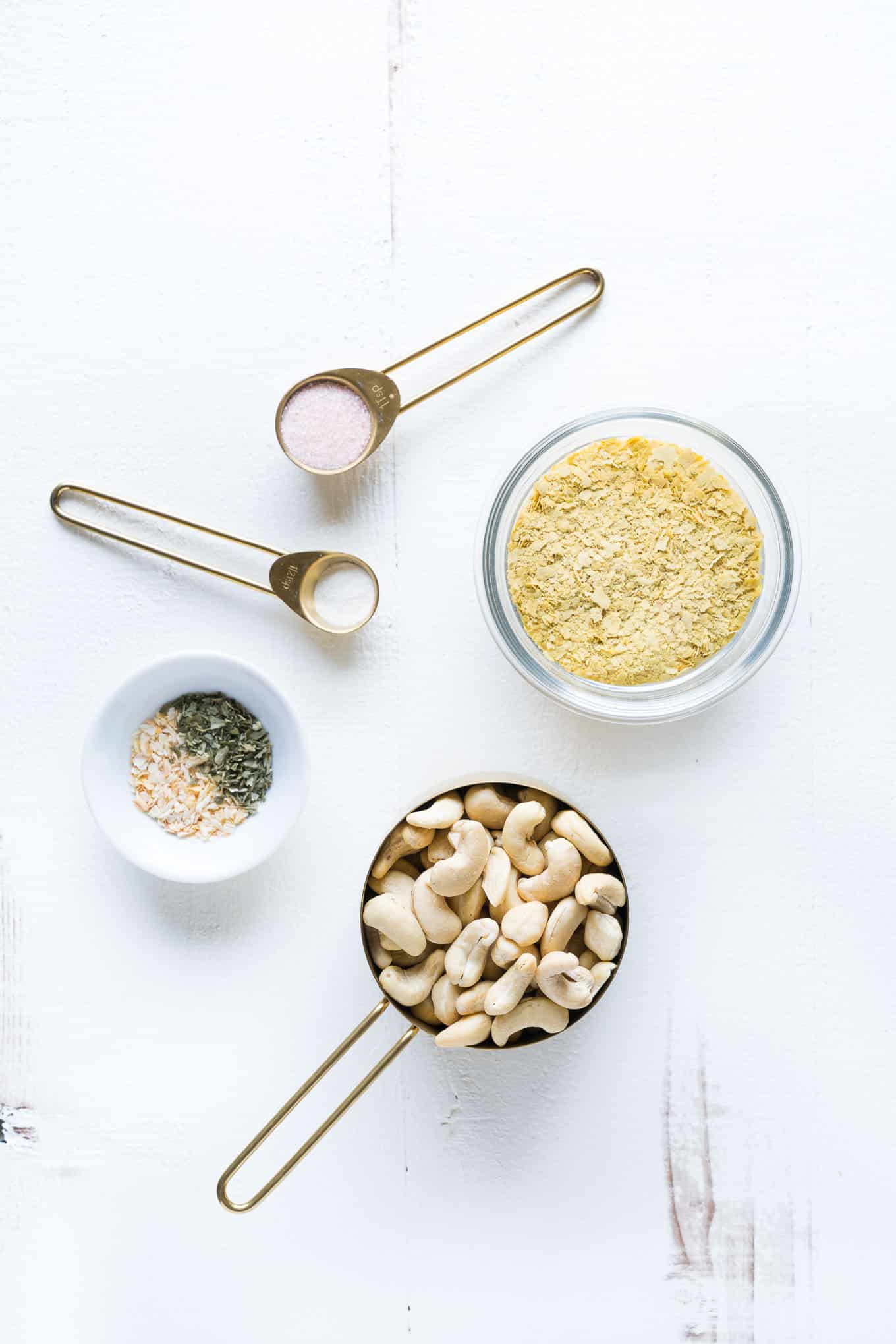 If I'm craving real cheese, I would have real cheese. But this stuff is so tasty that sometimes I crave this "cheese" specifically. It's awesome stirred into soups, blended into creamy vegan sauces, sprinkled on top of freshly popped popcorn – and I've even caught Billy just eating some from the jar with a spoon (but I don't suggest that, he's just a…special individual haha).
Vegan Parmesan is kind of like the parmesan you would eat from the shelf-stable shaker cups. You know what I mean? It's not like the freshly grated or freshly shaved pieces of Parmesan you'd get from the wedge you keep in the fridge. It's crumbly, sprinkles easily, and adds a salty, savory bite to whatever you add it to.
The only comparison I have is the difference between fresh bacon and bacon bits. One is a main event, served fresh, eaten hot, and is something you could snack on all by itself. And the other is a garnish, served cold or room temperature, and lends a flavor to another dish rather than standing alone as it's own snackable food.
I first saw a recipe for Faux Parmesan in (of all places) the little cookbook that came with my Instant Pot. It came as a side recipe for a Lentil Chili recipe and boasted that it was "more economical" than regular Parm. I had heard a ton of great things about it from some vegan blogger friends, but never tried it myself.
So I decided to give it a whirl and see if it lived up to the hype. And oh my gosh. Was it good. So I kept tinkering around with the basic recipe (which was just cashews, nutritional yeast, and salt-free seasoning) until I found one we liked the most. Honestly, it's a really tough recipe to screw up. So all the versions I made were totally fine and we enjoyed every batch!
The cashews and the nutritional yeast together make for an awesome taste and textural team. Anything else you add to that base in terms of spices or amount of salt is pretty much up to you! As long as you don't use something super overpowering (like chili powder or paprika) that would drastically change the flavor profile, you should be all good. I like using parsley because it has a slight citrus quality to it and (it could all just be in my head BUT) I think it helps give it that slight tanginess that real Parm has.
So let's tackle a few questions before we dive into the recipe…
What's the deal with nutritional yeast?
I address this question head on in another post, so I'm gonna link to it here in case you're curious about this somewhat unconventional ingredient (that is actually a pretty common pantry staple for many vegans and vegetarians!)
Why raw, unsalted cashews?
You can absolutely use roasted + salted cashews if that's your preference! Roasting nuts can help release their essential oils and enhance the flavor of a dish. The taste will be pretty much the same with a slightly toastier flavor note. Just keep in mind that you'll need to adjust the amount of salt and seasonings to taste (for example – if you are using salted nuts, then omit the salt in the recipe, process all ingredients and then taste it to see if you need more salt or not).
That being said, there's a really simple reason why I opt to buy most nuts and seeds raw…and it has everything to do with the ingredient list on the back of the bag. When you make your own toasted nuts at home, it doesn't require any oil. Just a hot oven and a watchful eye to shake the pan and remove them when nice and golden.
But many store-bought roasted nuts also list oil among the ingredients (and it is very often a vegetable oil - like canola, sunflower, safflower, corn, soybean, etc). Which aside from being unnecessary add-ins, are also not ingredients I would normally choose to cook with.
The reason I avoid cooking with these oils (canola in particular) is because they tend to be highly refined, highly processed, omega-6 rich, and inflammatory fats.
Sometimes you can find dry roasted nuts – which are ones made the way you would make at home (without any added oil). But if you can't find dry roasted nuts then your best bet is to buy raw. This way you can either choose to dry-roast them yourself (super easy to do in the oven!) or just keep it simple + use them raw.
How long does it last?
I've kept mine in a jar in the fridge for 1-2 months, I imagine it keeps for EVEN longer than that but I've never had a stash of it make it that long without us using it up first! I treat it kind of like I treat nut butter…as long as it's still the right texture and the right scent then I assume it's all good and there's no rush to finish it.
I've heard of some people keeping theirs out of the fridge but since we live in California and have a small kitchen, we don't like to risk leaving things out that could get easily overheated in the apartment. So I err on the side of caution and store it on the fridge door with the mustard + jam so none of it goes to waste!
Have you ever tried a vegan cheese before? Did you love it, did you hate it? Let me know your experience down in the comments!
.
More Vegan Recipes:
Vegan Parmesan Cheese
Vegan Parmesan Cheese is a dairy-free recipe for "cheese" that everyone can eat - including your vegan friends and those who do not (or cannot) eat dairy. This faux Parmesan uses cashews, nutritional yeast, and some savory spices to mimic the real thing.
Print
Pin
Rate
Ingredients
1

c

cashews

raw and unsalted*

6

tbs

nutritional yeast

1

teaspoon

salt

½

teaspoon

dried onion

½

teaspoon

parsley

¼

teaspoon

garlic powder
Instructions
ADD INGREDIENTS TO FOOD PROCESSOR: And process until desired consistency has been reached, about 30 seconds. Store in a jar in the fridge and sprinkle on top of soups, popcorn, salads or any other dish you want to add a savory flavor to.
Notes
* You can use toasted or salted cashews if you prefer, just adjust salt and seasonings accordingly
Nutrition