Creamy Vegetable Soup is on the menu today! Velvety, thick, heart-and-soul-warming SOUP. Zucchini, broccoli stalks, carrots, corn, tomatoes, and corn simmered in a delicious, herby broth.
Soup weather is in full effect, guys. And I'm making the most of it. We've got rain, fog, wind, cloudy skies, and even some snow over yonder in the Sierras. As a southern California native, to me ANY weather is FUN weather. And cold weather is a great excuse for me to crank up the space heater, slip into some plush slippers, and call my penchant for wearing a bathrobe around the house for several hours at a time "necessary" protection against the elements.
I love soups in the winter months. They help me with that whole eat the rainbow thing that comes SO easily in summer when the variety of produce seems boundless and plentiful and can be tossed together in a nutrient-rich salad at a moment's notice. But cold, crisp, raw things aren't really my speed right now. BUT hot, comforting, cozy bowls totally are.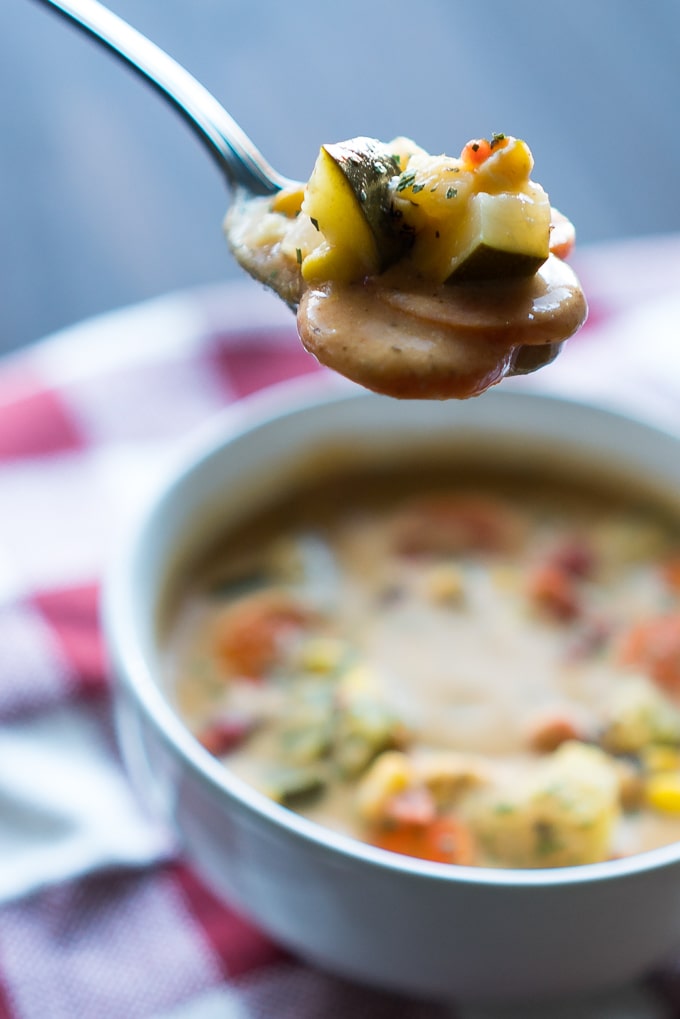 The fabulous thing about soup is that I can fit SO many different vegetables into one dish without feeling like I'm cramming a gigantic plate full of plant fiber into my stomach. I love roasted veggies but sometimes I want something smooth and luxurious, that doesn't feel so…well…healthy.
I have a particular soft spot for CREAMY soups. The kind that are thickened with a rich roux made with flour and butter and stretched with lots of heavy cream or thickened with starch-laden potato purees or corn-starch slurries. They just feel so comforting and hearty and deeply soul-soothing in a way that few other things do. But I'm not smitten with the idea of slurping down a bunch of my calories or maxing out my daily carb/ fat intake in the form of butter, flour, sugar (yes a lot of soups often do have sugar in them!), or potatoes. Trust me. I indulged plentyyyy over Thanksgiving and Friendsgiving and am totally ready to splurge on some more treats during all those holidays coming up, so I'm fixin' for something I can eat everyday sans-guilt and get my routine back on track.
One of my absolute favorite tricks for thickening soups naturally is by pureeing some of the soup's ingredients and then stirring it all back in together. It takes what would otherwise be a sort of thin, clear broth based soup and turns it into something worth digging your spoon into on a chilly night. It's creamy and thick and chunky all at the same time.
In this soup the carrots, zucchini, and hearty broccoli stalks lend a velvety pureed texture to the soup and give it some much needed body and substance. For the creaminess factor, I swap out full-fat heavy cream for a mixture of almond milk and light coconut milk. And for a cooking oil, I use a reserved amount of extra virgin olive oil instead of hunks of butter. Teeny tiny swaps that don't affect the flavor much (if at all) but make a huge difference in terms of overall nutritional value.
This soup is a fantastic way to use up leftover veggies or canned goods. It's pretty versatile and forgiving in terms of ingredients. For instance, you won't see them listed below but you could just as easily swap out one ingredient or another. Like sweet potatoes or parsnips for carrots, leeks or scallions for the onion, celery or broccoli florets for the broccoli stalks (or a combo of both), frozen peas instead of frozen corn, tomato sauce instead of diced chunky tomatoes, or add something totally different in to make it your own (like chopped greens wilted down into the broth at the very end). Or if you want it to be vegetarian and vegan friendly, you can swap the chicken broth for vegetable stock instead.
I opted to use broccoli stalks out of pure necessity. Earlier in the week, I had decapitated the poor things of their gorgeous florets and gobbled them up. And these sad spikey stubs were waiting in the fridge. So I peeled that outer waxy, sort of tough layer off of them and chopped them up to sauté along with the carrots. I'm not big on wasting food whenever I can help it, so finding a non-stir-fry way to use up these stems was kind of a big deal for me!
I love that I can cook this one day and have dinner-for-two lined up for 2 more days in advance. It stores super easily, just portion into containers and pop a lid on it. It makes for the ultimate heat-and-eat quick meal.
Some quick notes…
You will notice in the recipe card instructions below that I only use a sparing amount of salt in the beginning steps. I use just enough to help draw moisture out of the sautéed vegetables to expedite the cooking process but not enough to fully flavor and season the dish.
The reason I wait to do the final salting until the end is this...you can always add more salt to taste but it is not as easy to UN-salt something. Particularly when you have already cooked that saltiness into each bite. Ingredients like chicken broth and canned tomatoes can vary greatly from brand to brand in their salt content. I tend to use diced tomatoes that do not have added salt, but if you used one that did have it your added salt amount would be very different than mine. The saltiness also depends on if someone wants to add Parmesan or sharp cheddar cheese with the soup. Since these are both distinctly salty ingredients, adding too much salt in the beginning could limit your ability to add these in later.
I also wait to add freshly cracked black pepper until the very end, using it as a garnish instead of a cooked-in ingredient. I noticed that a lot of my soups were taking on a higher spice level or a little bit of bitterness that I just couldn't put my finger on. And it turned out, it was the pepper. For me, it makes a huge difference to not cook the pepper for that full thirty minutes. This way it isn't steeping its oils into the broth the entire time it cooks, it just acts as a finishing touch.
And that's about it! Happy cooking!!!
Creamy Vegetable Soup
Healthy recipe for Creamy Vegetable Soup - made with six different vegetables and easily customized to fit your favorite ingredients.
Print
Pin
Rate
Ingredients
½

tbs

extra virgin olive oil

½

onion

2

large carrots

2

zucchini

diced into ½" pieces

2

broccoli stalks

1 ½

c

frozen corn

fire-roasted preferred

1

– 14.5 oz can of diced tomatoes

no salt

3

c

broth*

2

c

unsweetened almond milk

1

c

light coconut milk

salt

1

tbs

garlic powder

1

tbs

dried basil

2

bay leaves

Juice of 2 lemons

Fresh cracked black pepper
Optional: 4 tbs coconut cream OR half-n-half**
Instructions
PREP & COOK THE VEGGIES: Dice the onion. Thinly slice the carrots into large rounds. Peel and chop the broccoli stalks into large rounds. Preheat a large pot over medium heat. Add olive oil, onions, carrots, broccoli stalks and a sprinkling of salt and stir. Turn down heat to medium low and sauté, stirring often, for 7 minutes. Meanwhile, dice the zucchini (skin on) into ½" inch pieces. Add the zucchini to the pot, add another sprinkle of salt, stir and cook for another minute or so.

SIMMER THE SOUP: After the veggies have softened slightly, add the corn, diced tomatoes (with juice), chicken broth, almond milk, coconut milk, garlic powder, dried basil, and bay leaves. Cover and bring to a boil. Turn down to a simmer, uncover and cook uncovered for 30 minutes. Remove the bay leaves. And turn off heat.

BLEND: Ladle ⅓ - ½ (depending on how chunky you want the soup to be) of the entire soup pot's veggies AND broth into a blender. Blend until smooth. Pour back the blended mixture into the soup pot. Add lemon juice and half-n-half (or coconut cream), stir until all is well combined. Then salt and pepper to taste. Serve with grated Parmesan and protein of choice (like chopped chicken or white beans).
Notes
*I prefer chicken broth, but use vegetable broth for a Vegetarian and Vegan friendly dish **use coconut cream and not half-n-half for a Vegetarian and Vegan friendly dish
Nutrition