Just like banana bread is your go-to for using up overly ripe bananas, this easy 4-ingredient strawberry sauce will help you salvage berries that are a tad past their prime. Think jam, with BIG berry chunks folded in.
But a little bolder and a bit saucier.
As the calendar pages start to flip ever closer to Valentines Day (one of my fave annual excuses to eat ALL the sweets), I find myself scrounging around for anything dessert-like or remotely ruby colored.
Imagine this sumptuous strawberry sauce spooned on top of vanilla bean ice cream. Maybe smeared on a breakfast bagel with cream cheese (easy homemade strawberry Greek Yogurt Cream Cheese anyone!?). A bright layer in a Coconut Chia Pudding + granola parfait? Stirred into an ice-cold berry lemonade? How about drizzled all over pancakes or french toast?
Clearly, I have already used this for a shameful number of things. It's so simple but that's sort of what makes it SO wonderful. It just works.
I have even blended up some of it to use in a salad dressing before, it makes a super tangy Roasted Strawberry Balsamic Vinaigrette that is great with avocado and spiced pecans.
However you choose to use it, this sauce is a sure fire way to amp up the volume on what might otherwise be some fairly standard food fare.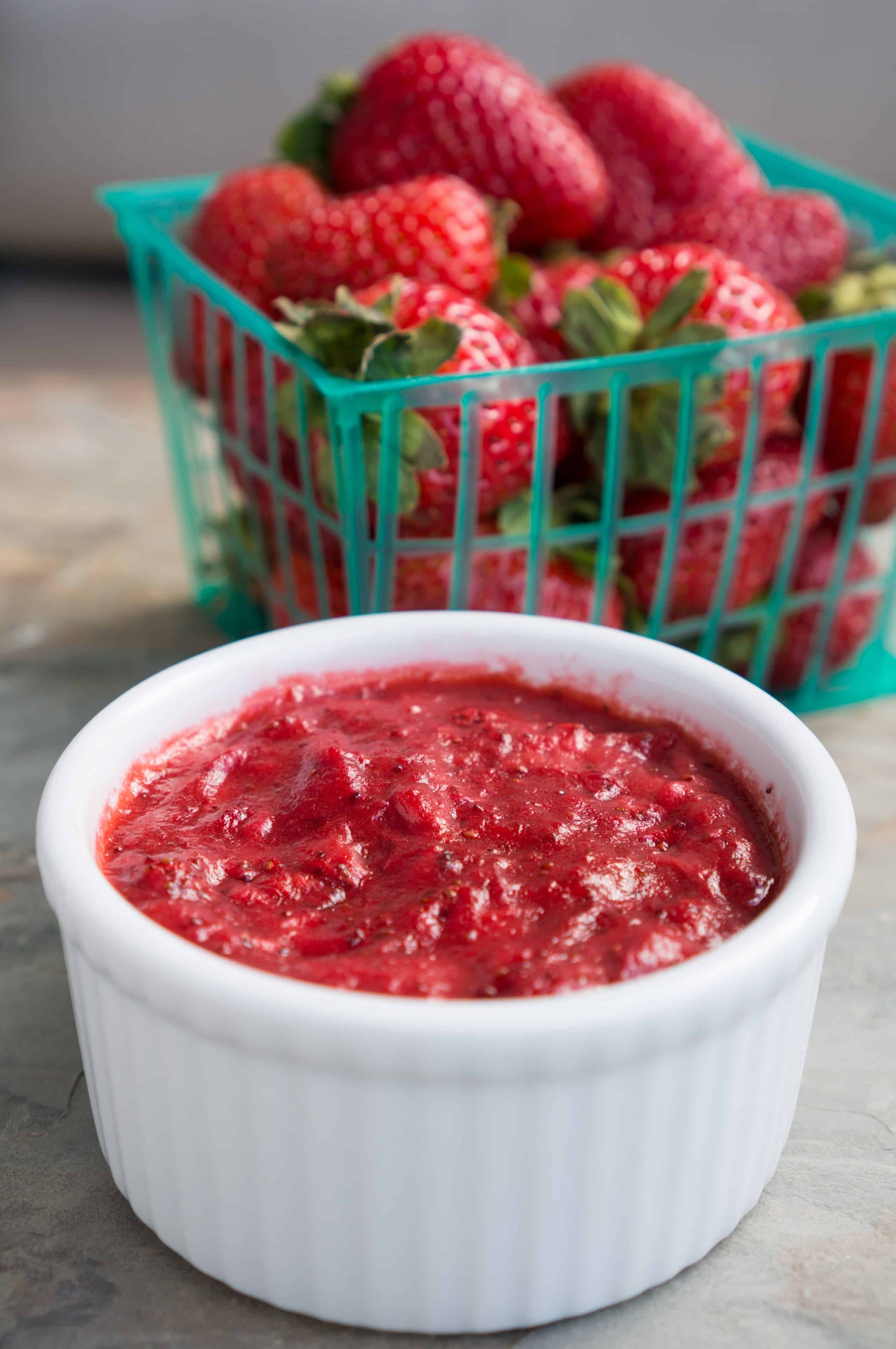 I first made this recipe this past summer. California summers mean LOTS of lovely, fresh fruit. It is everywhere. Stands in the produce section are basically toppling over with it, balanced precariously in colorful pyramids around the store. Picking out a peach is like trying to play a game of Jenga where the odds are ever (not) in your favor.
With summer also comes the heat. Our apartment is an air-conditioner free zone, so fruit ripens on our countertop much more quickly than we would like it to.
Once vibrantly yellow bananas now decide (unannounced, I might add) to sport some big brown polka dots instead. Those once adorable, rainbow cherry tomatoes now begin to sag, wrinkle, and even grow mold.
So. Rude.
And fresh berries are often among the first casualties. That's right, that nature's candy you SO looked forward to eating has morphed into a lame pile of mushy berries. What a letdown.
I am not a huge fan of the squishy strawberry and I suspect you aren't either. But I'm also not a fan of wasting money or food when I can avoid it, so they would have to be made into something.
You know which kind of berries I'm talking about right? The kind that aren't necessarily bad or moldy berries but are a little smushed on a side or two. The sad bruisey ones that look a little worse for the wear.
This recipe also works great for those perfect, juicy, red, supermodel strawberries. But it doesn't require them like a raw berry tart or crisp summer salad would. This is because we are going to roast these babies, not serve up them as is. It's one of those oh-so-rare occasions where what you see does not have to be what you get.
Roasting is a reliable way to coax extra flavor out of food. It is a technique that allows you to caramelize all of the natural sugars found in fruit. Think back to your favorite baked dishes like peach cobbler, apple crisp, cherry pie, or even baked pears. Each of these owes an oven out there somewhere a big hug and a massive "thank you!" for giving it that signature sweetness and depth of flavor.
In this recipe, roasting the berries transforms them into a much sweeter sauce without relying on sugar to help you do it. I added some honey, but if you are watching your sugar intake you could leave it out and it wouldn't suffer much for it. Or swap it for coconut nectar if glycemic index is a concern.
A squeeze of lemon juice offsets the sweetness and rounds out the flavor overall. Plus it helps preserve that punchy berry hue, and I'm all about that cheery color!
So check the back of your freezer for any lingering summer berries you may have stashed away or go scout out some gorgeous fresh berries this weekend. If you make this sauce at home, let me know how it went and how you decided to devour it!
Ingredients
3

cups

of sliced fresh strawberries

½

tbs

coconut oil

Juice of ½ lemon

½

tbs

honey
Instructions
Preheat oven to 325

Prepare a large baking sheet by lining it with foil and greasing it with coconut oil.

Spread the strawberry slices evenly over the baking sheet.

Place the tray in the oven and bake for 30 minutes.

Remove tray from the oven. Spoon out half of the strawberries. Using a blender or food processor, blend this half of the berries with the honey and the lemon juice.

Pour mixture over the sliced strawberries and stir gently with a spatula to combine.

Bake for an additional 10 minutes.

Remove from oven. When cool enough to touch, lift up the foil and pour the berry mixture into a glass dish. Be sure to use your spatula to collect all the juices.
Notes
If using frozen berries, thaw first and drain off liquid before roasting.
Serve hot on top of vanilla ice cream, serve cold on top of yogurt, blend into an almond milkshake, or spread on bagels or toast.
You can omit the foil and use a greased baking sheet or silpat cookie sheet liner. However, I find it's helpful to be able to pick up the foil after baking and use it to funnel all of the roasted juices into a container. It's less messy and gets me out of having to rely on a spatula and my lackluster baking-sheet-to-bowl pouring skills.