Southwestern Breakfast Tacos. YEP. Tacos for breakfast, my friends. Clearly, I have no shame.
A high-protein breakfast skillet using egg whites, green hatch chiles, black beans, melted cheese, and a tomato // garlic chili paste all wrapped up in cozy little tortillas.
The kind of plate full of food that will help keep you energized and satisfied for hours. A one-pan vegetarian dish that feels equal parts homey and hearty. The addition of cheese and use of all egg whites keeps the mixture light, allowing them to fluff up and cook really quickly in the pan. Giving them a more substantial, almost meatier texture than cheese-free scrambles. (Honestly, when I look at these pictures I think some part of my brain thinks it's really ground meat in that pan)
This comes together in 10 minutes. No really. It is a speedy one. I timed it to be 100% sure. Results may vary only depending on how skilled you are with a can-opener. We have eaten this many a late night when we arrived home tired and hungry, only to find the fridge bare and all nearby takeout options closed.
I had a similar dish at a restaurant last month in San Diego. One of my absolute favorite places to go for brunch pretty much as soon as the plane wheels touch down on the tarmac – Fig Tree Café at Liberty Station. Just a stone's throw from the airport. So much gorgeous, fresh food to be had there. Including the tasty scramble that inspired today's recipe!
This make-at-home version of that family brunch has become a weekend staple in our little place. I did my best to recreate the far-away-restaurant flavors so I can have it anytime I darn well please.
Using affordable canned ingredients like cooked black beans, diced green hatch chiles, and tomato paste as well as some ingredients we regularly have on hand like chili garlic paste and sriracha (fridge door), dried coriander (spice shelf staple), shredded cheese (big bag always at the ready), and egg whites (we buy four cartons in a pack for a steal at Costco) – this is a wallet and waist-friendly dish. WIN WIN.
If you're already a big fan of eggs, then this will be a great one to add to your arsenal. Something to keep up your sleeve for unexpected brunch guests or just as a go-to for a breakfast-for-dinner option when time (or patience) is not on your side.
But, if (like me) you lack a natural affinity for eggy things that aren't French toast, custard, bread pudding, churro dough or a slice of cake, then I've got a good gateway egg recipe in the works for you. The key to open the door to saying "YES" to more protein-packed breakfasts and savory brunch options and being excited about something that isn't a tower of pancakes drowning in syrup.
Before this dish, I was eating lots of egg whites. But only technically speaking. I was unabashedly camouflaging them in all manner of dessertified items. Like hiding them inside of banana pancake batter or stirring them into sweetened, hot oatmeal that I had taken the liberty of covering entirely in mini chocolate chips (and possibly some rainbow sprinkles). Very mature, totally typical adult breakfasting behavior. Not so much.
See there was a long stretch of time in my life when I did not like eggs. Not even a little teeny tiny bit. They grossed me out to no end. These allegedly edible items that arrived inside an oval-shaped, hard shell and contained a jiggly liquid that then changed colors when you cooked it. WHAT. All hailing from a chicken butt (okay, I know that's not exactly where they come from but you get my drift. It did not add to their appeal).
I refused to eat them as a kid and long into adulthood, but I was surrounded by egg eaters. My parents, my sister, and seemingly every one of my friends/ humans I came across (including the boyfriend). They were enjoying a close, carefree relationship with what I regarded as a gag-worthy food.
I had to find a way. This far into adulthood it seemed just plain silly to have sworn off of something so universally incorporated into so many dishes. Not to mention embarrassing. Every cuisine has some sort of comfort food that owes its unctuous, unforgettable quality to the oh-so versatile egg.
I knew they weren't all bad. They couldn't be. I loved the little bits of it scattered in yummy fried rice or sweet, spicy Pad Thai. And I knew it was in many other delicious things like mayonnaise, aioli, creamy salad dressings, and more. Clearly, there had to be hope.
Eggs have so much flippin' protein in them, are easy on the tummy, and super waistline friendly. One can only eat so much chicken every day without needing to mix things up.
My gateway-egg ended up being an omelette covered – no, make that CRUSTED and FILLED – with cheese. Mozzarella inside and crispy parmesan outside. With all the hot sauce in the land. And I was surprised to find I really kind of loved it. Likely because it had nearly morphed itself into a sort of quesadilla.
So to those who do love eggs but find it hard to resist the temptation to go with sweet breakfast instead. Or to those stalwart disbelievers still clinging to a long practiced dislike for all of egg kind, I want to let you in on a few secrets that could help initiate you into the ways of egg-eating. Or at least some things that helped me make the jump and live to tell the tale.
Start with just the egg whites - less eggy yolk taste to contend with, which if you're not a huge fan of eggs could be the thing that you like the least
Scramble // Omelette - start with a basic scramble or an omelette before trying say something like a soft-boiled egg, poached egg, or sunny-side up situation
Cook it all the way – foodies may argue that softly, gently cooked "wet" scrambled eggs are the way to go but if you're having difficultly embracing eggs, a more thorough cooking process may help change the texture to something more familiar like the bits of egg you find in fried rice or noodle dishes.
Break up the texture – use familiar ingredients that add dimension to distract your mouth from overthinking the whole "I am eating EGGS" thought. Mix in things like beans, vegetables, chiles, peppers, greens, rice, cheese, meat, bacon, etc.
Disguise it as your favorite foods - add your favorite flavors to make it taste like a guilty pleasure food. For example, today we are trying to mimic a cheesy taco but you could go for a Mediterranean pizza vibe by adding tomato sauce and Parmesan cheese instead or a BLT by adding fresh little tomatoes, mozzarella, and crispy pieces of bacon.
Don't eat them on their own - fold them up in something carb-tastic like a warm tortilla to make tacos or a burrito, tuck them into an English muffin or bagel sandwich and add lots of flavor components to help take your mind off of what's really goin' down.
Add bold condiments and toppings - top them with something like a spicy hot sauce (my favorite is sriracha but Cholula, Tapatio, or classic Tabasco all fit the bill nicely), fresh salsa, mellow herby pesto, or marinara sauce.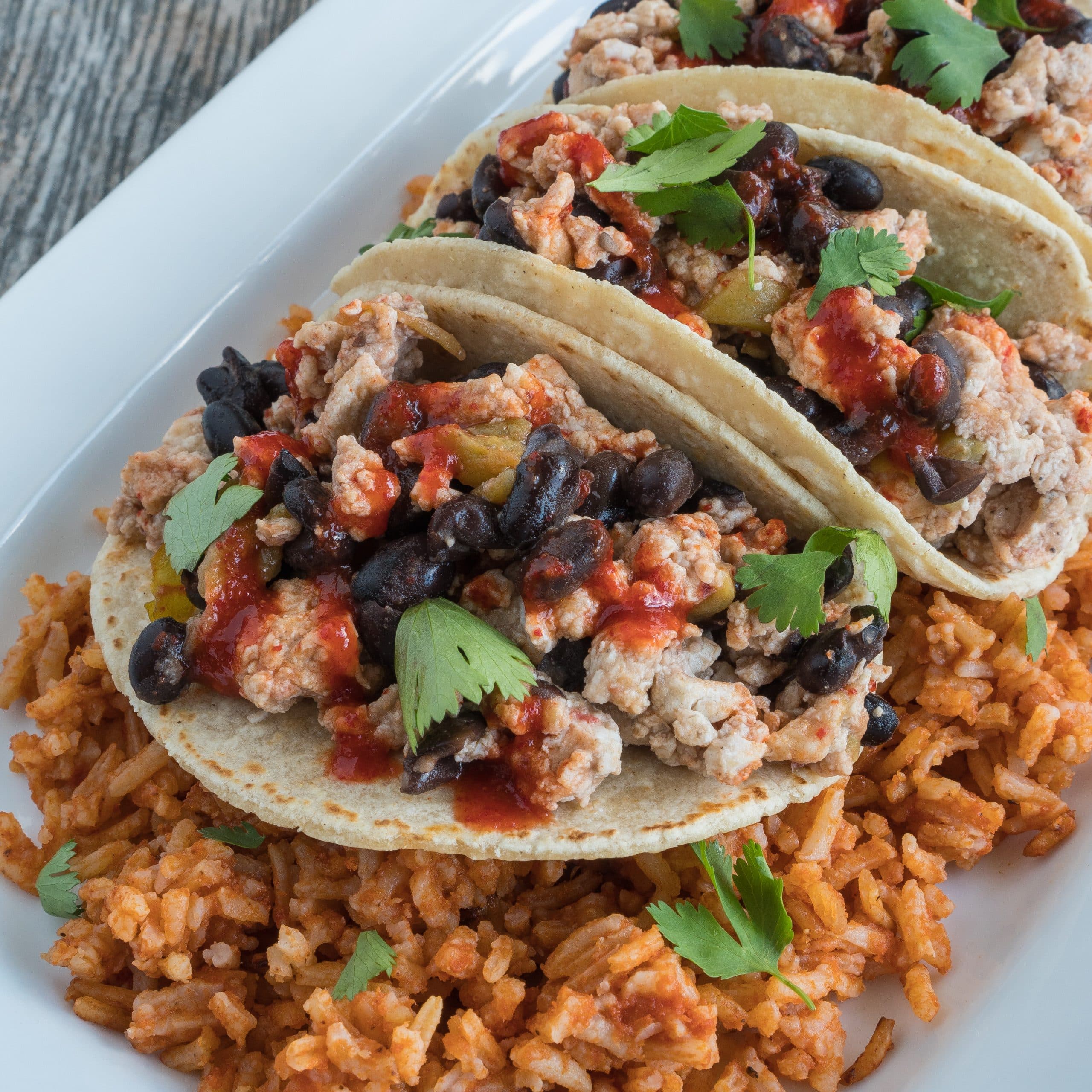 Hopefully these tips will help your tastebuds (and your mind) cozy up to one of the best and most easily digested protein sources available to you. Not to mention one of THE quickest to prepare from scratch, that isn't just low fat - it is a no-fat food in its purest form. Which is great because then you get to have your pick of what healthy fats you'd like to add to it and exactly how much.
If you are someone who is tracking their macros (hello to my fellow IIFYM/ flexible dieters out there!) then this is a great macro-friendly option meal for you to add to the mix. Especially if you are cooking for two, since you can change the portions to suit different needs for amount of protein (increase egg whites) or fat intake (change type or amount of cheese used) or carbs (choose either beans, rice, or tortillas or fiddle with the portions).
Happy brunching!!
---
P.S. – Look for a guest post from fellow-blogger (and my former college-classmate) Mara from Put On Your Cake Pants coming this week! If you haven't checked out her blog yet, head on over there to get a peek at some tasty eats and scout out some seriously cute snaps of her adorable pup, Phoebe. Her recipes and witty writing will make a regular reader out of you in no time. Stay tuned for her fresh, summer-ready recipe that will be all yours for the reading in a few days!!!
---
Ingredients
1

c

egg whites

½

c

black beans*

½

c

shredded Monterey jack cheese**

½

teaspoon

extra virgin olive oil***

2

tbs

mild hatch chiles

diced****

1

teaspoon

chili garlic paste

1

teaspoon

tomato paste

½

teaspoon

dried coriander

salt

cracked black pepper

1

teaspoon

sriracha

OPTIONAL TOPPINGS / SIDES

tortillas*****

Mexican style rice

green onions

fresh cilantro
Instructions
COOK THE EGGS: Preheat a medium nonstick pan over medium-high heat. Add a little bit of olive oil and swirl pan to coat. Add egg whites, shredded cheese, coriander, salt, and pepper to hot pan. Scramble eggs using a spatula to push the mixture around, stirring constantly and cooking for about 1-2 minutes. Add beans, chiles, chili garlic paste, and tomato paste (and 1 cup of Mexican rice, if using) to the pan and stir until well combined. Cook until heated through, about another minute or so. Drizzle top with sriracha or other chosen hot sauce, fresh cilantro, or green onions and stir until combined.

SERVE: Layer ingredients into little tortillas (either heated briefly in the microwave or just warmed through on both sides in a hot, ungreased pan) to build tacos. Extra ingredients include Mexican rice, greek yogurt, sour cream, salsa, or extra cheese. You can also eat without tortillas and rice for a lower-carb breakfast scramble.
Notes
If you are cooking for family or a crowd, double/ triple the batch (and use a larger pan). Serve in a large dish in the middle of the table with tortillas, rice, and salsa on the side. It makes cooking for a mixed group of veggie-only eater and meat-eaters a breeze.
*In every restaurant there seems to be a choice given between having black beans vs. pinto beans. The same division exists in our little household over here. I adore black beans but Billy is firmly among the pinto bean supporters. Both work great here.
**For lower fat version, swap for low-fat shredded mozzarella cheese
***can swap for coconut oil, avocado oil, or butter
****if you don't like things spicy you can exclude these or sub roasted red peppers which don't carry a spicy kick, or saute raw bell peppers until softened and then add them in
*****choose corn tortillas or no tortillas for a gluten-free dish