Healthy Fried Rice! My ultimate comfort food. The take-OUT food I can make even when I want to (or more likely need to) stay IN. Today's recipe is a soul-soothing, totally satisfying one-pan dish that you can make in less than 30 minutes. Add your protein of choice (chicken, shrimp, tofu, eggs, crushed peanuts, etc) into the mix and this vegetarian side dish just morphed itself into a main course.
Leftover brown rice and humble veggies freshened up with bright flavors like lemon, lime, sweet coconut nectar, coriander, and spicy chili garlic paste. All bound together to make a sweet-n-sour (n-mildly-spicy) sauce using my favorite pantry staple – powdered peanut butter.
Oh the magic and wonder of that peanut butter pantry staple. I can't even describe how easy it makes things to have that gluten-free sauce thickener just waiting in the wings, ready to sprinkle on over hot noodles or oats or stir-fried chicken or this FRIED RICE situation.
Fried rice always comes through for me. At the end of a long day, it's the hot meal I need when my world feels like a hot mess. Which if you couldn't tell from my unplanned two-week hiatus from the blog, "hot mess" is a very apt descriptor for my life lately. There's a lot happening. A lot of wonderful things, yes. You bet. But A LOT of things, nonetheless. I could go for an extra hour (or four) a day and that would be pretty darn great in my book.
Hopefully the knowledge that pumpkin season is just around the corner (and you know that I've got alllllllll kinds of holiday goods coming your way) will make up for me missing out on last week's regularly scheduled post. I'm hoping to bribe you today with a comfort food dish. Imagine I'm sliding it across the table to you with those "please don't be mad at me" kind of eyes. Fingers crossed this shameless tactic is working.
Fried rice is my top no-brainer dish for a reason. Okay several reasons BUT the main ones are that it's:
EASY. As in degree of difficulty close to zero.
QUICK. Like under 30 minutes in a pan kind of quick.
CHEAP. As in chuck in whatever leftover already cooked rice and veggies you have and spruce it up the best you can using some spice shelf staples + fridge door condiments (like soy-saucey / hot saucey type of things) + any fresh touches that are available (like some lemon juice or fresh herbs and greens)
I can usually make some variation of fried rice using whatever I happen to have on hand. If I don't have spinach, I use kale or a mix of supergreens or even cook down some shredded cabbage. If I don't have broccoli, I use green beans or asparagus or baby bok choy. If there's no celery, I call it a sign that I'm just meant to skip that step and know that the food is going to make it to my plate in half the time I wrote on the recipe card below. No coconut aminos? Soy sauce or braggs aminos to the rescue. No coconut nectar? Fine, coconut sugar, brown sugar, honey, or table sugar it is! No sambal oelek? That's cool, just use sriracha or chili garlic paste or some red pepper flakes and call it a day. No lime? Double the lemon juice.
It's. All. Good.
At first glance, this may not look like the fried rice you have come to know and love over the years. And that's because I swapped quite a few things out in this version. You can argue that these make the recipe less authentic, and you would be one hundred thousand and one percent correct.
But today's kitchen endeavor is a little less about accuracy and a little more about devouring something with feel-good flavor. A few swaps here and there in the ingredients list and you are in business for a delicious, big plate of food that feels good before, during, AND after you eat it.
The swaps are small but significant. I'm a big believer in that whole thing where little mindful changes can add up to even bigger results.
In this recipe I made three minor modifications. I swapped out the usual cooking oil + butter combo for a measured amount of healthy fat, in this case I went with coconut oil. Sometimes I use EVOO or avocado oil instead. As with many of my recipes, this just depends on what we have at home. So feel free to swap as needed for whichever is your favorite, all of those play well with the flavors in this dish. Second, I loaded up the pan with more greens than grains – opting for nutrient and fiber dense, high volume veggies instead of starchier more carbohydrate dense veggies. More food for less caloric impact. And third, I adjusted the amount of rice down to what I would normally eat if I was having it as a side dish. And just like that, I've got a whole LOTTA food on my plate that feels every bit indulgent without making me feel an ounce of guilt afterwards.
I've done my fair share of those online 30/60/90-day workout programs and they often come with access to an online community page where people can post questions / concerns // share their experiences. The number one gripe I hear in those forums is hardly ever about the exercises themselves, it's about staying on track with your own nutrition goals when you are part of a household of two or more people who aren't doing the same things you are. Whether you cook for your family, your roommates, or with your partner - it can be hard to balance all the different needs of all those hungry mouths. And who really wants to be cooking a full menu of different dishes for each meal? My guess would be no one. Certainly not me.
Maybe you have a crossfitter in the house who eats a high-protein, high-fat paleo diet. Or a busy runner / swimmer / cyclist / powerlifter who needs a plate that is heavier in carbs. Or perhaps a diehard vegetarian bestie that you share a kitchen with who wouldn't ever EVER dream of eating meat. But you don't share any of those same needs. Now what? How do you approach a dish like this where the portions of protein vs. carbs vs. fat don't seem so easily adjusted to suit each person?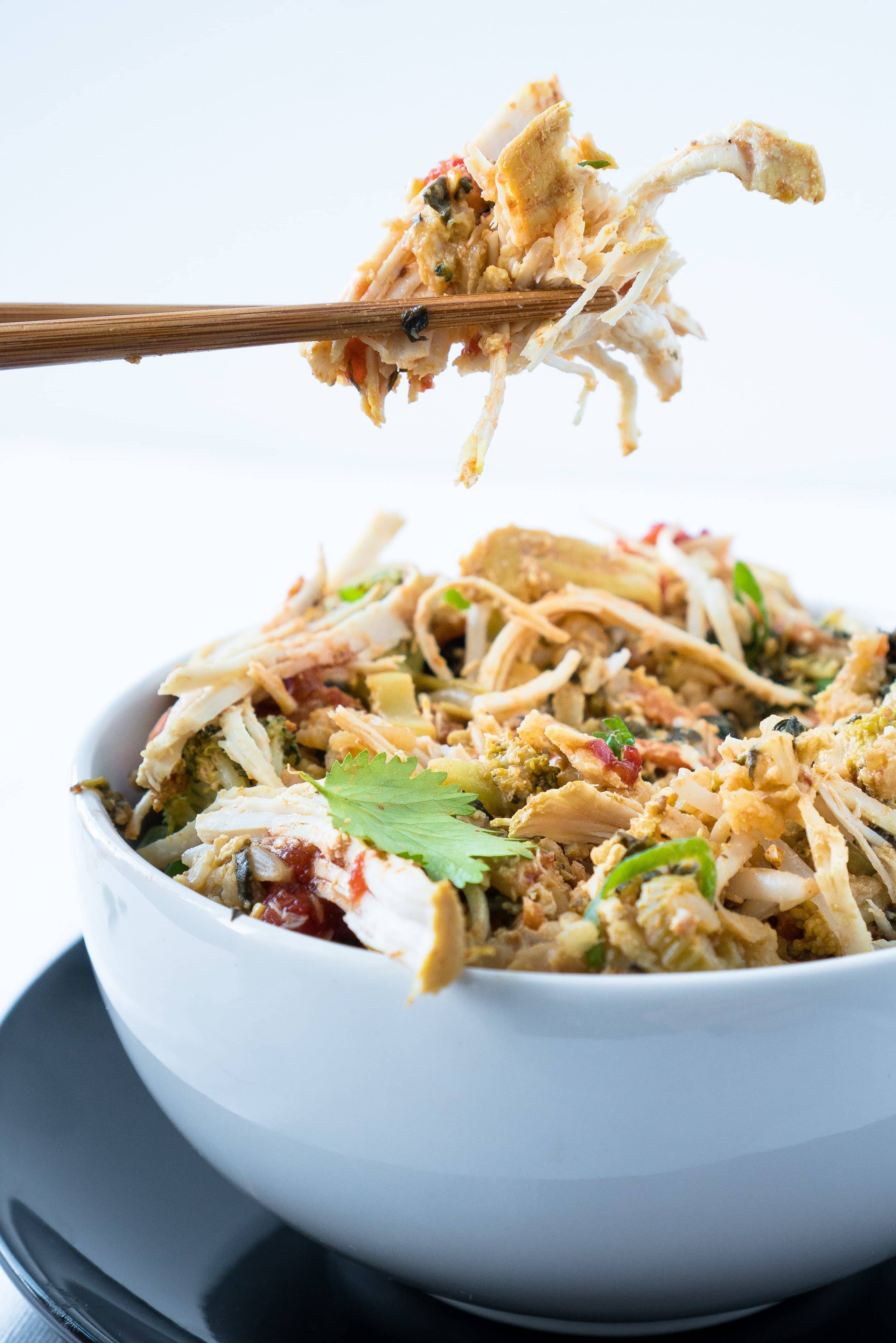 You put the recipe on pause wherever you need to before adding in the component of question and separate the one dish into portions before resuming the recipe. When I was a kid, my sister loved mac n' cheese. The kind that came in the box with the cheese powder packet inside. I loved the macaroni part of mac n' cheese, but I absolutely despised the cheese part. So my mom used to cook the pasta, divide it in two bowls, and then finish making my sister's with the cheese packet. A pain in the ass? Probably. But it helped her get food on the table and make both kiddos happy in the process while only having to commit to actually preparing ONE dish.
With a little bit of creativity, the same simple methodology can still apply to a number of other recipes. This one included. Say you need to add more oil or scrambled eggs to one, less//more rice in another, add a lot of meat in one and none in the other. Find that spot in the recipe and figure out how you could modify it to work for you.
RELATED: Easy Crockpot Pulled Chicken
This kind of dish really works for us as a couple with very different dietary needs, workout regimens, and nutrition goals. I can always divide the veggies in two portions and measure out different amounts of cooked chicken and rice for each of us, and then fry them up separately so we each have a meal that works for us individually without having to cook two entirely different sets of ingredients. I can always add cauli-rice to mine to bump up the amount of food without affecting my carb intake. I can drizzle more oil over the food at the very end if one of us needs a little extra boost of healthy fats added in. Stir fry in an extra egg or egg whites for Billy. Whatever modifications need to be made, CAN be made.
Then we are both happily on track to have as large of a plate of food, filled with exactly what we need to fuel up for another busy day, without either one of us feeling like we had to compromise.  I'm told (with increasing frequency lately) that marriage is "all about compromise". Well that may be true, but when it comes to what I want for dinner my motto is "never say die" 🙂
.
Healthy Fried Rice
30-min recipe for Healthy Fried Rice with a gluten-free chili garlic peanut sauce! Serve either as a vegetarian dish or top with shredded chicken for a full meal.
Print
Pin
Rate
Ingredients
2

teaspoon

coconut oil

divided*

1

c

chopped celery

1

c

shredded carrots

2

c

broccoli

broken into small florets

1 ½

c

cooked brown rice

4

c

chopped spinach

2

whole eggs

½

c

bean sprouts

2

tbs

powdered peanut butter
SIMMER SAUCE INGREDIENTS
3

tbs

coconut aminos**

juice of 1 lemon

juice of 1 lime

2

teaspoon

coconut nectar***

1

teaspoon

sambal oelek****

½

teaspoon

garlic powder

¼

teaspoon

coriander

salt

black pepper
OPTIONAL TOPPINGS
fresh cilantro

green onions
Instructions
COOK THE VEGGIES: Preheat a large pan over medium heat. Add 1 teaspoon coconut oil, celery, and sprinkle lightly with some salt to expedite the cooking process. Turn down to medium-low heat and sauté for 7 minutes or until cooked and softened to your liking. Then add shredded carrots and cook for another 5 minutes. Meanwhile assemble all simmer sauce ingredients in a small bowl, set aside. Then quick-steam broccoli florets by microwaving them (loosely covered on a plate) for 45-60 seconds. Once cooked, remove carrot-celery mix from pan and mix together with steamed broccoli. Set all aside.

FRY THE RICE: Turn up heat to medium-high, add 1 teaspoon coconut oil. Add cooked rice and chopped spinach to pan. Then add back all veggies to pan and stir together with simmer sauce ingredients. Add powdered peanut butter and stir until well combined. Make a well in the center of the pan by pushing the ingredients to the sides. Crack two eggs into the center and use a spatula to stir constantly, scrambling the egg mixture. Once nearly cooked, fold eggs into the rest of the mix.
Notes
*Can swap for olive oil or other preferred high heat cooking oil
**Can swap for braggs aminos or light soy sauce
***Can swap for honey or brown sugar
****Can swap for other garlic chili paste or sriracha or pinch of red pepper flakes
Nutrition