Broccoli Carrot Crunch Salad! Mini broccoli florets, shredded carrots, sweet raisins, and sliced almonds combine to create each refreshing bite of crisp, chewy, AND crunchy ingredients. The holy trinity of texture. All the makings of a totally crave-worthy, super fresh, hot-weather-friendly salad that you can make in under 15 minutes and keep in the fridge for easy eats.
All tossed together in a dressing made from golden balsamic vinegar, maple syrup, and extra virgin olive oil. This dressing is a spin-off of last week's dressing recipe and brings all those sweet meets tangy summery vibes that make this born-and-raised Southern CA girl alllllll kinds of happy.
This recipe delivers that coveted combo of fresh veggies + healthy fats + fill-you-up fiber + plant-derived nutrients in refreshing salad form.
Enjoy it sidled up to those grilled goods as a figure-friendly side salad, a guilt-free snack to help you make it through that late afternoon "UGH is it time for dinner yet?!" h-a-ngry stretch, or stacked up on leafy greens with chicken & feta crumbles for a big summer salad situation.
But before we get down to the nitty gritty details of this recipe (which really there are hardly ANY to speak of), I've got a pressing announcement!
Ah-ha-heh-HEM.
This week we climbed Half Dome. As in from the valley floor of Yosemite all the way up those scary steep cables and up onto the DOME itself. After three years of visits together spent looking up at that rock face and longing to be up there, we finally landed the permits in the annual lottery to go on up.
Which would be a solid enough achievement in itself and totally announcement worthy because of the whole blood, sweat, & tears and goal-setting and conquering fears and trudging through all those miles and blah blah blah. BUT. There's a little more involved than just that.
After soaking in the view from the top and feeling all those wonderful feels of adrenaline mixed with sweet relief after lugging ourselves up past several waterfalls, through some soul-crushing switchbacks, and an elevation gain of 4,800 feet, there was an epic proposal and stunning engagement ring waiting for me on bended-knee from one Mr. Billy DeKom.
Yep, that's right friends.
I'M GETTING MARRIED!!!! (Not enough exclamation points in the world to express the amount of happiness that being able to write out that sentence gives me).
I have been floating around in this bubble of joy, smiling like an idiot in the middle of totally ordinary moments alone and grinning through daily chores. All because of that one moment. And the inability to contain my excitement is why I am telling you this in a post that is otherwise entirely unrelated to this news. Because I can't NOT tell you. Despite the absurdity of doing it in a broccoli post (and the almost unforgivable need to have just used a double negative in the previous sentence). I have been bursting with the news ALL WEEK and so this is happening. Relevant or NOT.
Just know that my happiness levels are officially at an all time high right now and there may be an overabundance of exclamation points & all-caps words (ok really just words in general) awaiting you in current and future posts.
And now back to your previously scheduled programming - Broccoli Carrot Crunch Salad!
I know what you may be thinking. This girl just wants to fit into a wedding dress and she wants to bring me down to her raw-broccoli-eating levels of misery to do it. To which I say…sort of YES?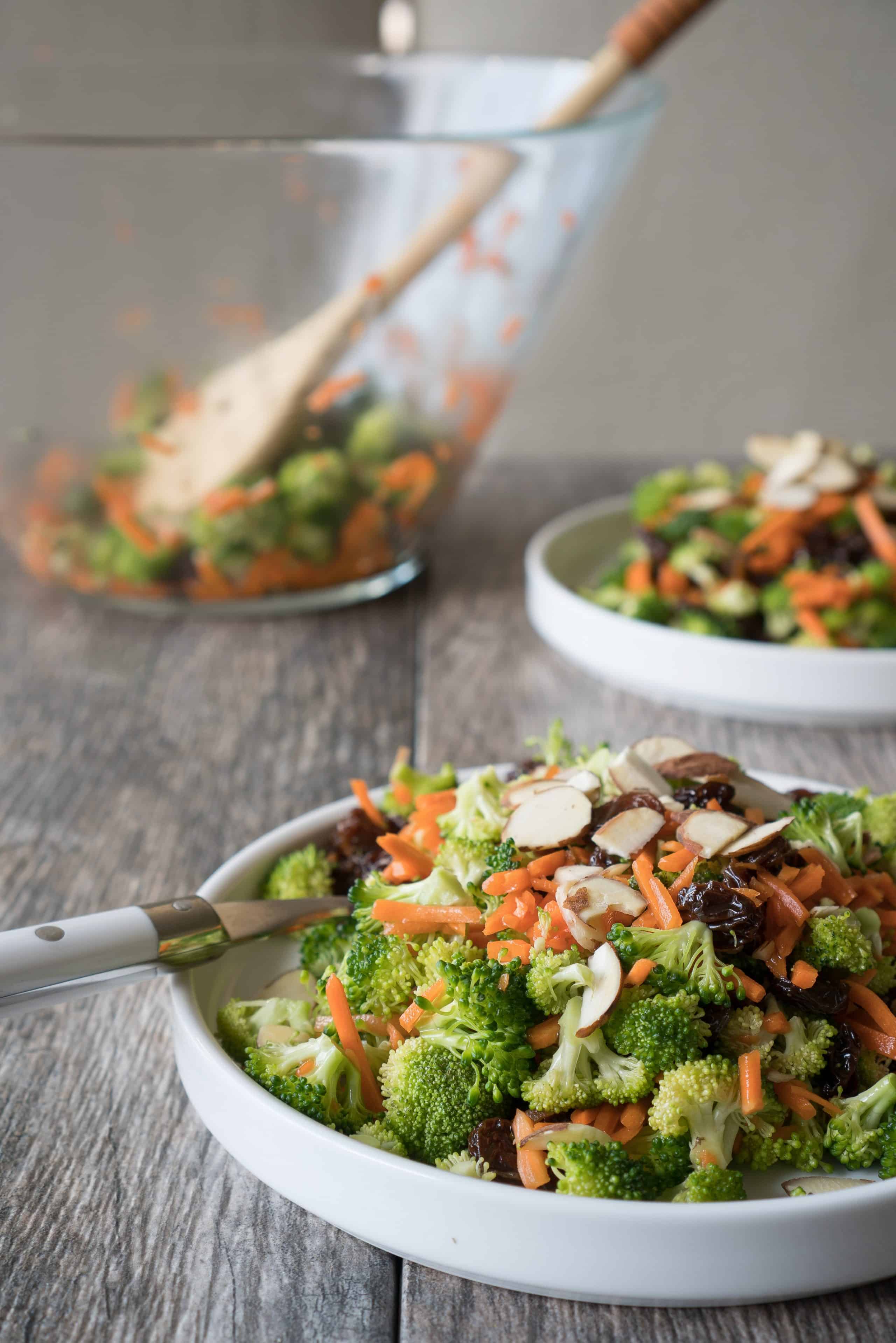 I do want you to eat this, but NOT because it will make you miserable. I want you to make it because I want it to fill your fridge (and your belly) with all kinds of yummy goodness.
We are breaking down the broccoli into mini, bite-friendly bits using only the most tender part – the dark green florets. You'll trim off the stalks until you have just the easy to eat raw top sections remaining. Then you just kind of pull them apart with your hands until they are the most adorable little veggie trees ever.
A quick word to the wise and the fearful of creating unnecessary food-waste! You can always save the other sections to toss in the food processor and make into broccoli slaw later on OR you can chop them up by hand and cook them into your next stir fry alongside carrots, celery, and onion.
Then we chop up the already pre-shredded carrots into slightly smaller sections so there's no clumsy long stems preventing you from jamming spoonfuls in your mouth as fast as you please.
Smaller pieces of carrots + broccoli will give the dressing more surface area to adhere. Meaning MORE flavor all around!
And FINALLY along with some classic savory elements (olive oil, vinegar, and salt) we round it all out with maple syrup and raisins. Just that little bit of sweetness topped off with some sliced raw almonds to keep you coming back bite after bite.
All with the hope that you'll be eagerly diving back in for seconds before your brain has time to register that yes, you are actually eating something raw and you're kind of more than just okay with it. Because good-for-you food is just better when it tastes good too and a little sweetness goes a long way in making that happen.
And yes. You're right. I do have to fit into something vaguely wedding-dress-like at some point in the future that will likely require me to stop eating cereal in the middle of the day like it's an unofficial fourth meal. So you got me there.
Let's consider Salad-Scarfing // Wedding-Dress-Mode ACTIVATED.
…but maybe first, another donut 🙂
.
Broccoli Carrot Crunch Salad
Healthy 15-min recipe for Broccoli Carrot Crunch Salad! Tossed with extra virgin olive oil, golden balsamic vinegar, maple syrup, and a bit of salt. Easy + gluten-free.
Print
Pin
Rate
Ingredients
4 ½

c

broccoli florets

1

c

shredded carrots

½

c

raisins

1

tbs

extra virgin olive oil

2

tbs

golden balsamic vinegar*

1 ½

tbs

maple syrup**

pinch

of salt

¼

c

sliced almonds***
Instructions
PREP VEGGIES: Trim the stems off of the broccoli so it's very close to the dark green florets. (You can save the extra parts to chop and toss into a stir fry or shred in a food processor for broccoli slaw). Break apart any larger ones into smaller pieces to produce mini florets (will yield just over 3 cups or so of mini florets). Run a knife through the shredded carrots a few times to produce shorter shreds.

MIX & DRESS SALAD: Add broccoli, carrots, and raisins to a large bowl. Drizzle over the olive oil, vinegar, maple syrup, and salt. Stir with a spatula until well combined. Store in an airtight container in the fridge for up to 5 days. Top with sliced almonds to serve.
Notes
You can mix the almonds in but to ensure they stay crisp and not soggy, I recommend only adding them on top just before you intend to eat them.
*Can swap for white wine vinegar
**Can swap for honey or coconut nectar
***Can swap for sunflower or pumpkin seeds for those with nut allergies
Nutrition