If you love sweet potato pie then you'll love this healthy take on a classic dessert! These Dessert Stuffed Sweet Potatoes are topped with thick Greek yogurt, crunchy granola, and creamy cashew butter. Filled with fiber, nutrients, slow-digesting carbs, and healthy fats – you can enjoy this "dessert" as a hearty breakfast or satisfying snack too.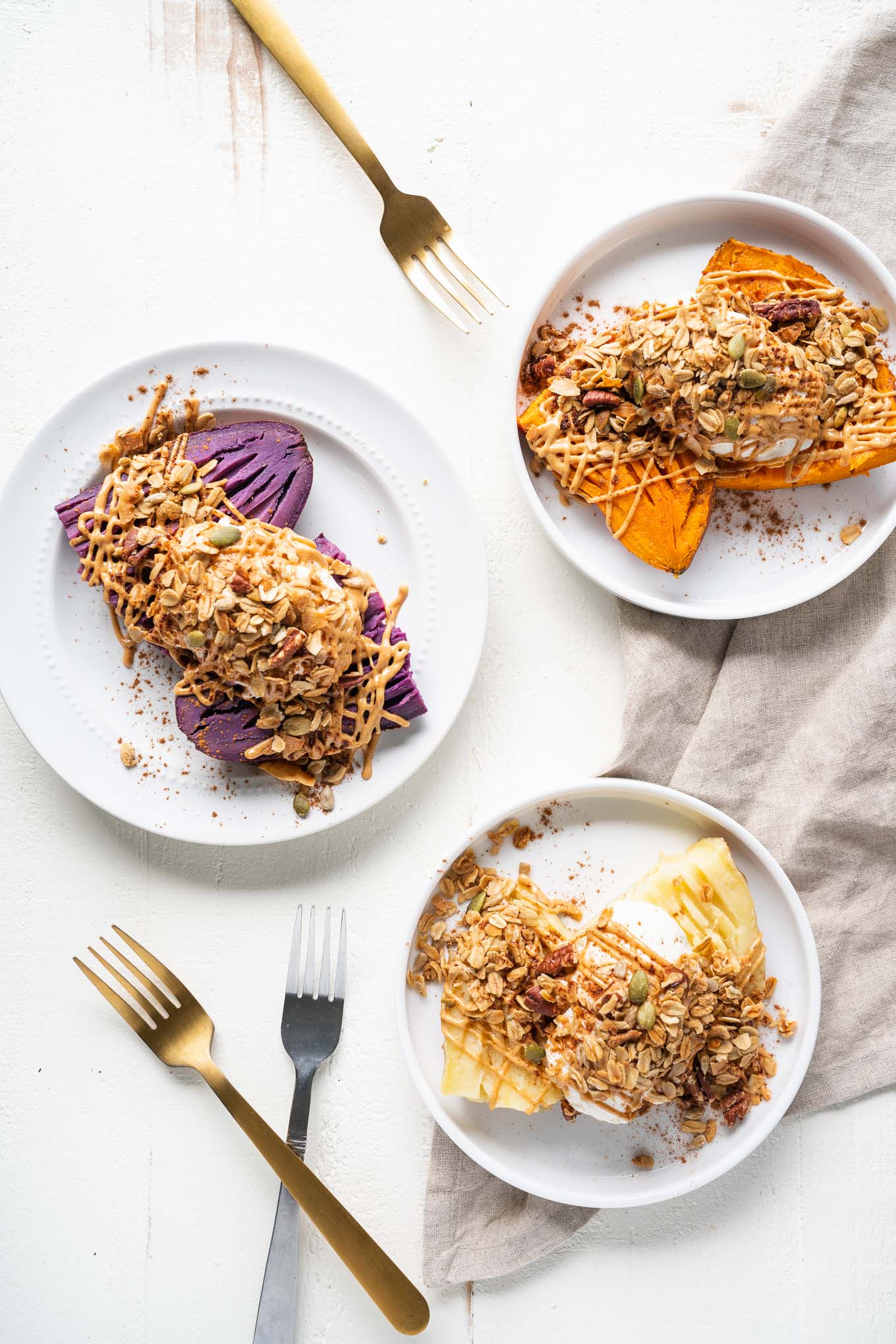 YES. You heard me right…DESSERT Stuffed Sweet Potatoes! Like a sweet potato pie without the crust or refined sugar involved.
I've recreated one of my favorite childhood dishes - what my Iowa born-and-raised Grandfather used to make at Thanksgiving…Pumpkin Delight! But this version is deconstructed and delightfully messy – same basic flavors, different ingredients. With plenty of real-food based, healthy upgrades so I can feel awesome about enjoying it whenever I want.
Pumpkin Delight (for those of you not familiar with this quasi-seasonal but kind of summery feeling dessert) is a little something like this - a chilled, sweet creamy pumpkin layer (I think pumpkin pie filling and cream cheese?) + a thin buttery crust-like layer on top + cool whip or whipped cream on top of that + sprinkled with chopped nuts on top of that.
I don't know if that's how everyone makes it but that's how he made it. And I say it feels a little summery because it reminds me of those pudding pies you usually see in the summer months.
Now I'm well aware that sweet potato is not pumpkin - but once roasted the sweet potato takes on that same velvety texture as a pumpkin puree. But with a slightly more substantial texture to it. The Greek yogurt takes the place of cool whip or cream cheese, standing in like a tangy whipped cream perched on top. With a sprinkle of cinnamon or pumpkin pie spice on top, some nuts or granola for crunch – it checks ALL the boxes I need it to check without having to break out a casserole dish.

Even though I'm calling this a dessert, it works perfectly great as a satisfying snack too!
I love having these before a heavy weight training session or as a sweet, hearty breakfast before a long day of hiking. It gives me a good mix of slow-digesting carbohydrates + a little protein from the Greek yogurt + some healthy fats to sustain that level of activity without making me feel lethargic or weighed down (like a big pancake breakfast might).
The nut butter (which isn't at all traditional to the dish that originally inspired the recipe) brings some delicious healthy fats into the equation and lends a richness to it that I really love.
I don't know about you but I love contrasting textures in my food! So if I have something super tender and soft (like these roasted sweet potatoes) then I love adding a contrasting texture to it – like granola, nuts, or seeds. They add a little crunch into every bite to break up the monotony of it and keep things interesting. It's probably why pie, crumble, and cobblers work so well – softened, sweet fruit with crunchy, less sweet crust. Each one helps you appreciate the other texture and flavor so much more.
What you'll love about this recipe is it is SUPER simple to prepare + stores well in the fridge.
At first glance the cooking time might dissuade you from trying it out but it's not hands-on cook time – it's just a wrap it up + stick it in the oven + let it do it's thing kind of recipe.
I love roasting a bunch of sweet potatoes all at one time and using them throughout the week – they're great for savory meal prep but also work well to chop up + freeze into smoothies, or in this case serve as some advanced dessert "meal prep" so you're ready when that sweet craving strikes in the middle of the week.
They store really well in the fridge and often I will just store them in the foil. Let them cool on the sheet tray and then I either place them in a dish or inside a bag in case any of the juices / oil leaks out from the foil wrap.
Why does it say one to one and a half hours cooking time?
Sweet potatoes do not come as one uniform size, some are super long and others are much thicker than others. So the cooking times will vary depending on size and thickness. I start checking them around the 30 - 45 minute mark if I have any in there that are much smaller than the others. Otherwise I check for doneness starting at 1 hour and every ten minutes after that.
This variation in size is also why sometimes I could eat an entire sweet potato (if it's one of those baby varieties) and other times I can only stomach half of a half a sweet potato (if it's a really massive one). Picking out similarly sized potatoes when you shop will save you from having to check and take them out at different times.
All you have to do to check if a sweet potato has been thoroughly roasted and softened, is to squeeze it (while wearing an oven mitt).
If it squishes inwards easily, then it's done! You can also use a fork to check for doneness like you would if you were boiling a potato, but the method of squeezing it means you don't have to unwrap and rewrap the potato every time you check it.
I like mine very soft, the extra roasting time allows more of the natural sugars to caramelize – which I think makes it extra delicious!
I used a variety of sweet potatoes for this recipe shoot – white, orange, and purple. I've found that while the white and orange ones cooked within the same amount of time as each other and at the same oven temperature – the purple ones have to be done separately. That variety is naturally denser than the others and requires a lower temperature and slower roasting (aka more time). For anyone interested in trying out a different sweet potato variety – I included directions for that in the "notes" section of the recipe card below too!
MORE SWEET + HEALTHY RECIPES:
Dessert Stuffed Sweet Potatoes
These Dessert Stuffed Sweet Potatoes are topped with thick Greek yogurt, crunchy granola, and creamy cashew butter. You can enjoy this "dessert" as a hearty breakfast or satisfying snack too!
Print
Pin
Rate
Servings:
4
- 8 servings (depending on size of potato)
Ingredients
4

sweet potatoes

1 ½

tbs

avocado oil
TOPPINGS
Greek yogurt*

honey or maple syrup

cinnamon

cashew butter

granola

nuts + seeds
Instructions
PREP SWEET POTATOES: Preheat the oven to 375 degrees. Wash and scrub the skin and pat them dry before roasting. Use a fork to prick the sweet potato a few times (this will let steam escape as it bakes), then rub some avocado oil all over the skin and wrap in foil. Repeat with remaining sweet potatoes.

BAKE SWEET POTATOES: Add them all to a sheet tray and bake for 1 – 1 ½ hours (depending on size and thickness of potato) until soft. Check for doneness by squeezing the sweet potato (with an oven mitt on) – if it presses in very easily and stays squished in then it's done.

ADD TOPPINGS: Unwrap the sweet potatoes and slice down the center. Use a fork to smash it a little bit. Then add your choice of toppings! My favorite combination is some Greek yogurt sweetened either with stevia drops or a drizzle of honey, with cashew butter and granola on top for healthy fats and crunch. You can eat these hot or cold, but I like to eat the sweet potato warm with the cold toppings.
Notes
IF USING PURPLE SWEET POTATOES: roast at 325 degrees for 1 ½ hours or until softened. These sweet potatoes are naturally denser and have to be roasted lower and slower than orange or white sweet potatoes. *You can use any type of Greek yogurt but I prefer full fat – it tastes really rich and is naturally a little sweeter!
Nutrition