Making smooth, ultra-creamy, impress-all-your-friends with that "WHAT? No way that you made this"  hummus is SO simple. Like sinfully simple. We're talkin' easy peasy lemon squeezey! Which coincidentally, this recipe will actually have some "lemon squeezies" in it.
It also has herby little flecks of fresh basil leaves blended into it, giving it little bits of gorgeously green color. PLUS buttery extra virgin olive oil to enhance the velvety, slightly tangy tahini. And guess who else is in on it? That's right. The all-important hero of many a dish, fresh minced garlic.
Get your warm, just-toasted pita triangles at the ready. Bust out those crispity crackers and grab those crunchy veggie sticks. This recipe makes for some seriously delicious dipping. It's a tasty way to satisfy that mean inner snack-animal that starts roaring and stamping its feet in those afternoon hours. Yeah, that's right, 2:30 pm munchies. I'm lookin' at YOU.
Plus when lunchtime hits, it makes a killer substitute for mayo. It supplies that absolutely essential creaminess for wraps and sandwiches.
Ever baked chicken with hummus on top? It's crazy good. Hello, easy weeknight dinner.
This ridiculously simple recipe makes plenty of hummus to set you up for smart snacking all week long.
So, why on earth did I leave my precious store-bought hummus behind? What could POSSIBLY lead me to do something so absurd as to try to whip up my own??
Because apparently everybody was doing it.
"Well if everyone was jumping off of a bridge, would you do it too!?"
Realistic answer is, it depends on how high the bridge is and how deep the water. SO. Maybe…?
I remember walking back from class during finals week with my lovely long-time friend, Amanda. We were hoofin' it through the hilly area of Westwood, lugging our weighed down bookbags while guzzling twin Venti Starbucks Iced Coffee quad-shots. This was the walk-everywhere-until-your-legs-fall-off phase of our lives. Living the student life in L.A. meant we did not have parking (or a lot of cash) and so we didn't have cars to shuttle us around either.
While we trudged across campus, we brainstormed our study snacks for the evening. A gauntlet of tests and term papers were looming. We weren't nearly prepared enough for the all-nighter that was about to be pulled for the second time that week. Naturally, there would need to be plenty of pick-me-up treats around to be devoured throughout the afternoon/ night/ morning.
We knew that we'd inevitably be ordering some fairly sketchy takeout later that night from the only place open past 1 am. A boatload of soggy mozzarella sticks in a styrofoam box were in our future. As were some pixie-stick-colored carbonated energy drinks with a long list of veryyyy suspect ingredients. But we had a long way to go until those poor-decisions would be made and snacks would get us through until then. I know. We led such glamorous lives. Hindsight is 20/20 right?
"Wanna stop by T-Joe's and grab some hummus and pita chips?" [height of coolness comes when you provide a large grocery store chain with a nickname it never asked for]
This is when Amanda chimed in to tell me that her sister makes her own hummus. Um. Come again? Who does what NOW?
Allegedly, this was something "super easy" that she "does all the time", but my college-self dismissed this information and decided her sister must be a secret culinary genius with an overly modest assessment of her own kitchen prowess. She must be one of the lucky few who are just that freaking awesome.
At this point in my cooking-only-kinda-sometimes life, I thought that most people who suggested such things were really just. Well. Blowin' smoke. It sounded hard and super fancy, this whole making hummus at home business. Like something someone who hosts weekly dinner parties would do. And yet, she called it easy.
I was naïve to the joys of at-home hummus making. So I took this to mean one of two things. Her sister was either… A) a masterful chef -or- B) straight-up lyin'.
Silly, friend. Hummus is something I buy. AT THE STORE. Don't you know this? It has its own section and everything. With a ton of brands all lined up on the shelf just vying for the chance to be plopped into a cart and whisked away to my home fridge.
But as much as I adore the idea of fancy hummus brands all competing for my oh-so-discerning consumer attentions, I love the idea of saving money much muchhhh MORE.
That and the pride of knowing that I conquered another cooking hurdle by proving something homemade can stack-up against (or dare I say it, RIVAL) a store bought brand name. And I do say cooking loosely here, because I'm fully aware that it's just me blending things up and not "cooking" a single thing at all.
The first time you make it, you will be hit with two emotions.
Surprise + glee + a sudden surge in self-confidence → "YUM! I made THIS? Clearly, I must be some sort of wizard-genius. I'm SUCH a super impressive human. Way to go, ME."
Followed pretty quickly by…
Mild rage → "Ugh, I paid HOW much for that itty bitty 'artisanal hummus' last week!?"
Chickpeas or garbanzo beans are legumes, which makes them a fantastic source of both fiber and protein. And anything full of fiber and protein means it can keep you fuller, longer. Which is AWESOME. So if you're looking for the most bang for your buck out of a snack, this is the kind that can carry you through to dinner without getting a hangry, lash-out-at-total-strangers, classic case of the crankies.
Canned chickpeas are readily (and cheaply) available at your grocery store in any season. Which makes them kind of your best friend when you really need to try to keep that money in the bank. OR. If you're like me and tend to suffer from frequent midweek bouts of crippling laziness. I like to keep cans of garbanzos (as well as white beans, pinto beans, and black beans) constantly on-deck in the pantry. I love to have them waiting in the wings to swoop in and save me when I can't get it together enough to cook a meaty protein packed meal for two on a Tuesday night.
I have heard that some people are able to achieve a creamier consistency by removing the skin off of each of the chickpeas. These people are actual, legitimate wizards. Wizards with the patience of saints. If you are one such saintly, endlessly patient, magical individual then by all means get to peelin' those tiny things!
Sadly, I am not such a person. Which is okay because I happily enjoy the results achieved from my "I'm just gonna open the can and put the chickpeas in, k?" super lazy, minimal effort approach. Besides my fingers are far too busy to get caught up in the peeling process. I need them for very important tasks like clicking things to add to Pinterest Boards and ♥ heart-ing Instagram photos. Double tap fatigue is real guys, gotta conserve my energy somehow.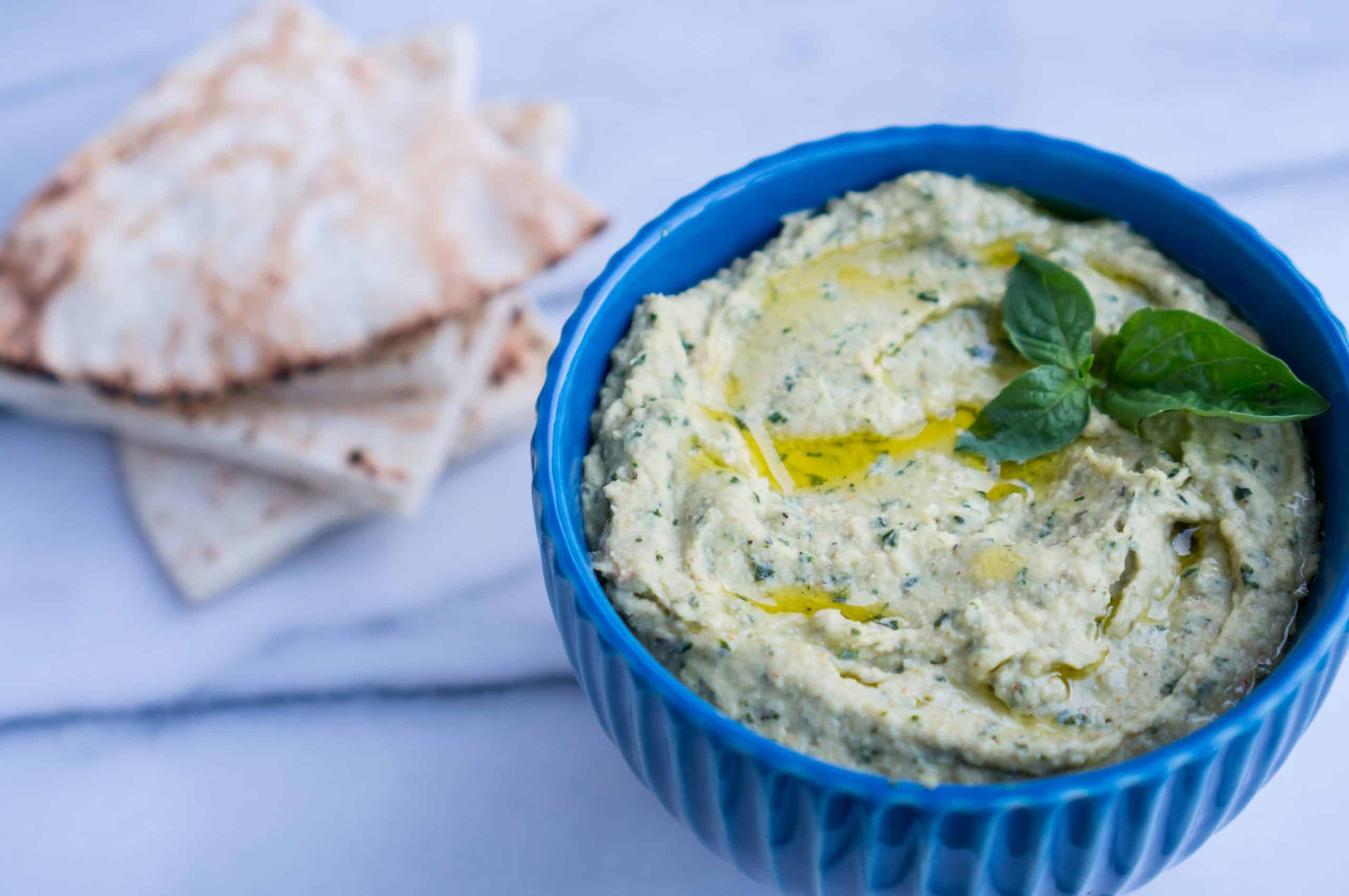 The riffs off of a basic hummus recipe are pretty endless. I have made Roasted Garlic Hummus, Roasted Red Pepper Hummus, Creamy Pesto Hummus, Sundried Tomato Hummus and more. All just using some pretty simply prepped ingredients and my trusty food processor. And I have loved every last, thrifty dippable bite. So keep an eye out for those recipes coming your way sometime very soon.
Until then, get to gathering your flavorful ingredients of choice and loading them into a food processor. Buzz them all up until they're good and blended, and you too will have some pretty darn tasty homemade hummus.
Sharing, while encouraged, remains entirely up to you. I won't tell if you don't!
Ingredients
1 - 15.5-

ounce

can of chickpeas

drained and rinsed

1

cup

of basil leaves

loosely packed

2-3

tbs

tahini

juice of 2-3 lemons

about ¼ cup

¼

cup

extra virgin olive oil

1

clove

minced garlic

freshly cracked black pepper

salt
Instructions
Add the basil leaves, tahini, lemon juice, olive oil, garlic, salt and pepper to the food processor. Process for 1 minute.

Turn processor off and use a spatula to scrape down the sides of the bowl.

Add chickpeas and process for 1 minute. Stop processor and scrap down the sides of the bowl. Process again for another minute until all is incorporated and the texture is smooth. Add extra salt and pepper to taste as needed.

Serve with extra drizzle of olive oil on top.
Notes
* Serve with warm pita bread or crackers for dipping. As a light alternative you can serve with sliced cucumbers, bell peppers, celery, or carrots. Mini tomatoes and raw broccoli are also great dippers.
* You can substitute ½ tbs garlic powder for the fresh garlic clove as needed.
* Store in an airtight container in the fridge for 5-7 days.