Mediterranean Salad Bowls! Leftover grilled Yogurt Marinated Greek Chicken piled high into bowls of crisp romaine, crunchy cucumber, fresh tomatoes, Kalamata olives, feta cheese crumbles, and my favorite salad topper of them all – homemade pickled red cabbage. All manner of textural and flavor contrasts. A little bit of sweet, salty, tangy, crisp, brightness in every bite.
With a generous drizzling of lemony Greek Dressing poured on top, this is really all your summer sunshine lovin' heart could want!
Well that and maybe an all-expenses paid trip abroad??
One of my dearest (but sadly seldom nearest) friends lives way wayyyy WAY across the ocean in Australia. And as if the fact that she is right next to some of the world's most pristine beaches at all times weren't enough, she is getting hitched next month ON another beautiful beach IN Greece. GREECE.
In short, she is one lucky you-know-what.
Once upon a time, we lived in a room of eight girls together. Yes you read that right, EIGHT people living together in one room and yet by the end of it we did not kill (or even remotely want to kill for that matter) one another. Despite the fact that jamming four bunk beds in one shared living space sounds like a phenomenal recipe for disaster, it was kind of just well. Pure BLISS. Seriously. As in for reals. No sugar-coating about it. Outside of the all-nighters pulled studying for exams and feverishly written term papers it was one of the most carefree // happy times I can remember.
But now instead of living just a bunk bed // messy desk // or sarcastic across-the-room silent "omg, REALLY?!" eye roll away from one another, we live an ocean apart. Such is the adult life, where more miles exist between you and your closest friends than you can count.
In college we used to swap clothes and now that she's off living the worldly life we settle for swapping selfies via snapchat filter of the day. You know, so we can pretend we are closer than we actually are. And while I won't be able to make the long trek out there to share in her special day on the gorgeous sands of Greece, I can pretend I'm there by channeling all things Mediterranean into my kitchen line-up.
Because the friend-love is real (and so is my love for all things Mediterranean food).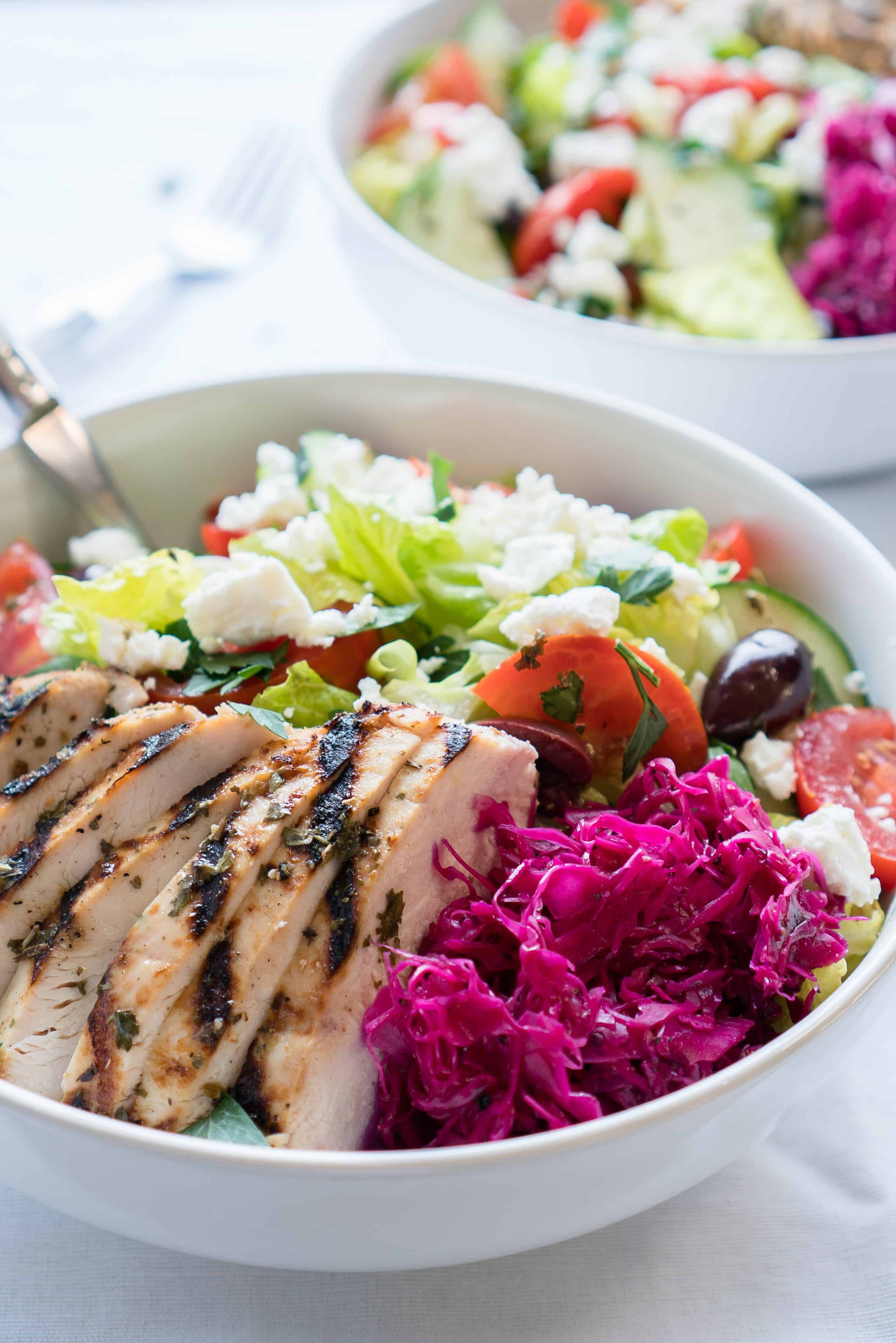 So I'm summoning all manner of coastal beach water vibes to my brain while my mouth dives into this fresh summer bowl.
These are a healthier version of a classic takeout favorite – the deliciously savory chicken kebab plate that comes with all the sides and fixings you could possibly want.
You can keep it as a low carb lunch by enjoying it as a big salad or serve with stuffable pita triangles on the side to load them up for an even more filling, substantial meal.
Either way, you've got lots of light, crunchy, crisp, fresh veggies to look forward to that will be topped with plenty of lean protein. All bound together by a zippy, flavorful vinaigrette. A vinaigrette that is so easily thrown together in the simplest way - measure ingredients and shake it up. The end. Seal up the jar and store in the fridge.
For my fellow weekend meal preppers out there - here are my tips for you to customize this recipe into a week-long meal prep!
You can multiply out the recipe to suit your needs and then cook all the chicken & chop all the veggies ahead of time. Portion them out into individual containers layering the wetter ingredients at the bottom so that you don't saturate the lettuce and make the whole salad soggy or limp. For example, you could layer in the following order from the bottom up – pickled red cabbage, tomatoes, olives, cucumbers, chicken, chopped romaine, and feta before putting a lid on the whole thing.
Save the dressing aside to put on fresh each day and you'll have crisp (not soggy) salads to dig into all week. I just keep my dressing for the week in a little mason jar on the fridge door.
Pack a fork and maybe a little baggie of pita pockets to take to work. Come noontime and your grab-n-go style salads will have you happily counting down to your healthy, homemade lunches (while everyone else hustles to get down the street and back before their hour is up, reluctantly shelling out cash for a little lunch time sustenance).
Save time, save money, and indulge your cravings guilt-free. What's not to love about that combo?
I used the leftover grilled chicken I had from making last week's Yogurt Marinated Greek Chicken but you could use whatever leftover protein you have on hand. Sometimes when I'm short on time, I will just pick up a rotisserie chicken (or three) from the store to shred and use that instead.
I will be sharing the recipe for quick homemade pickled red cabbage on the blog next week but you can sometimes find it in your local grocery store near the freshly prepared dips and spreads that have their own refrigerated section (at my store it's usually in small jars near the salsa, guacamole, hummus, sauerkraut, kimchi etc).
In the meantime, I've got major wanderlust on the brain. Now that my wall calendar has been flipped to "August", I feel that twinge of needing to get out and explore. Missing the mountains, trees, meadows, and open skies of our road trip oh-so-badly right now. Thinking a day trip or weekender is in our future, but we haven't a clue what to do or where to go yet. Farmer's market // hike through the redwoods // coastal sunsets on the water??
Currently accepting any and all suggestions from fellow weekend warriors!
Mediterranean Salad Bowls
Simple, healthy recipe for Mediterranean Salad Bowls! Like your favorite chicken kebab takeout plate with a healthy twist + a citrusy Greek Dressing. Gluten-free and high-protein.
Print
Pin
Rate
Ingredients
OPTIONAL TOPPINGS
crumbled feta cheese

pickled red cabbage

kalamata olives

fresh parsley

sliced red onion
GREEK DRESSING
3

tbs

extra virgin olive oil

6

tbs

red wine vinegar

Juice of 1 lemon

1 ½

tbs

honey*

1

teaspoon

dried basil

1

teaspoon

dried parsley

1

teaspoon

dried oregano

½

teaspoon

garlic powder

fresh cracked black pepper

salt
Instructions
MAKE DRESSING: Combine all dressing ingredients in a small lidded jar and shake vigorously until well combined (makes about ¾ cup of dressing)

ASSEMBLE BOWLS: Layer chopped romaine, cucumber, tomatoes, and chicken in a bowl. Drizzle on desired amount of dressing and add toppings like crumbled feta, sliced Kalamata olives, pickled red cabbage, and fresh herbs on top. Serve with pita triangles on the side for a more filling meal or enjoy as a low carb fresh salad.
Notes
*can swap for sugar or maple syrup or coconut nectar
Nutrition