Pickled Red Cabbage may not sound exciting but trust me - this is a game changing side dish, next level condiment and salad topper!
The epitome of an easy and totally unfussy dish. With an irresistible punchy purple-red hue that will add a whole other level of color dimension + visual vibrancy to your food.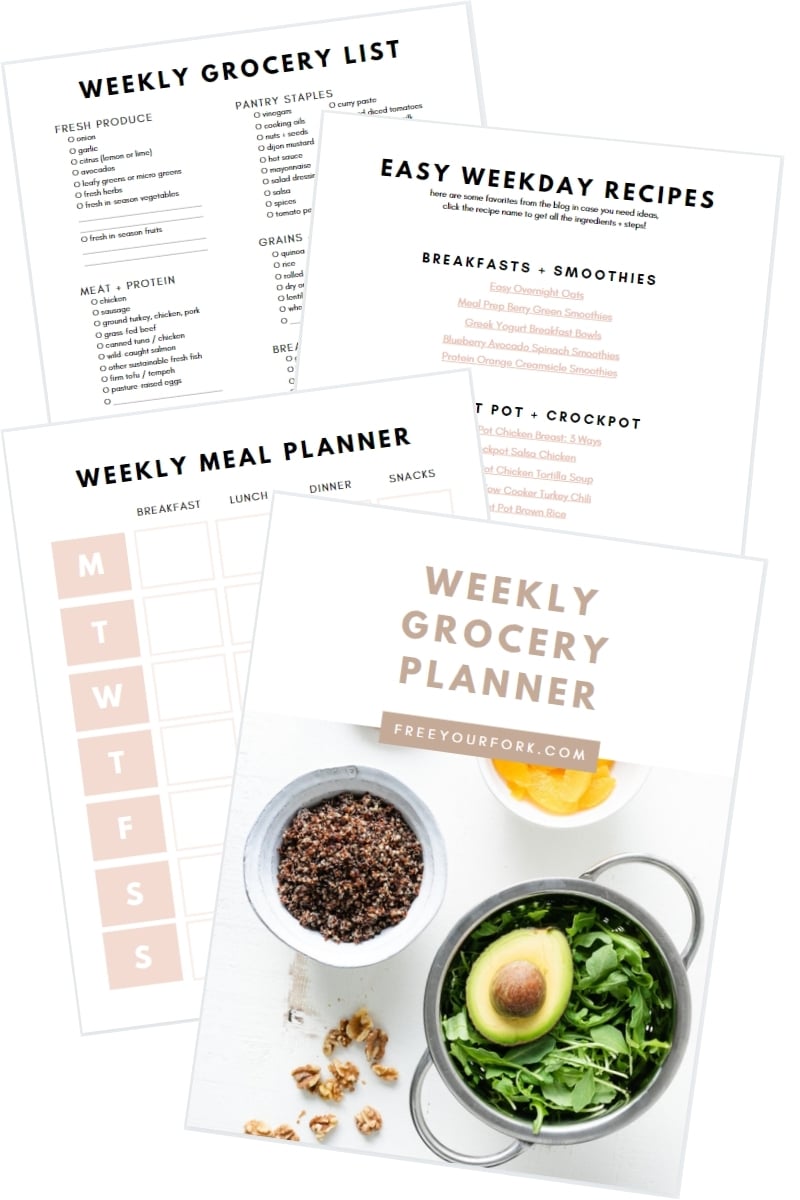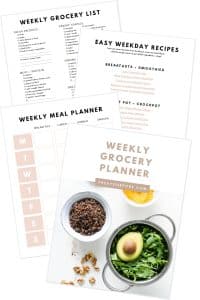 ---
This pickled red cabbage is not the same as kimchi or sauerkraut (which is fermented for sometimes weeks at a time).
This is a fresh & quick-pickled preparation that can be ready in just a few hours' time + stored in the fridge for a week (or more). This quick treatment leaves the thinly shredded cabbage with that signature tangy taste while keeping its crunchy texture intact. But it does not carry the same health benefits as other fermented foods.
Sometimes the two can be confusing - our definition of pickled conjures up sour dill pickles that we grew up eating slices of on our burgers or snacking on a pickle wedge alongside a deli sandwich. But the traditional type of pickling does not involve vinegar. So this is a vinegar "pickled" dish, and not a fermented pickled dish.
Since fermented foods and gut health are such popular topics - I wanted to make that difference ABUNDANTLY clear.
If you're interested in learning more about traditional fermentation methods (which rely on lactic acid fermentation) for pickled foods and fermented beverages (like kombucha, kefir, etc) then I urge you to check out these three books:
I've been reading these three books to learn ALL I can about making these fermented goodies at home and hope to come out with some recipes of my own to share here on the blog soon! So if you're in the same boat, definitely give these a read.
So let's talk about the taste. Pickled cabbage, if you haven't yet tried it and fallen head over heels for it, may not seem like a thing that you need in your life. But let me just tell you that you do, you absolutely DO!
This quick Pickled Red Cabbage elevates the flavor game to entirely new levels. It's not limp or overpowering in taste or texture - it's just that vibrant little *lift* that provides a bit of brightness in every bite.
In short, it is simply not to be missed out on.
Think about your favorite burger // chicken sandwich and how they would be sorely missing a key component if sliced savory dill pickles and their signature crispy crunch weren't nestled between those sandwich buns. Mull over just how important a really good coleslaw is in a pulled pork slider or banh mi. Or a coveted basket of fresh fried fish n' chips, and how they just aren't the same without that tang of tartar sauce, zip of malt vinegar, or freshly squeezed lemon juice on top. Or how sometimes the best part of going to a family owned and operated deli are the homemade pickle spears served alongside the sandwich halves.
I first had it at the local Mediterranean restaurant just down the road, perched alongside a crisp romaine, tomato, cucumber side salad with some freshly roasted chicken kebab. The pickled red cabbage set everything over the top. Layering that yogurt marinated tender chicken into each pita pocket with creamy garlic sauce, crisp vegetables, and lemony rice pilaf was one thing but the bracing acidity and crunch from the cabbage slaw brought it all together. Just a hit of refreshing zippiness that I sorely missed when making my own version at home.
Enter one quick google (and pantry) search later and Martha Stewart once again stepped in to save the day. Today's recipe is adapted from her pickled red cabbage slaw with a few modifications here and there to make it have a more Mediterranean vibe. I love it dearly for letting me bring my homemade Mediterranean Salad Bowls even closer to the real deal takeout of my dreams.
.
Here's a list of the tools + ingredients I used in this recipe:
FYI these are affiliate links – which means if you use these links I will make a small commission of whatever you purchase. The price of the item remains the same whether or not you use this link and it's at zero additional charge to you. All commissions support this blog.
MORE NOURISHING VEGETABLE RECIPES: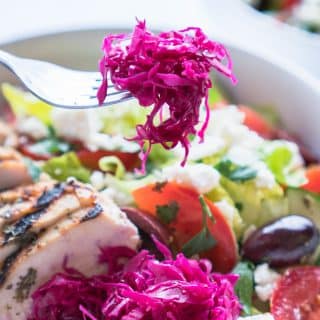 Pickled Red Cabbage
Simple recipe for Pickled Red Cabbage! Thinly sliced cabbage marinates for 2 hours + the dish keeps for up to a week or more in the fridge. We love this on
Mediterranean Salad Bowls
and in grilled chicken pita pockets.
Print
Pin
Rate
Ingredients
1

small head of red cabbage

2

whole garlic cloves

peeled and lightly smashed

½

c

red wine vinegar

juice of 1 lemon

2

tbs

apple cider vinegar

1

tbs

sugar

½

tbs

salt

fresh cracked black pepper
Instructions
THINLY SLICE CABBAGE: Quarter the cabbage and then using a knife to slice down diagonally towards the cutting board, slice off the core. Then slice each quarter as thinly as possible using a sharp knife or for easy, even slices use a mandolin slicer with the setting clicked in to 1/16 inch thick.

MARINATE THE CABBAGE: Place the cabbage in a large, deep lidded container. Add red wine vinegar, lemon juice, apple cider vinegar, sugar, salt, pepper and garlic cloves. Toss until cabbage is evenly coated. Place the lid lightly on top of the container (but do not seal it closed) and let sit out at room temperature for two hours. Then toss to coat again, seal, and store in the fridge for a week or so.
Notes
You may want to remove the cloves of garlic before eating the cabbage as the cloves themselves can become overly concentrated and bitter in flavor
.