Sharing the 5 must-try clean beauty mascaras! If you're switching to clean, green, non-toxic makeup and looking for your new holy-grail mascara - you're gonna wanna read this one!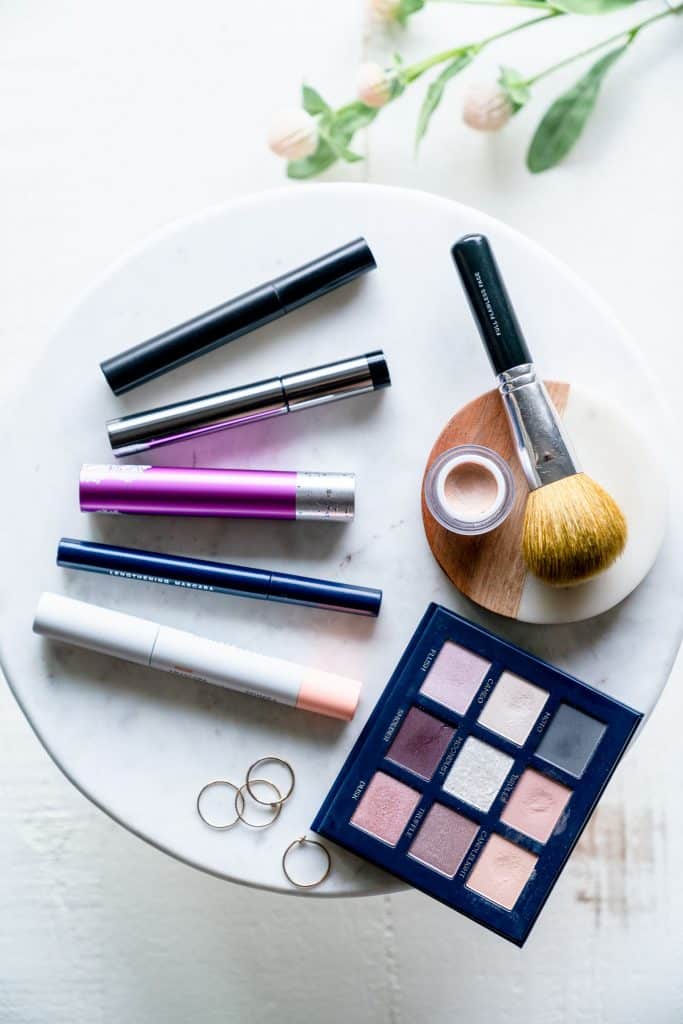 The #1 most frequent question that shows up in my DM inbox (besides questions about safer hair care) is "what mascara do you use?"
If this is a clean beauty swap you've been waiting to make or struggling to find your holy grail mascara - keep reading, because I'm sharing my TOP clean beauty mascara faves.
There's a little something for everyone here, because the title of the "best" really depends on how YOU like your lashes. Some days I want big volume and other days I wanna channel that "no makeup" makeup look ya know?
All of these mascaras:
Wear well without smudging, clumping, or flaking
Hold up all day (even when it's hot or during sweaty workouts)
Remove easily with water or an oil cleanser
Are formulated with safe and non-toxic ingredients
Were purchased & worn & tested by yours truly
Work well for sensitive eyes & contact lens wearers (like me!)
Here's what I use, love, and find myself recommending over & over again. If you cracked open my makeup bag or rifled through my purse pockets - these are the ones you'd find:
---
1. Lily Lolo Big Lash Mascara
---
THE best mascara for big, dramatic, voluminous lashes
Meet my holy grail clean beauty mascara, Lily Lolo's Big Lash Mascara. This is my number one, ride or die mascara. I recommend it constantly. Fully obsessed. Here's what you'll love about it:
big, voluminous lashes
great worn as one coat (tbh even better with two coats)
vegan + gluten-free
fluffy hourglass brush (convinced this is it's magic)
essential half of my 2-mascara method
If you follow me on instagram then you already know that my love for this mascara runs DEEP. It's part of my 2-Mascara Method - 2 coats of a volumizing mascara + plus 1 coat of a lengthening mascara. I shared this method on instagram, but I'll link the IGTV at the bottom of the post!
This Lily Lolo mascara is what I use daily for volume, paired with the beautycounter lengthening mascara for the final coat. Really takes my tiny lashes to new levels.
I'm really into this fluffy hourglass brush - super gentle on the waterline, deposits a lot of product, and coats lashes. Very buildable. Makes my lashes look denser than they really are. I can't say enough good things about what this mascara does for my usually barely-there lashes. Get yours here!
---
2. Fitglow Beauty Vegan Good Lash Mascara
---
The mega multitasker mascara + lash serum + conditioner
Fitglow Beauty is known for creating products that multitask - I'm smitten with their lip serums. So when I heard about their Fitglow Beauty Vegan Good Lash Mascara? Could not have hit "add to cart" faster. Here's what sets this clean mascara apart from the pack:
Tapered, pine cone shaped fluffy brush
Good volume + length + lash separation
Buildable formula
Nourishes + conditions + protects lashes while you wear it
Vegan + Organic + Gluten-free
Removes very easily and feels very light
This is my go-to for days I want to give my lashes a little extra TLC. This has been the one I've reached for most since we all started working from home in March. I'm really into the versatile shape of this brush (fat on one side for adding a lot of volume, tapered thin on the other for detail work & getting those corner lashes). The design is SO thoughtful.
As far as application and wear goes - it glides on easily, has staying power while you wear it and just feels really light. Really pretty volume, deposits a lot of color at the base of lashes, and has nice lift. Get it here!
---
3. Beautycounter Lengthening Mascara
---
The best mascara for nailing that "no-makeup" makeup vibe
LOVE Beautycounter's Lengthening Mascara for lower lashes - adds color, balance, and definition without creating that heavy, spidery look. As a top-lash mascara it gives you natural-looking length + color. I describe it as "your lashes but better". Here's what you'll dig about this one:
Very natural looking lashes for that understated look
Great as a bottom-lash mascara
EWG-verified formula + formulated using The Never List
gluten-free
conditions lashes while you wear it
It has a smaller brush with bristles that really grip the lashes from the base. The shape is great for reaching corners to do detail work, iron out any clumps, and delivers very natural looking length.
I'm Asian American and have smaller almond-shaped eyes - this has been a game changer for a balanced lash look that compliments my eye shape. Using a volumizing mascara on my bottom lashes always looks too heavy & overdone on me, so this is the perfect solution. Get yours here!
---
4. ILIA Limitless Lash Mascara
---
Best two in one lengthening & volume mascara
Looking at this brush I didn't know if I was going to like the ILIA Limitless Lash Mascara, since I don't typically go for the rigid plastic brushes. But I ended up loving it! If you want the 2-mascara method results without buying two mascaras - give this one a whirl.
What sets this mascara apart is the two different sides to it's brush - the shorter bristle side deposits a lot of color at the base of the lashline & seems to take care of volume. The longer bristle side defines, lengthens, and separates lashes for that clump-free finish.
Dual-sided brush (one to add volume, one to add length)
Nourishing, fortifying, and conditioning ingredients
Buildable length and volume
Lots of lash lift
Light, clump-free finish
The volume on this is more understated than the Lily Lolo or Fitglow, but if you're looking for a buildable lengthening mascara for super long defined lashes - this is your best bet. Get it here!
---
5. W3ll People Expressionist Volumizing Mascara
---
Lightweight, natural looking volume and length
Was so happy when this W3ll People Expressionist Volumizing Mascara dropped last year! I had used their other formula - which I really like as a lengthening mascara but didn't do it for me as a stand alone. This volumizing version is another story, friends. Here's the scoop on this clean mascara:
Dense, hourglass brush
Gluten-free
natural looking volume + length
Conditions lashes while you wear it
Long lashes, denser at lashline but tapers to natural looking length
It has an awesome fluffy brush and a great clump-free formula. If you like an understated, natural look - you might really dig this formula. Lots of clean lash separation, wears really light but has all-day staying power. It's not quite as buildable as some of the others - but some days I'm really into that more subtle look. A really solid choice if you're after a mascara that isn't too bold but still pumps up your natural lash look. Get yours here!
---
As new formulas get released you can bet I'll be scooping them up to try them and see how they stack up - so be sure to pin this post and check back! I'll update the top 5 if anything new, swap-worthy formulas come out.
If you wanna see more of what I'm using right now - head here for my master list. This is always the most up to date!
---
Ready for more clean beauty swaps? Download my free guide!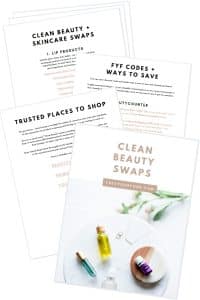 ---
Pin this post for later!