Wondering where to find the best clean beauty face oils? I rounded up my favorite face oils for every skin type here in this post! All tested by yours truly and made with safer ingredients.
Why use a face oil or face serum?
A few years back I started using face oils and I was hooked. I love how luxe oils feel on my skin, how well they seem to absorb, and how potent they are. To me face oils feel like *skin food* - they've totally changed the look, feel, and visible texture of my skin. And I just downright enjoy using them everyday. Takes my daily skincare from routine to ritual. BIG FAN.
I even make my own DIY Glow Serum - I'm that into face oils!
Other reasons to use a face oil:
They make an epic makeup primer - sinking into your skin and creating a smoother canvas for more even makeup application
Having properly moisturized skin can help your skin better regulate oil production
Suitable for all skin types (yes even if you have oily/combination skin!)
Helps deeply moisturize your skin and help keep water in
Many oils have additional antioxidants and skin support benefits
Just like with a regular moisturizer or really ANY skincare product - the key is choosing oils with ingredients that suit your specific skin needs. Since all of us have different skin needs (and our skin can even change season to season) - you'll see a little something for everyone in my list of the best clean face oils and face serums!
When should I use an oil / serum?
Here's the order I use with products:
Cleanse
Mist / Tone
Treat
Moisturize (using oils and/or face cream)
I use my face oil after cleansing + toning + applying any treatment steps. My face oil is often my moisturizing step and treatment step all in one. If I'm feeling especially dry I can add a cream moisturizer on top. It isn't an either/or situation when it comes to oils and creamy moisturizers - they can (and do) work very well together if you decide to pair them up.
These are the 5 best clean beauty face oils I've ever used
---
1. True Botanicals Pure Radiance Oil - Renew
---
This is my top choice for an anti-aging face oil
True Botanicals Pure Radiance Oil is basically my holy grail face oil - and I pretty much can't stop talking about it. This nutrient and antioxidant-rich serum checks all the green beauty boxes for me. These potent, natural ingredients are so on point!
This oil is VERY hydrating. A little (say 8-12 drops) goes a long way and I seldom find myself needing to layer a moisturizer on top. But when I do add a night cream, it layers beautifully.
2. Beautycounter Counter+ No. 3 Balancing Facial Oil
---
This is my top pick for promoting a balanced complexion
My other daily staple is Beautycounter's Counter+ No. 3 Balancing Facial Oil - I like something a little lighter in the mornings to wear under makeup, this one absorbs quickly without making me look greasy or shiny. It makes the BEST makeup primer. My concealer applies so evenly with this on underneath.
I wear this oil in the a.m. but it's great to use morning and night. Love the ylang ylang EO in this formula - gives it a delicately sweet scent without feeling overly floral. The citrus EOs really round it out!
3. Leahlani Skincare Mahina Evening Replenishing Elixir
---
I adore Leahlani Skincare's Mahina Evening Replenishing Elixir. Like so many of the Leahlani Skincare products - this clean beauty face oil smells like a vacation in a bottle. Tropical and delicious. This is one of the few products where I notice a visible difference in my skin in just a matter of days. My skin just looks clearer, less dull, and glowy AF.
It says evening but I've worn it during the day too, absorbs beautifully into the skin. Also obsessed with the Leahlani Siren Serum - so if you're looking for a day + night pairing for a bright even complexion, that would be a great combo. They have really similar scent profiles.
This formula is jam-packed with a ridiculous amount of luxe skin-supporting EO's - like ylang ylang, geranium, patchouli, clary sage, neroli and ALL the citrus. This blend is NEXT LEVEL and hard (maybe impossible) to DIY or replicate. Believe me, I've tried.
4. Osmia Organics Nectar Vital Rose Drops
Osmia Organics Nectar Vital Rose Drops have a simple, yet powerful skin-loving ingredients. I love this for it's premium essential oils like rose, sandalwood, and jasmine. And like so many of the Osmia products, can be mixed in with other skincare products - the directions even suggest mixing in a few of these drops into your existing face serum or oil. Gives them a luxe boost.
I love this worn alone or like founder Dr. Sarah Villafranco suggests, a few drops mixed together with the Osmia Purely Simple Day Cream.
5. 54 Thrones Nejma Balancing Night Oil
---
54 Thrones Nejma Balancing Night oil is technically another evening skincare oil but I've used it in the day and it's FANTASTIC. I've even seen the founder Christina Funke Tegbe mix this into her a.m. skincare routine on instastories, so clearly we've got the greenlight to use it all day!
The smell of this clean beauty face oil is to die for. This luxury beauty brand has some of the dreamiest scents around. The blue tansy and other essential oils in this serum have such an intoxicating scent. I find blue tansy so soothing and balancing, and it's one of my favorite ingredients to look for in clean beauty.
Also it is worth mentioning that this was voted THE top face oil for 2020 in Oprah Magazine. Yes. O P R A H.
Super sensitive skin? Here's some face oils to try that are free of essential oils.
---
I have really sensitive skin that responds really well to essential oil formulas. But I've heard from a few of you who have to steer clear of almost all added essential oils - either because of scent preferences or skin sensitivities. If that's you - look for a simple, potent face oil. Ones with short ingredient lists, that are free of any essential oils like these:
What are your favorite clean face oils? If you've got any questions about these products, let me know - happy to help!
---
Ready for more clean beauty swaps? Download my free guide!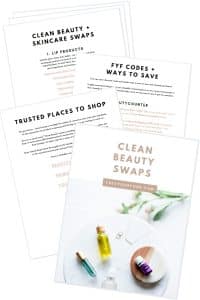 ---
Pin this post for later!